Do you like pictures that look like they are a poster for a new action movie? Have you ever wondered which effects are added to the photos in order to make them look so impressive and mysterious? Of course, photo editing is a complicated thing including a lot of aspects and adding the smoke to a pic is one of them.
People have always been loving the smoke effect – you can notice that by performances if the famous artists on stage, by the most famous thriller and action movies, by the pictures and posters are annually made in thousands to amuse the public.
But did you know you can add this cool smoke effect to your photos as well? Maybe, you are a photographer and your job requires being creative with pictures and additional effects could really help. So how to add smoke to your photos so it looks beautiful and realistic? With the following apps, it is going to be easy.
1. Smoke Effect Photo Editor
It is really impressive that these days they have any kind of apps on the market, including those which are aiming to add the smoke to the picture specifically. But if you are really serious with your intentions and want to get a high-quality picture then why not?
This editor is perfect to create a smoking effect, literally. Yes, we all know that smoking isn't healthy but some would do anything for the art. Besides, smoking can look very atmospheric in the picture. However, in real life, the natural smoke that a cigarette produces is not enough. That's the time when you want to use this app.
The smoke effect provided by this app does look very realistically on pictures, so no one would ever tell it is photoshopped. Moreover, this editor can be useful not only to imitate the cigarette smoke, but you can also use it to add regular smoke to the picture to make it more authentic. Though you will have to play with adjustments and transparency in this case.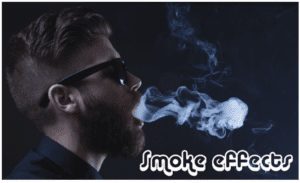 You may also like: 9 Best apps to watch Instagram stories anonymously
2. Smoke Effect Photo Maker
This app for iOS is made for using smoke in a wider range of creative activities. It is more about to make your picture look artistic with the smoke effect. And we all know there are a lot of creative shootings where the smoke would fit perfectly – so this editor allows you to adjust the smoke to any kind of a photo so it looks natural and magical at the same time.
Here the possibilities to choose the shape of smoke are really impressive. First of all, you can select in which form you would like to have a smoke on the picture – will it be explosion, mist or, maybe, spiral smoke? Then adjust the transparency of it so it doesn't overwhelm the main object of the photo.
Color adjusting for the smoke is also possible. Create the craziest mixing that you can imagine. What is more interesting, this app can even be used for the logo creation – since here you can write a text with the smoke effect. Write something, add the effect, adjust if and your inscription will give a new fresh look which will help to draw attention to anything that it's used for.
As a bonus, the app includes various stickers as well. These are emoji stickers, butterflies, cakes and so on. You can try to add some of those to the pic if it fits the main story that you try to tell with your work.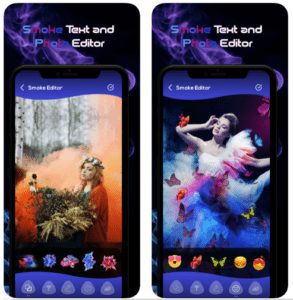 3. PhotoJus Smoke FX
Another editor was made specifically for adding the smoke for the photo. Actually, while choosing a specific editor like this you must be really careful and skeptical since in most cases these small editors tend to have pretty low quality. Usually, the bigger editors with multiple functions perform these tasks way better including all the effects you can imagine.  However, editors mentioned in this list are really worth your attention.
Here's an interesting app and it is quite similar to the previous one. The main difference maybe is that this editor can work offline which is pretty cool. In this app, you need to choose the type of smoke from the existing range, and then adjust its shape manually. Thus it gives you a chance to shape the effect yourself and make the whole picture more authentic.
The same method goes for coloring. You can set the color of the smoke, make it plain or gradient. The interface is simple and it is really easy to use, it doesn't take much time to add the effect. You can erase the smoke on certain spots where you don't want to see it. The disadvantage of the app is that many shapes of smoke are the standard shapes which you have already seen many times in photo editing apps.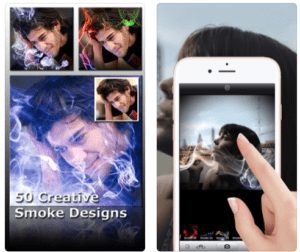 4. Lens Distortions
In the photo editing apps world, this is really a gem. This software is not just for adding the smoke effect on photos, it allows to add much more creative effects to your pictures. But since we are talking about smoke now, let's see what this app has to offer us in this category.
First of all, the app is known for its natural effects, so if you are looking for a way to add smoke that would look realistically rather than artistically on the picture this is your choice. The shapes and distortions that this app provides are really impressive and look professional.
Here you can add smog, mist, rain, snow and fog effects – yes, they are categorized here. The shapes that you can choose from are numerous so you can be even lost with plenty of choices at first. The smoke effects provided by Lens Distortions look really impressive on the landscape photos, for instance on images in the mountains. It's not always possible to perpetuate the natural beauty on the photo so why just not use this little lifehack?
A quick swipe down reveals filter adjustments so you can easily dial in the perfect amount of subtle complexity. Plus you can now make tone and color adjustments to your image independent of the effects to help tie everything together.
There are two types of subscription – the free one and a premium one. With the latter, you will get more than 350 different effects, but actually those which are available in the free version are more than decent.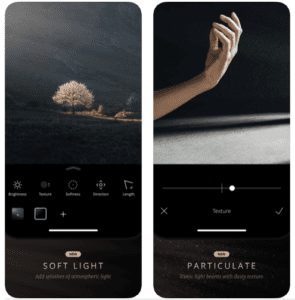 5. Smoke Effect Photo Editor – Sm
This is the app to add artistic smoke to your photos. In order to get inspired, it takes only one look at a picture where the purple or blue smoke goes so well with the overall idea of a photo.
Here the smoke effect comes in all colors and variations. You can even prank others by making it look like you are smoking a cigarette in the photo.
You can choose different categories of smoking effects and see what each of those has to offer to you. And no need to fear that the smoke is going to cover the whole picture – you can regulate its size of it. In order for the effect would look even better you can apply filters provided by this app. The collection of smokes is full of variants. You can go both with the natural-looking smoke or layer a fantasy-looking greenish smoke to the photo.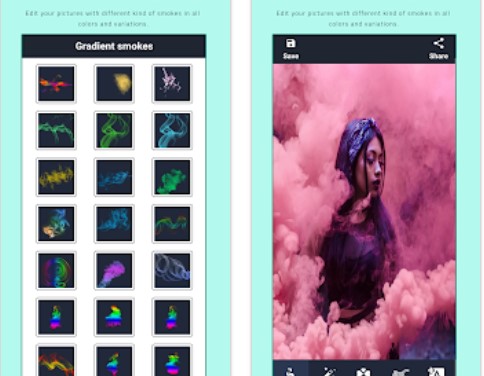 6. Smoke Name Art
In order to make this list a little more diverse, let's take a look at a different kind of app. It still allows you adding smoke to the pictures, but here it is all about the text. Basically, you write what you want and frame it with beautiful smoke effects. Great way to write your name calligraphically or the name of your beloved ones. What is more, this way you can create a logo for your project or company, especially, if you are working with shisha.
First of all, you need to choose the background. You can upload the picture from your phone gallery or choose one provided by the app. Then you write something and place it where you want in the picture. Then you need to choose a font. If you already have a ready concept in your mind you will orientate quickly with the background and the font. If not, well, you will have to play with textures and fonts. The app provides not the most diverse choice in this sense so it is better to have a ready idea in mind.
And then comes the culmination – you need to add the smoke. You can choose from lots and lots of various shapes, sizes, and colors of which you didn't even think of. You can frame your text with the smoke heart. You can add the blowing effect. You can add the shape of the dancer – practically, anything you want.
The final result looks more than decent and it is even hard to tell it was made by a non-professional. The quality of a picture remains high. You can rotate smoke, adjust transparency, colors – eventually, you get an impressive artwork.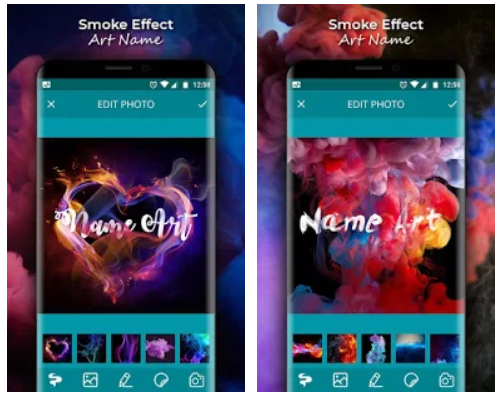 7. Smoke Camera Photo Editor
A small though a fun app to add cigarette smoke on pictures for iOS users. The app provides more than 40 various moke effects which are quite enough to diverse the smoke that comes out of the cigarette. Once again, now you don't even have to smoke and harm your health to get a cool pic.
You can also collide the pictures by adding the second pic as a sticker. Thus, you could create a fun meme, for instance. The sticker set includes more than 100 items. The overall interface of the app is more than simple, however, the choice of effect is good. And the effect itself looks extremely realistic.
8. Smoke Effect Picture Art
As you could already notice, the market provides lots of apps that add smoke to pictures. However, not all of them do work properly. It is essential to remember, that when you add smoke to the picture, it should look natural, even if it is an artistic photo. Otherwise, it may look like a sticker, which is, being honest, looks cheap.
And this app just like the previous ones allows you to add smoke to the picture in different shapes and sizes and, of course, colors. Add a photo from a gallery and then start adding effects to it – see which one fits the mood of the picture best.
A feature that stands out here is that you can mark your favorite effects and thus create a list of them. Then, later, you can add effects quickly from that list. Overall, the editor includes more than 100 effects, which is not bad at all. You can also write your name or any other text that you want and add the smoke to it as well. The app can work in offline mode.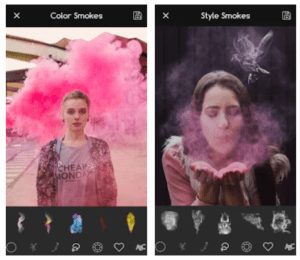 9. Smoke Name Art Maker
This is another app allowing you to create a text with a smoke effect. Obviously, it is one of the latest trends. What is convenient about this app, is that here you don't have to spend too much time trying on different patterns of smoke just to see how they actually look in the picture.
The range of smoke effects represented here is quite limited compared to previous apps, but it is easy to choose from. The previews of these effects are in 3D and thus they give you a clear idea of how the effect is going to look. Moreover, most of them are already edited and beautifully painted so you can just layer in on the picture and save it immediately.
Here you can try layering different colors, effects of text, and its location. In addition, you could easily make your own tag for your social networking page as well.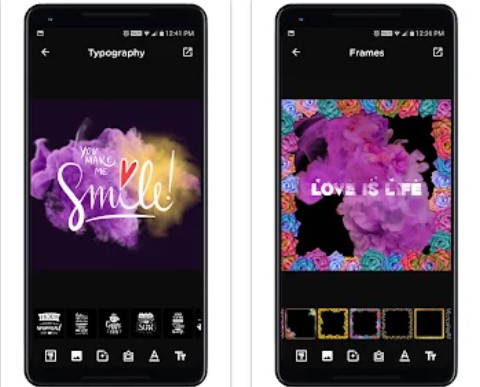 You may also like: 9 Best apps to change eye color (Android & iOS)