It happens that your friends or relatives take your phone without a permit. Of course, that irritates you to the utmost. They can find your photos, videos, messages that must be kept in secret. It seems that nothing can prevent your information from being undiscovered…
However, we want to throw you into a fever of joy. The thing is that nowadays you can download various apps that are capable of keeping your phone files safe. So be sure that none will learn your secrets.
Here are the best vault apps that are available at the App Store as well as at Google Play. Read this post and take precautions against nosey parkers. 
1. Best Secret Folder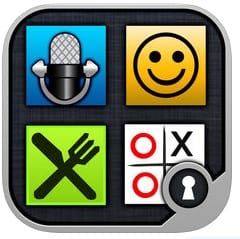 The developers of this app have done their best to keep your files protected. Here you will be able to load not only photos and videos but also notes.
What about security, the app suggests various lock technique: Password Lock, Pattern Lock, FaceID or TouchID.
Moreover, it has a really unique feature: if someone uses your phone and tries in vain to enter a passcode 4 times, the app will take a photo of this person with the help of the Front camera. Apart from this, it will show you the location of an intruder. This information will be sent to you via Email.
What else about intruders? Well, if you activate the Intruder stopper, the app will show him or her the wrong content.
Also, the Fake vault feature will let you be clear from suspicion. By saying this we mean that the app will show "No data found" if someone has learned the passcode and managed to enter. This phrase sounds plausible to intruders, so their wrong intents will disappear.
If we consider the user interface, it must be mentioned that it is very simple. Feel the complete freedom of action. Import and export as many files as you want. For your convenience, you will be able to create folders and do with the content whatever you want: add, delete, move…
As you can see, this app will help you in many cases. You will be above suspicion and also the app will protect your files perfectly.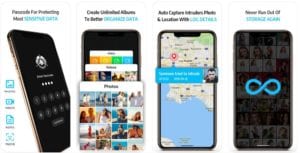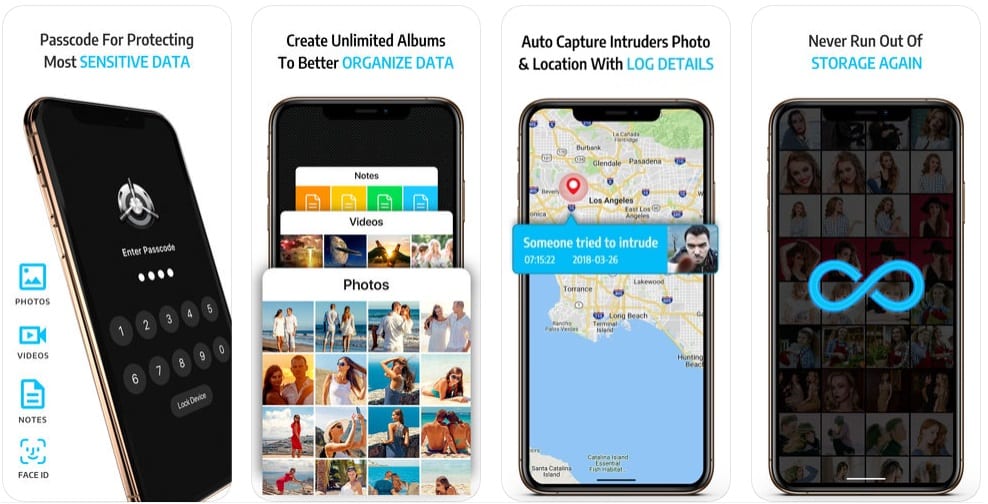 2. Keepsafe Photo Vault: Hide Private Photos & Videos

This is one more great app that is capable of protecting your photos and videos. Create your own Private cloud!
The app's basic features are the same. Your files will be secured via a PIN, pattern or your fingerprint. Let's better discuss the distinguishing ones.
Of course, you can share these private files via social media. But in this case, you will be sure that everything is OK. With the help of the Safe Send feature, you will learn how long the recipient sees a photo. Moreover, there is a time limit, so the photo will disappear in 20 seconds.
Then, your files will be synchronized across all your devices. Even if you have only one device, your photos won't be lost in case you the phone is damaged or stolen.
And finally, here it is available to use Face-down auto lock. It means that the app will be turned off automatically when your mobile phone faces downward.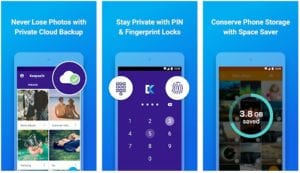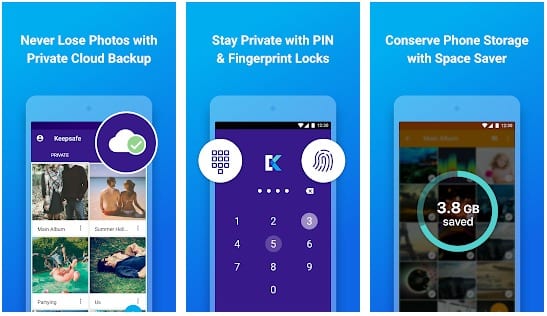 3. Gallery Vault – Hide Pictures And Videos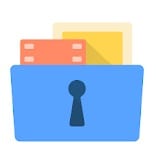 This app is also a good tool for this matter. It will be appropriate for those who are focused just on loading photos, videos, and GIFs.
As for advantages, there are no storage limitations at all.
Also, Private Browser is also available here.  By using it you will be able to surf the Internet anonymously. In addition, this feature will let you download photos from this browser directly to the app. That's very convenient, isn't it?
Additionally, the will show fake content if a fake password is entered. Nevertheless, with the help of Break-in Alerts, you will surely learn about the intruder.
Apart from this, it has one more helpful feature. So if you have to close the app immediately, just shake the mobile phone.
One more thing that you will really like is the app's attractive design and convenient interface.
By the way, the app supports fingerprint as well.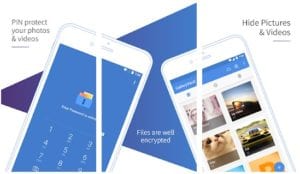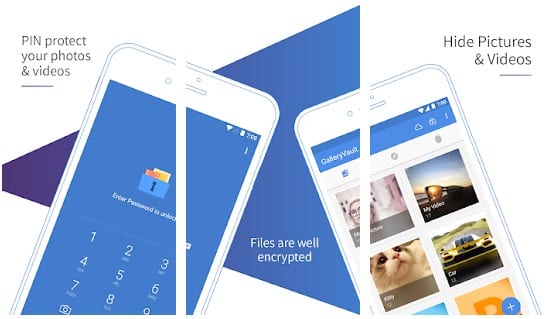 4. Secret Vault Lock Photos Photo
Don't you know how to keep protected not only photos and videos but other types of files as well? So, this app is appropriate for you.
This app will let you lock behind a passcode such files as PDF, Txt, PowerPoint, Word, Excel, Html, etc. That's exactly what you've been searching for!
The app will let you add files not only from your gallery but also directly from a computer or a camera. What about sound, it can be added from the in-app recorder.
As in the previous app, you can manage files just as you wish. The advantage of this very app is its capability of sorting files by Name, Data, Type, Size, etc.
As we've already said, this powerful app supports viewing various formats. Moreover, the note of txt format can be created in this app.
As for security, the app requires a password. The distinguishing feature that you can add a password for a certain folder as well.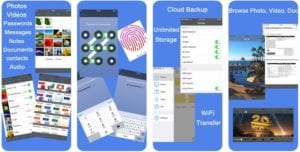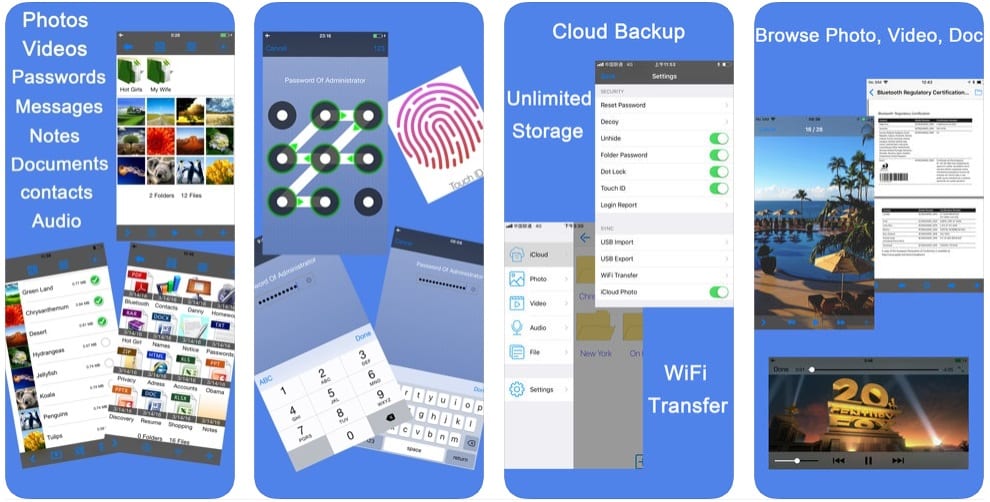 5. AppLock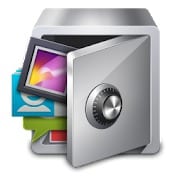 It is one more brilliant vault app that is capable of protecting your private photos and videos. Like other apps, it has its own browser. Additionally, the app can block incoming calls.
One of the distinguishing features is that the app supports 45 languages. It's one of the reasons why it is so popular worldwide.
Also, you will be able to make the app completely individual. By saying this, we mean dozens of colorful themes available here.
Apart from this, the user interface is very convenient and simple-to-use.
As for security, you can choose among password, pattern, or fingerprint lock. The developers have done their best. The keyboard is random, and the pattern lock is invisible. So be sure that nobody will see it.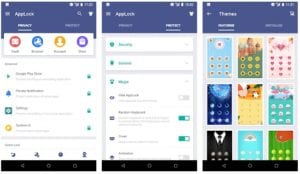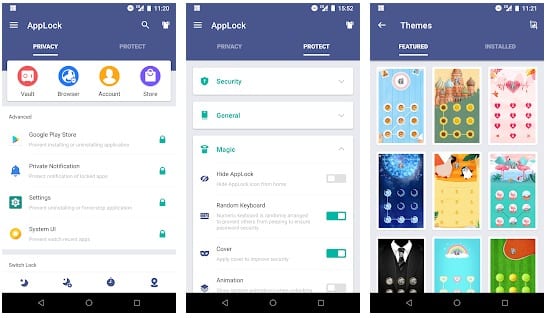 6. Vault – Hide Pics & Videos, App Lock, Free Backup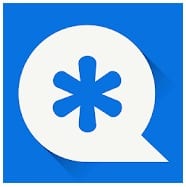 Like the previous apps, this one will protect your photos and videos from any intruder. Besides, it has its own private Internet browser as well. So we'd better tell you about its distinguishing features.
First of all, this app is capable of locking any app wanted. That's really a great feature!
Also, the Call Reminder feature will let you learn some information about an incoming call. Is it spam, delivery, or just a stranger? You will learn about it before taking the call.
With the help of the Data Transfer feature, you will be able to transfer files from one device to another. Moreover, there won't be a loss of information at all.
There are also Advanced features available for purchase.
For example, you can hide the app's icon from your screen. Don't worry, it will appear after entering a passcode.
In addition, you can create various Vaults (fake also) in order to mislead the intruder. By the way, if he or she will try to use the app by entering a false password, the front camera will automatically take a shot of him. You will surely learn all the necessary information about the intruder.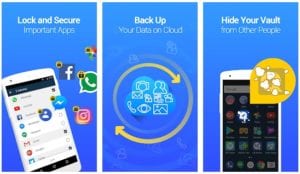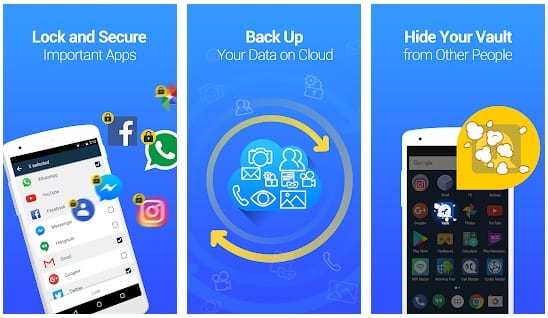 7. Secret photos KYMS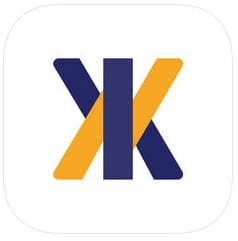 With the help of the app's unique AES Encryption, you will be able to keep files of different types locked by PIN or password.
You can hide photos and videos in various, even non-standard formats.
As for photos, the app features a photo editor with many effects. So, there is no need to use several apps anymore.
Also, you will like all the capabilities connected with videos. For example, a video you are watching will be immediately decrypted. Feel yourself absolutely safe.
In addition, you can load various formats of files such as pdf, txt, ppt, doc, xls, etc. By the way, Text document can be created and edited directly at the app.
It must be mentioned that the app has its own Browser as well. This option will let you remain anonymous and simplify the working process.
If you purchase a Premium package, more functions will be available for you. For example, you will get access to a feature that is capable of recording a sound when a screen is locked.
Then, you will be able to import phonebook contacts or create them at the app. The saim can be said about hidden tasks that are also available in the Premium version.
Apart from this, you can keep your bank cards here. The powerful barcode reader will make the working process much more convenient.
And finally, the app has the multipage scanner that is capable of scanning any paper documents with further storage at the app.
We want you to pay special attention that the app in itself is paid. But also it has in-app purchases (for example, Premium package). So, it's up to you to decide. Nevertheless, we suppose that the app is worth being purchased.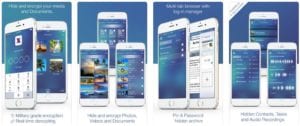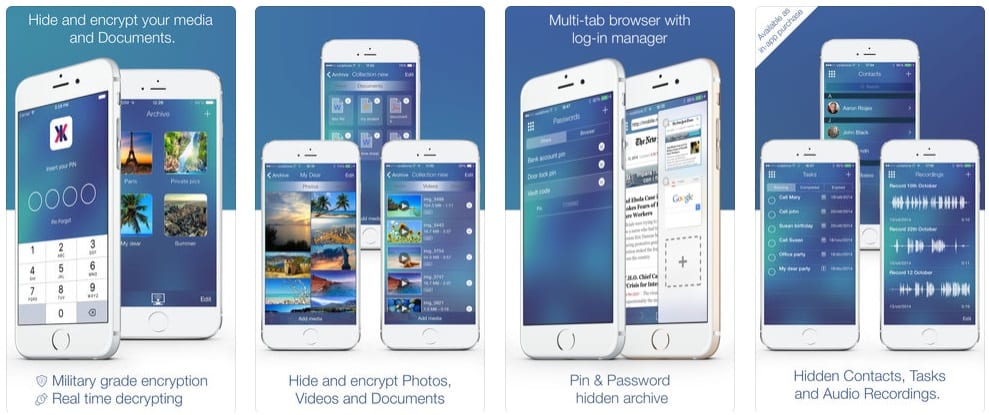 8. Private Photo Vault – Pic Safe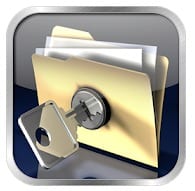 The last but not least app will also become a perfect solution to your problem. It is capable of protecting your photos and videos by requesting a passcode. Then, you will be able to treat your files just like they are at your phone gallery. Moreover, you can create Albums as well.
One more advantage of this app is a private web-browser that will let you leave no trace while surfing the Internet.
This app is with no-frills, but install it and make sure how powerful it is.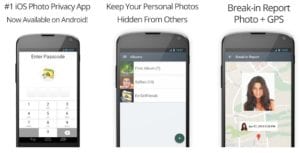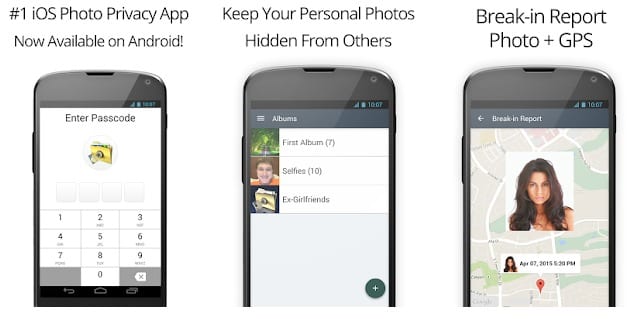 Check also: How to remove spy apps from your gadget