To get a great picture, sometimes it is not enough to have a good photographer. In some cases, you need to remove extraneous objects, such as an inappropriate person in the frame. There are special applications for such cases, which we will talk about in today's article. So, we will briefly tell you about the basic ways of editing and the functionality of different photo editors.
Also, there are other ways to improve the look of an image. The app that adds a white background screen is also great for editing photos. You can learn more about them in this article. So let's start our review of apps for removing strangers from photos.
1. Adobe Photoshop Fix
The main feature of Adobe is photo processing. Adobe Photoshop Fix offers its users the best application for visual photo enhancement. You can use it to make any changes you want. That way, you can remove an unpleasant fragment from a photo by using the delete function, which will help you to highlight the object.
You can also use the restore function. In other words, to get rid of defects in the picture with patches and healing brushes. You can apply Smoothing to make changes look as natural as they can be. This way you will sharpen and blur certain areas of the photo. Moreover, with the section Light users may brighten or darken areas of the picture.
For example, if you remove an object, the picture can look photoshopped and crooked. However, using the Clone Stamp is possible to capture the near piece and paste it into the corrected place. As a result, you can correct the finished image by changing the exposure, contrast, saturation, shadows, and highlighting.
Alternatively, you can apply a single common filter. The Adobe Photoshop Fix is a professional platform with an incredibly user-friendly interface and in combination with easy use.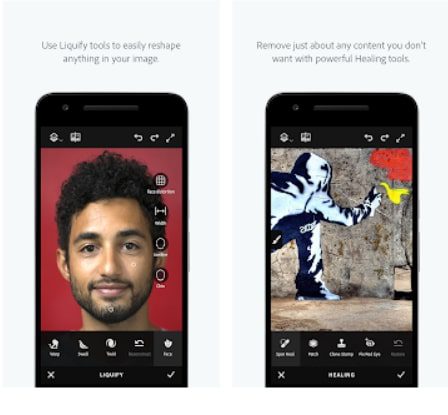 You may also like: 10 Best Apps to Combine Photos in 2021 (Android & iOS)
2. TouchRetouch
TouchRetouch is a fun and easy-to-use app on the App Store. It will help make your photo even better in just a couple of clicks. Let's assume that all of us have stunning photos from a vacation, holiday, or travel, but some details or people accidentally shot in the frame spoil the whole picture of your image.
But thanks to TouchRetouch you can quickly and efficiently remove unwanted items or objects from the photo and make it much better than before. This photo editor will please you with a comfortable interface and clear controls. It is enough to circle the desired object. Then you need to click on the delete button. TouchRetouch application itself will do all the other necessary actions.
If the application did not do a good job, then you can always correct its actions with the eraser and lasso tool. Here you will be able to keep a high resolution of the image.
Likewise, it is incredibly comfortable and easy to bring any of your photos to perfection. After all, there is an undo and redo action here. For example, if you accidentally clicked on the wrong button or decided that it looks better without processing.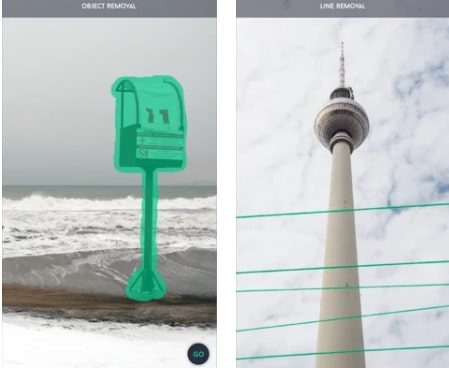 3. YouCam Perfect – Photo Editor
YouCam Perfect – Photo Editor is where users are introduced to many different photo editing tools. You can use the Smart Brush tool to remove an accidentally caught person or object from the frame. The tool itself is customizable. In other words, you will be able to change the size of the brush and start selecting unwanted objects.
Then YouCam Perfect will take everything into its own hands. In addition, the app contains a photo editor and a selfie camera. This allows you not only to correct the imperfections of your face and figure but also to create gorgeous group selfies using a variety of tools. The app offers a huge range of collages.
You can apply stylish effects to your face, such as putting on makeup or correcting facial features, before you take a picture and check the results. There is a huge set of stickers, different animated filters, adding frames, magic tools, video selfies, and more.
This way you can perfect your portrait in real-time. After that, you can share the resulting photos via Instagram or Facebook directly from the YouCam Perfect – Photo Editor.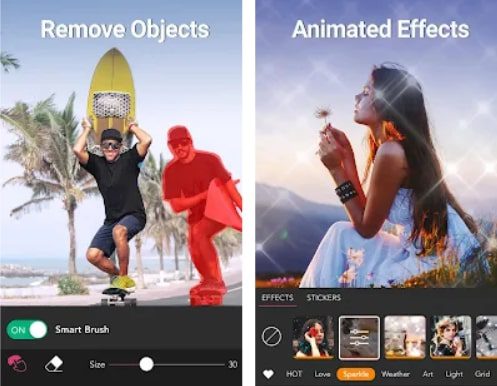 4. Snapseed
The best multifunctional image editor available on Android and iPhone. It is presented with a large set of tools, many filters with the ability to undo any action and manipulation of the image. The Snapseed application is suitable both for basic selfies and photo editing and for serious photo processing. So let's move on to the main features.
Why is it convenient to use this app to remove people from the frame? First of all, it supports both JPG and RAW files. That means you can upload even more files. Secondly, the Healing tool will remove the person from the photo. All you have to do is just move the finger around and the app will do it for you.
In addition, the application is easy to use. You will see three categories at the bottom: Looks, Tools, and Export. You can see from their names that in the first one you can apply the filters you are interested in with a certain overlay power.
The second is to use all the possible tools, such as Healing, Brush, Structure, White Balance, Text HDR, Expand, Perspective, Tonal Contrast, Face Enhance and Pose, and so on. And with the last section, you can share your photos.
On top of that, you can export it in a convenient format. That way you can immediately share the resulting photo with your friends via different social networks and messengers.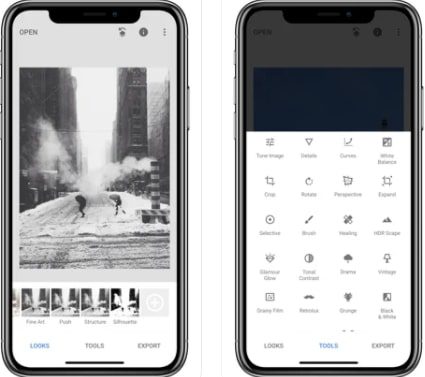 5. Remove Unwanted Object
Remove Unwanted Object is a very simple application. It does not have many functions. However, with it, you will immediately remove a person, an object, watermarks, text, or a sticker from a photo. All you need to do is select the photo you want from the gallery. Then use the Eraser tool to select the desired object. It will be highlighted in red.
Then click the processing button. After all these steps, you can share the photo with your friends and family. It will make your picture look a little better. For example, you have a photo of the face standing near a crosswalk.
So with Remove Unwanted Object, you can first remove all the passing people. You can also improve the quality of objects. For example, remove holes or make the road surface smoother. Also, you will remove different road signs. You will also remove various skin defects, such as pimples and redness.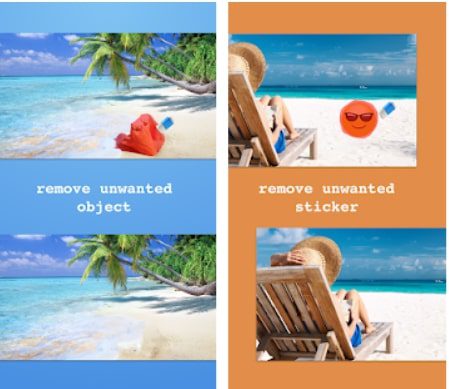 You may also like: 7 Best Photo Frame Apps for Android & iOS
6. Photoleap by Lightricks
Photoleap by Lightricks is a photo editor that contains advanced layer tools to dozens of special effects, brushes, filters, fonts, film textures, gradients, and color correction tools. Indeed, it has a wide range of functions for a mobile application. It allows you to work with layers.
For example, you can select a photo, then copy it and delete the unwanted object. Otherwise, you can overlay the missing parts. The amazing thing is that you will be able to superimpose different images. And then mix them with different layers. At the same time, it is possible to adjust the different parameters of a layer, such as transparency.
Also, you can combine layers using a single effect. In addition, you will be able to remove the background of the image and change it either to the template offered by the application or to insert your own. When the picture is processed you can add text. There is a huge collection of fonts in different sizes. Also, you can create collages or memes.
You will find many different templates. Moreover, this application is great for working with social networks. After all, here you can find a variety of photo formats. For example, with the help of Photoleap by Lightricks, it is easy to make the square 110 x 110 px for Instagram posts or a 2560 x 1440 px cover for a YouTube channel.

7. Picsart Photo & Video Editor
Everyone has probably heard about such a cool program as Picsart Photo & Video Editor. With its help users from all over the world quickly improve their photos. This application has already become very much like a social network. In fact, many users use it to post the resulting images and compete with other users in their creative abilities.
So to remove the unnecessary objects you need to use the magic brush. You choose the size and the way you press it, just like in other photo editors. Then you select the whole desired area with red color. After that, the app automatically removes unnecessary objects from your frames such as people, trash bags, cars, road signs, and more.
In addition to all of the above, Picsart Photo & Video Editor is also great for processing your image. After all, you will be able to apply many free filters with different blending strengths. The amazing thing is that you can use it to improve your selfies. So it is possible to eliminate various skin defects such as pimples and redness.
Otherwise, edit the shape of your face parts like make your lips thicker, nose smaller, add a smile and make your face look thinner. Also, you can use a lot of stickers, impose a text or an object on a photo. Moreover, the finished image will be saved in your gallery in the highest quality without losing its characteristics.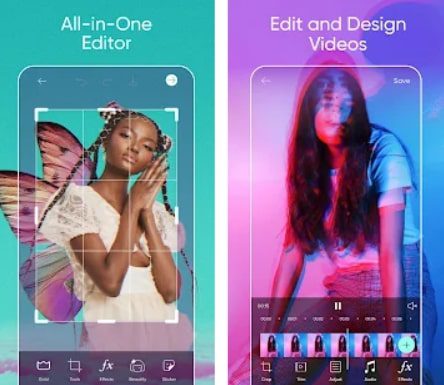 8. Retouch Remove Objects Editor
What could be better than a nice memory from the vacation in the form of photos? However, sometimes unwanted objects such as other people, birds, or debris in the sand can get into the image. In such cases, the Retouch Remove Objects Editor is a great tool. It contains not only an excellent photo editor but also a simple photo eraser.
That way you can just select the object you do not want and press the button with your finger. You can also change the background of the image. For example, you can remove it completely or improve it a little by adding something of your own. With a single tap, you can automatically select an object in the photo and copy it.
You will also be able to superimpose other photos on the image. So you can either create collages or edit existing images. In addition, you can crop photos to any size you want, for example, you can choose the existing standard or the one you want. There is also a button to automatically improve.
After choosing the strength of the change you can improve your face. So you get rid of freckles, moles, and pimples, making your skin shinier and smoother.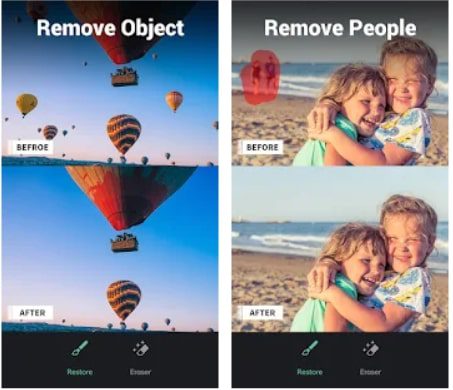 9. Photo Retouch-Object Removal
Photo Retouch-Object Removal is a free application that will help you edit your photo and remove unnecessary objects. The selection tool will instantly select an object and replace its structure with a nearby one. This way, you will get an edited image without a lot of effort. For example, your selfies can get even better.
So just point at the unpleasant areas and Photo Retouch-Object Removal will smooth out your imperfections. You can also discreetly remove watermarks, stickers, and text from the image. After that, you can apply the necessary filter such as black and white, sepia, retro, or many others. You will be able to share the resulting image with your friends via all social networks.

10. Easy Retouch – Remove by one touch, Retouch Editor
Professional photographers usually use sophisticated applications like Adobe Photoshop to edit an image. However, ordinary users can use Easy Retouch – Remove by one touch, Retouch Editor. With it, you can use just one finger to manage objects in the photo. Easy Retouch – Remove by one touch, Retouch Editor is mainly aimed at removing objects.
However, it accomplishes this in such a way that your entire image is improved in quality. You will be able to smooth objects and make them a little brighter. Also, you can use the Clone Stamp tool to select an object and then paste it where you want it. You can also use
Precise Selecting to quickly select an object by circling it into an oval. That way you can eliminate unnecessary elements or people from the photo even faster.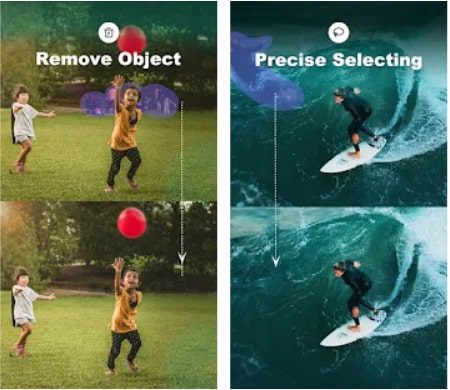 You may also like: 20 Best Age Regression Apps (Photo & Games) for Android & iOS
11. Photo Retouch – AI Remove Unwa
Editing images has never been easier. All you need is a smartphone and the finger of your hand. Let's go straight to the description of the tools and their functionality. There are only a few of them. For instance, using the Brush tool will allow you to draw on the image and remove unwanted objects.
Likewise, the Lasso Tool will also help you remove an object. It will select the object and create a selection outline manually by moving your finger across the screen. And Eraser Tool will either delete the selection or remove the object itself. Just like in Photoshop, there is such a tool as Stamp Clone.
You can use it to point to the area and paste the piece you want. For example, you can remove the clouds in the sky or the flying birds by copying the sky. In addition, if you do not want to try too hard, you can always click the Quick Delete button.
Photo Retouch – AI Remove Unwa will detect where the object is and remove the object from the image by itself. You can also delete unnecessary text, logos, stamps, or watermarks.