All businesses every now and then have to transfer some goods from one place to another. It is crucial for these parcels to be delivered to the right place, at the right time, in the right conditions. That's why it is vital for parcels to be tracked along the way. These 11 apps for smartphones will definitely assist with that.
1. Deliveries
Truly one of the best parcel tracking apps on the market. It is suitable for all sized businesses from small shops to bigger companies. Nice, handy design, great usability of the app make it even better for non-experienced businessmen.
In terms of content, Deliveries tracks more than 40 shipping and delivery companies of all sizes, from giants like FedEx, Amazon, eBay, and USP to local firms, which makes it easy to track all your parcels at once. You can control both international and domestic deliveries of your parcels just by using this app on your phone.
You can always see where your parcel is at a single moment just by looking at the maps which are built in the app, as "Deliveries" is one of the few apps which efficiently uses GPS tracking and effectively works with Google Maps to provide their users with the best service possible.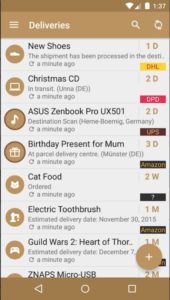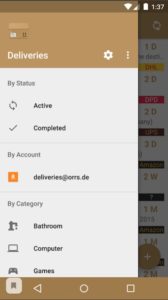 You may also like: 5 Top apps to write a business proposal (Android & iOS)
2. 17TRACK
The simple layout and useful functionality of the application make it an app with rapidly growing popularity among businessmen. This app can track in both modes, single-tracking and butch tracking.

Using your tracking number you can automatically detect the carrier of your good. Prioritizing your orders is an important feature, as can be interested in sorting out your orders in the important order and seeing the most important ones at the top.

Push notifications automatically inform users about the status change of the parcel. 17TRACK is compatible with almost 500 delivery services such of these are DHL, BlueDart, FedEx, and many others. 17TRACK supports international carriers and China E-commerce carriers which makes it easy to track goods from the rest of the world and especially the Asian market which is so important nowadays in the bulk-buying business.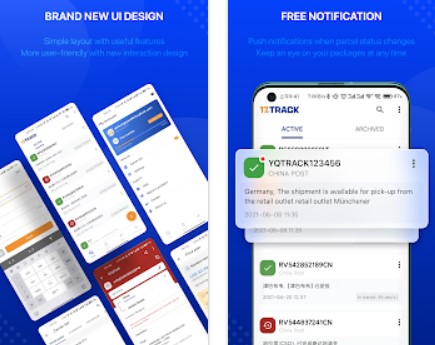 3. Aftership
Looking for the phone tracking app? Aftership will be your solution. This application works with almost 700+ delivery companies such as FedEx, DHL, USPS, and many other big shipping companies. It also helps with tracking goods ordered from Amazon, AliExpress, or eBay what makes it useful for regular customers and non-business purposes. This app provides its customers with real-time shipment location, hence you will never lose your good and wonder if it passed the Suez channel or not.
This app reduces the workload on your business and provides automatic This app provides real-time updates about the status of your goods. You can also look in the app for all the detailed information about your shipments and give contact details and the service providing shipment. The nice user interface makes it one of the best apps available.
Push notifications and bar scanners are also available for use. Also, it can be synchronized with Google to receive emails about your shipments.
In case you want to order something from outside of the US, you can do that with almost 400 shipment companies which are tracked by "Aftership".
The good thing about it is that the app is free to download and is ad-free.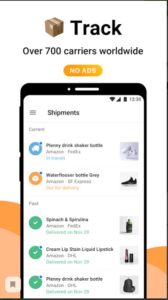 4. TrackChecker Mobile
There is a need in sending a parcel to a distant location? TrackChecker Mobile is the app for your purposes. It is a versatile application for tracking your mails, parcels, and many other things. The fact that TrackCheck Mobile supports almost 600 different couriers from almost 200 countries, meaning almost all the world, can be a great help in sending and receiving goods from all around the world.
No limitations in the number of parcels tracked at the same make it useful for tracking many goods at the same time. Push notifications can be set manually by the user and this flexibility is what I like about the app. Emailing is also possible, just synchronize your email box with the TrackChecker, and you are good to go. The overall flexibility of the app is one of the main features which you should take into consideration when choosing it.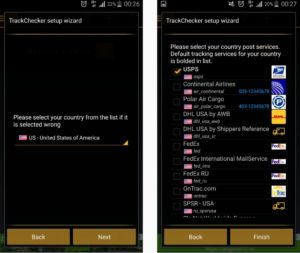 5. ParcelTrack
This isn't a free app. Parcel Track is a free downloadable app but in order to use it, you will have to buy the premium version of it inside the app. However, when the premium version is bought it unlocks lots of useful features for the user.

As an example, you can do map tracking of your parcel and by using GPS locator tracks every individual van that delivers goods, hence increasing the safety of your good and avoid losing it in the middle of the Texas desert. Push notifications every time your parcel reaches a new marker are included and mailing notifications are also available.
The system is tied up with such delivery systems like FedEx, USPS, and many more. Generally, the system has lots of delivery systems tied up and which can be tracked. This app will suit you if you care about the safety of your parcel.
The app is free to download,  but to use it – the premium version is a must-have.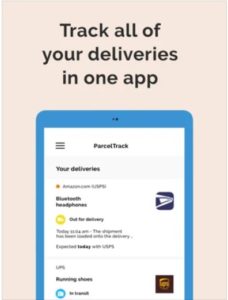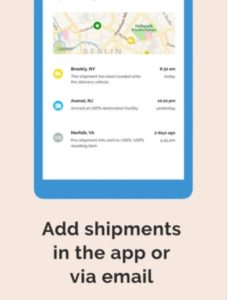 You may also like: 10 Best fuel calculator apps for Android & iOS
6. OneTracker
This app supports less than 100 carriers of goods, but the main ones such as DHL, FedEx, USPS, Amazon Logistics are supported and this should be enough for tracking parcels within the US. There is an ability to add tracking information in a variety of ways, such as barcodes and manually, automatic clipboards, or many others.
As soon as you create a free OneTracker account you will be able to access the features of this app. There is no need for Premium subscriptions for its services and the user interface of the app is very useful and the other good thing about this app is the total absence of ads.
This app respects your privacy and doesn't scan your email, instead, it provides its own email address and when you provide just your shipping email address it automatically identifies your parcels and you are good to go with this app. The other good feature of the app is the synchronization of the details about your shipment on many devices.
Important notice, app id in beta version for Google Play, so some errors when using it may occur.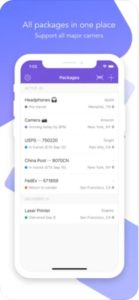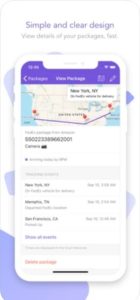 You may also like: 10 Best Apps to Combine Photos (Android & iOS)
7. Track24
Are you looking for a parcel tracking app from a businessman's perspective? Then you should definitely shrink your attention to Track24. This app has all features needed for successful tracking of the goods you are sending over and parcels you receive from the US or other countries. The app works with more than 600+ shipping companies, some of which are FedEx, Amazon, and many others.
It is quite useful in working with goods shipped by Amazon, AliExpress, and eBay. Also, you will be always in touch with information about the status of your goods with Track24's in-time notifications about the status of your good. Also, you can get notifications about the status of your order. Additionally to the registration process is quite easy, you need just your Google or Twitter account for registration.
The good thing about the app is that it is connected to the web source of the system and you can track your parcels with your PC and your mobile phone.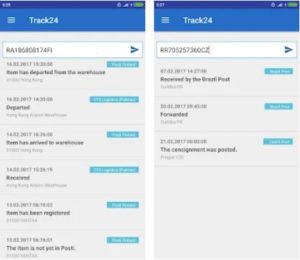 8. Shiprocket
This is an app of the largest Indian shipping company and this app can provide all the information you need about your shipping order such as estimated date delivery so that you can plan on when you are going to receive your parcel, or whether. The app has a quite nice-looking interface and can provide you with tracking of 14 partner companies just by providing your AWB number. The partner companies are:
DHL

FedEx

BlueDart

And other companies
Also, this app has many other useful features like a shipping rate calculator. You may find it useful to know every time the cost of shipment of your parcel to spend your business money wisely and with the maximum effect.
Order management can help you to set your priorities in terms of the importance of parcels in the right order and have the most vital ones at the top of the screen every time you want to see your tracking list.
A non-Delivery Report can help you to understand why your product couldn't be delivered to the customer. The NDR reports always go with the remark of why an error happened as soon as your courier updates the information.

Previously you had to choose between two options: RTO (return to origin) or Reattempt within 24 hours after the shipment was marked NDR. Otherwise, it would be marked RTO and forced to return to the origin. However, now you can choose between RTO and "action" where you can decide what you wish to do with the shipment. What makes this feature more useful is the NDR dashboard which can be accessed every time.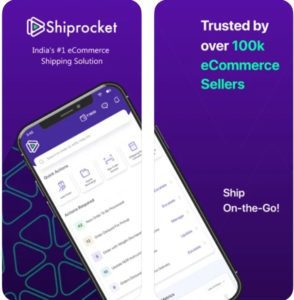 9. ShipTrack
Another great app for businesses of all different sizes. Bulk buying as a large company? No problem. ShipTrack will help with the fulfillment of your orders. Does a small company need a simple app for local logistic operations? ShipTrack provides with useful user interface and will help you with the optimization of the shipment route. Do you need security for your good? You can do that with ShipTrack's vehicle and driver management.
Fast access to your tracking list from the home screen of your phone using the widget of the app. A secure delivery network will make your parcels even more secure and safe.
One of the best things about the application and the system ( ShipTrack is not only the app but also a web source) is the 24/7 Customer Support in a form of Live Chat. Company's representatives' answer within 2 minutes which makes it fast and easy to ask any question or solve any problem you may have.
However, there are some issues with this application. The main and the most serious one which you should look at is the variety of delivery services ShipTrack supports. As an example, this service doesn't support DHL.

Also, there is no clear indication of the delivery services which are supported by the system. Asking the support team won't help, as I have contacted them and they said that they cannot share the list of their clients. So, be careful about which delivery services you wish to use. ShipTrack may not work with them.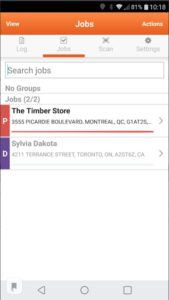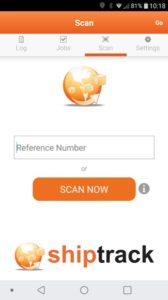 You may also like: 11 Free currency converter apps for Android & iOS
10. Slice: Package Tracker
Great app for making and tracking shipping of your orders. The good thing about the app is that it automatically tracks your shipments. There will be no need in entering the number every time you want to see your tracking info. As soon as your item is delivered it tracks recall alerts and price changes. Also, this app might help you with the refund on items.
The system works with all huge US delivery systems such as DHL, USPS, UPS, FedEx, and many others. It can also alert if the price of something you purchased changed after your purchase and it can help make price adjustments straight from the app. Here is the list of services with which Slice works on low-price guarantee retailers:
Nordstrom

Best Buy

Walmart

West Elm
And many others, to see all please look at the website of the app.
Also, this app has barcode scanning, so all you need to track your shipment is barcode label scanning before you ship your parcel.
The app is completely free to download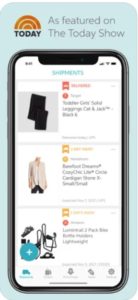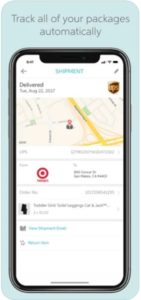 11. Delivery Service Tracking apps
You can always ask, why would you need all these apps if major delivery services like USPS, DHL, FedEx, and UPS have their own tracking systems.
They are quite useful because they have all the information about the shipment you make through their system. You can search there every step of the shipment along the way. Push notifications, email notifications, maps are all included in these services.
However, these systems have a huge disadvantage comparing to those listed previously. The track-only parcels are shipped by their company. It isn't always useful as businesses usually use different delivery companies depending on the place of origin and destination. So, if you work with people all around the world, then it wouldn't be useful to download all 4 apps and mes1s with your parcels.