It is not necessary to be a superhero in order to have the ability to see everything clearly in impenetrable darkness. Due to the particular category of apps, this faculty can be available for everyone.
So we begin to talk about infrared camera apps. To be honest, at the moment, they have discrepant reviews and far from being professional equipment. Nevertheless, they are powerful enough to meet your requirements.
In this post, you will have a chance to become familiar with the best infrared camera apps. Available on the App Store and Google Play, they will allow you to feel yourself a spy.
1. Night Camera (Photo & Video)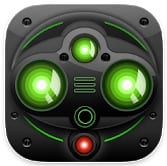 Before we start, let's find out what infrared camera is.
Well, this type of camera works in collaboration with infrared light, which is invisible to the human eye. Due to infrared emission ability, a camera provides us with a great night vision tool.
Now it's high time to review this cool app. Night Camera (Photo & Video) will let you see everything when it's dark.
To begin with, this very app has three modes. Believe us each of them is really unique. Thus, you will have access to Thermal camera effect, and Black-and-white effect. Also, applying a green filter to a camera will be available too.
All these techniques will let you capture the beauty of the night or provide your security.
As for the app's capabilities, you will be able to capture videos and photos with both front and back cameras. Apart from this, such tools as timer and zoom will be frequently used by you as well.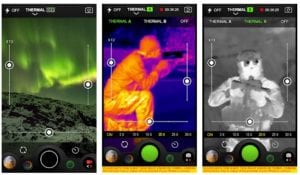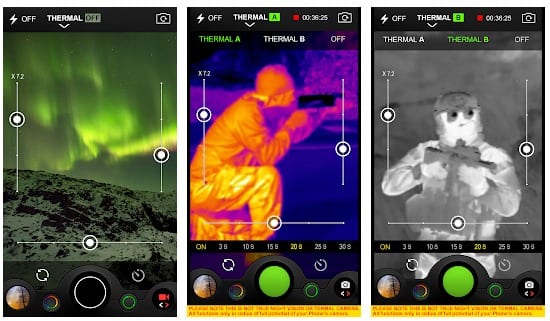 2. Seek Thermal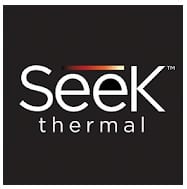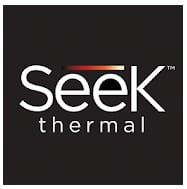 The next popular app is called Seek Thermal. We highly recommend you to install the app and make yourself sure how accurate it's sensors are.
Owing to the app's built-in system, you will be able to see everything in the total dark. After taking a photo, a temperature scale will be shown to you. This awesome feature will allow you to study objects on the photo more accurately.
The app has one more distinguishing feature. By saying this, we mean multiple viewing modes and up to 9 color palettes. Choose the one that suits you best and enjoy the use of the app.
For your convenience, the app supports saving, sharing, or changing the format of photos and videos captured by it.
If it still seems difficult to understand, you will have a detailed tutorial at your fingertips. You can find it directly in the app's menu.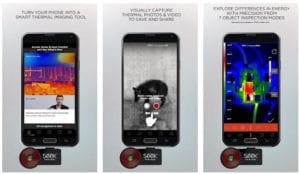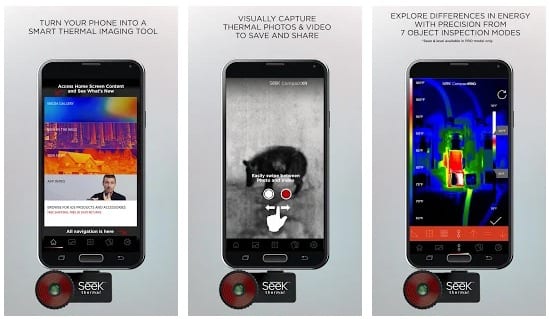 3. Thermal Camera FX : HD Effects Simulation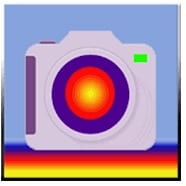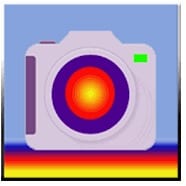 If you want nothing but a simulation of the thermal camera, this app will be the best choice for you.
The thing is that Thermal Camera FX : HD Effects Simulation provides several filters that will generate a photo that will look like one taken by the real thermal camera.
It must be mentioned that the app is capable of capturing photos as well as videos. Moreover, you will be able to apply any of the filters on photos from your phone gallery.
To put it shortly, it will be a great tool to surprise your friends and attract more followers by this extraordinary content.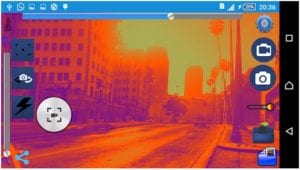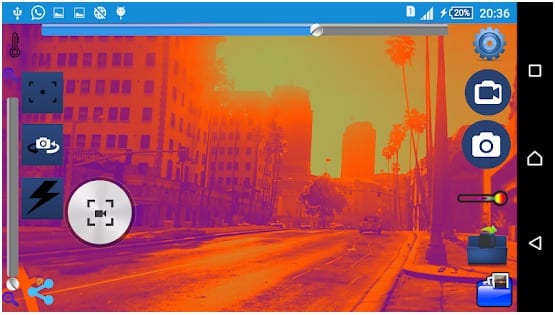 4. Night Vision GO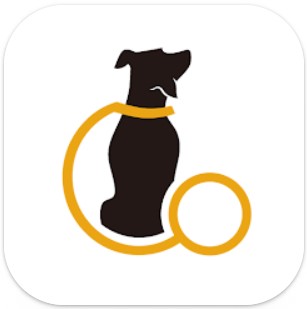 Now let's go back to more or less reliable apps. Night Vision GO is one of them.
As you can see from the screenshots, the app's user interface is the simplest ever. You will see only one button on a screen, activating an infrared camera mode.
This feature will make every object visible in the dark.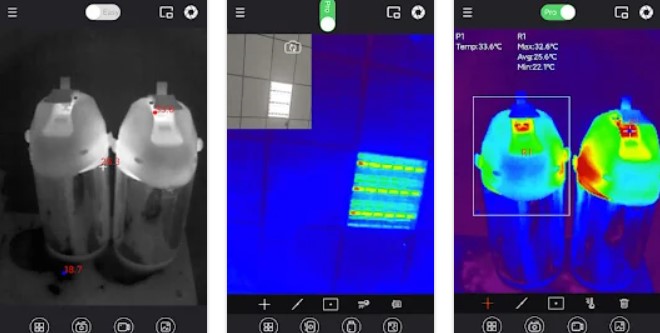 5. Night Vision Flashlight Thermo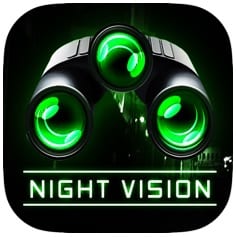 Though this app has the same name, if we compare it with the previous app, this one will be more efficient. Also, it has been designed for iOS devices.
Right after installing the app, you will have access to some filters (Thermal camera and Night mode). The app will apply any of them to your camera, depending on your choice. After that, you will obtain the ability to see in the dark through your gadget screen.
What makes Night Vision Flashlight Thermo so convenient is that you will be able to take a screenshot of the image on a screen.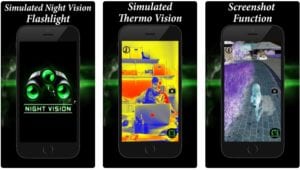 6. Night Vision Camera Filter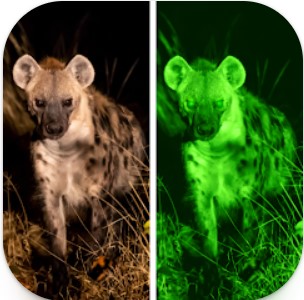 One more simulator for taking stunning photos is called Night Vision Camera Filters.
The app will create the effect of capturing photos with a night vision camera. Thus, you will be able to choose between Green, Red, or Yellow filters. Applying them to your phone camera will improve visibility and generate a fantastic photo.
By the way, the app supports taking not only photos but videos as well.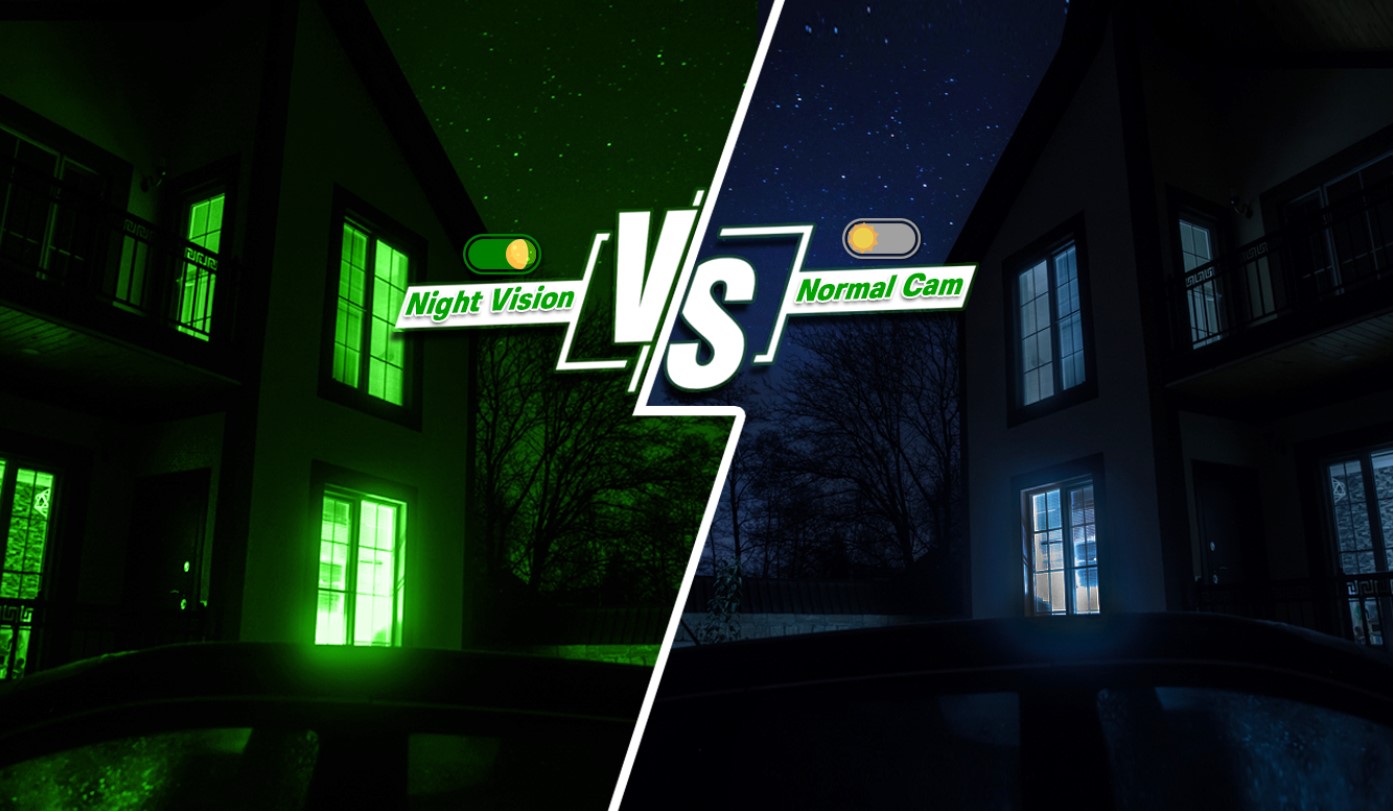 7. Thermal scanner camera VR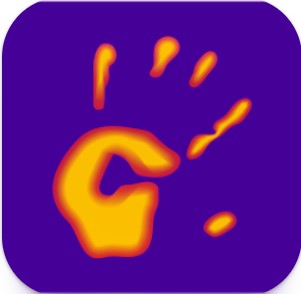 If your aim of installing an infrared camera app is to impress your friends, a Thermal scanner camera VR will be the most appropriate. Though we do not guarantee an accurate result, a colorful image will look very fascinating.
With the help of this app, a user will be able to see every object on the screen of his or her device. The app's camera will register the temperature levels of objects and converts them into an image. To do that, you will need just to press a button. To switch this feature off, press a button again.
Moreover, you will be able to take a photo of what you see on a screen in the app directly. For this purpose, there will be one more button with a Camera icon. That's what makes the app even more amazing.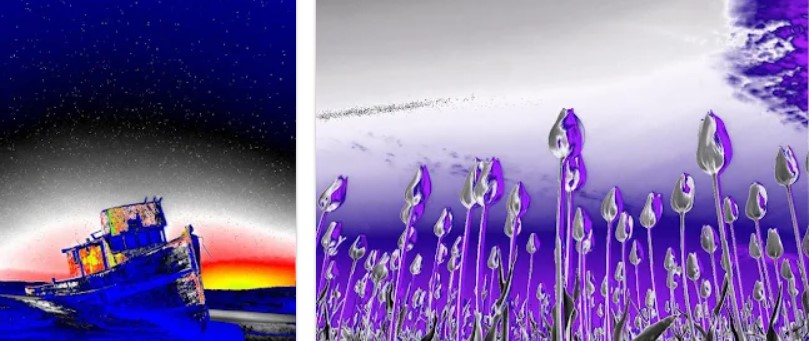 Probably, you will need cut & paste photo apps while working with infrared camera apps.
8. Night Vision Thermal Camera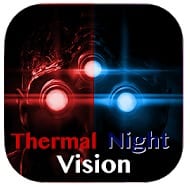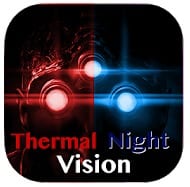 The next app from our list is considered to be extremely multifunctional. Let's find out why is it called so.
At first sight, it seems that Night Vision Thermal Camera is similar to the previous app. It has two of the same filters (Night Vision and Thermo Vision), and applying them will turn your camera into an infrared one. But that not half of the story.
The app has even more advantages. One of them is the UV Vision Filter. This feature will also provide great visibility when it's dark.
Besides, the app supports a unique system of Object Detection. It is capable of recognizing up to 100 objects. It will be so appropriate when you can't think about what is there in the darkness.
Finally, you will be able to capture photos as well as videos. That's a really worthy feature for the infrared camera app.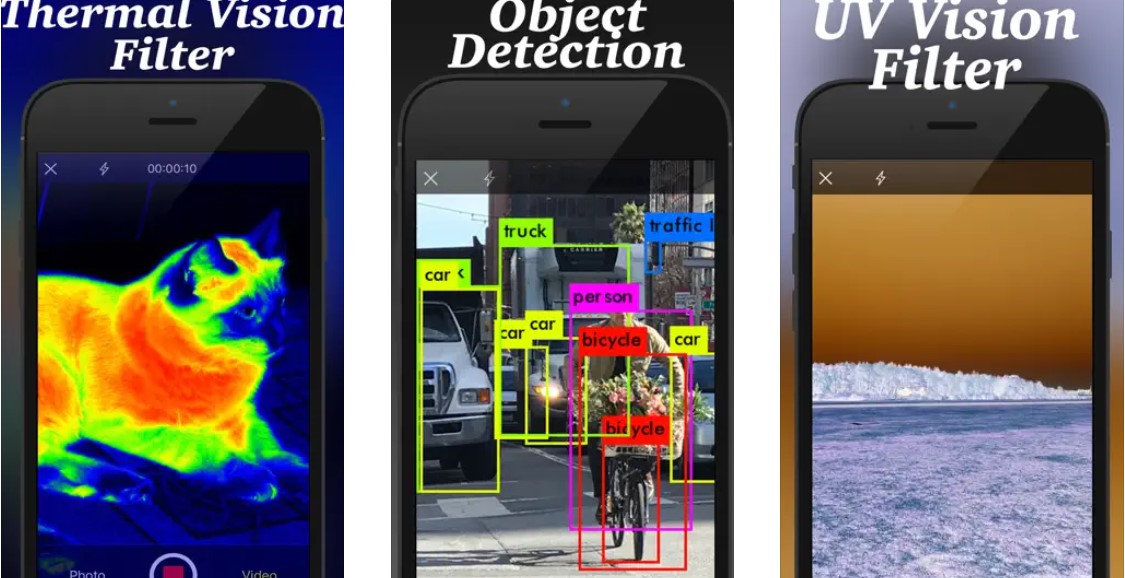 9. Footej Camera – PRO HD Camera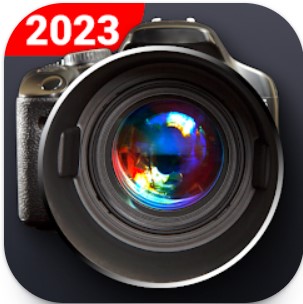 Still not satisfied? Try one more nice app then! Now we are going to talk about Footej Camera – PRO HD Camera.
The app includes various filters to apply to your camera. The effect of an infrared camera will be reached for sure. Because of these efficient filters, you will be able to see objects in the darkness right on your screen as well as take some creative photos and videos.
Furthermore, while creating content, you will be able to change camera sensitivity in order to achieve a great result as well as set any 1-8x zoom simultaneous to the recording.
For those who prefer all-in-one apps, this one will become so enjoyable. We guess you will like the app's capability of instant sharing content via popular social media.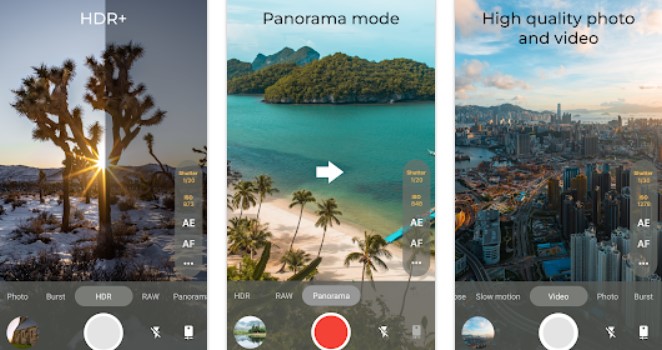 10. Night Camera Mode Photo Video
Night Camera Mode Photo Video is the last app in our post. But it doesn't mean that this application isn't worthy. Every object on your gadget screen will be of green shade. This peculiarity will let you observe everything thoroughly.
The main advantage of this app is its capability of being adjusted. So you will be able to set the most optimal illumination in accordance with the environment.
Also, you will be able to zoom in or out for better visibility. Besides, changing the color of the filter will be available for the app's users as well.
Finally, like many other apps, this one supports capturing photos and videos, even by setting a timer.
As a bonus for those who have special equipment, the app can work in VR Mode.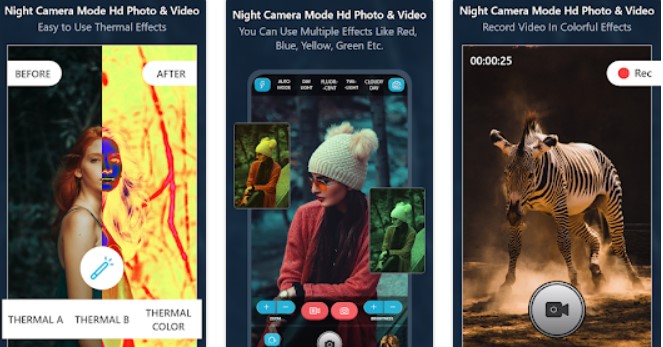 You may also like: 10 Best cinemagraph apps for Android & iOS