Some people believe that investments bring tangible income only with large investments. Financial well-being depends primarily on long-term investments, which can start with insignificant amounts. So, we have collected the best applications that can encourage you to economic development.
We hope our article will be a great option for increasing income which will make money work for you. In addition, we suggest you try your luck at trading. Read more in the article Best Paper Trading Apps.
1. Acorns: Save & Invest
This is an app for saving and investing in your future. You can save and automatically invest your change by using this app. The service is great for first-time investors who want to build up their savings. To open an account, you will need to deposit at least $5, as well as go through verification.
Besides, the platform is easy to understand, even for a first-time investor. Acorns offer you five portfolio options, saving you the hassle, the platform itself will develop a strategy and stick to it. It completely automates your investments. So, you will be able to link your financial accounts in the app and specify the amount you want to save from your purchases.
In addition, you can set up regular payments and transfer your money into your account. In addition, you can invest your money in cryptocurrency with just one click. You will not need to install new apps and create new wallets, all this can be done in one app.
There is also a lot of personalized content in the app that will help you improve your financial literacy. Moreover, if you buy brands that are registered in the app you can receive bonus investments.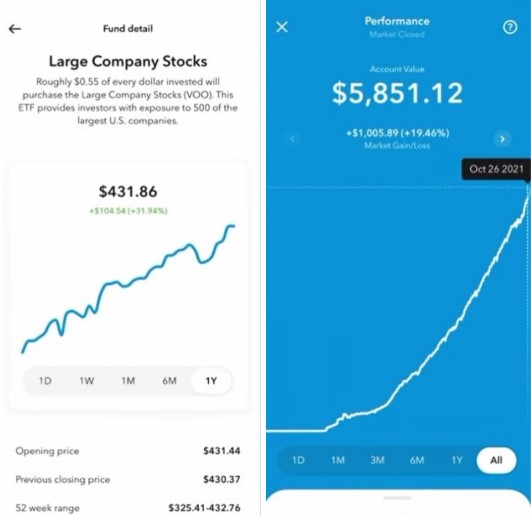 You may also like: 9 Best Apps to Buy Land in Metaverse
2. Axos Bank
Axos Bank is a savings account that is one of the best on the market. The advantage of this application is that it charges you no service fees and helps you invest your money wherever you need it. This platform offers you five accounts that you can use. Each one has its benefits and helps you invest.
There is daily customer support in this app which you will be able to get by phone or live chat. Also, you will be able to connect all of your bank cards and check their accounts in one place. In addition, the app will give you information about your spending across all the accounts you have.
Also, it is possible to view investment portfolio recommendations to help you in your financial life. In addition, you can set up alerts that will help you receive information in real-time.
It is worth noting that the platform is insured and even in the worst circumstances, every account in the bank is covered by $250,000 in insurance. Thanks to this you will not have to worry about your money and invest in your future.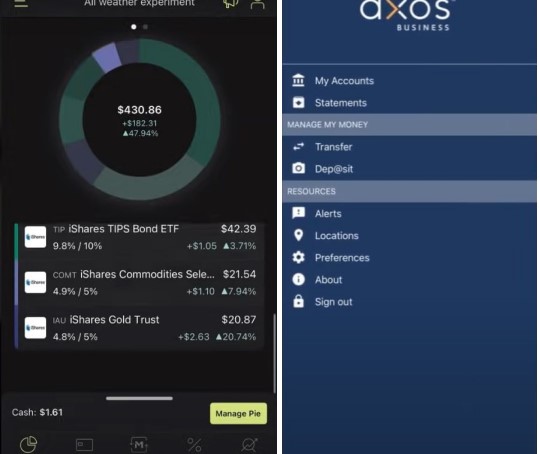 3. Robinhood
This is another free mobile app for trading and investing in cryptocurrency. The main advantage of this app is that all transactions are conducted in it without any commission. You can buy or sell cryptocurrency without losing money. Besides, this app works in a very simple way.
You can view all the cryptocurrencies, stocks, ETFs, and options in convenient tabs. In addition, the app tracks changes in the rate of more than fifteen cryptocurrencies. In addition, you will be able to read the latest news and enrich your knowledge in the world of cryptocurrencies. It is very simple to start trading in this app.
It will require you to pass a short verification and deposit your balance up to $1,000. After that, you will be able to replenish your balance indefinitely. After topping up you will be able to trade on the exchange. The application will find the best exchange rates according to your wishes, based on the various trading floors.
In addition, the application will give you complete information about the risk of trading you want to do. In addition, the application supports offline accounts, so you can earn just by keeping money in this program.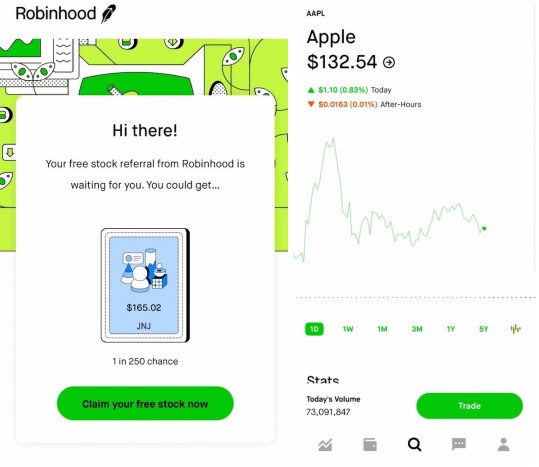 4. Public: Stocks, ETFs, & Crypto
This application will allow you to invest your money in any amount. To start investing, you will need to go through a brief verification and confirm your identity. In addition, the app will help you understand how their platform works and allow you to start investing with a free stock option.
You will be able to invest your money in stocks, funds, and cryptocurrency. The platform also writes informative articles every day, which will help you learn more about the world of investing. Besides, you can chat with other users of this platform in the app.
You can also follow your friends or experienced investors and share your views with them directly in the app. It is worth noting that Public does not charge a commission for trading and helps you measure all trading risks. In addition, this platform is a member of the Investor Protection Corporation.
The securities in your wallet are insured for up to $500,000. Thanks to this, you can easily invest and not worry about your money.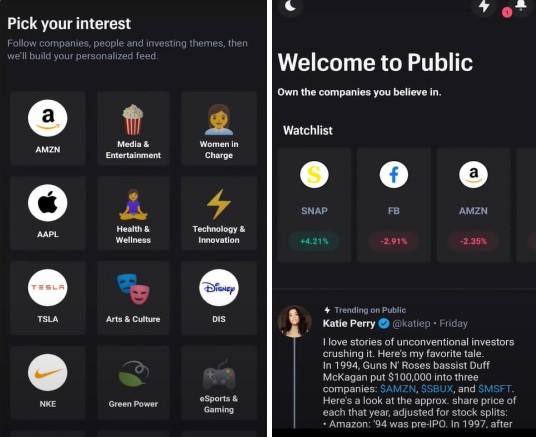 5. Betterment: Investing & Saving
Betterment is designed to make investing easy and to share your experience. To begin investing you will need to complete a registration process. Registration is extremely short and only takes 3 minutes. You will be able to invest in international portfolios created by experts.
Also, another pleasant perk of this company is that it charges a low annual fee of only 0.25%. In addition, you will be able to connect your external accounts to see a picture of your entire savings goal. If you fall behind on your savings goals, the app can help advise you on the best investment and trading risks.
Besides, by using an IRA, you can easily implement your retirement savings. Moreover, the app gives you complete instructions on how each investment works and how much it can bring you. The platform will also give you a complete plan of action on how to retire and invest your savings.
For long-term investments, the app will give you bonuses. And you can also view your earnings in real-time using a very handy spreadsheet.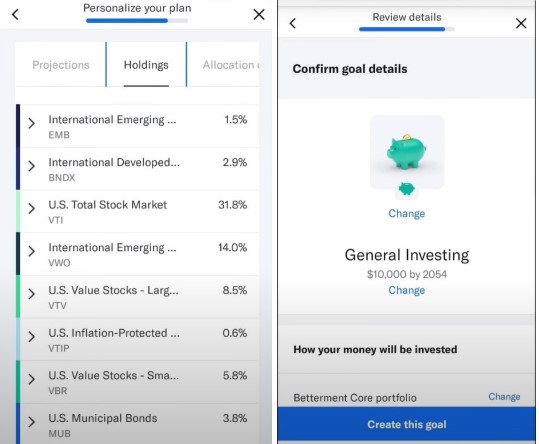 You may also like: 11 Best Multi Crypto Wallet Apps
6. Webull: Investing & Trading
This is another forex broker that offers its customers favorable cooperation conditions. In addition, this application is as a worthwhile alternative to other well-known brokers. Thus, the app is an advanced trading platform with the ability to trade without commissions.
In terms of tools and data, the service offers much more than its mobile phone app-based competitors. On top of that, a novice investor will be pleased with the absence of a minimum deposit to open an account for regular trading. Also, there are no account opening or service fees here. You can access real-time market data to make trades in the market.
In addition, advanced investors and analysts love the ability to view crucial statistics and insider information. Also, you can save articles and leave comments on specific issues.
Moreover, the app is notable for having all the basic tools you need for stocks and cryptocurrencies, such as a financial calendar, newsfeed, and market movements. Also, it has smart triggers that react to any changes in your list. This is how you get custom notifications.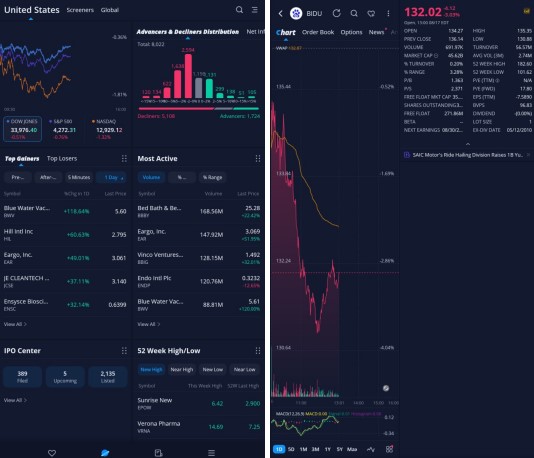 7. Stash: Invest & Build Wealth
This is an investment app that is suitable for beginners in investment due to its speed and simplicity of functions. Thus, the developers have focused on creating a program with the most simplified investment tools. It also allows you to start investing for free.
The program has a built-in virtual consultant, which allows you to quickly come to profitable investment options. Thus, after installing the app, you would be asked a few questions to analyze your economic habits which determine the type of investments you make and the degree of risk you are allowed to take.
Then, you will need to connect your current trading account to finance your investments. This way, after these steps you will get a personal account and your trusted consultant will be ready to propose investments that are profitable for you.
In addition, the app also has educational content, which should enlighten you about profitable investing. On top of that, you do not need a lot of money to start investing. Indeed, there is a system in which you can buy a large stock in portions.
Also, the platform offers you three plans to choose from: for first-time investors, economic growth, and financial accumulation.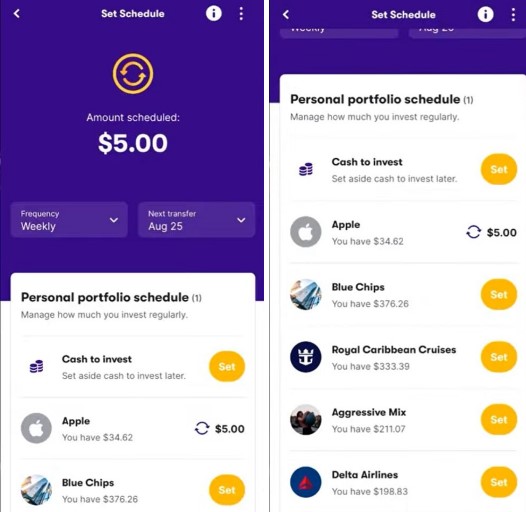 8. E*TRADE: Invest. Trade. Save
It is a secure stockbroker with extensive banking experience. In addition, it offers many investment services and several types of accounts. To trade on your own, E*Trade offers the following instruments: stocks, options, bonds, private funds, ETFs, futures, and so on.
In addition, you can monitor your account can by Google Assistant. So, you may give commands to the Assistant to check your balance or make a transaction without logging into the app. Also, there is a live news feed here for advanced traders, which you can watch online. In addition, you get access to a huge database of educational content.
It is worth noting that this platform is designed for the widest possible range of people. Therefore, it can attract both investors and traders. First of all, the program is popular due to its wide range of provided features. Thus, there are even banking products, tools for pension savings management, financial planning, and advanced advisor.
Secondly, the broker is attractive in its absence of commissions for trading U.S. stocks and ETFs, which makes the system more accessible for those who are not ready for large investments.


9. Invest & Trade | M1 Finance
This is a large service that can trade, invest and earn. First of all, it is known for its virtual assistant, which allows you to automate the work with your wallet for monthly deposits and establishing portfolio distribution, to withdraw funds quickly and easily. Also, the service offers you to trade with 10 cryptocurrencies without any charges.
This way you can create a portfolio according to your preferences and capabilities. Also, you can create multiple portfolios at once. For instance, you can have one that contains low-cost ETFs and others you can use for experimental investments. In addition, the service offers split stocks for those who are willing to invest a smaller amount.
Moreover, the program is notable for the simplicity of registering and creating your first set of stocks. All you need for this is your email. In addition, if you want to learn the details of investing and trading, there are tutorials in the app to help you better get a sense of how the market, stocks, and instruments work.
On top of that, you can passively make investments. The program itself will transfer you money remaining on your card to your account. You will also receive cashback from your debit and credit cards of 1.5% and 10% respectively.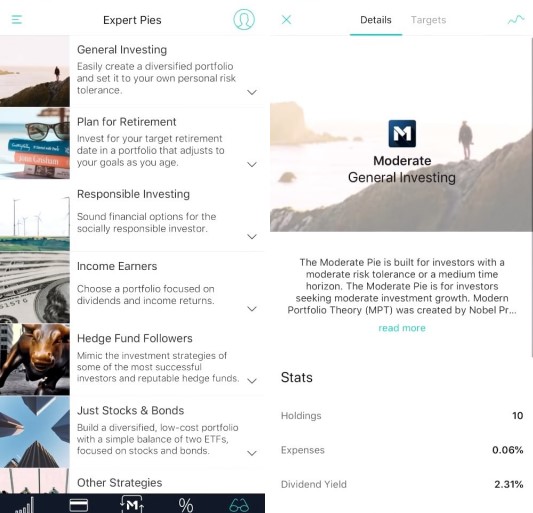 10. Yahoo Finance
Yahoo Finance is a program designed to help you track markets and the economy. You will be able to follow the stocks you are most interested in, as well as receive customized news and alerts to help you immerse yourself in the world of investing.
One of the pluses of this app is that the platform stores a lot of information about each company over many years. Also, it is extremely convenient to work with the chart, as it can be expanded to the full screen and zoom in or scroll through any area. However, a huge perk of this application is the Watch-list tab.
Thanks to it, you can view a selection of sheets with a list of stocks that are already broken down by criteria. In addition, you may like the ability to view the top stocks that were purchased recently by large funds, the same assets that these funds are getting rid of, stocks from the technology sector, and much more.
Thanks to this tab, you can diversify your list of potential companies to buy. This will help you find companies that are more appealing to you and start investing. In addition, you will be able to go to Yahoo Plus which will help you get exclusive tools with which you will confidently increase your profits.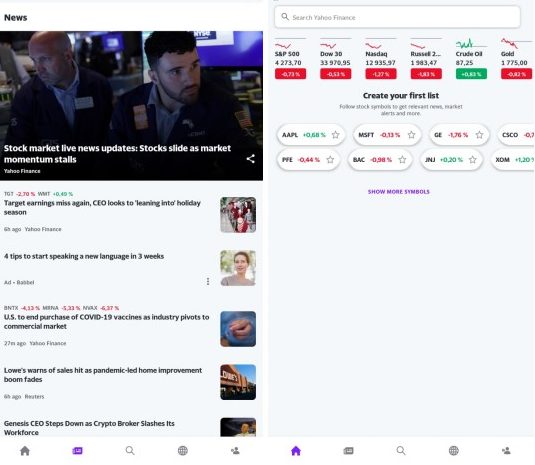 You may also like: 11 Best Credit Building Apps
11. smallcase: Investing Made Easy
This is another option for investors. First of all, the app is striking in concept. The creators declare that their service is designed for long-term investments, however, the investments can be quite insignificant. Secondly, you can set up automatic payments from your card to your wallet, which will add a few dollars to your portfolio.
Finally, the program is notable for its investment opportunities which require no particular skills in trading. Thus, the service offers the use of ready-made portfolios assembled by the application's experts. It is also worth noting that the program works with all major top exchanges.