With the advent of Metaverse, there is a new way for investors to profit from their investments by purchasing virtual real estate. As we know, real estate is one of the most valuable assets in the real world, which is capable of bringing in a steady income. Now real estate can also be purchased in the virtual Metaverse. So, virtual lands are NFT-tokens with various features.
They are visually represented in the form of land areas or buildings where virtual objects can be placed. In addition, you can place your advertisement on it, and other things that can bring profit later on. Also, we recommend you the article Best Multi Crypto Wallet Apps with all popular ways to store tokens.
1. Decentraland Explorer
Decentraland is an application of the software that aims to encourage the user's global network to manage a shared virtual world. Decentraland users can buy and sell digital real estate by exploring, interacting, and playing games in this virtual world.
Moreover, users can communicate with each other, visit places and events, and create and trade content with each other within the metaverse. MANA is the internal token of the Decentraland platform. This coin will be used for payments within the system. The first thing you can do with it is to purchase a virtual parcel of land.
Once a parcel is privately owned, you can place any kind of object on it, such as entertainment, social, retail, or industrial ones. In addition, you can buy items of clothing, accessories, and also unique names for avatars.
It should be noted that all transactions are made among Ethereum wallets, therefore they are checked by the Ethereum network and registered in its blockchain.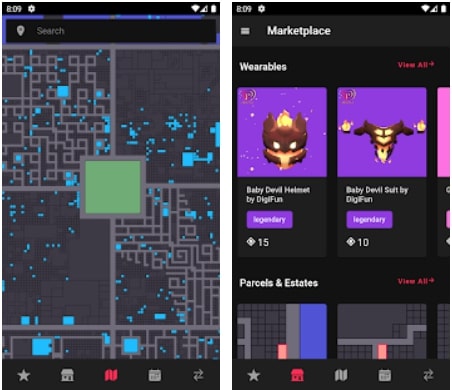 You may also like: 9 Best My Track Cost Calculator Apps (Android & iOS)
2. MetaMask
Wallets such as MetaMask are convenient for connecting to Metaverses. For example, it is already being used by Decentraland or Sandbox. This mobile app also allows users to buy Ethereum blockchain tokens directly in the app via debit cards or other common payment methods.
You can invest, trade, play crypto games, own unique digital items and so much more. In addition, this cryptocurrency wallet allows the user to send, receive and exchange cryptocurrency by fully managing their keys. Moreover, MetaMask generates passwords and keys directly on the device, so only the owner has access to his or her funds and confidential information.
In addition, it supports a huge number of tokens. Also, there are no minimum deposit and withdrawal limits. On top of that, it has a user-friendly interface.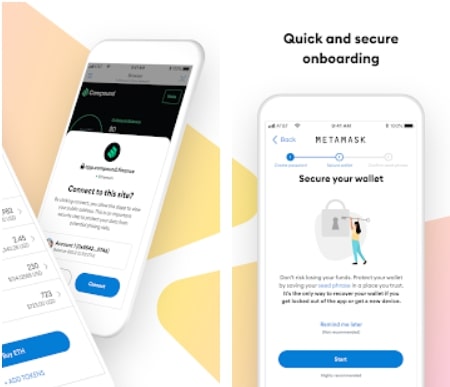 3. OpenSea
OpenSea is the first real marketplace for buying and selling NFTs. It is a kind of intermediary between you and the metaverse sites. After all, this is the platform where most of the accounts of major metaverses are collected. Also, it is an incredibly convenient service where you can subscribe to the accounts you like and keep track of the price changes for different collections.
In addition, you can quickly buy the land you need using all available funds. Moreover, it is incredibly easy to search by category, time of publication, and price. In addition, OpenSea makes it easy to create and post new tokens. All you have to do is register an account and upload a file.
Besides, you will find a wide range of assets divided into categories, such as collectible tokens, art, music, virtual worlds, domain name, sports, cards, and more. In addition, the app supports the most popular wallets such as MetaMask, WalletConnect, Fortmatic, and Bitski.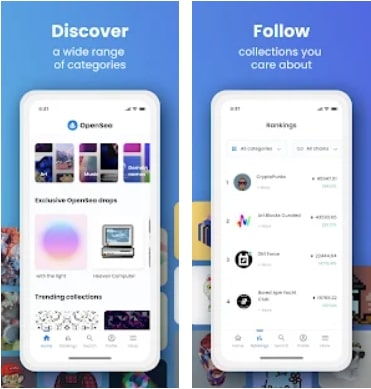 4. Cryptovoxels
Cryptovoxels is a cubic metaverse on the Ethereum blockchain. Players can buy land, and build stores and art galleries on it. There are built-in editing tools, avatars, and text chat. This metaverse is art-oriented, everyone can visit many different exhibitions. Now, it is the smallest blockchain metaverse in terms of area, but the number of land parcels in it is steadily increasing.
In contrast to Decentraland, Somnium Space, and other similar projects, Cryptovoxels is the easiest for beginners. Although on the whole, this app will suit you as a land viewer that you will be able to purchase. Also, this app is still evolving, so the features here are limited. However, unlike many other metaverses, Cryptovoxels has an official app.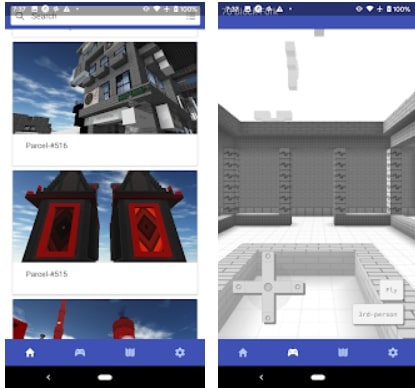 5. Coinbase: Buy Bitcoin & Ether
Companies such as Decentraland and The Sandbox have developed virtual worlds that combine cryptocurrencies to allow gamers to create structures such as virtual casinos or theme parks to monetize them. The currency used in Decentraland is called MANA and it is available for purchase on an exchange such as Coinbase.
In fact, this app will allow you to purchase funds to further acquire land in the metaverse. So, you can fully use the tool on your phone to make transactions. As for the advantages of Coinbase, the developers have put the main focus on functionality. So the user gets a quick login and a large toolbox for asset management.
Also, it works in practice authentication, and it has a double data verification. Moreover, you will have access to the assets to view information about them. Also, the app contains information about the main tokens. In addition, all data can be transferred to a separate gallery when you want.
Among the advantages of this application, we can mention the presence of a bonus program. Users are rewarded for attracting customers. You also have the opportunity to raise assets by distributing advertisements if you are promoting your page.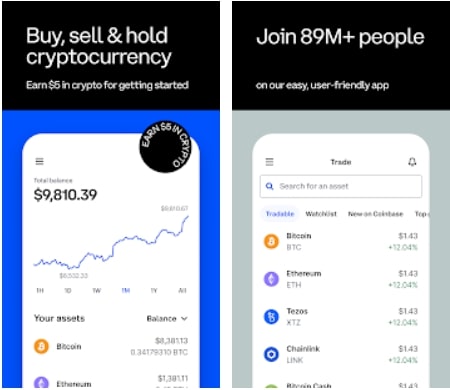 You may also like: 15 Best Oculus Quest 2 Games & Apps
6. AxieMarket
Axie Infinity is a complex gaming ecosystem based on NFTs with varying levels of rarity and utility, created through algorithms. Each Axie is a token with unique characteristics that affect its uniqueness and usefulness in the game. So, you will see many new tokens and news from the metaverse in this app.
In addition, Axie Infinity is a metaverse that has its own game, which you can play both on your smartphone and your computer. So, this app will assist you in buying land in this metaverse. Also, it could be stated that this app is more suitable for viewing tokens.
After all, eventually, it will still redirect you to the main website. However, by using the app, you can browse the metaverse in a more mobile way.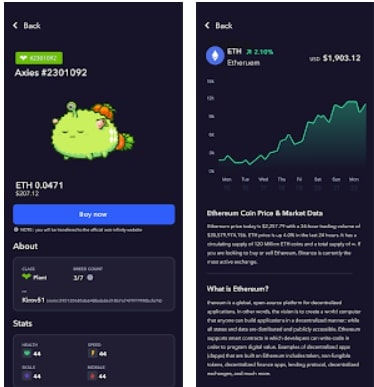 7. Upland
Upland stands out from the whole series of metaverses. The game is still in the development stage, so you can catch it at the beginning of the trend. When it comes to the game Upland – its essence is to redistribute the world's real estate. You buy plots of land, like NFT and then you can sell it for real money.
It is interesting that you have a connection to the outside world, unlike simple games. The branching domain system in which the game operates is a safeguard for transactions and allows you to buy and sell the digital property as if it were a physical object. This is because each game object is inherently an NFT.
The meaning of NFT is that the asset protected by this certificate is one of a kind. Therefore, real estate in the Upland world is sold according to the laws of the economics of the real-world economy. The game space is a virtual projection of the cities and streets of the world.
Any real estate object, whether it is a public building, a park, or a structure called properties. It is traded for the game's cryptocurrency – UPX, which is the in-game currency. Each 1,000 UPX is equal to one dollar.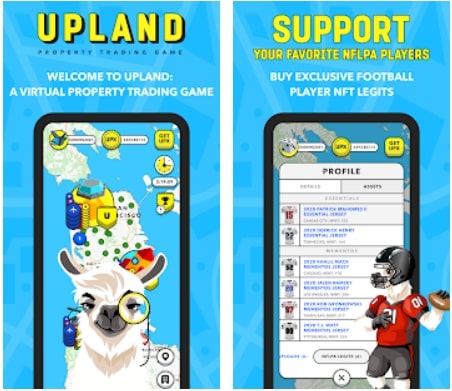 8. Atlas Earth
This is another good app that offers you to buy virtual land based on a real one. In other words, you will be able to rent or buy existing properties. This app presents itself as a way to generate passive income. In addition, you will be able to travel a bit too major landmarks with nice graphics here.
Also, you will get your account in which you will manage your land parcels. Moreover, this app is notable for the fact that you can view advertisements and get various bonuses here. This is a great app for making a small and fast income. After all, you can withdraw funds if the amount reaches only five dollars.
In addition, the application supports PayPal and VISA. So you will be able to make purchases within the game much faster. All in all, Atlas Earth is a bright three-dimensional app with many different offers.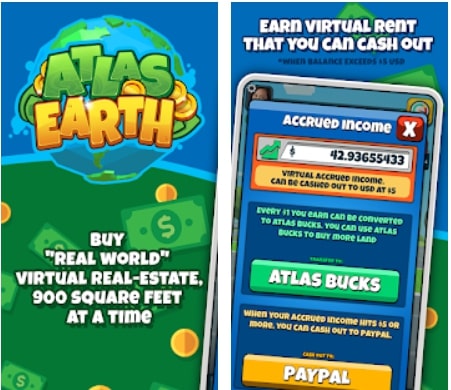 You may also like: 11 Free currency converter apps for Android & iOS
9. MP – Metaverse Coin,NFT & Land
If you are buying some virtual parcels of land, you need coins of a certain metaverse. So, the MP comes to your rescue. Well, this is an app that contains all the most popular metaverse coins. There are more than 50 coins available right now. Moreover, this app will also help you decide on the land for you to choose.
Here you will get brief information about the coins of all metaverses. All in all, this app will be good for those who are considering landing in different tokens. Also, this app will help you track changes in coin prices online. In addition, all information here is presented in clear and visual charts.