Today we are going to tell you how not just to get rid of unwanted clothes, but also earn some extra money. Well, here we are going to discuss eco-friendly second-hand stores that welcome brands, mass-market, and even Halloween costumes. Try to not only sell but also buy something unique for yourself.
In addition, we offer all those who care about the environment an article Best Recycling Apps for USA. Take care of the environment and be stylish!
1. eBay – Shop at the Marketplace
This application is a trading platform on which you can offer and purchase goods. Registration in the application is very simple and you can log in with the help of social networks. You can also see the ads in your city on the main page, as well as with the filters you can find the goods you need.
In addition, you can add the product you like to your favorites and buy it later. Besides, the app has a lot of auctions in which you can place your price for an item. It is quite simple to place the goods in the marketplace, the application itself will help you select under the categories of goods, and you only have to put the price and write a description.
You can also use the delivery service when you buy a product and your purchased product will be brought to your door. If the item does not match the description, the app will help you and get your money back.
In addition, you can use the speedup sale function when placing an item on the site, so that your ad will be higher than other users selling the same item.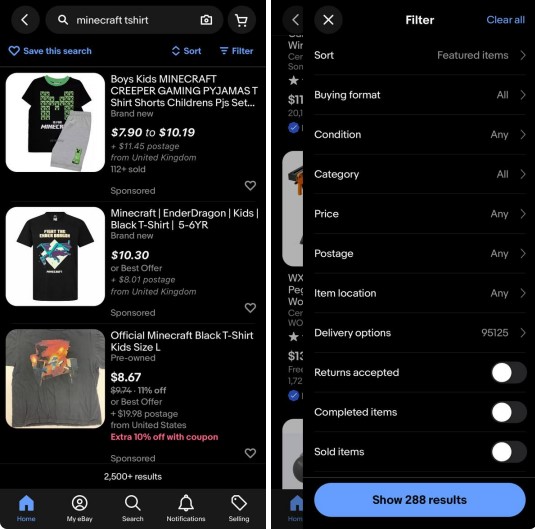 You may also like: 8 Best Used Car Buying Apps
2. Poshmark – Buy & Sell Fashion
This app has unusual functionality and looks more like a social network than an online marketplace. In the app, users can subscribe to each other, write comments, select images, and share products from other sellers. One of the coolest features of this app is that you will be able to see the profiles of sellers from whom you want to buy an item.
The sellers' profiles will have their personal social media profiles attached to them so that you can see what offers they are promoting. In addition, you will be able to subscribe to the sellers and see their history of new arrivals. Also, the application allows you to pay through the service and use a secure transaction.
In this case, the goods, which you have purchased, will come to the service of the store, where they will check the goods for quality and authenticity. Then the goods come to you, and the money goes to the seller.
In addition, the app will show you a report of your purchase and how much money you have earned or spent when you sell your goods or buy things from sellers.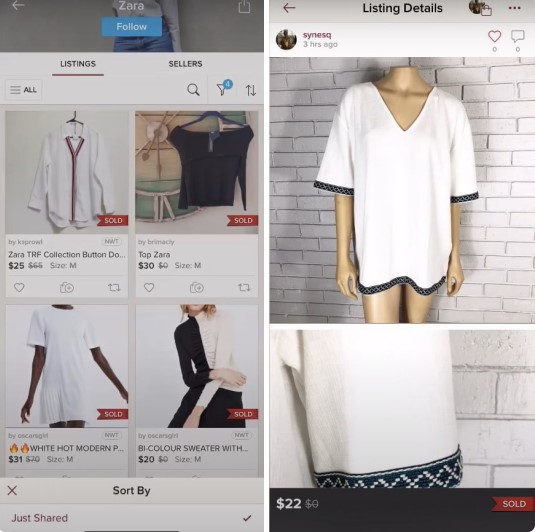 3. thredUP: Online Thrift Store
This mobile app exclusively sells vintage and second-hand clothing. It is easy to sell with this app, you only need to fill out an application for the things you want to sell, and then the app will put your goods on the site. In addition, the program has a feature that allows you to know the approximate price of the goods and for which it sells on the site.
You can also take advantage of a secure transaction and send the goods with a guarantee that you will receive the money. In addition, you will be able to pay via PayPal, Apple Pay, and Affirm or credit card when purchasing an item.
In addition, you can add an item you like on the site to your favorites and sort it with a filter. Besides, with the help of notifications, you will always be informed about the delivery of your goods and the message of the sellers.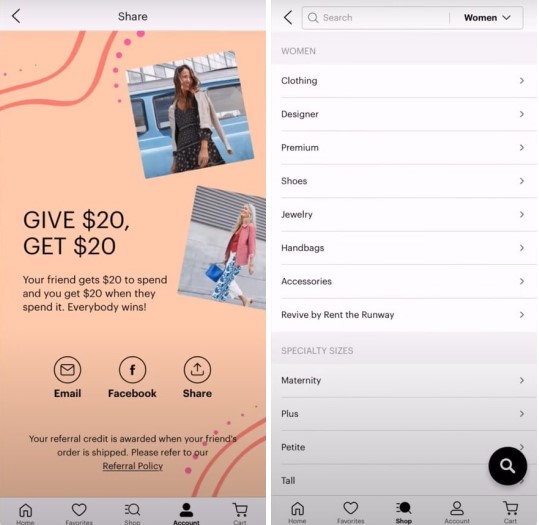 4. TheRealReal
This app is the largest project that has been selling luxury goods for eight years. This platform has three offline stores in New York and Los Angeles, as well as many offices that accept items for sale. The range of this application includes men's and women's clothing, as well as jewelry, watches, art, home interior, and children's items.
In addition, a large number of authenticators work with the project, which checks for the authenticity of luxury items on sale. The app also provides you with a calculator so you can find out how much your used items have helped save natural resources and reduce emissions.
In addition, you will be able to order home delivery and your purchased items will be inspected and your purchase will take place through a secure transaction. Also, the service offers many discounts on items up to 90 percent off and reduces commissions when you sell an item.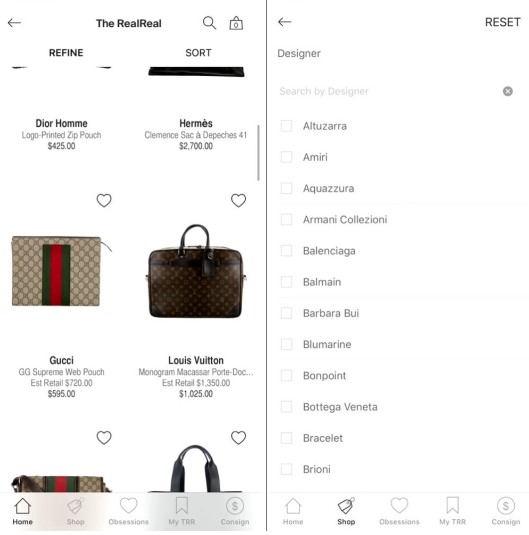 5. OfferUp
This mobile app is extremely easy to use. It only takes a couple of seconds to list an item for sale. It is also worth mentioning that the platform rewards sellers who have many regular customers quite well. This means that if any seller has few buyers, he or she will be verified for security reasons.
Also, here you can contact buyers directly through the chat app. Also, there are trusted sellers since every new user has to fill out a special online form. This is how the app protects its users from scammers and unfair salespeople. Another huge advantage of the application is that the marketplace has a convenient system for posting your ads.
So just a couple of photos and a detailed description will help to sell the goods to users at an incredible speed. It is also possible to contact the seller directly by phone or chat if you need to buy new things. In addition, the app displays reviews from other customers and shows the seller's rating.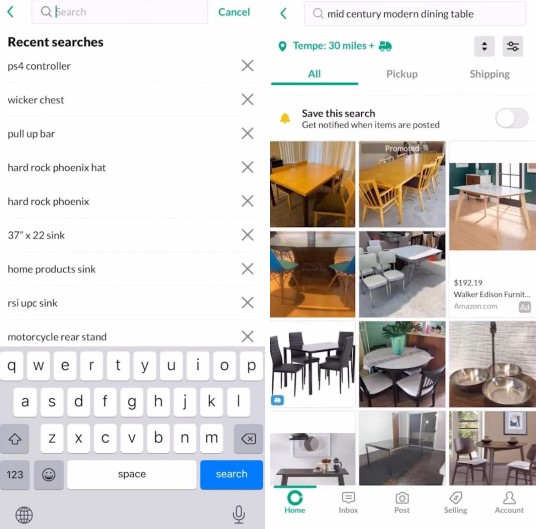 6. Mercari: Your Marketplace
This application is an online marketplace where you can buy and sell almost anything you want. The only thing you need to create an account is your email address and you can log in through your Facebook account. The app has easy navigation so you will always know where to find the product you want.
Everything is organized and divided into different categories in which you can find the product you want. In addition, the application provides you with secure transactions, thanks to which you will always be protected from fraudsters.
When you buy an item, it allows you to check the product and only then pay for the item. Moreover, when you sell an item, you can choose how the money will be received.
In addition, each product has a detailed description that outlines the condition of the product and its price. Also, the app often makes discounts and auctions in which you are welcome to participate.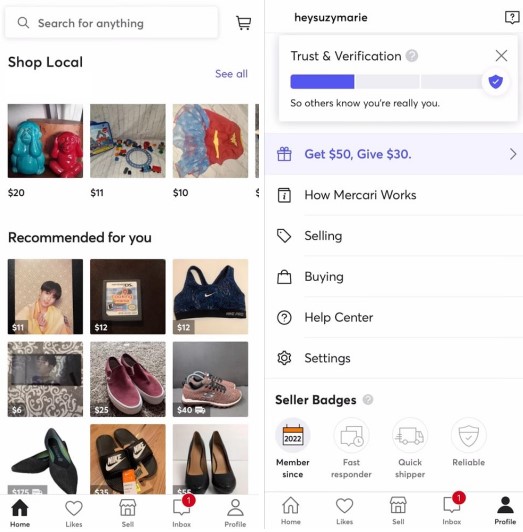 You may also like: 11 Best Second Hand Sale Apps
7. Kidizen: Buy Sell Kids Clothes
This app is a large online store for children's items. The site allows you to sell or buy baby clothes, shoes, accessories, toys, books, nursery items, and more. In addition, the app provides many products for pregnant women and all other baby essentials.
In addition, the app has a very nice navigation through the app so that you can find the item you want. Also, you can use a secure transaction when you purchase an item, so you do not have to worry about the safety of the item and the receipt of the money.
Also, each product comes with a detailed description that you can read and assess the quality of the product. You will be able to contact the seller and discuss the price, as well as arrange for the goods to be delivered to you.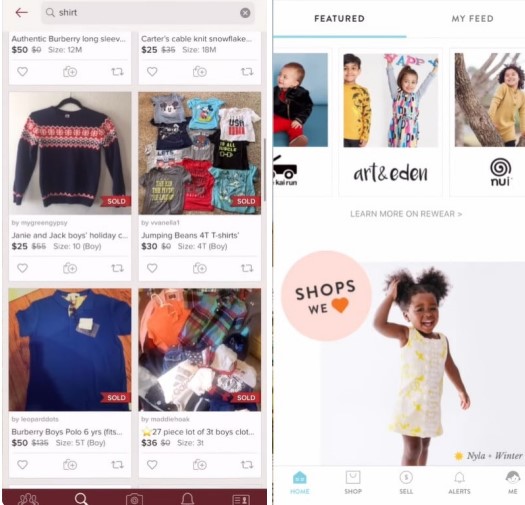 8. Vestiaire Collective
This application provides you with an online bargain shop where you can buy or sell used authentic branded items. The special feature of this site is that you sell your belongings that are in good condition on it. The site is an intermediary between the seller and the buyer.
It is important to note that, thanks to this, you can sell your things faster. First of all, goods are checked by the service and then sent to the buyer. It is worth noting that through this you can always be confident in the quality of the goods, as well as whether you will get money for the goods.
Upon purchasing a product, you can read the detailed information, as well as view the cost of the product. In addition, the app has a simple payment process. it allows you to check the price of an item and know what you are paying for.
Besides, the app has a simple payment process with the ability to pay without commission. You can add the items you like to your favorites and share the offers with other users.


9. Rebag
A fine resale platform already exists for luxury clothing. This app proves that anyone can buy quality branded things online. So, this marketplace offers you super chic bags of any model. You can find bags by Fendi, Gucci, and Balenciaga, original designs by Louis Vuitton, and Chanel.
The main advantage of this app is that the luxe is primarily sold at half its original price. In addition, there are super rare and vintage models of bags of different brands. All in all, the app is a delight with its modern interface which is a real pleasure to be in.
The significant difference from other resale sites is that the company undertakes the entire resale process. You hand over the bag and receive payment directly, without waiting for a buyer to be discovered.
Also, you can use the rental service here. So, you can buy a bag, wear it for six months, return it and get a percentage of its value. This is a great option if you like to change clothes often and get a reward for that.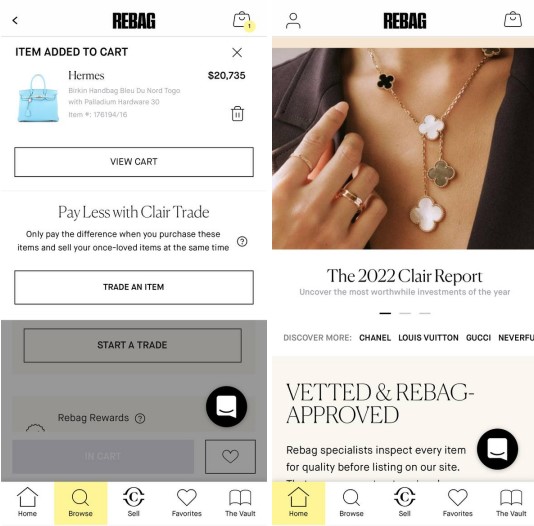 10. Depop
Through this service users from all over the world can sell and buy used clothes. It positions itself as a service with a strong focus on organic and sustainable consumption on social media. On the one hand, the service is very easy to download and use. So it is a good option for first-time sellers.
And on the other hand, many professionals sell amazing rare items. After all, the site is popular with sellers of vintage clothing. There is an easy way to upload photos and put items for sale. Another plus is that the service has done a great job on the app. Therefore, you can make all sales with one hand.
The app is pretty similar to the well-known Instagram. There are lots of beautiful, stylish photos with short descriptions and plenty of hashtags. Moreover, this platform is famous for the fact that celebrities often find new streetwear there. So it is pretty easy to make money on this platform.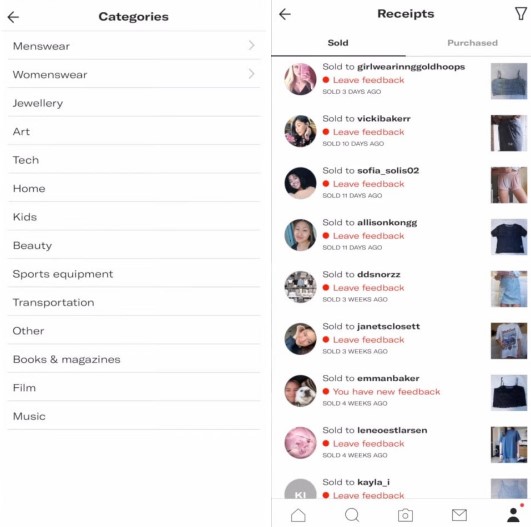 You may also like: 11 Best Farmers Market Apps for the USA
11. Flyp: Sell Clothes with a Pro
If you have a passion for arts and crafts and turning that passion into cash, this mobile app is best for you. In addition, it works well with local sellers thanks to a search function that helps you quickly connect with buyers from a specific community. It is also a place where you can sell second-hand branded items at low listing fees.
In addition, the platform transfers money directly. Besides, if you want an original item of clothing you can always use the photo search, which will help you find something specific. In addition, there is a smart search that will recommend similar products from different sellers.
In general, so you can find clothes at the lowest prices. Also, this app is specially designed for sellers who want to promote products and track progress. If you want to sell out all your unwanted items and want to track your progress, this program is what you have been looking for.