What can we actually do to reduce garbage emissions? How to preserve the environment inside the country? If you are asking these questions, you are probably concerned about the ecological situation and want to improve the state of nature. Most likely you are thinking about recycling. How much could you do for the planet? It is possible that our article answers these questions.
You can do something positive using just your mobile device. That is why we will show you various applications aimed precisely at this problem. In some cases, simply a mobile app can help us get on the environmentally friendly path. You might also be interested in the article Best Apps to Prevent Food Waste if you want to reduce food waste.
1. Recycling Assistant
Recycling Assistant is a project that allows each user to contribute to the work of improving the environment. This app is suitable for anyone who wants to start living more environmentally friendly. It provides numerous eco-tips and recommendations in a playful way to make every aspect of your daily life more eco-friendly.
In addition, a key feature of the app is the ability to recycle different things. You will see special tips that will tell you how to recycle. All you have to do is select an item to recycle in the various categories of the app. By the way, you can use the convenient search.
You will see detailed information about recycling. The app even may help you to do it with a smart AI camera that determines the type of thing.


You may also like: 10 Best Indoor Cycling Apps in 2021 (Android & iOS)
2. iRecycle
Using this app, you can reinforce your eco habits and make your contribution to improving the world's environment, by starting with yourself. The authors of the app offer a variety of articles from which users can extract the most useful and appropriate information for them.
You will also receive various tips to help you join the zero waste movement. Moreover, like the app above, iRecycle will help you find recycling centers near your home or work. Here you will find a list containing numerous categories of recyclable items. You will also get a handy interactive map that works across the US.
So, you will be able to book times and locations of the eco-center to bring your recycled items in a convenient format. In addition, the app will allow you to discuss some issues with the working organization beforehand. After all, the application offers to read the information in advance.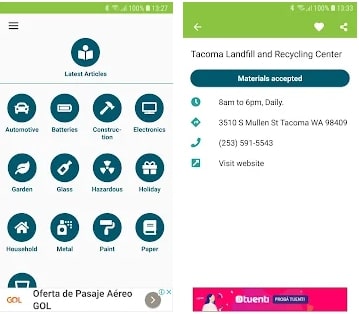 3. MyWaste
You have probably considered being environmentally friendly already. Its assurance is constantly connected with the recycling of different types of goods. For example, you may have a lot of clothing and electronic devices in your apartment that you tend to throw away due to the lack of recycling centers.
However, the solution to this problem is the MyWaste app. Its principle is convenient and fast recycling. Employees of this program themselves will take away your unneeded items and arrange goods for secondary use. Users have only to create a request. The staff will contact you at the time you have scheduled.
This application is a great help not only to clean up your space from unnecessary things but also to help the whole environment a little bit.

4. Fat Llama
The practice of ecology can be not only useful but also profitable. The Fat Llama app proves this statement. With its help, you will be able to sell or give away your unwanted items and appliances. It is a unique application that gives a second life to all things. This app is a great way to save resources that could have been spent on production.
After all, we are saving the earth by exchanging products. In addition, here you can use the service of renting things. Sometimes we need a grill, a camera, or a bicycle for a short period of time, for example for a holiday or a walk with friends. So you can take advantage of different services at super low prices, which you will not have to buy.
That way you can borrow something instead of having to buy it at the full cost. This is also a great service because you can communicate directly with the owners. You can even negotiate the price yourself. Fat Llama can indirectly influence your eco-lifestyle.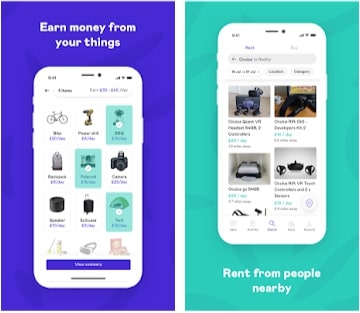 5. Eco Life Hacks – Go Green
An eco-friendly routine can be exhausting and dull, however, with Eco Life Hacks it can become more enjoyable. As you first enter the app, you will be prompted to take a quiz, on the basis of which it will identify your eco behavior. Then the app will give you access to a lot of interesting tips, not just on recycling, but also on consumption, electricity, water, and gas costs.
In addition, you can always go to the section you are interested in, such as Home, Consumption, Water, Energy, Food, Waste Products. There you will find interesting articles and tips on maintaining an eco-friendly lifestyle.
In addition, some articles are accompanied by videos to help you implement your eco ideas. Also, the app will show you the schedule of upcoming events dedicated to ecology. Thus, you will be aware of all events with just one app.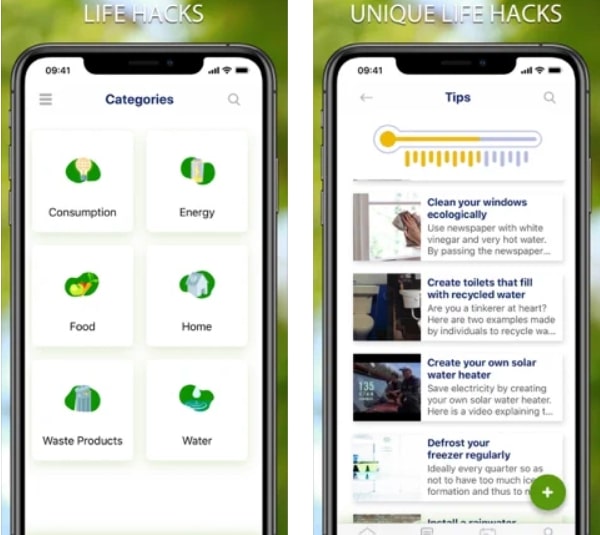 You may also like: 11 Best Second Hand Sale Apps for Android & iOS
6. Earth Hero: Climate Change
This diary app will help you learn how your lifestyle and habits affect the planet. Earth Hero: Climate Change has a quiz that will show you the size of your eco-track, and how much of the Earth can reproduce resources and absorb waste from your lifestyle. There are also tutorials that are suitable for both children and adults.
The articles will tell you about the basics of ecology and how to properly recycle trash and other waste. This is where you will learn all about environmental policy. It will give you an overview of green initiatives from around the world, develop a strategy, put it into action, and see what will happen.
This is also, a valuable service for those who have long wanted to start sorting waste but were unsure how to approach it. There is a sorting guide inside that not only tells you how to prepare your recyclables for delivery but also how much good you will do to the planet if you dispose of everything properly.
In addition to the map and rating, the app advises you on what to do when there is a particular level of pollution, for example, wear a mask, close a ventilator or stay outdoors completely. Moreover, based on your lifestyle analysis, the app will suggest different strategies for you to make an impact on your eco-friendliness.
Overall, the app is good at analyzing your data. After all, you may not be aware that your input is valuable.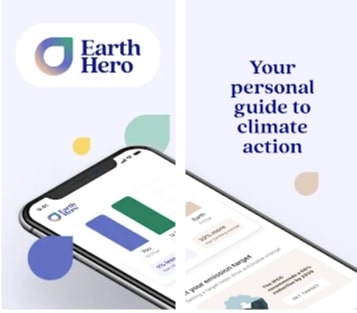 7. Recycle Coach
Thanks to this app, you can reinforce your eco habits and make your contribution to improving the world's environment, state. The authors of the app suggest getting familiar with recycling and developing eco-friendly habits. By the way, users can choose habits and tips more useful and suitable for them.
The app recommends reading various environmental topics every day, reconsidering your list of habits, and noting your contribution to the preservation of nature. Also, everyone can find information about the most important elements of an eco-friendly lifestyle.
Here you will find not only information on garbage collection and recycling but also news and events happening in your city. This way you can become a part of being environmentally friendly.
Recycle Coach is a real guide to the world of ecology. It will not only tell you about the need for recycling but will also remind you to sort or go to a recycling center. All this is done by means of notifications, which will appear on your phone with a certain frequency.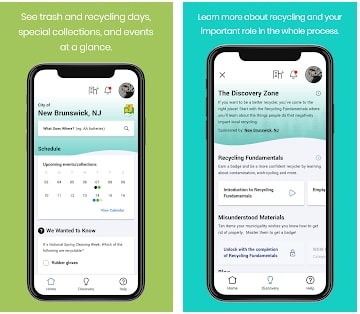 8. Trashly – Recycling Made Easy
The Trashly app has a built-in map showing the main separate waste collection points in different US cities. Users will be able to find locations in the area to give out different types of waste for recycling. In addition, the map allows users to find the nearest recycling centers or places where they can donate items for charity.
On the map, you can find collection points for glass, plastic, metal, waste paper, bags, batteries, thermometers, tires, batteries, electrical junk, and more. The application is convenient because you compose your own request by attaching a photo and description. You can also choose the nearest recycling station.
Besides, it will also give you useful information about the recycling of certain types of waste. As a user of the app, you only have to wait for the request to be approved. This way we become eco-friendly. In addition, the app also has a handy Dark Mode, which you can use in the hours of darkness.
Also, the developers have taken into account the entertainment content. In fact, you will be able to play a fun game of garbage collection. It is made in contrasting colors and has nice graphics.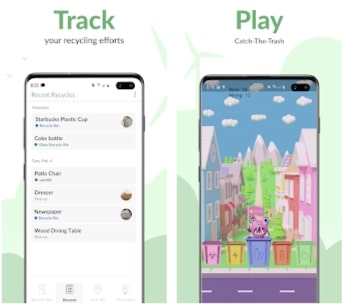 You may also like: 8 Best Used Car Buying Apps in 2021 (Android & iOS)
9. Recycle!
The app will help you easily and properly come to a separate collection of waste. Simple instructions will tell you what to do with garbage, how to prepare it for recycling, in what type of container to deliver, what benefits it will bring. The app has a handy map with the nearest recycling collection points.
You can sort them by type of waste. And if there are problems with the collection point, you can leave feedback, which will be transmitted to the responsible employees. The Recycle! is a mobile app that will quickly tell you whether to send your trash to a recycling station or to a landfill. It is also capable of identifying the type of trash and explaining the way to prepare it for recycling.
In addition, this app also and calendar to track recycling by type of waste like food, sprays, aluminum, batteries, and so on. There is also a quick guide to help you figure out how to sort your trash and the options you have for recycling. In addition, there is also a guide to e-waste and hazardous waste.
In summary, iRecycle is a multifunctional app on the topic of recycling and waste disposal launched as part of the Earth911 project. Here you will find tips for reducing waste in everyday life, various green news, and more than a million recycling collection centers.