Matching colors is a critical part of harmony and design, which is why it is essential to choose the colors wisely. The apps that pick colors from your gallery may help you with this. And we have gathered the best of them in this article. Also, we suggest you learn more about color mixing with the article the Best Paint Color Matching Apps. Now let's start our review.
1. Color Grab (color detection)
If you are an artist or designer, you have probably faced the problem of making your palette. There are so many colors that it is hard to choose a desired one. Well, the Color Grab app can help you. It gives you all the basic tools you will need as an artist. First of all, it gives you more mobility.
You will find a camera that will detect colors in real-time in the app. So you can point your phone in the direction of the picturesque landscape and take all the colors you want. In addition, you can choose colors from existing photos that you have found on the Internet.
Secondly, this app will help you figure out the harmony and match colors. So, you can choose a color and the app will automatically show you which colors would look great together. Thirdly, it has all the tools to build a palette. Meanwhile, every color is displayed in basic formats like Hex, RGB, or HSV.
Their codes will be available to artists to help them make artworks in graphic illustrators. Finally, there is a blending feature that will allow you to create unique color schemes for your projects. Also, you will be able to quickly share the resulting colors and continue working with them in illustration programs.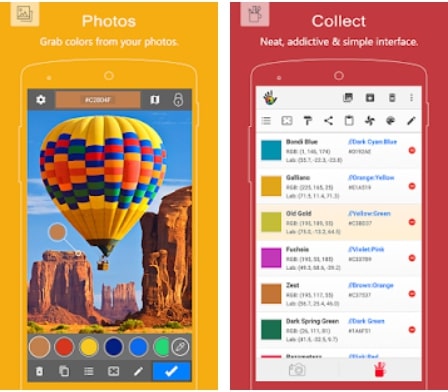 You may also like: 11 Best Free Photo Storage Apps In 2022 For Android & iOS
2. Color Picker
This is a program that provides great assistance to its users in finding colors. It will also make it easier for you to find basic color information. This application only depends on the quality of the image in which you want to grab the colors. In addition, you only need to click on a part of the image to find out about the color.
Thus, you will get data such as the name of the color, its code, wavelength, and temperature. Moreover, the color code is displayed in different color palettes, such as PGB, CMYK, HSV, and others. In addition, you can navigate incredibly quickly through the search colors, because they are all stored in the history of the application.
If you want to work with a particular color, you have to click on it. So you can get to see what the color looks like as well as all you can get all relevant information. Moreover, the app will offer you similar colors to the one you have chosen. You should also consider that the app works with your smartphone camera and not only with the gallery images.
In addition, you can adjust the camera directly in the app, for example, by selecting the brightness or size. It can be said that this app is a great color and tint picker, however, a lot depends on the settings and the quality of your camera.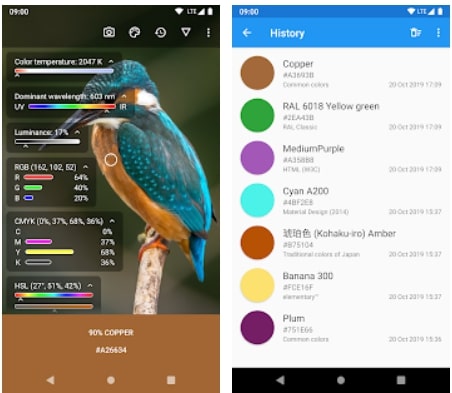 3. Color Picker AR
You need to know as much as possible about colors to pick out them in a more conscious way to create beautiful harmonies in the frame. Color Picker AR is a great tool for all photographers and artists. First of all, it is cool and optimized to create your palette from different pics. It is possible to either pick a photo from the gallery or make a new one
So, an eyedropper tool may help users in grabbing the shades that seem to you attractive in a particular image. Nature can become your inspiration. In addition, there is a great feature to create a palette that you can add or edit on your own. Also, you will see at the bottom of the photo the colors of which it is composed if you use the camera.
The app will then determine the approximate color the image is most closely related to. So you will get a code and the name of the color. The resulting image can be edited by selecting a color palette format and changing its values. This way you can create monochrome or contrast palettes much faster.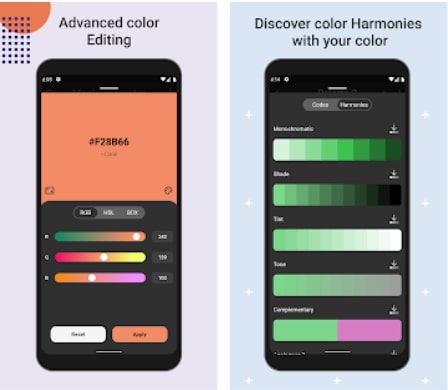 4. Pixel Picker – Image Color Picker
This is an application that does a great job. And it has none of the annoying ads that free applications often have. So, using Pixel Picker you will quickly get a collection of colors that you will make from different photos and screenshots. In addition, the selected image can be zoomed, cropped, and resized.
It is also worth pointing out that the application supports files of different quality and sizes. Unlike other programs, this app can export photos directly from your gallery. All you have to do is swipe up. In addition, the application can be linked to Adobe to transfer the palettes for further work.
Also, it is worth mentioning that the app works with one color format, which is RGB. Although its functionality is limited to defining the color code, it is still suitable for quick tasks.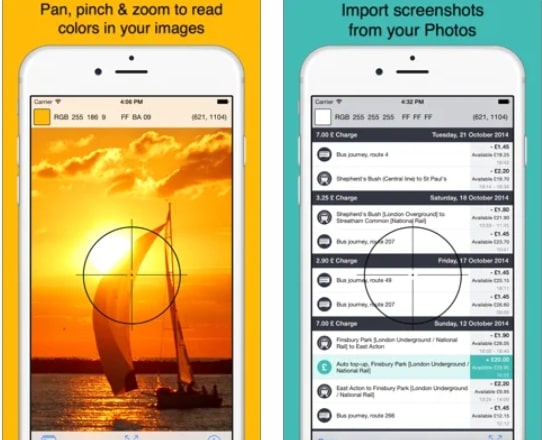 5. Coolors
The Coolors app is a handy app for dealing with all kinds of colors. It is very likely one of the best apps available on the iPhone. This app is the perfect app for artists who wanna discover color palettes in images as well as for people who want to create their collages and learn more about photo palettes.
This app is extremely easy to use and it takes only a few minutes to figure out how to use it. If you need to know the color palette of a photo, all you have to do is highlight a section of the photo and the app will instantly give you the palette. The app also allows you to create collages and the color palettes that you want to combine.
In addition, the application has more than a thousand ready-made palettes that you can use to help you get started. You can also create your color schemes with a quick generator, all you have to do is choose a color palette. If you need to export your results you can easily save them as an image or as a PDF file.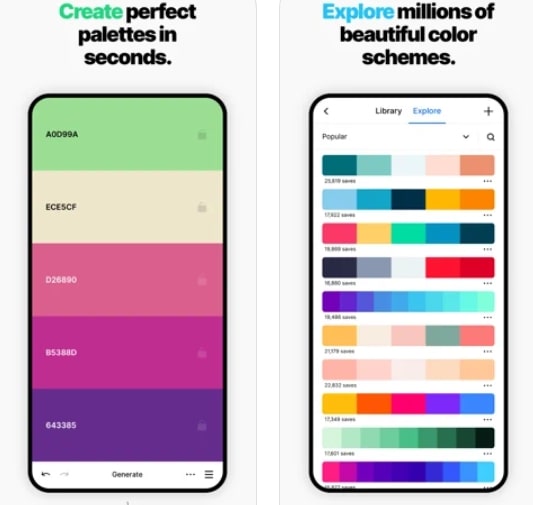 6. ColorColl – Color Picker Apps
This is an app for highlighting and grabbing favorite colors in your pics. With this program, the colors of any palette in a photo can be easily identified and used for your purposes. You can also find out the code of the image in different formats.
In addition, you might even easily find out the palette of the pic you have just taken. All you have to do is to click on the button on the home screen and activate the camera. Once you have captured a photo, you will need to click on one button to receive a palette of colors.
You are welcome to highlight areas of a pic as well as to zoom in on more remote areas, which will also let to know the shades of the area that you have chosen. So if you find a color that you find attractive, then it can be instantly saved. You can also export the colors into your gallery straight away, or share the result directly via this app.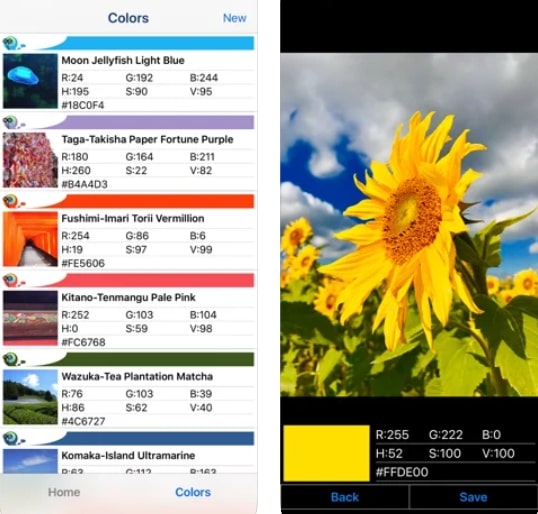 You may also like: 9 Best Photo Grid Apps In 2022 For Android & iOS
7. Color Harmony
Color Harmon is an app that helps to uncover more about the colors that you are surrounded by in everyday life. With this app, you can take a live photo and instantly find out about the color palette of any section of the photo. All you have to do is swipe your finger and all the existing colors will immediately appear on your screen.
That way you get a palette of five colors. It also uses many color formats like RGB, HSV, RAL, and CMYK. This allows you to export the palettes for different purposes, such as print or web. In addition, you get the most accurate color information, such as all its data in the form of codes in different formats.
It is also worth mentioning that users choose this application for its ability to view harmonious colors and based on them create unique palettes. In addition, you can easily create the colors you need by editing the basic colors. All primary colors are presented in convenient percentages. Also, you can store several custom palettes here. Besides, you can assign a name to them.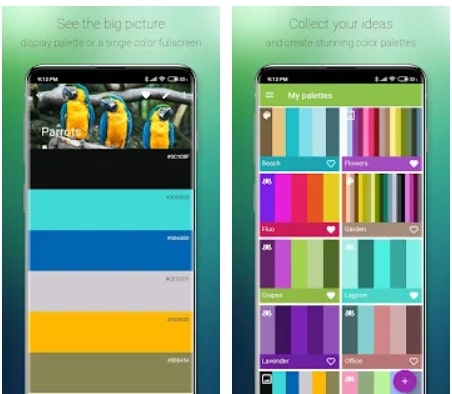 8. Pigments: Color Scheme Creator
Pigments are suitable for people with great tasks. First of all, it is distinguished by its design and the comfort of use. You just have to use your finger across the display and pick the one you want. Secondly, the application has a lot of useful features. It is possible, for instance, to generate your palettes, such as harmony as well as monochrome from the specified choices of colors.
Also, it is comfortable to work with pallets because of the possibility to customize them in different formats. In addition, it is possible to modify the chosen color itself by selecting among the many possible colors. Furthermore, there is the option to adjust the hue, the saturation, the value, and everything else.
Another advantage of this application will be the ability to export a palette or specific color to different formats, such as PNG, SVG, and HEX. This is useful when working with a range of different graphic images in multiple editors. The application also offers to take advantage of the palette settings for quick generation, such as choosing harmony, the gradient, and its features.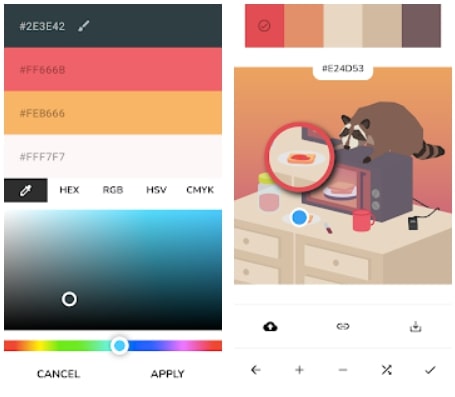 9. Color Detector
This app can help you pick any desired color with your smartphone. Bring your device closer to the targets you want and you will get a generated palette of colors. In addition, it all happens instantly, directly right in front of your eyes. And you just have to tap the zoom to find the specific shade in the palette you're interested in.
Then it is up to you to decide what to do with the result. The color code could simply be stored for another palette creation. Otherwise, you may change the color format to check all possible changes. In addition, this app allows you to save the palette to create a new one in the future. It also offers you to export the palette to various file formats.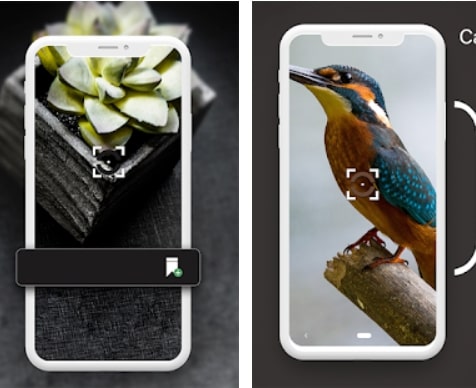 10. Color Inspector
This app is designed to help all colorblindness or visual impairments, people. It is also intended to help learn more about a unique palette that exists all around you. This app is designed to be easy to use and it is clear right away how the app works. Upon entering the app, you are greeted by your smartphone camera.
You can use it to take a picture of the area you want and find out what color spectrum you are looking at. Also, you can grab a photo from the gallery and look at the color palette on it, if you wish.
You can zoom in and out when you use your camera to view the color palette in real-time to see the object more clearly. Thanks to this application, you can learn more about the palette of colors that can be found around you, and most importantly know their exact names.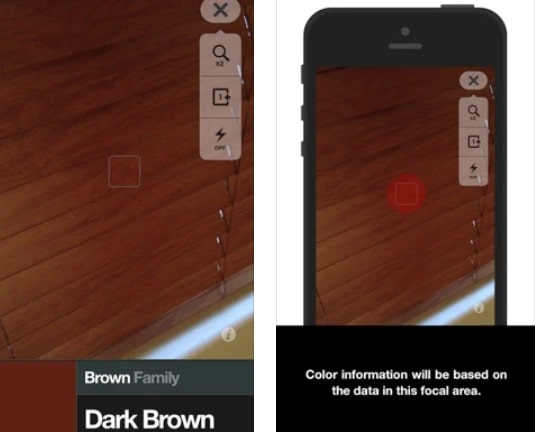 You may also like: 9 Best Photo Overlay Apps In 2022 For Android & iOS
11. Color Name AR
Color Name is a great app that will help you in choosing a color palette in your everyday life. This app is handy because you can overlay color on any object in a photo and see how it will look with that color. The app has a built-in color chart assistant Pantone, which will help you find any color that suits you.
Also, there is a search and view database of colors in the application, which will facilitate your task. In addition, the application has a function to view a palette of colors. You can take a photo from your gallery or take a photo in live photo mode and immediately see the color that the object has.
The application is intuitive and from the first time you enter the application, it is immediately clear how everything works. This app is good for people who want to update their home decorations, find out what color is best, and get to know more about the palette of colors surrounding you.