Today, there is no disputing the effectiveness of the practice of keeping a task and dream list. A wish list helps you consciously focus on achieving your goals. Meanwhile, a vision board attracts visual triggers, appealing to deeper parts of the subconscious mind. We have selected the best apps in this article that will help visualize the thoughts you have toward your dreams.
If you are ready to realize them, then these apps should suit you. Also, we recommend you to read the article 11 Best Anti-Procrastination Apps. We have gathered here the apps that will help you keep your mind focused on your goals.
1. Vision Board, Visualize dreams
The Vision Board app will help you compose your wish list and achieve your goals. The application offers a pleasant interface and easy navigation right from the start. It is worth pointing out that you can create an unlimited number of ideas and bring them to life.
When you create a goal you can write a description of the target, and a period to achieve it, and the amount of money you need to implement the intent. In addition to this, some affirmations will help you to constantly remain motivated and focused on your goals. You can create your affirmations and check them out if you want.
You can also easily move your goals up and down and mark an important goal to keep in front of you at all times on a board. The app will help you identify your goals' specific weaknesses and strengths, so you can comprehend better how to act further. If you miss the period you set for your goal, the app will help you find a solution to achieve your aim quickly.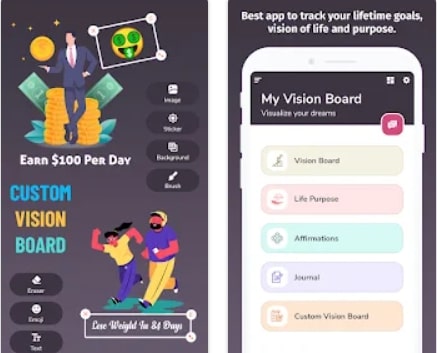 You may also like: 9 Best Dream Meaning Apps
2. Mood, Dream & Vision Board
The app is all about helping you achieve your goals. Create your vision board and accomplish your goals with the Mood, Dream & Vision Board app. This app prompts you to create your goals, with the help of the Feng Shui Bagua map. With the app, you can create an unlimited number of goals and make them come true.
Also, during the goal-setting process, you can create deadlines, calculate the amount of money you will need, and title each goal. Additionally, there is a slideshow to view your goals and progress towards their achievement. Moreover, it is possible to check out your goals at any time. The app will occasionally remind you of those plans and how much is left to achieve through a notification.
Another great feature of the app is affirmations. The app has over 500 quotes and affirmations to help you concentrate and inspire you to reach your goals. In addition, there is a manifestation in the application, through which you can thank the universe that you have achieved a goal. Likewise, it is possible to sync your manifestations with your music from Spotify.
If you wish, you can share your vision board with one click. This app is confidential and you do not have to worry about other people spotting your goals without your knowledge. In addition, the app has a website, where you can explore more about the realization of your goals and how to do it effectively.

3. MyGoals: Set Vision Board, Gratitude Journal
With the MyGoals app, you can easily note down your ideas, set goals, and implement them. The app is structured to build bridges to your dreams as well as assist you in setting and realizing your goals. It allows you to define your goals, title, upload a picture and determine the period in which you want to accomplish your goal.
In addition, there are daily affirmations to encourage you to meet your goals after you set them. The app also has a gratitude diary. You can use it to record your thoughts and reflections from the previous days daily. The journal will help you increase your motivation for a lifetime, stay focused, and boost your confidence in your efforts.
Also, you can add photos to the thankfulness diary in case you need to. Besides that, you can set a daily reminder of your goals and a time limit to realize them, which will help you not to forget about your aims to realize them with ease.
In addition, you can view your goals via a slideshow or go through affirmations to motivate yourself to accomplish them. You will always have your goals at your fingertips. After all, you can back up the app's data and restore it if you happen to lose it.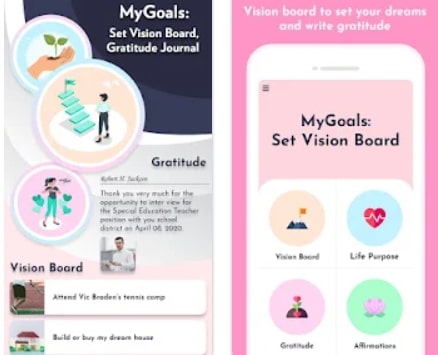 4. Vision Board Perfectly Happy
Those who have already set their goals can create a board with this app in just a few minutes. The application welcomes you with a very pleasant and warm interface just as soon as you log in. Thanks to the app you can combine your private pics with images from the Internet to create a vision of the world around you and everything you wish for.
In addition, you can combine it with affirmations and pleasant music to set up your day for positive deeds. The app wants to help you to create your vision board to realize your aims. There are more than 1,800 affirmations in the app that you can use to improve your life and set yourself up for auspicious days.
The application has a very nice feature that you can place a widget on your work phone screen. With the help of this, you will always visualize your images and goals and remind yourself of them, for realization in the future. The app also has a diary, through which you can write down your thoughts about the last days to think about the positive things that are happening in your life right now.
This will help you develop self-awareness, concentrate your attention on your dreams, and give you more motivation for your actions. In addition, you can use the app to create a manifestation video, with which you recognize what is important in your life and what is worth sticking to.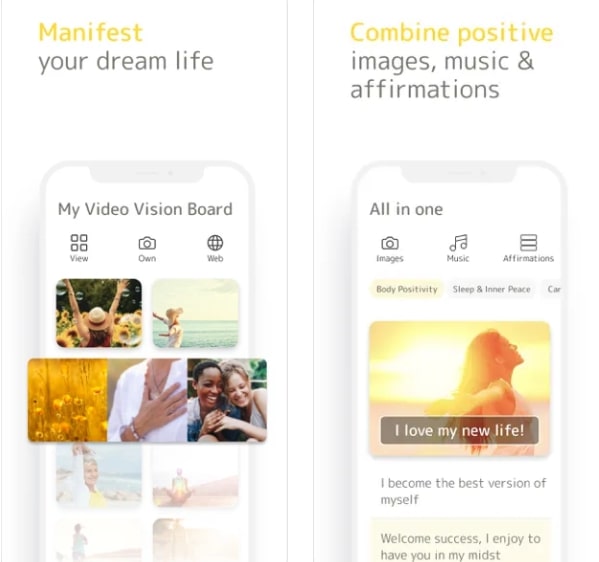 5. Vision Board – Manifest dreams
Vision Board is a simple application for bringing your desires into reality. The first thing that is amazing about it is its design. Unlike other apps, it creates mini-boards with your goals. You will see the whole process of creating boards as soon as you download the app.
It only requires a couple of actions: choose a photo, give a title, come up with a description, choose a fulfillment date, and give a reason. Moreover, you can choose a photo from the gallery or take one with your camera.
All of the boards with wishes will be stored in the app. This app does not seem to have many features, but it is great for fans of simplicity and style.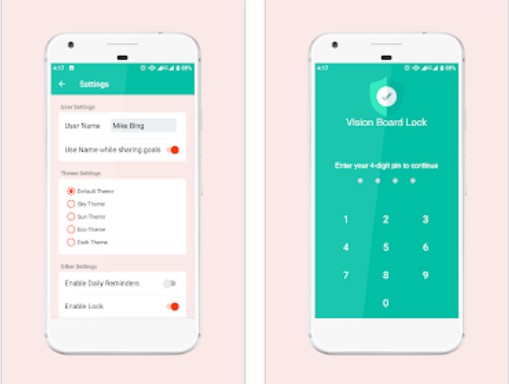 6. Dreamers – Vision Board
And this app will attract you with its ability to create boards automatically. If you do not have time to search for pictures, this app will make you happy. After all, here you will be able to view ready-made random boards. But, it is also possible to create your boards from ready-made ones.
All images are divided into spheres of life or desires that are mainly common for people. For example, you will see albums dedicated to career, family, love, sports, education, hobbies, fame, and wealth. Also, you can add images from your gallery. In addition, you can customize a slide show with your dreams and desires using a timer. You can set the time when the image will change.
However, even this is not all the features of the app. It also offers you a personal diary in which you can add three gratitude messages to the universe every day. Also, there is a section where users focus on their strengths. You will be able to add to the diary your accomplishments daily.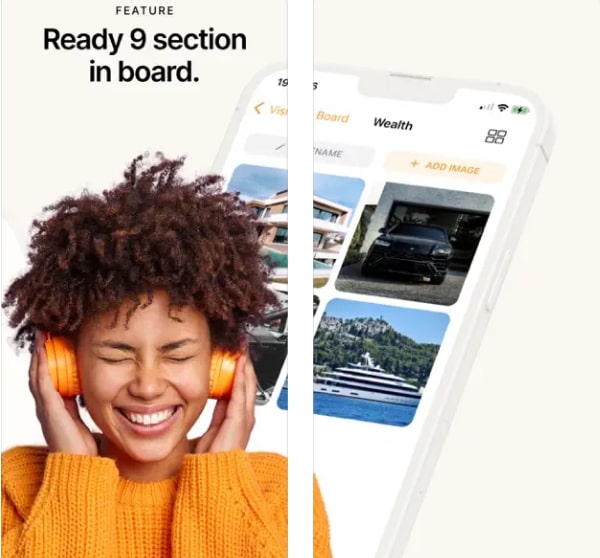 You may also like: 5 Best Magic Piano Apps
7. Dreaming – Life Vision, Positive Affirmations
This is a very simple app in terms of functionality, where everything is comfortably arranged. In addition, the app will guide you to design your visual board made of private images and affirmations that will motivate you to reach your goals. The distinctive feature of this app is the ability to create an unlimited number of goals and keep track of them.
Another great feature is the possibility to create your affirmations. You can record affirmations with your voice and motivate yourself for the next steps. In addition, the app will remind you of your goals and help you realize them. If you wish, you can add your music to the affirmations, for a better experience.
It is worth mentioning that you can chat with other people and share your experiences with them in the app. This is a very nice feature that will help you understand your goals in life and have conversations with other people about how they are fulfilling your goals. In addition, thanks to this app, you can meditate to improve your emotional state. It will accompany you with calm relaxing sounds.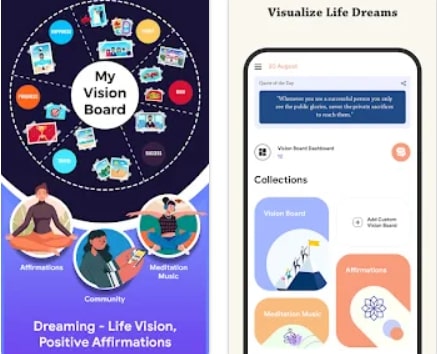 8. Visbo: Dreams Vision Boards
The first thing that is so impressive about the app is its privacy. It does not require you to register or any personal information. This way your thoughts will be protected. However, there are other things to consider. The app works with multiple boards. You can create and title them as you like.
To create a board, the app will offer you to choose a tag, which is the subject of your board. To make it easier for you, it offers ready-made tags. For example, in the Wealth section, you will see a huge number of currencies, expensive jewelry, gold, and Bitcoins in different sizes and shapes. You can create a board of more than 10 pictures.
Afterward, the app will offer you a nice slideshow with music attached. You will be able to choose the music for the slideshow from the ones offered by the app. In addition, the app will also delight you with the ability to create widgets on your phone screen. You will see detailed instructions with a clear description of the actions.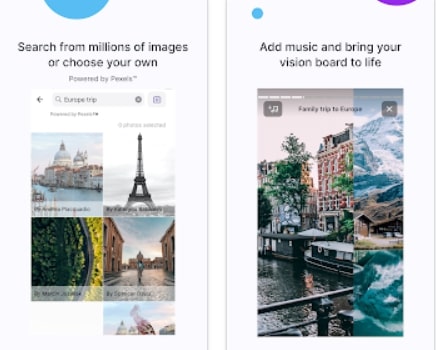 9. Vision Board- Manifest dreams by Visualisation
Today it is not convenient to create a vision board in a notebook. This app will help you create a custom vision board right on your phone. It will give you the motivation to reach your goals and focus on your tasks. The app welcomes you with a pleasant, minimalist interface. Moreover, the app does it all easily. Just click on a goal, and set the title, and the period to complete it.
Also, you will be followed by affirmations as you complete your goals. You can play them and give yourself enough encouragement. It is worth pointing out that the application is completely private. You can set a password in the application so no one will have access to your board without you knowing it.
In addition, it is possible to share your vision board with your friends directly from the app if you want to. This app is perfect for those who would like to start planning their goals and determine what they want in life.

10. Visuapp Vision Board
The app is designed to help you create your vision board. To create a vision board, you will need to define its title, the amount of time it will take to complete the goal, and a photo. Organize your goals into categories. Right after you create your vision board, you can immediately monitor your progress. It is nice to keep an eye on how you are improving and achieving your goals.
Also, this app will give you motivation and let you focus on what you are doing. You can also get more motivated with the affirmations feature. This will give you more inspiration and you will feel much better. In addition, the app includes a gratitude journal. You can write down your thoughts of the past day and develop your clarity and awareness of what is important to you.
1Set notification on your smartphone, this way you will always be reminded of your goals and make them come true. The app also has music that you can use to meditate and prepare yourself for beneficial events in your life. Moreover, create a backup of your vision board.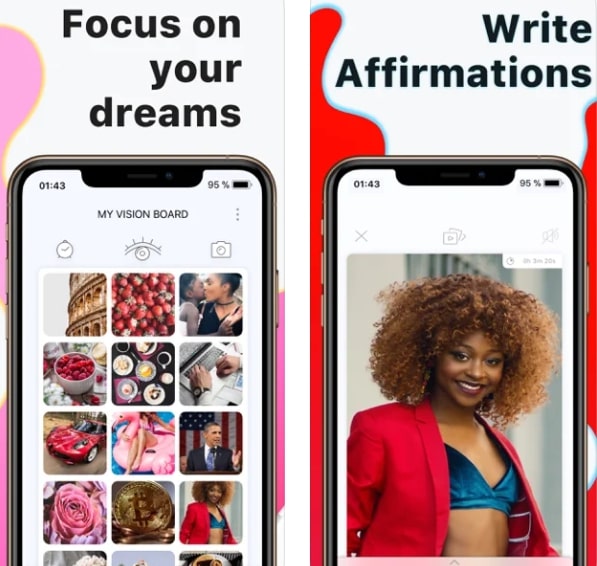 You may also like: 18 Best Apps for Teenage Girls
11. My vision board App for dream
This app is designed in a minimalist style. It is suitable for those who want to describe their emotions and goals. One-click is all it takes to create your vision board. You will need to click on the plus sign and set the name of your goal, as well as write a description.
If you want, you can view your vision boards at any time. All you have to do is to tap on them. All in all, this app will help you define the thoughts in your head and make you conscious of what you want.