Natural products are usually made by farmers who practice farming in rural areas. Their products are prepared for sale, as well as for their families, without the use of pesticides, antibiotics, and suspicious hormones. Moreover, if you order milk, cheese, or bread, you know who is responsible for it and how it was grown.
Do you know where to buy real farm products? Well, today's best apps will give you an answer to that question. You will get to know farmers and become familiar with farming. Also, this article on the Best Mediterranean Diet Apps is sure to please you if you are a stickler for healthy lifestyles.
1. GrownBy
GrownBy is a great app that directly connects you with any farm and helps you order groceries. It gives you details about all the farms nearby at which you can get fresh vegetables, fruits, cheeses, flowers and much more. With this app, you could also find the nearest farms that use this app and buy fresh eco food.
Likewise, any farm is welcome to use the app and upload its services there. To place an order through this app you will need to create a shopping list full of vegetables, fruits, meat, and fish. Besides, you may pick whatever you need from bouquets of blossom flowers to fresh milk and seafood.
Then you need to mark the nearest delivery location and pay for your order with a card. In addition, you may monitor your order and get a notification on your order.
There is also an option to assemble a food basket and order a meal at a certain time. As well, the program lets to track what sellers have in stock in real-time and what you need to select and distribute.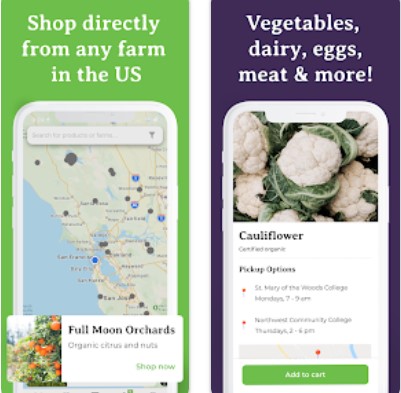 You may also like: 9 Best Carbon Tracking Apps
2. SimplyLocal – Farmers Market
This is another program that presents you with information from numerous organic farms where you can place your order. This is a tool for those who care about their diet and want to keep fit. Moreover, SimplyLocal is a handy app for ordering natural food. It helps you find farms nearby and get your groceries delivered directly to your doorstep.
Its functionality is pretty straightforward. All you need to do to order groceries is to click on the farm you want and select the product attached. After that, you need to specify the shipping location and then you may wait for the groceries. In addition, it is possible to pay for the products from any convenient payment system.
The app also offers you some details about the farms and their locations. You can contact any farm you like directly from the app to check their stock status. As well, you can go to the farms' websites and track what they are selling. Besides, it has a catalog where you select the type of products you want.
In addition, you may check out the rating of the farms and write reviews. This program allows you to find local farms in just a second, as well as find higher quality food daily.


3. Farmers Market
Farmers Market is a grocery store with a wide range of items. There is a pleasant warm-green interface and custom functionality that greets you when you log in to the app. Besides, it lets you browse through a wide selection of products in each range at a minimal price, and then you can pick the ones that are best for you.
To use this app you have to enter your data as well as your payment details. The program will show you the closest farms, and the assortment that is carefully crafted by hand. Therefore, you will not have to worry about the quality of the goods and you can order only the freshest products.
Moreover, you will be able to place your order in seconds. Just select the products you want and write the delivery place. When the order is complete, the app will give you details about the time the products will be delivered. The app will also send you a notification when the products are delivered.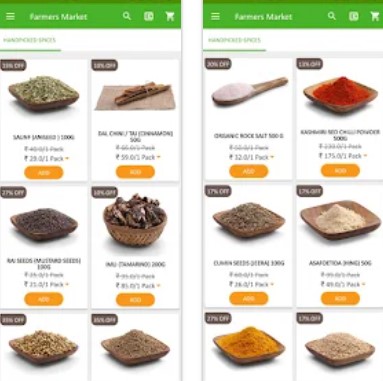 4. Galora
Galora is an app that helps you share, buy or exchange anything you grow by hand. The app is intuitive and looks extremely attractive. This application will allow you to exchange or buy products that you need from your neighbors. Those neighbors who are connected to this app will be marked on the map so you can find the nearest ad from you.
It is also possible to place your ad and sell the products you don't need. You have to take a photo of the product, and put a description and a price to create the ad. You can use a very convenient filter or categories to find the products you want.
In addition, you can contact the seller of the product right within the app, as well as call him. In addition, you may write reviews on sellers and increase their ratings.
Besides, it is possible to view your ads as well as find out the number of people who are viewing your product. This is a fantastic tool to help you get closer to your neighbors and buy the products you want.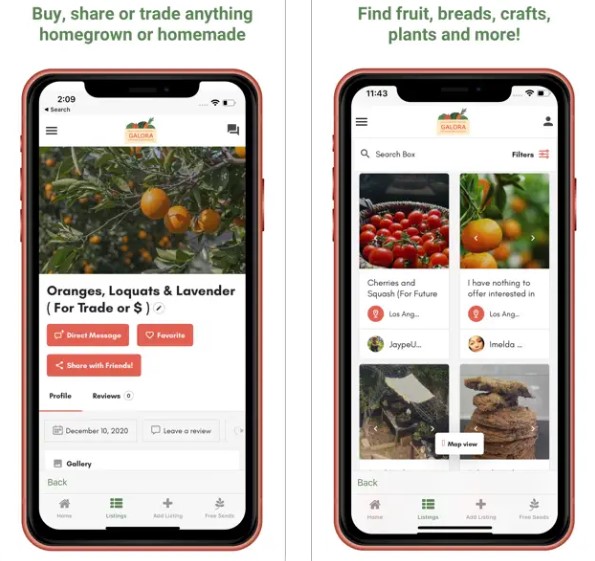 5. Natoora NYC
This is a great place to get restaurant-quality food from a clean source, delivered right to your door with a single app. This program will help you find eco-friendly and, most importantly, high-quality meals. Natoora works with more than 400 vendors who manufacture the best possible quality food.
It allows you to buy all fresh seasonal products, as well as cheeses, and sausages made healthily. The app only works in certain cities such as New York City, Brooklyn, Queens, and others. The delivery of this program is available every day from Monday to Saturday.
You can easily find the product you want with the search bar as well as a handy functional category. All items are received directly from independent manufacturers who focus on the taste and quality of the product. The app also has a news feed, and you can view who is preparing your food and which methods are used.
There is a lot of functionality in the app and one of the handy features is a radical seasonal planner. Natoora will match you with food appropriate for a certain season to improve your body.
In addition, there are many gift codes that the app offers you when you shop in their service. You can add your payment method and order your groceries in a few minutes. Through this app, you can keep track of your diet and consume only top food.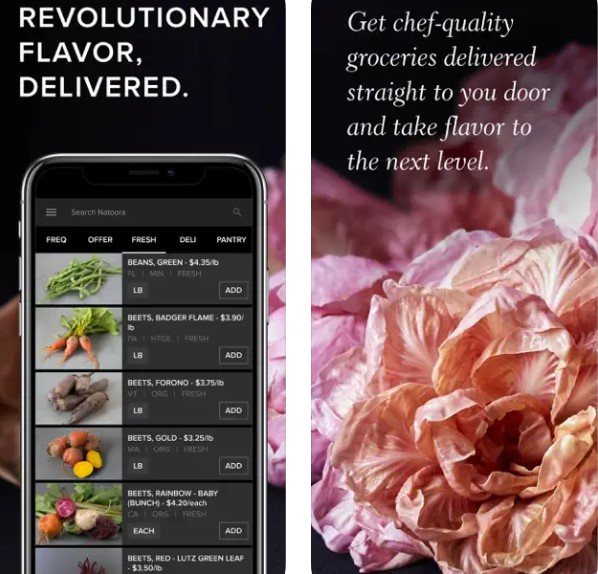 6. Farmers Market
This app will help you find local farmers' markets and purchase with ease. And one of the great things about this app is that it is completely free and wishes only to build better nutrition. Besides, Farmers Market works offline so you may view all information about farms near you at any time possible.
Most features work as well when online and offline. The app provides you with a complete map of New York State Farmers Markets. When you view farms nearby, you can visit their website and see how they grow their food. You can also call a vendor directly from the app to discuss their products.
It is worth noting that the app has a lot of useful features that other similar services do not have. One of them is the ability to navigate directly to the farm you like you can get directions to the farm and view information on working hours.
It also has a smart search that makes your search easier and helps you quickly find a product you need. A custom search will help you find any product you need.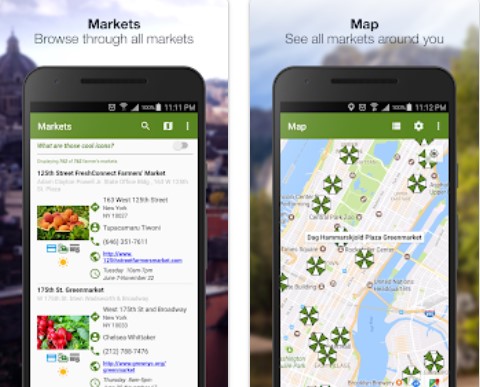 You may also like: 9 Best Cattle Record Keeping Apps
7. Market Wagon – Online Farmers Market
This is a farmer's market program that will help you buy food grown by hand. Thanks to this app, you can easily browse your nearest farms and see information about them. The app is very easy to use and it takes you only a few minutes to make your first food order through this service.
Many farms work with Market Wagon and you can purchase directly from the app. So you may assemble your basket of great food and order them to your door. Besides, you may view the product price and information on the place where they were grown.
You can also contact the vendor to discuss some issues that are relevant to your order. In addition, it is possible to use a convenient search that will make it easier for you to find the products you want. The app also often has profitable low-price product sales. This allows you to buy quality food with discounts.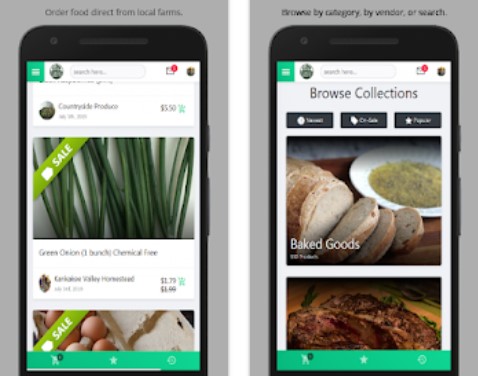 8. Locavore : The Local Food Network
Locavore is an app that offers you a hyperlocal food network. Thanks to this app you can comfortably buy, share, trade, and rent everything related to natural food. In addition, you will be able to view all the farms that are in your city and buy their products. You will be able to create your ads and sell your food.
There is also an opportunity to rent entertainment facilities, kitchens, and equipment directly from the program. It is worth noting that this app is great for beginning farmers, as you can put up your goods and sell them on the site in seconds. You can also write reviews for sellers or improve your sales rating.
The app allows you to order any product you want right to your door. As you order groceries, you will be able to see the time it takes for your food to arrive as well as who delivers it.
In addition, you can pay for your orders with contactless payment and set up a contactless takeaway or delivery. The app will notify you when your item is ready or delivered to your destination.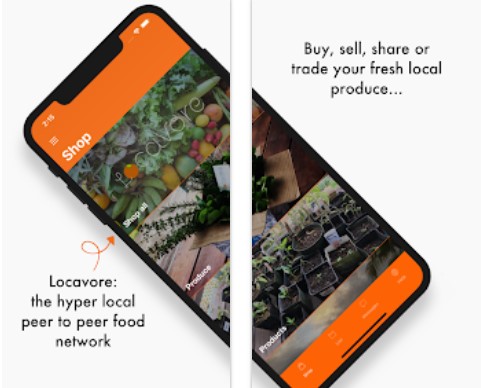 9. Soko Farmers' Market App
This community expands your concept of farm products. It is a modern app that has all the necessary features for finding natural dinners. First of all, it has an easy-to-use search that offers the fastest way to find suppliers that are right for you.
Secondly, the program has a convenient notification system that allows you to navigate through the incoming products quickly. It also has a community of farmers who run a blog and inform users of healthy eating habits.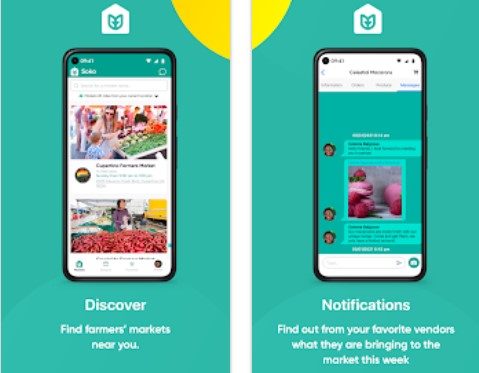 10. WhatsGood Marketplace
It is another farmer's community where locals can share their products. A special feature is the guaranteed bonus discount on the first order. Besides, there is a huge assortment of products which is no different from a regular delivery service. There is also a useful feature that helps to navigate through seasonal products.
That way you can be aware of the main trends in the market without leaving the house. In addition, there is a pre-order feature from farmers who are closest to the area you live in. Also, you can view a list of new farmers offering unique all-natural products of all kinds. Additionally, users praise the quality of delivery and eco-friendly package.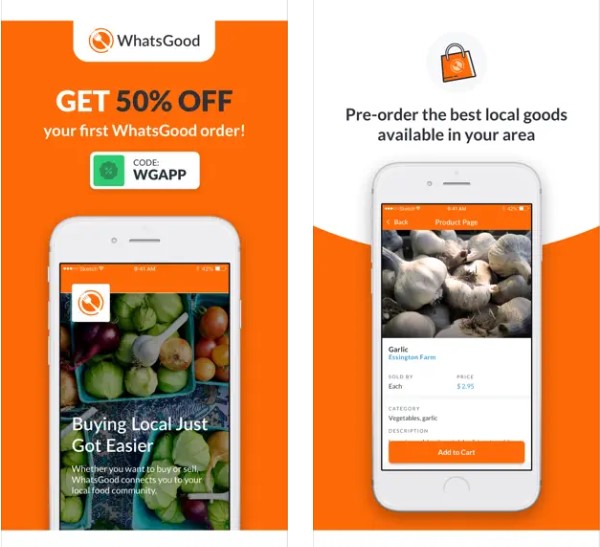 You may also like: 11 Best Second Hand Sale Apps
11. Farm Fresh 24/7
This is another authentic open service for home delivery of organic, fresh, aromatic, from the countryside products. The service allows residents of big cities to buy delicious vegetables, fruits, meat, and dairy products. This marketplace of farm products was developed by professionals.
And it is free of charge when it comes to attracting customers, connecting, and maintaining sellers. There you can create your account, regardless of whether you are a farmer or looking for healthy products. You get an online store with its shop shelf, which is easy to manage.
All you have to do is put up a product, come up with a description and offer a price. The orders are delivered to your doorstep all over the US. You can also set up a takeaway condition from shipping locations. In addition, the platform provides an option to track the rating of sellers and choose a manufacturer with a good reputation.
Also, it is worth noting the presence of a chat room where you can discuss all questions about the delivery. In addition to all of the above, the program offers you not only to deal, and purchase, but also to give products free of charge to people in need.