Average photos have ceased to impress sophisticated users on Instagram. Trends are changing rapidly. Bloggers constantly have to come up with something new and creative. And in order to still gain followers and likes on Instagram, you need to match these fashion trends. Of course, with stories apps, creating engaging content on Instagram is becoming much easier.
In this selection, we will talk about animated stories that are capturing the attention of all Instagram users currently. In addition, the article Best Instagram Hashtag Apps will help promote your content. There you will find a way to create the most popular tags for your posts. That way, you will definitely earn more followers.
1. Unfold: Story Maker & Editor
The Unfold app has been known since 2017. It is still at the top. The users are praising Unfold for its minimalistic photo and video templates. There are 25 free, laconic layouts on a white background. There are also 75 premium options with different designs, from ripped edges to film frames of analog photography.
Each additional set of templates can be purchased for an additional fee. The app will definitely be appreciated by fans of elegant classics and minimalism. And for stories, there are more than 100 layouts. You can also upload photos and videos from your phone's gallery. Then, you can add different fonts. Moreover, the saving of the project is of high quality.
Also, you can get access to some collections by subscribing to the official Instagram page of the app. Most layouts are fixed, but with the latest updates, the developers have added the ability to change the background color in individual templates.
For example, you can try white, black, beige, pastel pink, green, and yellow shades. You can also choose from six basic font styles. Unfold is available to download completely for free.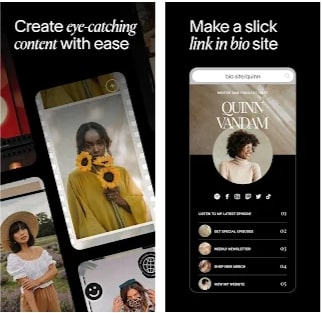 You may also like: 10 Best Repost Apps for Instagram (Android & iOS)
2. Stop Motion & Hyperlapse Maker
Stop Motion Maker Life Lapse is probably one of the most convenient applications for creating animations on Instagram. The app differs from the others by the ability to add music to posts and stories. The application has its own media library and synchronizes with the user's one. Templates are divided into categories and they have animations.
So users often use Stop Motion Maker Life Lapse to create, announce various promotions and products of their store on Instagram. Moreover, you can save a lot of time by using different effects and editing tools. Moreover, there is some educational content available here as well.
You can get acquainted with the basic tools of animation, for example, here you will briefly explain how to take a still picture. You can also create GIFs from simple photos. There is a camera in the app to help you create better animations.
There are tools like overlaying an image on a video, a timer per frame, locking exposure and white balance, and more. You will also be able to use the cropping tool specifically for various social media.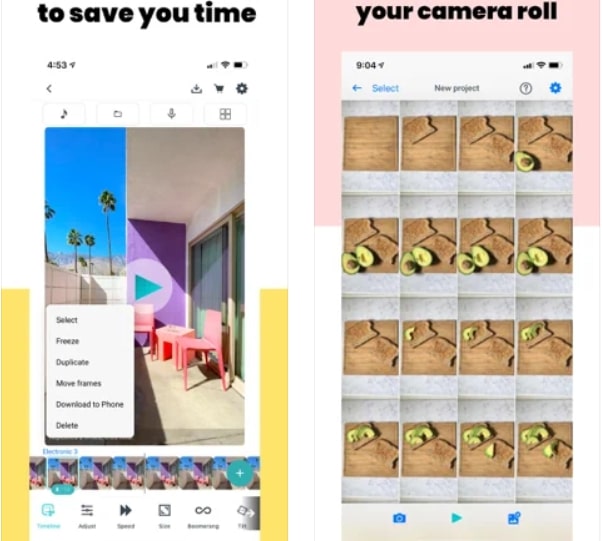 3. Motionleap by Lightricks
Motionleap by Lightricks is a colorful animation tool that can bring your photo to life in an instant. It is incredibly easy to use. There are different brushes whose size you can change. In addition, you can even use special movable stickers to create an animation effect. They will definitely be able to create a partial motion effect.
For example, try applying steam and moving clouds to a static image. The interesting thing is that this is all done in a couple of clicks. Indeed, all you have to do is choose a sticker and adjust the size with your fingers. You can also work with different ready-made templates. So you can apply a new animated background or add more effects to objects.
All effects can be lined up with a special trajectory, for example, so to make your hair move with the wind. It is a great program for creating static photos with individual moving elements. Using this application you can enliven your photos with 3D effects, such as a fluttering butterfly, flying soap bubbles, steam from a mug, colored smoke, and others.
There are an incredible number of options available in the app, some of them even for free.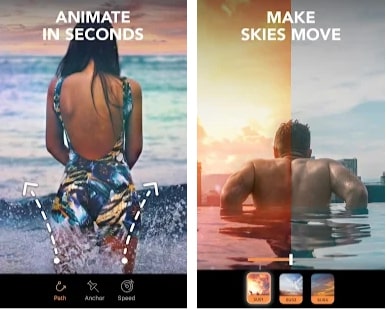 4. Adobe Spark Video
Adobe Spark Video makes it easy to create animated graphics, even if you are not a professional. You are encouraged to use ready-made templates or your own photos to prepare Instagram stories here. A convenient thing about the app is that you can add unusual effects like zooming, popping, dissolving, flashing text elements, and backdrops in a couple of clicks.
There are also tools to combine images for dynamic backgrounds, choose the right color palette templates, and much more. All the tools in this app have brief instructions. Although almost all operations can be done in just a couple of clicks. After all, the controls here are intuitive.
In addition, the application will be suitable not only for Instagram but also for creating various banners and presentations. You will definitely enjoy the editing process because the most necessary tools for animation are collected here in the company with a pleasant interface.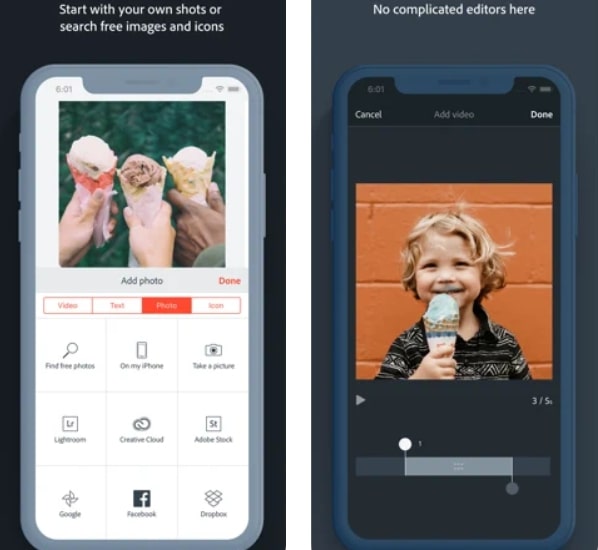 5. Drive Mode Mostory – Insta story maker
Meanwhile, this app is designed specifically for creating beautiful photos for Instagram. Mostory has over 300 different templates. With them, you will have a wide range of choices. Moreover, you can even create cool video sequences and even add music.
In addition, it is incredibly easy to customize music and audio here. You can cut it or choose from where it should be played. You can also work with the text. There are over 100 animation options for them here. There are both modern and vintage templates. For example, you can add moving neon text.
You can create layouts for Instagram stories here with Polaroid frames, neon details, film effects, choose textured backgrounds like marble, paper, concrete, and much more. Also, you can create minimalist stories in the style of an analog photo or diary with stickers. All elements can be rotated, enlarged, and combined in any order.

You may also like: 9 Best Apps to Remove Watermark From Photos (Android & iOS)
6. StoryLab – insta story make
Story Lab offers more than 60 stories and feeds templates in a variety of styles: minimalism, film, Polaroid, shaped frames, wreaths, and more. Moreover, the app is suitable for working with photos and videos. The interesting thing is that this app not only gives you easy access to animating your stories and posts but also has different templates to change your profile.
Some layouts are similar in style to other similar apps, but developers are offering more flexibility on personal settings here. You can choose any background color in the app, put your own photo or choose from standard sets, such as marble, waves, sky, textured walls, and so on. You will be able to rotate and resize elements in the layout.
Also, you can paint with a paintbrush and add 50 different fonts. You can choose from vintage, portrait, black and white photo, and video filters. Moreover, the app is available for free with additional purchases offered inside. The Pro mode gives access to private background textures, additional filters, gradient brushes and color stickers, postage stamps, and new fonts.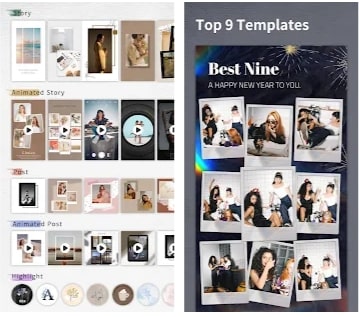 7. Canva: Design, Photo & Video
You may know this app from the PC version. The application is now available for mobile devices as well. So, Canva is a powerful tool for creating stories and posts with graphics. There are hundreds of ready-made graphic templates, collages, and banners available. All of these you can easily customize according to your taste.
All layouts are categorized and divided by size, for example, there are Summer, Business, Beauty, Minimalism, and other categories. The title itself will make it easier for you to navigate through the app and perform your creative tasks. Not only will you be able to edit photos, combine different text styles, but also add animated design elements for unique content.
Moreover, it has its own media library of images and design fonts, including those suggested by the app. Thanks to this application you will definitely be able to develop a brand style without any special knowledge in graphics and animation. You will be able to try yourself in the photo and video processing for Instagram, as well as to create a graphic image.
Moreover, you will be able to try to apply colorful filters and stickers, which are regularly updated according to trends. The developers of this app offer you to take advantage of all the features to create your business.
Here you will be able to create your own logo, unique style, easily remove the background of the image, and apply a single template to a group of photo and video material.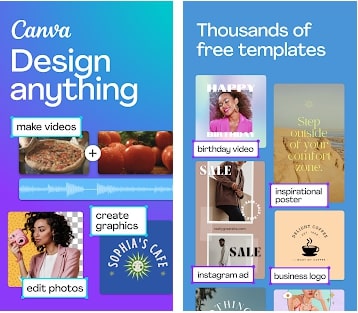 8. VIMAGE
VIMAGE is another great program for creating cinematic effects. You will make your photo move. There are as many as 70 different templates. You will see different categories of objects that you can animate, like the sky, plants, smoke, and others.
There is also an interesting feature called 3D parallax illusion that allows you to make your objects move by zooming in and out. Also, you can adjust the speed of the movement. In addition, basic editing tools are available.
They will surely be your helpers in creating a unique image. You will also be able to put an interesting sticker in the form of various bubbles, butterflies and so much more. You will also be able to work with the background.
After all, the application can itself define the objects in the photo. Check out how the sky will be transformed with the magic sky feature. The app is made especially for those who have a lot of creative ideas. Indeed, there are many interesting functions for that.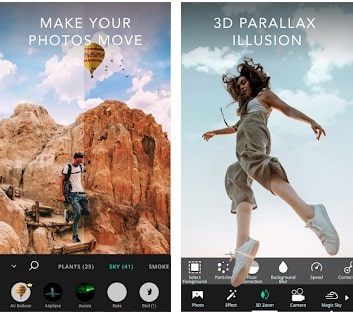 You may also like: 10 No crop apps for Instagram to upload full picture
9. Zoetropic – Photo in motion
Make the desired part of your image come alive with the motion, stabilization, and highlighting tools in the
Zoetropic – Photo In Motion app. The effects of moving water, burning flames, or dresses, and hair flapping in the wind are especially natural. The amazing thing is that you can create the most realistic 3D effect.
Also, you can slightly adjust the image to make it look a little more lush and bright. In addition, you will be able to change the strength by applying a certain intensity. In addition, you will also be able to add your own images to your existing photos. Also, the application offers a huge library of sounds.
Here you can find the perfect accompaniment to the resulting animation. After all, the audio library has categories for specific occasions, such as holidays, sad events, and celebrations. You can also use the easy track search, which is a great way to save time.