Want to add some heat to your vids? Or perhaps you want to set your IG acc ablaze with jaw-dropping clips? You're in for a treat!
We've rounded up the top apps to add fire effects to videos (Android & iOS) you could try. These apps let you add some heat to your clips (quite literally) and share the vids with just a few taps.
You'll be able to ignite your creativity and take your vids to the next level. Imagine turning a dull video of your cat into a blazing ball of fur, or making your latest travel vlog sizzle with excitement. From subtle embers to raging infernos, the possibilities are endless. Let's dive in!
Shot FX
This app is a total game-changer in the world of video editing. It does wonders with all the FX and templates, really.
Want to add some fire, laser, or lightning? There's a variety of mind-blowing FX you could try. Just follow the easy guide and your vids will be hotter than the sun! Plus, you can export and share HQ masterpieces with a few clicks only. And feel free to try glitter, neon, and nature-inspired filters. There's everything you may need, really.
But guess what? The app takes it one step further! You can now adjust the FX to your heart's content. Regulate the size of the magic ball, flip the fire in hand, and let your creativity run wild – the sky's the limit!
Oh, and if you're into creating GIFs and boomerangs, you can do it too. Turn your short clips into awesome GIFs, add some tunes, and voila – you've got yourself a top-notch music video that'll blow your subs away. Trending stickers and magic FX will make your clips seriously epic.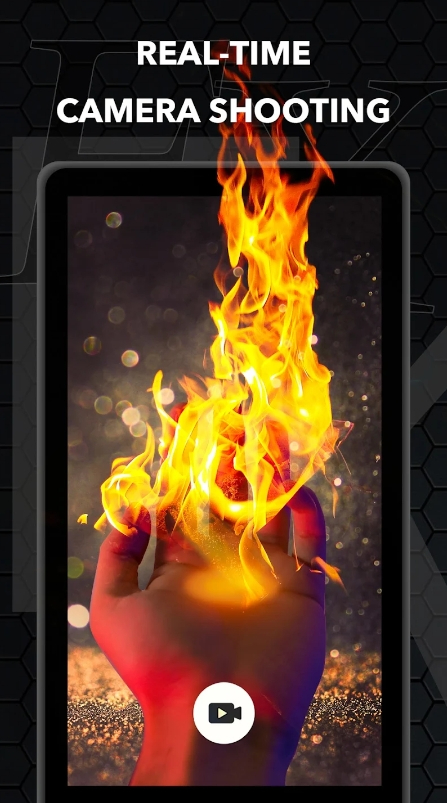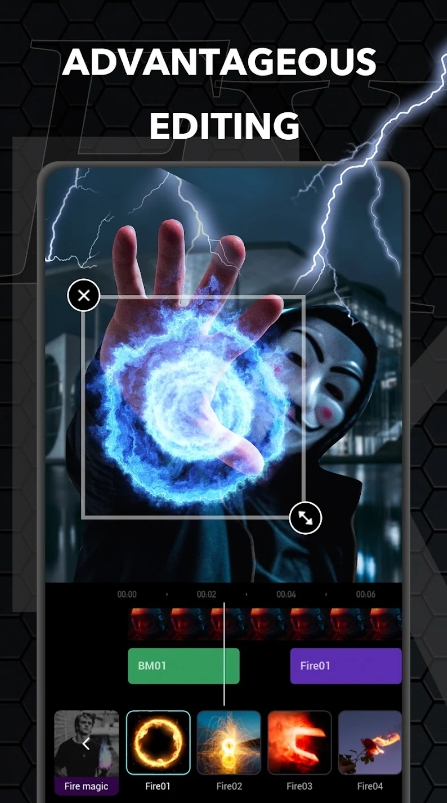 You may also like: 7 Best Clone Yourself Video Apps
VideoShow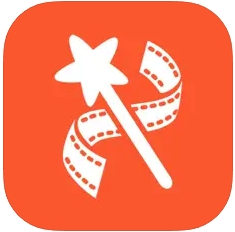 Tired of wrestling with editing soft that thinks it's teaching a course in computer science? This app is the opposite of those! It's an ideal match for filmmaking experts and newcomers alike. With its user-friendly tools and an arsenal of options, you'll be editing like a pro in a snap!
It covers an all-in-one editor that'll knock your socks off. With its lib of fancy themes, mesmerizing filters, and wicked font styles, you can whip up vids with a flick of your wrist! And guess what? You can even add your fave local tunes for that groovy atmosphere.
It covers tons of mind-blowing FX that'll make your work pop with pure awesomeness! The fire one is covered, too, and you can alter it to match your prefs.
Get ready to praise the app for its UI. No need to be a tech wizard to dive in. It is an in-depth syst that lets you make fantastic vids without breaking a sweat, even if you're allergic to complicated stuff. In a nutshell, it is the grand master of apps for all those eager to make jaw-dropping clips without drama.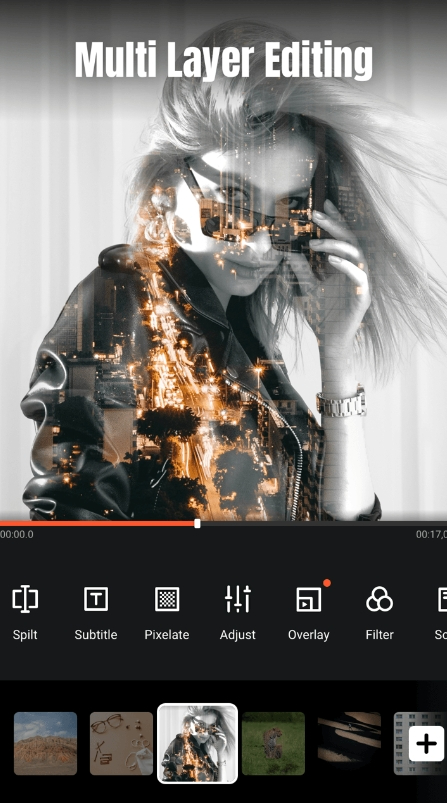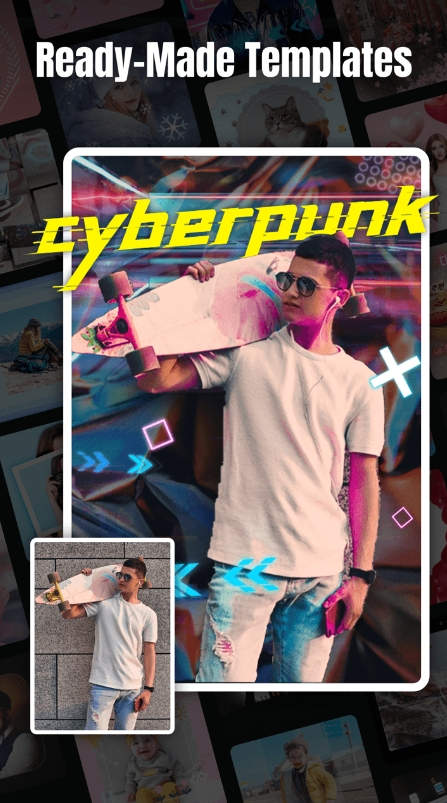 FX Video Maker
Tired of making vids that are as dull as watching paint dry? Well, fret no more! This app is the ultimate solution sprinkled with a touch of magic and creativity. It lets you become an FX master, making jaw-dropping clips that will leave your viewers spellbound.
It's the ideal platform to unleash your inner action hero and produce adrenaline-pumping vids, complete with epic FX like rain, snow, particles, and even fire and lightning! There are tons of templates for any mood: thriller, flamethrower, horror, and much more.
You'll now have even more precision editing at your fingertips, making your vids seem pro-made. You can also use g AR stickers, live beauty, and a bunch of other stuff. And don't forget about neon strikes, brushes, and tons of shiny things.
The glitch is covered too, adding that hip and edgy vibe, and there's a night mode for those late-night sessions. There's even a special foodie mode, ideal for tantalizing your food blogs! Most of those are also free, so you're not risking anything.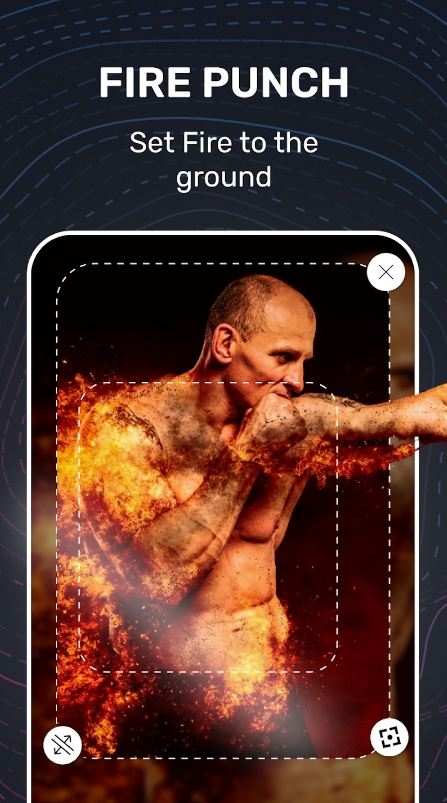 Magic Video Maker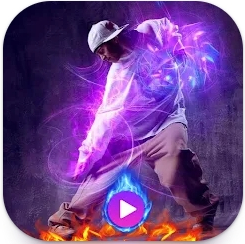 This app is a game-changer for anyone who wants to jazz up their vids with unique and magical FX. The key tools of this one are some of the best we've seen in the market. It's incredibly easy to make magic clips. With just a few taps you can add wonderful magic FX that are sure to impress.
And with its vast lib of music, you can pick from various styles, ensuring that your clip is accompanied by the ideal soundtrack. You can also merge multiple snaps to get a slideshow. There are also tons of FX including an entire section of fiery ones. You can pick from fire, magic, nature, scenery, and so on.
And with the free FX video maker, you can achieve movie-star quality with cool FX that will have everyone talking. Feel free to add animated emojis and text are sure to your vids pop.
The app also has diverse ratios, making it easy to save and share anywhere needed. There's an AI cutout tool that makes object removal quick and easy.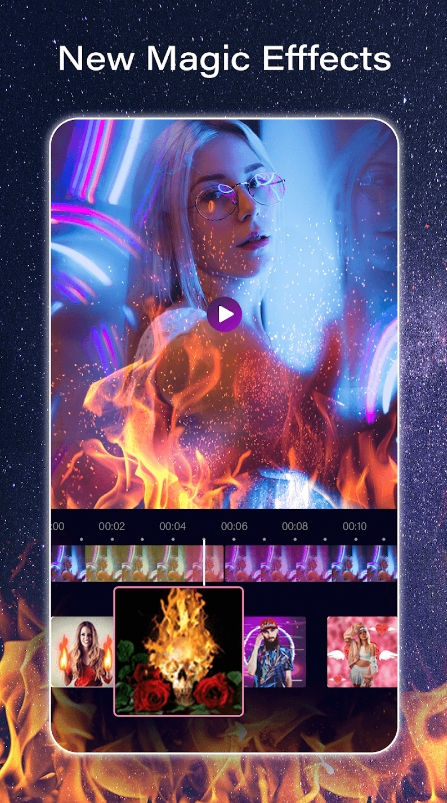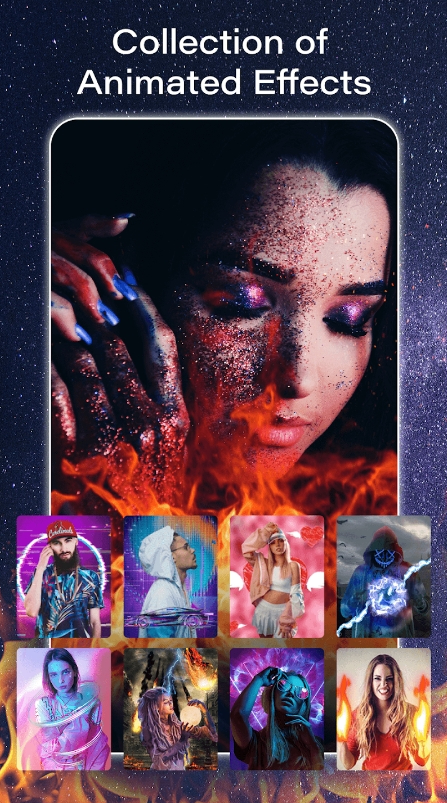 Videoleap
This app is a one-stop shop for all your vid making needs. It's not one of those mundane tools that do nothing but trim and crop. This app is here to unleash your creative superpowers!
The app has a magical lineup of FX like a prism, defocus, and chromatic aberration so your clips will be transformed into extraordinary works of art. There are also some magical options like fire, lightning, and all that. And if you're after that classic cinematic touch, the blur and pixelation tool are a must-try.
But wait, there's more! The app also lets you blend clips to craft stunning, jaw-dropping compositions. Layer it up with modifications, masking, and all the other things. Need to add some oomph? The speed modifier lets you fast-forward or slow-mo the clips for maximum wow factor. And forget about annoying watermarks, you can add intros and images without any fuss.
There's even a full-on reel maker that is ideal for getting your content noticed. One tap is all it takes to transform ads with their nifty business cool templates. And most of these are free, too.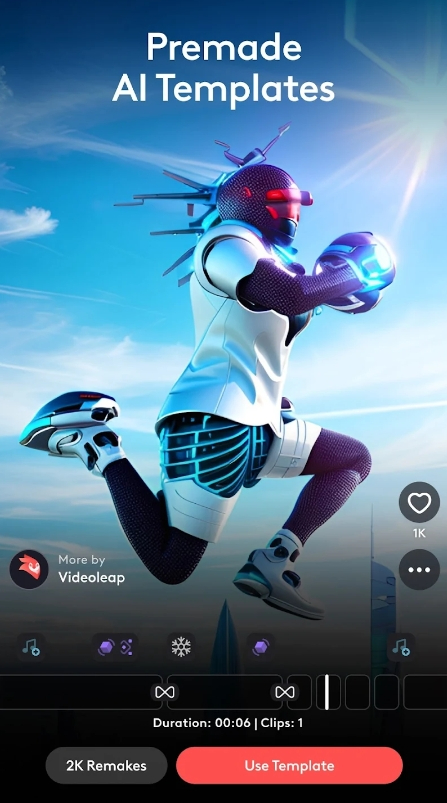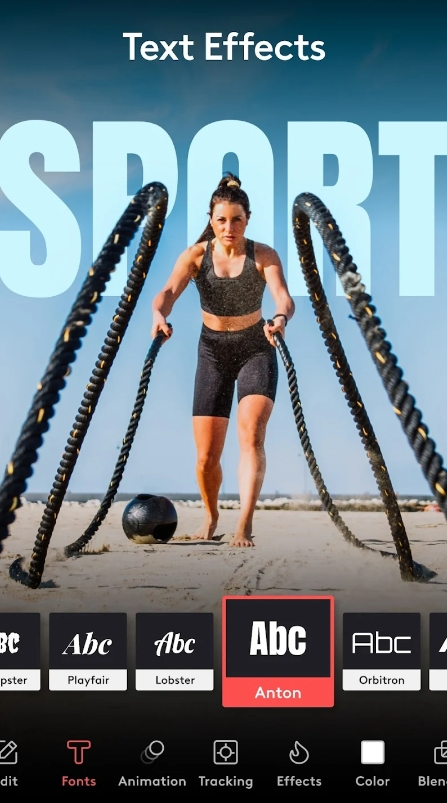 Check also: 9 Best Animated Stories Apps
Fire Effect Photo Video Editor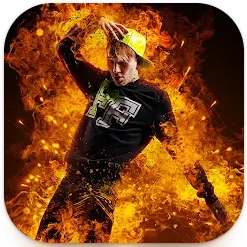 This app is a little different in concept. It doesn't work with vids necessarily, instead, it lets you do animated pics. The main goal of this one is to help you add some flair and pizzazz to your snaps.
This app is the ultimate tool for making stunning visuals that will have your pals in awe. It covers realistic fire and burning FX, so your naps will come to life like never before. Plus, all the vital functions are here as well, so you can enhance your pic as needed.
What's even better? It's so easy to use! Just pick a snap and FX, and voila! The magic happens right before your eyes. And with the ability to save and share the snaps in video format, you can easily show off your artistry to the world. The quality is top-notch, and there are no watermarks to ruin the exp.
This isn't your run-of-the-mill editing app. It takes your snaps from ordinary to extraordinary. With breathtaking flame FX that will leave a lasting impression, you'll be the talk of the town.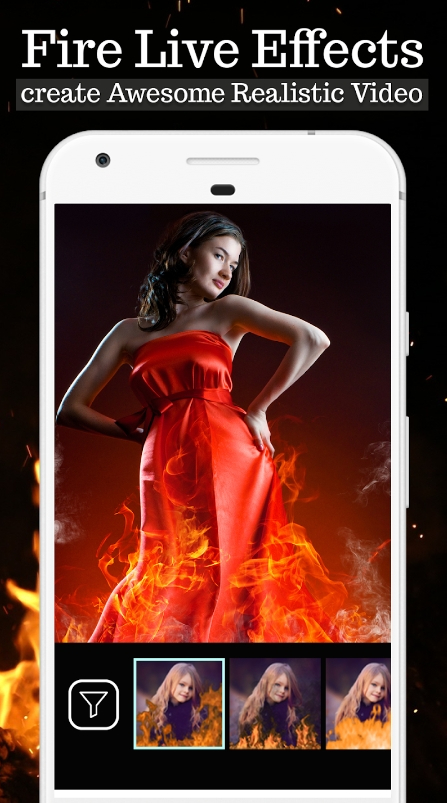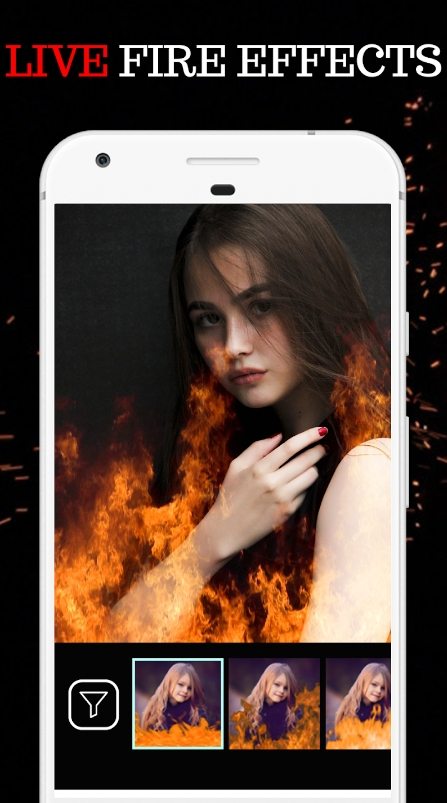 Fire Effect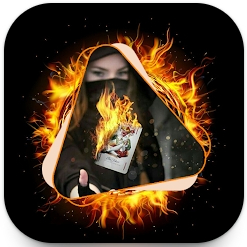 This is a kind of app that will squash your creativity. With this enchanting app, your mundane footage will burst into flames of awesomeness (quite literally).
Feel like summoning dragons in your backyard or conjuring magic circles out of thin air? The app will grant your wildest imagination. But this sorcery doesn't end there. Rain, snow, glitches: the app has got real magic FX that will make your сlips look like they were crafted by a real master. And the top part? You can experience the magic LIVE while shooting!
It's a wizardry-packed app with a spellbinding range of FX and filters. It even guides you through the all sorcery. So, don't worry if you're just a novice, you'll get to make the coolest clips right away.
And let's not forget about the amazing FX stickers! These babies can be rotated and zoomed to fit your vids perfectly. Whether it's angel wings or swirling water, the effect will blow your mind away! You can easily save the clips in HQ as easily as waving a wand. The ads are there, but they are fully bearable.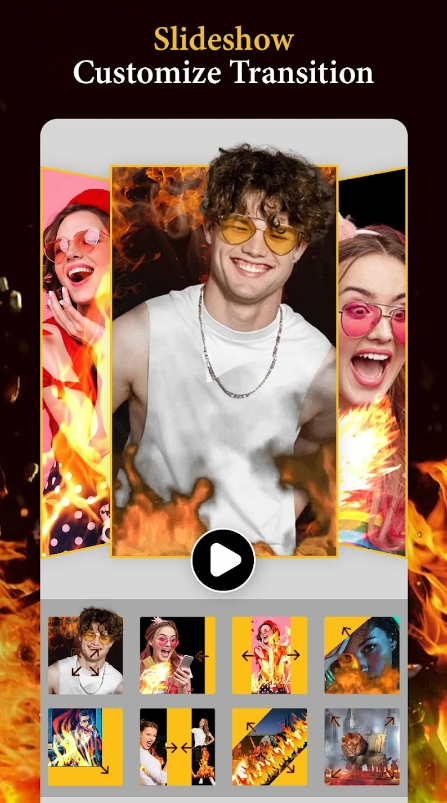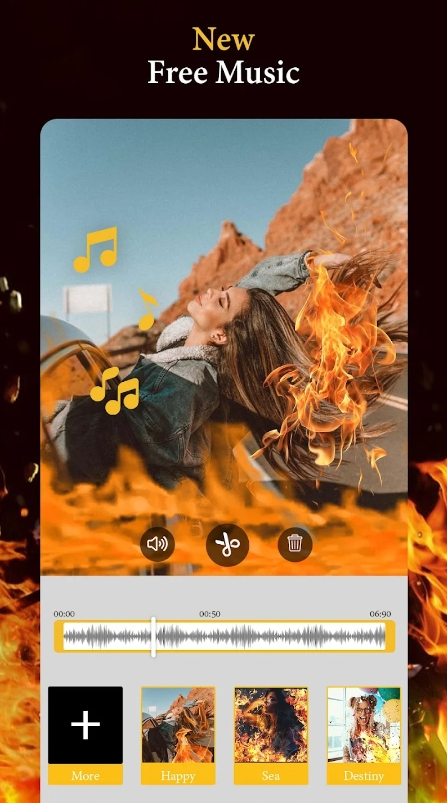 Veffecto
Here's an app to add a touch of magic to your clips. It's a treat for those wanting to add a bit of artistry to their visual content. It covers a stunning array of animated FX from neon to fire, luminous stripes, and more. The app makes it super simple to give your clips the wow factor they deserve.
And if you're feeling particularly creative, you can even draw your own custom glowing lines for a truly unique look. Can these lines be fiery, too? Sure, whatever comes to your brilliant mind!
You get full control over your footage, and all the without spending a dime. And let's not forget about the artistic VFX. There are tons of options here, so you can get the ideal look within secs. From vintage and retro to neon and beyond, there's everything you may need, and more.
Of course, no clip is complete without a soundtrack, and that's where this app really shines. It covers a vast lib of licensed music and sound FX, so you'll be able to set the perfect tone for your vid in no time.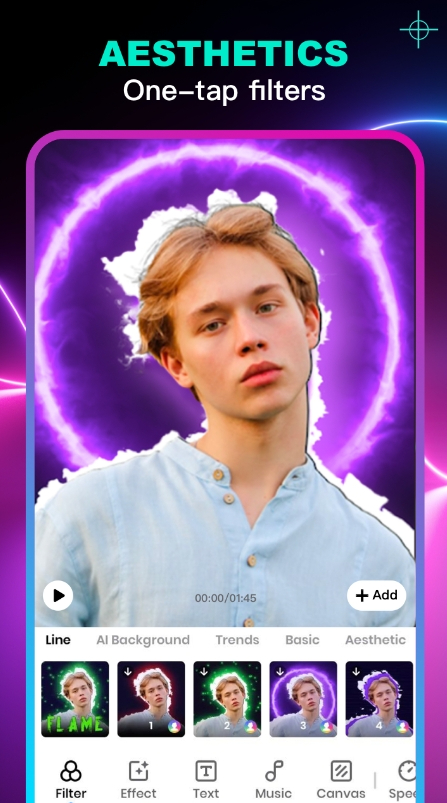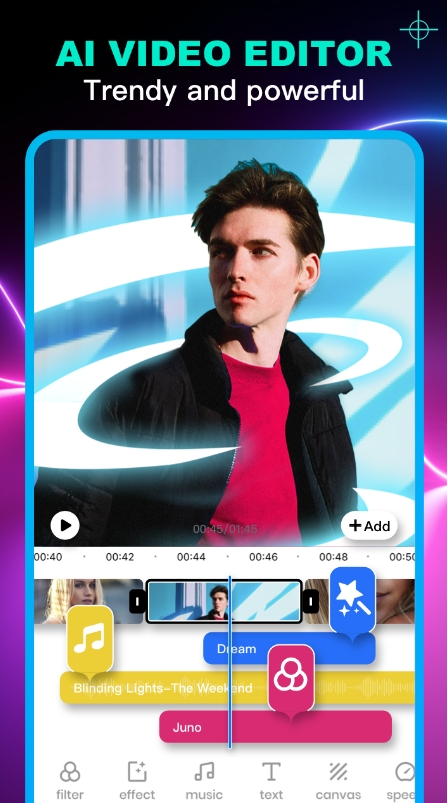 Fire Video Maker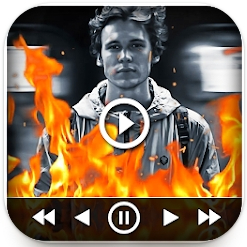 This app is a gem when it comes to creative vid making. You'll be in awe of its vast scope of magical FX you could try here. There are tons of fiery FX that can turn simple clips into flaming ones straight from the fantasy movie.
The app comes packed with tools that make it super easy to use and adjust, too. You get to regulate every little detail to ensure the FX looks as cool and realistic as possible. You can also add those FX to slideshows that can be made within the app too.
Plus, the fire overlay helps to get a seamless look that is simply mesmerizing. You can place it wherever you like, adjust the transparency, size, and all that. You can also add music for a cool little soundtrack, but you'll have to load those from your device.
The vids can be saved in HQ, and you can post them straight on TT or IG. There are no watermarks to ruin the exp, and you won't have to pay for anything either.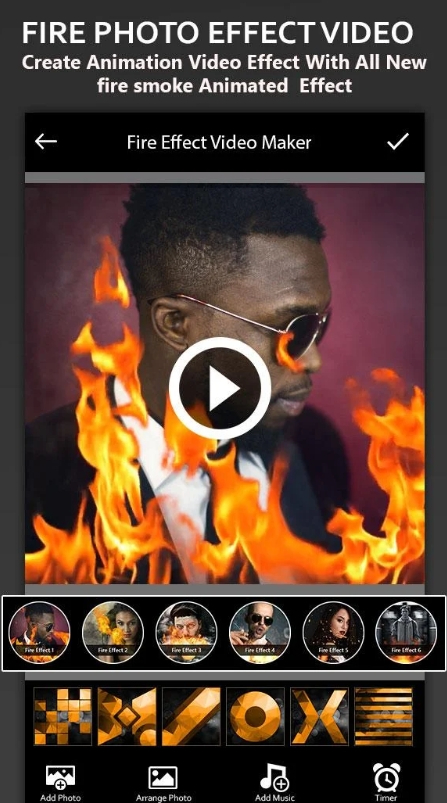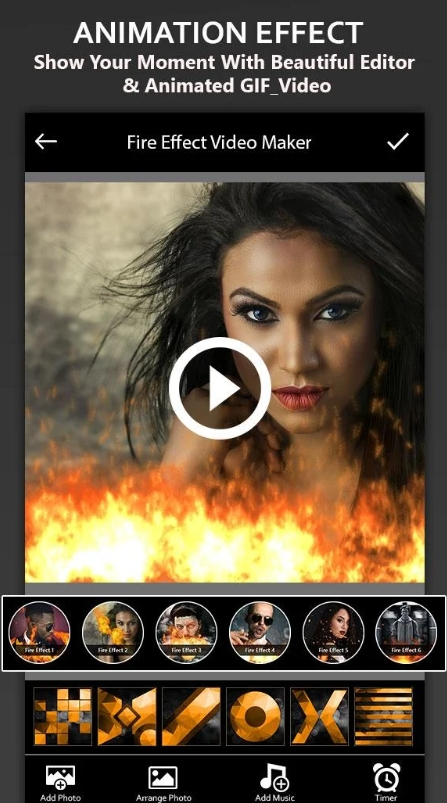 You may also check: 9 Best Apps to Combine Videos and Pictures Together
Video FX Effect Maker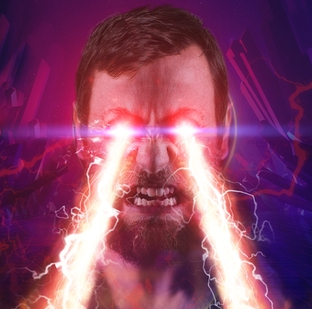 If you want to unleash your inner Spielberg or Bay, this app is definitely the way to go. Trust us, the app that will boost your clip-making. There's an array of real magic FX, so you can make mind-blowing clips just like a pro.
Whether it's raining, or snowing, or you wanna adjust the vibe with glitch, this app lets you do that. And let's not forget about the lightning balls, laser swords, and magic circles: these are the kind of FX that will make you feel like a real master.
The app is packed with pro tools that let you capture great moments with ideal sound. The real-time guide and FX incorporated in each template make this app the ultimate newbie-friendly. The guide is clear and straightforward, ensuring that you quickly pick up the skills to make clips.
It also updates the FX every week! Thus, your creative arsenal is continually expanding, giving you limitless possibilities to make vids that will leave your pals and fam jaws wide open. And it's also free!