Blending is probably one of the most eye-catching photo effects at the moment. It is used by ordinary people as well as professional photographers. All you need to have is a sense of good taste, creative fantasy, basic skills in editing photos, and a powerful tool to apply blending on an image.
As for a tool, you can gain access to it by installing one of the apps to blend photos. Ther is a wide choice of them on the App Store and Google Play. Nevertheless, our review includes only the best ones in this category.
So by laying on one image on another with one of the apps offered, you will definitely arrest sights of people who see your photos in social media.
1. Photoblend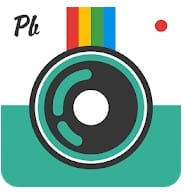 Photoblend is the only app available on both platforms at once. With the help of it, you will be able to blend several images with no difficulty.
The app offers two options on how to combine two photos. Firstly, you can upload both photos by yourself. Whether both photos were taken by you or one of them has been downloaded from the net, the effect will be cool.
The second way is to pre-load photos to the app and use them as a background. It can be the images of nature, animals, flowers, quotes, graphic signs, and so on. These photo effects will make your content much more appealing.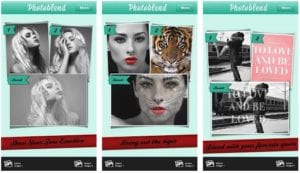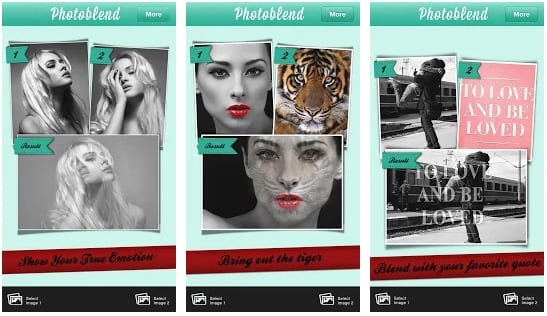 2. Ultimate Photo Blender / Mixer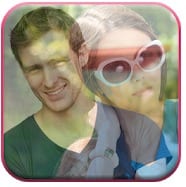 Here is the app from Google Play called Ultimate Photo Blender. This tool is considered to be so multifunctional.
Well, the reason for it is a big number of features supported by the app. We are going to start with blending as you are interested in it the most. The app will provide you with efficient tools to combine two photos into one. What is more, the app includes a quite good collection of pre-loaded backgrounds. We guess every user can find something to his or her taste there.
Apart from this, you will be able to edit your photo, enhance its quality (into HD), apply an additional overlay, use effects, etc. What is more, basic editing features (like cropping and rotating) will be also available. The things that will complete your photo are dozens of stickers, frames, text fonts, and so on. So there is no need to use several apps to decorate your blended photo.
Finally, you will be able to choose whether you want to save a photo on a SD card or share it with your friends directly from the app.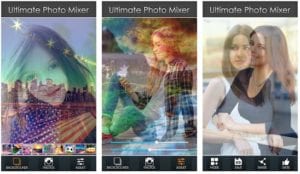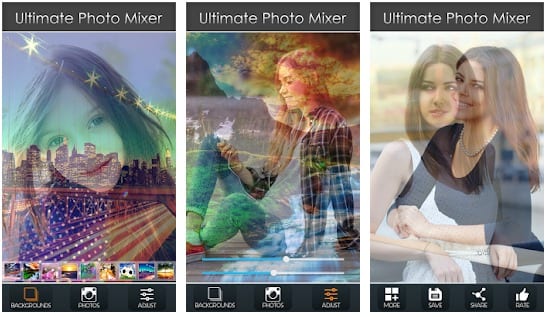 3. Ultimate Photo Mixer Blender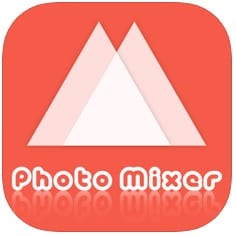 Talking about the tools from the App Store, the first app that comes to mind is Ultimate Photo Mixer Blender.
With this app, it will be so easy to blend two images together. The UI is quite friendly, so you won't face any difficulties while working in the app. 
You will have an opportunity to upload both photos by yourself as well as upload only one. What about the background? The app will suggest you a nice collection of them. There will be dozens of images of similar content (nature). That's why you will surely find a background that will perfectly fit your photo.  
The last step in editing a photo will be applying effects. Though the choice of them won't be so wide, the developers included most basic photo effects in the app.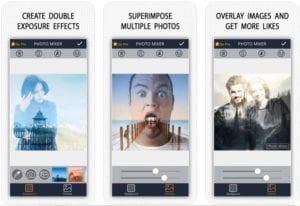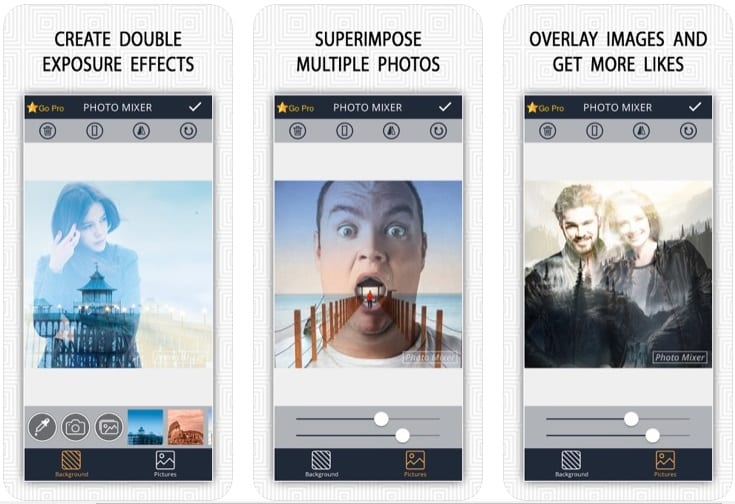 4. Photo Overlays – Blender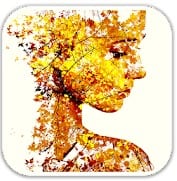 Going back to apps for Android gadgets, we also recommend a tool called Photo Overlays. Being a little bit primitive in design, the app is so efficient in blending. Thousands of users across the world admire it, as we do.
Within several taps only, you will be able to put one photo on another. Again, you can upload both photos from your phone gallery. Alternatively, upload a photo and choose the app's image as a background. There are almost tons of them, but the content is not so diverse. Again, most photos represent elements of nature.
The main distinguishing feature of this very app is that it supports adjusting an opacity of layers. Thus, a photo will fully meet your requirements.
Plus, if you need an app to edit photos as well, this one fits this category, too. It includes dozens of photo effects to make your photos even more creative.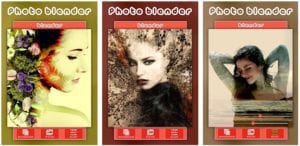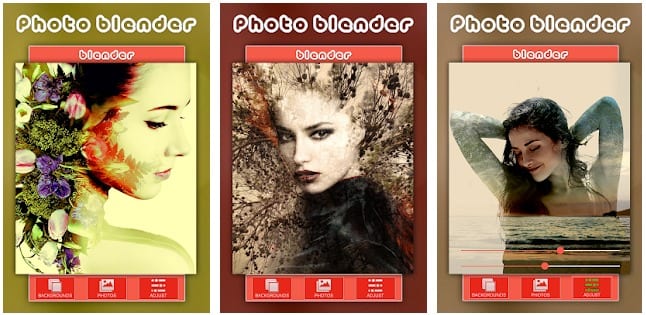 Adding a quote on a photo will be a nice idea, too. To do that, install one of the apps from our review.
5. Image Blender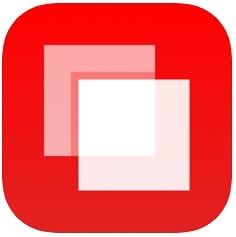 The next app for iOS that comes to mind is Image Blender. Being so powerful in blending photos, it will be an awesome choice for you.
Let's start with a blending feature. In this case, uploading two photos is required. It means that the app has no collection of backgrounds in access. However, it's not a problem at all. The Internet is full of wonderful pictures that suit your photo for 100%.
The complete adjustment of layers will be possible as well. Thus, you will be able to move them, set the opacity, etc.
Besides, the app is capable of applying textures, adding or replacing objects, watermarking, and attaching logos. What is more, if you need a tool that supports a multi-exposure feature, install this one with no hesitation.
As for the photo effects, the developers assure that the app is compatible with other photo editing apps. As a result, a user can choose an effect from another application, adjust it, choose a place to apply, and so on. Furthermore, creating your own personalized filters with overlays will be available for every user.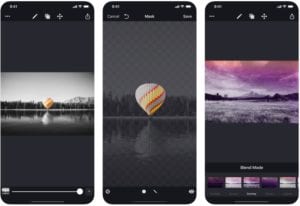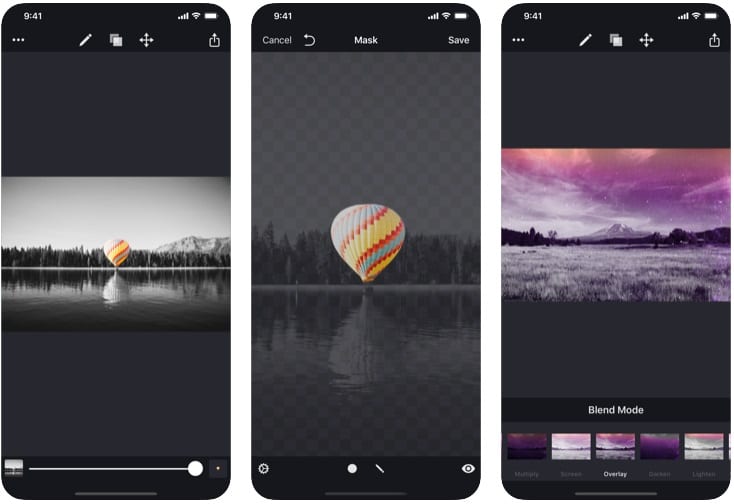 6. Photo blender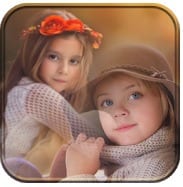 The next app that worth being included in our list is Photo blender. If the position of a background important to you, we highly recommend you install this app.
To begin with, the app is priceless for blending images. So after uploading photos, you will be able to choose the position of background by selecting a suitable template. With this feature, all the blended photos you imagine will come true.
In this case, the blending is based on templates for creating collages. By the way, there will be more than 300 of them at your fingertips. What is more, each of them can be adjusted according to your needs. Totally, you will be able to blend up to 9 photos.
As for other abilities in editing a photo, the app supports cropping, resizing, applying dozens of filters, adding stickers, text, or emojis, and so on.
As a result, your blended photo of HD quality can be instantly shared via social media as well as saved on a SD card.
One more minor advantage is 80 languages supported. That is one of the reasons for the app's popularity in so many countries.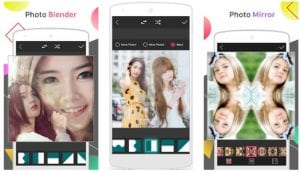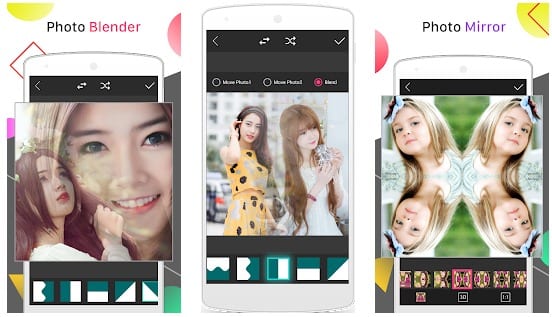 7. Blend Editor – Double Exposure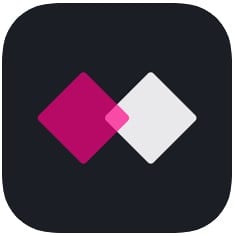 When it comes to reviewing one more app for Apple gadgets, Blend Editor is one more cool tool to be tried. Install it to make yourself sure that it is also unique.
As usual, the app will ask you to upload to photos – foreground and background. Alternatively, you will have an opportunity to choose a background among the images suggested. For your convenience, they will be divided into 5 groups: Skyscraper, Sky, Levitation, Text, and Scenery.
Both fore- and the background will be available for adjusting. Also, you will be able to change their position. Lastly, it will remain to apply one of the pre-loaded photo effects to make your blended image perfect.
After all, you will be offered to save a photo on your phone gallery or share on Instagram, Facebook, Twitter, WhatsApp, etc.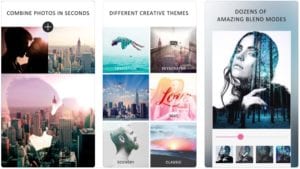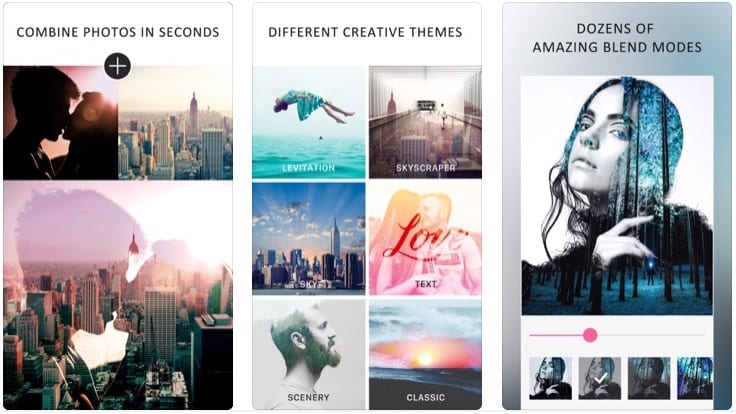 8. Photo blender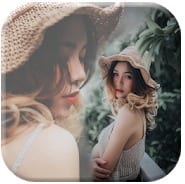 Photo blender is an app from Google Play. In this case, it will be the most appropriate for those who are searching for an all-in-one app.
Firstly, the app will surely become your assistant for blending photos. Again, to blend a photo, you will need to use one of the templates. By the way, there are hundreds of them. Also, the number of photos can be up to 9.
To make the blended photo look the best, you will be able to adjust the foreground and background.
Additionally, the app contains dozens of tools to crop, rotate, resize a photo, apply filters to it, add text, stickers, and so on. So you need more? If you give an affirmative answer, you should try an additional feature to change a face. You will have access to dozens of colorful and unusual masks like Alien, Frankenstein, Terminator, etc. Install the app to try them all!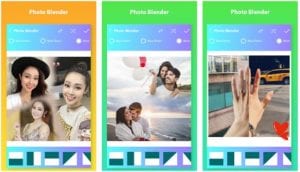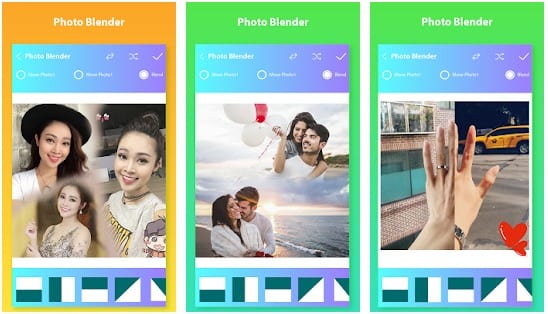 9. Overlay Image & Pic Blender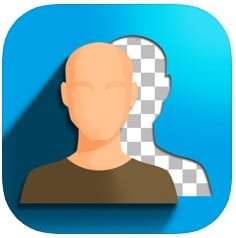 Our list ends with an app called Overlay Image & Pic Blender. With it, the capabilities for blending will be almost endless.
The way it functions differs a little bit. In this case, you will need to upload a foreground and erase the background unwanted with the app's tool called Eraser. After that, the app will ask you to upload a background. By the way, it doesn't have its own collection of pre-loaded backgrounds.
To make the fore- and background fit each other, you will be able to move them, and just the opacity, and use one of 18 blending modes. The final step is to apply a photo effect you wish and have your masterpiece created.
After all, saving an image on your phone gallery or sharing it will be possible. Also, you can send it to another photo editing app.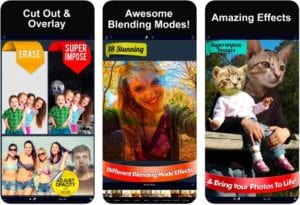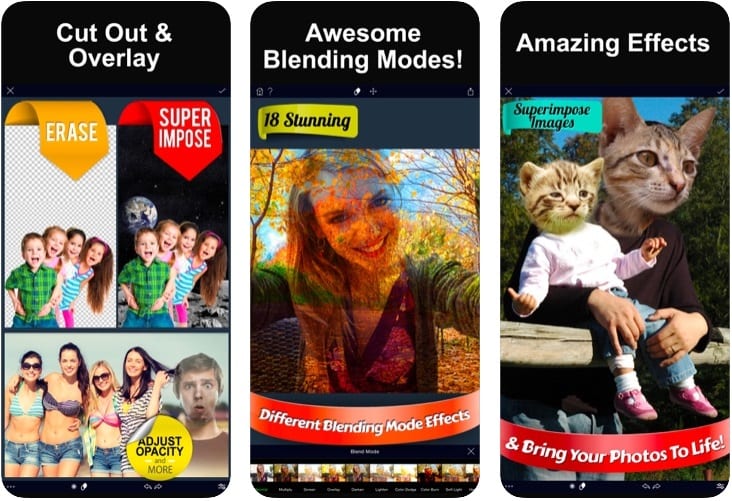 You may also like: 10 Cool infrared camera apps (Android & iOS)