In today's world, we are so used to our smartphones. Many people want to change the icons on their smartphone home screen. So today we have gathered the top apps that will help improve the appearance of the display. They can help you combine colors, change shapes, and many other things.
In addition, we also recommend you Best Home Screen Weather Widget Apps that will install screen cover widgets on your screen.
1. Aesthetic: App icons & Widgets
This application is the most suitable, fully editable widget builder. When you open the application, you are greeted by several helpful options. One of them is ready-made widgets to begin working from. You may choose from a selection of ready-made app icons and widgets and instantly install them on your smartphone.
In addition, the app regularly adds new icons each week, which is why you can day by day refresh your screen. Likewise, you are free to adjust the proportions of the widgets and app icons according to your tastes. Other fun options retain the power to adjust the font type and interval of widgets between each other.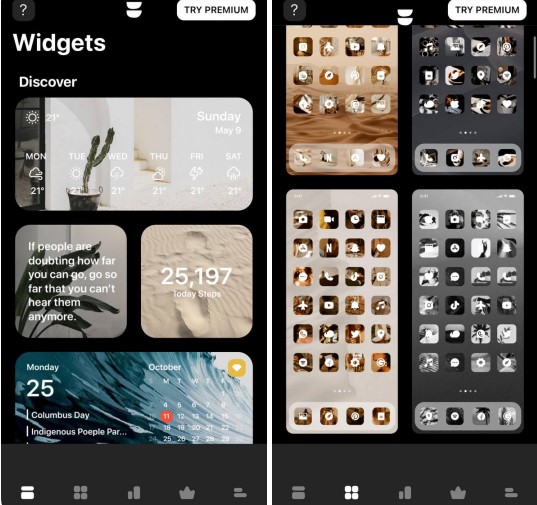 You may also like: 9 Best Apps To Change iPhone Background Automatically
2. Widgetsmith
This app has become popular since the release of the new IOS. This is since the system now allows you to change the format of the home screen and the creation of widgets has become tremendously simple. The functionality of the app is quite simple and has a custom interface. When you open the app, you see a considerable number of ready-made widgets.
You may click on the widgets you like to open the settings. As well as being able to choose a template option that is comfortable for you. Besides, you can customize it according to your liking. Also, you can alter the way the widgets look with a variety of theme options.
After that, the app will instantly install ready-to-use widgets on your smartphone's desktop screen. The program also provides many more enhanced smartphone themes for you to see.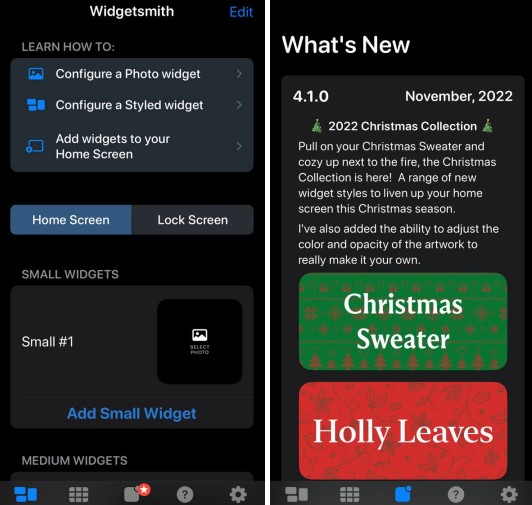 3. Color Widgets
One of this app's main excellent features is that you do not have to do all the challenging steps to make new widgets on your smartphone. The app provides many trendy widgets that you may quickly add to your phone's home screen. In addition, the app delivers many different design themes and icon packs.
Besides, you can use quotes and custom text on the widgets that you enjoy setting. Also, you can modify the icons on the applications of your smartphone. The service provides a variety of user-defined, themed icons that you may have on your phone. It is also possible to add entire icon packs in seconds using the quick install app function.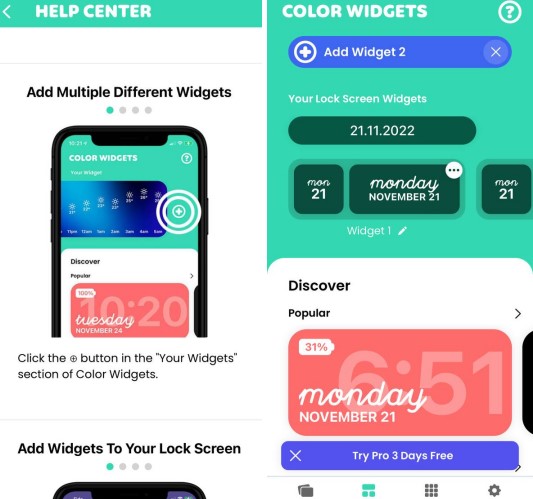 4. Themify: Icon Themes & Widgets
This application has many aesthetic themes for your smartphone. You can even modify the widgets and icons on your iPhone. The program provides settings so that you can choose the wallpaper that suits your style. In addition, you may decorate your lock screen with a mixture of effects.
Each smartphone theme comes with a set of widgets and application icons that are installed along with the theme. You can also choose a preview, which will allow you to evaluate how the theme will work on your smartphone.
Also, the app gives you complete freedom of action. You can take advantage of the theme customizer and change what you want based on your particular interests.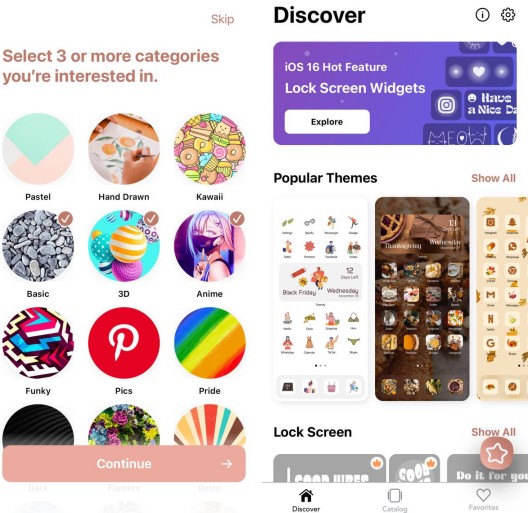 5. Widget Custom HomeScreen
If you are not pleased with the standard widgets on your device, you can create your own with this super simple app. Here you can change the text size, color, and background. And by clicking on the widget, you will earn more information about the theme you are going to choose.
It will also help you choose the right combination of text, color accents, and widget size. So you can gather what fits perfectly into your home screen. It also offers different selections for holidays or moods.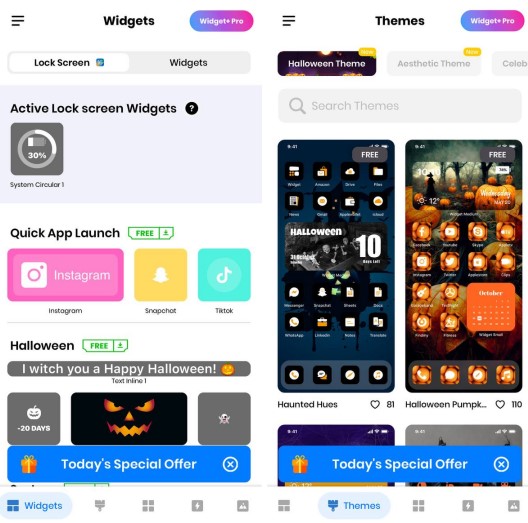 You may also like: 10 Best screen dimmer apps
6. MyTheme: Icon Changer & Themes
This trendy app will brighten up your everyday life. It changes the look of your smartphone dramatically. Here you can find a chilly collection of widgets, backgrounds, and icons. In addition, all of them are arranged by theme. Here you will find stylish solutions for quite different tastes.
So, there are pastel, neon, rainbow, minimalist, and many other themes. You can also try to create something unique using the app's editor. Likewise, you can view the top picks daily. In addition, the app updates styles specifically for the holidays.
So, for example, you can choose something in the spirit of Christmas or Halloween. And sometimes if you like a style you can add it to your favorites to try it out later.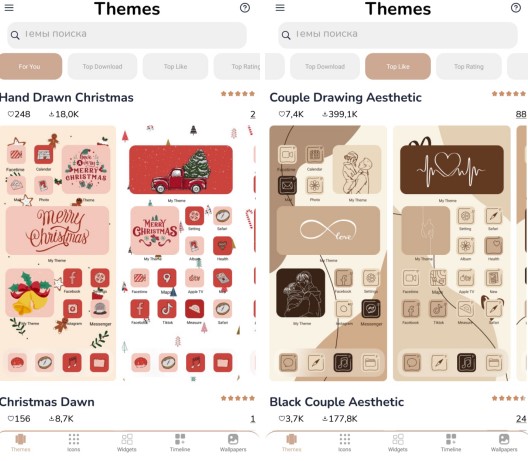 7. Icon Pack Studio
This is another editor that allows you to resize and move any elements from your custom icons. Also, here you can apply special effects such as lighting, shadows, textures, frames, and more. And, all actions are done in just a couple of clicks. There is a cool editor that allows you to use your images from the gallery.
Also, there are themed selections on completely different types of topics. In addition, the app offers you stylish options that you will see in sections. You will find top choices, new styles, highest-rated selections, and more in the sections. If you do not want to bother with creating your style, it is easy to find something that suits you.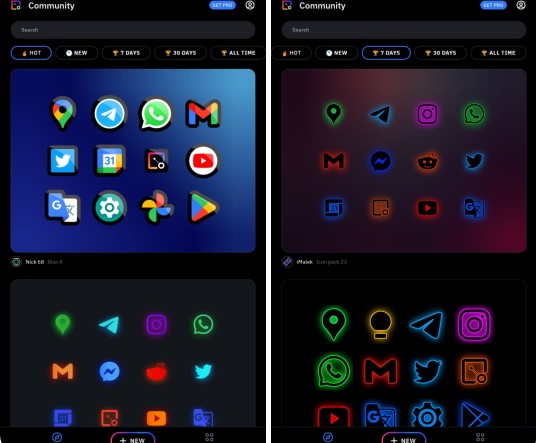 8. Palette: Home Screen Setups
This application is ideal for those who want to quickly change the appearance of the home screen. To do so, you can use ready-made solutions. There are certain sets for all occasions. For example, there are bright, minimalistic, colors, monochrome, and other collections.
Also, this app is notable for the fact that you can quickly preview how your widgets and backgrounds will look. After all, you can simply navigate through the themes by clicking on the images you like.
Also, you can view separately in detail how your icons might look. In addition, the program is valid for those who use Light or Dark themes. You can choose a theme that you like, and see which one suits you best.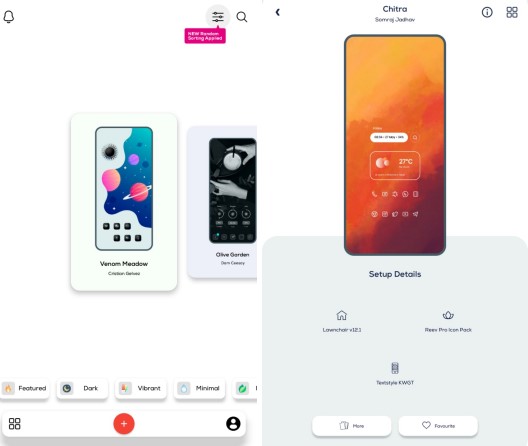 You may also like: 13 Best screensaver apps
9. MagicWidgets – Photo Widgets
This is another program that is specially designed for those who like to try something new. It is one of the best, fully customizable widget builders available. All because it does not require advanced programming mastery to make it work.
Another advantage of the tool is complete flexibility, allowing you to customize exactly everything in the widget, whether it be the font or the background. Also, there are cool settings for applications like calendars or clocks. You can insert your picture and completely improve their appearance.
And besides, this program can pick up something unique and memorable depending on what your preferences are. There are personalized designs that are not like other solutions. This application promises that you will find something original.