Nowadays, it seems that we use our devices around the clock. There is no doubt that it affects the eyesight and also causes eye strain. It must also be mentioned that by using phones in the evenings and nights people abuse their eyesight greatly. What is more, adjusting the brightness of your device screen wouldn't be enough to protect your eyes. 
Do you want to make the use of your gadget more comfortable and safe during the hours of darkness? If your answer is affirmative, we strongly advise you to install some unique apps capable of managing the screen's brightness and the blue light-emitting. 
We have chosen the best screen dimmer apps available on the App Store as well as Google Play. Try them and enjoy the use of your device even from sunset to sunrise.
1. Blue Light Filter – Night Mode, Night Shift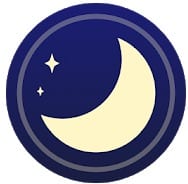 The first app with a screen dimmer feature is Blue Light Filter. It is awarded by Google Play's Editors'. Why is it so deeply appreciated?
First of all, the app will let you adjust screen brightness with no difficulty. Apart from this, you will be able to reduce blue light and adjust the filter intensity to soften the screen light. Everything is manually adjustable.
Besides, there will be various modes available to you. All of them are connected with natural light: Candlelight, Incandescent lamp, Fluorescent lamp, etc. This feature will let you protect your eyesight from being abused by a gadget screen. 
One more thing that you will like for sure is the user interface. It will be extremely convenient to use the app. You will always have functional buttons and even an auto-timer at your fingertips. By using them, you can instantly manage the app.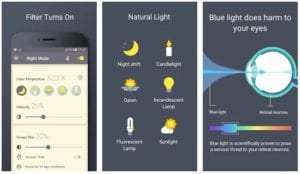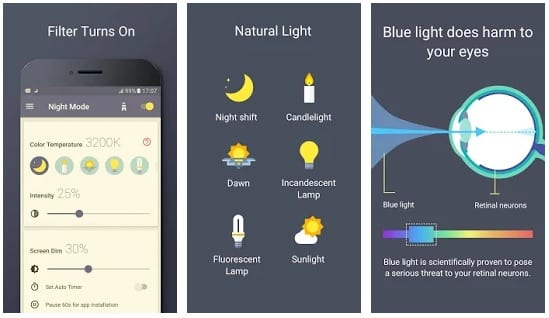 2. Dimmer -Adjust LCD brightness-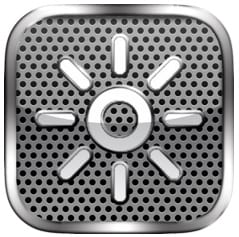 Though many iOS devices have a powerful built-in Night Shift, you may try an app with similar features. It is called Dimmer.
So by using this very app, you will be able to adjust the brightness of your screen instantly. For your convenience, you can create a Preset that will have certain settings. Apart from this, these Presets can be used as widgets, so you will always have quick access to them. 
Moreover, the app is quite intuitive. Thus, it will regulate your screen brightness depending on the battery level. Also, the Timer feature will be available for the app's users.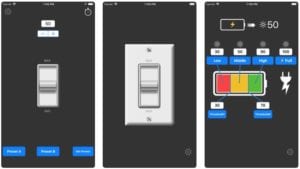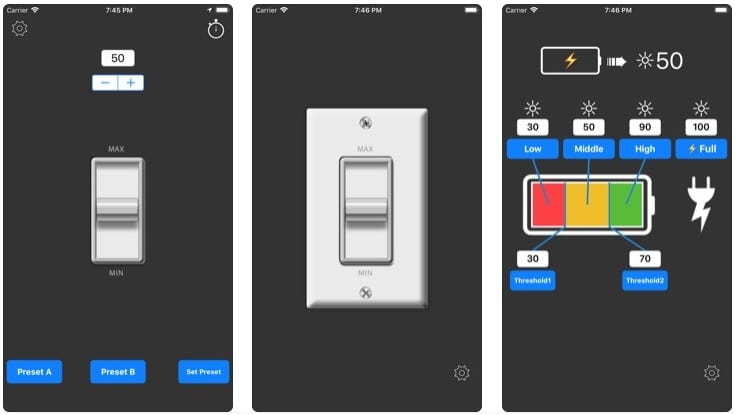 3. Night screen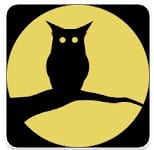 Night screen is the next great screen dimmer app. Though the app doesn't have so many features, it will fully meet your requirements.
The way the app works is by applying an overlay filter that will make your device screen dim. Apart from this, you will be able to apply a Blue Light filter, if you wish.
What makes the app so simple to use is the adjustable widget for your Home screen. Furthermore, you will definitely like such features as Automatical Start and Stop of a Night Mode.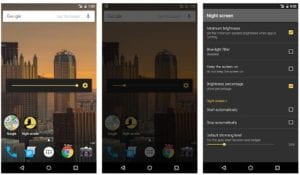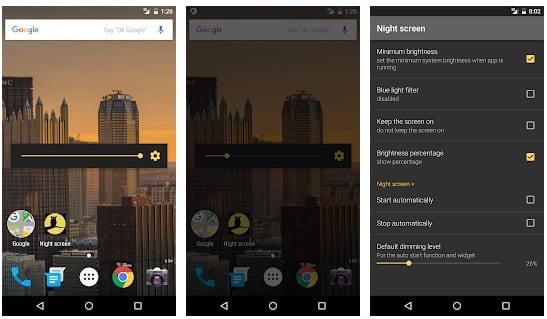 With screen dimmer apps, you will be able to read books from your gadget directly. Here is our recent post about one of the top-rated app for reading.
4. Screen & Notifications Dimmer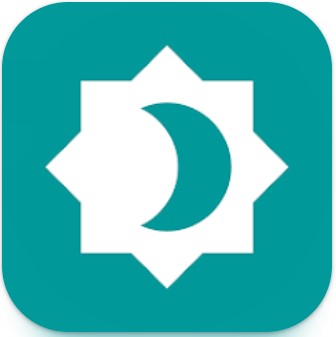 As for an alternative, we recommend you install this app as well. Screen & Notifications Dimmer is a tool for controlling your phone on a whole new level.
By using this app, you will easily decrease the brightness of your screen. And again, with the help of the app, you can adjust the brightness of notifications. But that's not all.
If you need some additional features, here you are. First of all, you will be able to customize the maximum and minimum levels of brightness depending on your needs. Apart from this, you will have a built-in auto-stop timer at your fingertips. 
One more advantage is that you will have custom colors to choose from.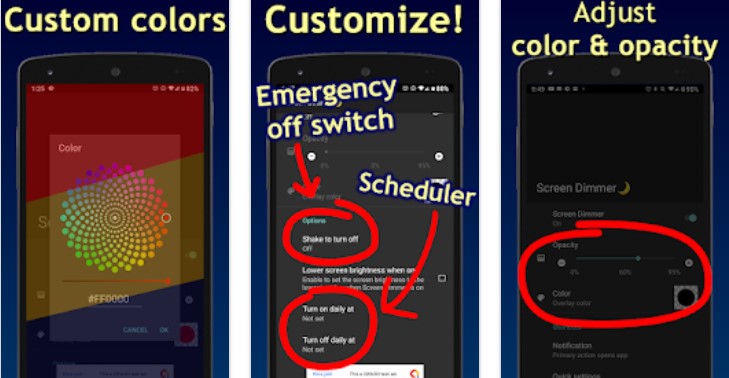 5. Night Owl-Bluelight Cut Filter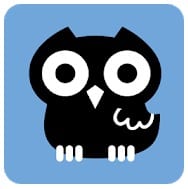 This very screen dimmer app is praised by users from all over the world. And we guess that it is a little bit underrated because it's rating on Google Play is only 4.2. We strongly advise you to install the app and make yourself sure how brilliant it is. 
Thus, by using Night Owl, you will be able to adjust and opacity and brightness. Moreover, it will be available to choose a filter color as well. 
One more distinguishing feature is the light effects. The app supports 12 of them such as Incandescent Light, Jack-O-Lantern, Mood Light, Protection Light, and many others. 
What you will also like here is the Flashlight feature that can be turned of with a Notification Bar button. Transparent Light and Screen Light are supported. 
By the way, as usual, you can set the time the mode will be on and off. In other cases, the Protective filter will be applied automatically.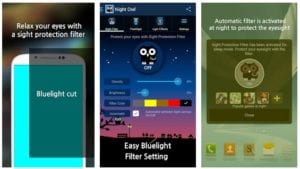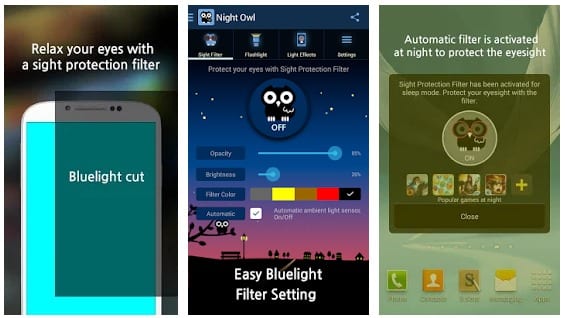 6. Screen Dimmer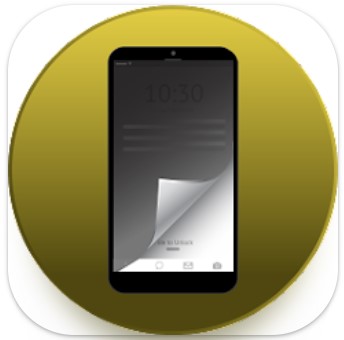 Screen Dimmer is one more app that is very powerful, so it will surely meet your expectations. 
To begin with, the app has the basic features of a screen dimmer app. By saying this, we mean that you will be able to make your screen dim beyond the default lowest setting. 
Dimmer doesn't have its own widget. Nevertheless, you will be able to switch dim and bright by tapping the app's icon. 
Also, it worth be mentioning that you will be able to apply various color filters as well. They will your eyesight from the strain.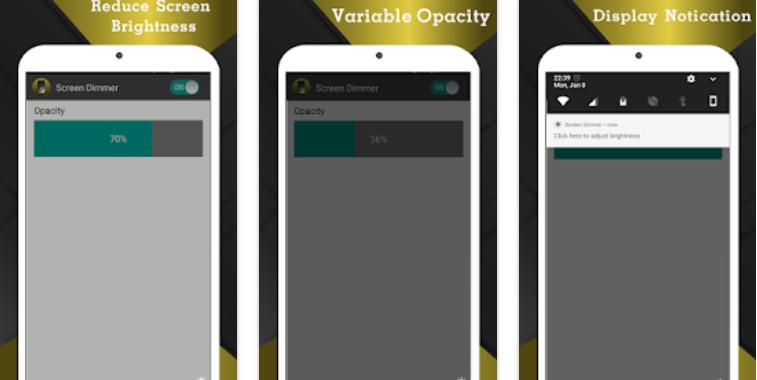 7. Twilight: Blue light filter for better sleep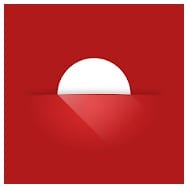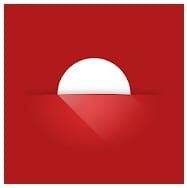 By using this fantastic app, your screen will be also adapted to a time of day. And we can't help saying that Twilight: Blue light filter for better sleep is included to the Editors' choice list.
The app will apply a warm red filter instead of a cold blue one. The screen of your device will be dimmed, which will protect your eyes from strain. What is more, the filter intensity will depend on a local sunset or sunrise time. 
One more great advantage is that the Night mode can be switched off in certain apps.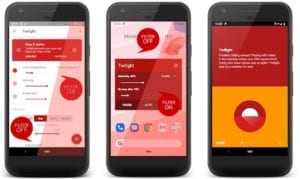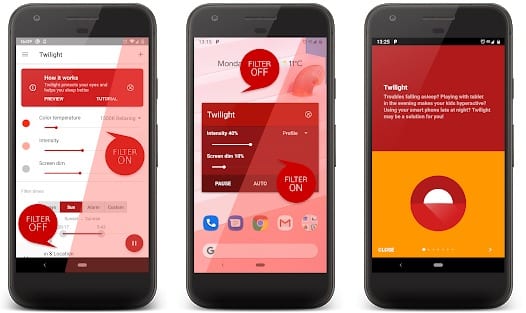 8. Screen Filter
The next screen dimmer app is Screen Filter. Be sure that it is also powerful enough to let you avoid the impact of the screen when it is used at night.
In this case, the brightness of a screen can be adjusted manually as well as automatically. The thing is that that the app is capable of managing the brightness depending on your location and local time. 
One more feature that the app supports is the widgets. Thus, you will have quick access to the preset brightness settings.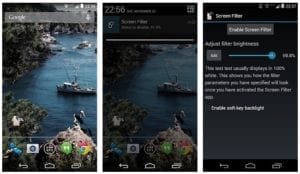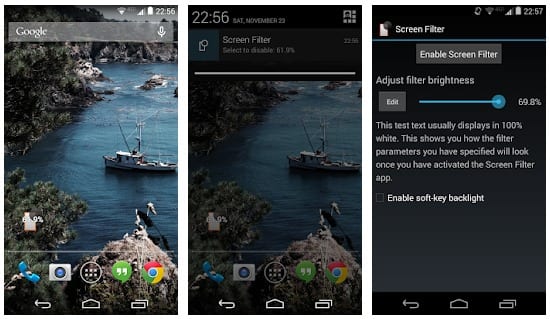 9. HALO – Bluelight Filter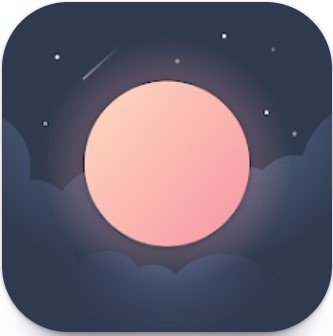 The next app that is worth being included in the list of screen dimmer apps is called HALO – Bluelight Filter. The app has features of typical apps of such kind.
Also, you can control the brightness and intensity here. In addition, you can also try to add shades of colors that you like. So, you will be able to decrease the brightness of your screen with no difficulty.
If you want to turn the mode on and off manually, it will also be easy to do it. Everything can be adjusted on a Notification Bar.
As a bonus, the app offers to set a timer for when to start Dark Mode.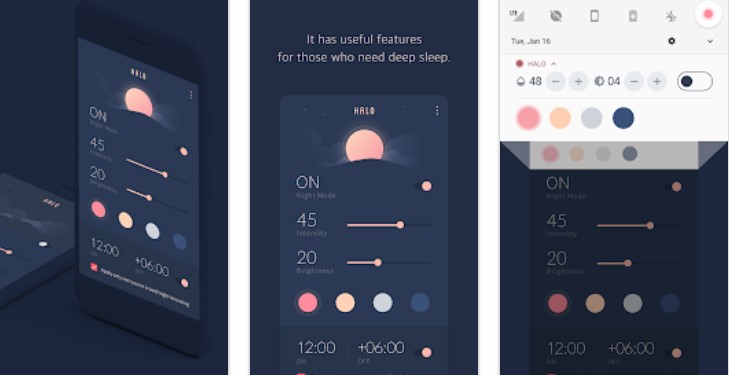 10. Dimmer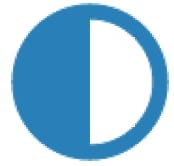 One more app that supports the Notification Bar instead of a widget is called simply Dimmer. As you can see, it is also capable of solving your problem. 
On the Bar, you will see all the necessary information about the level of screen brightness. Apart from this, it will be available to turn the mode on and off instantly.
What is more, after the latest update, the night mode can be launched automatically. All you have to do is to set a time you want the mode to turn on and off.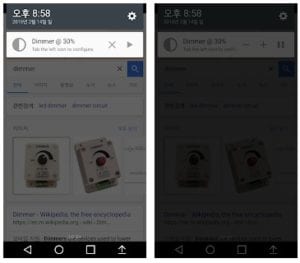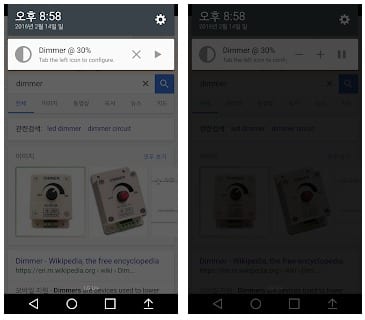 You may also like: Battery Bar app review