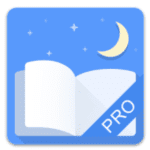 Almost everyone reads from smartphones, someone more, someone to a lesser extent. Of course, you need a suitable tool for this function. In this article, we will talk about an interesting reader with many unusual features. Moon + Reader Pro – a program for reading books of various formats in the Android system.
The application contains an online library, thanks to which you can find any book and read it without downloading. It supports the most common formats: fb2, epub, pdf, cbr, mobi, cbz, rar, umd, zip, txt, OPDS, html.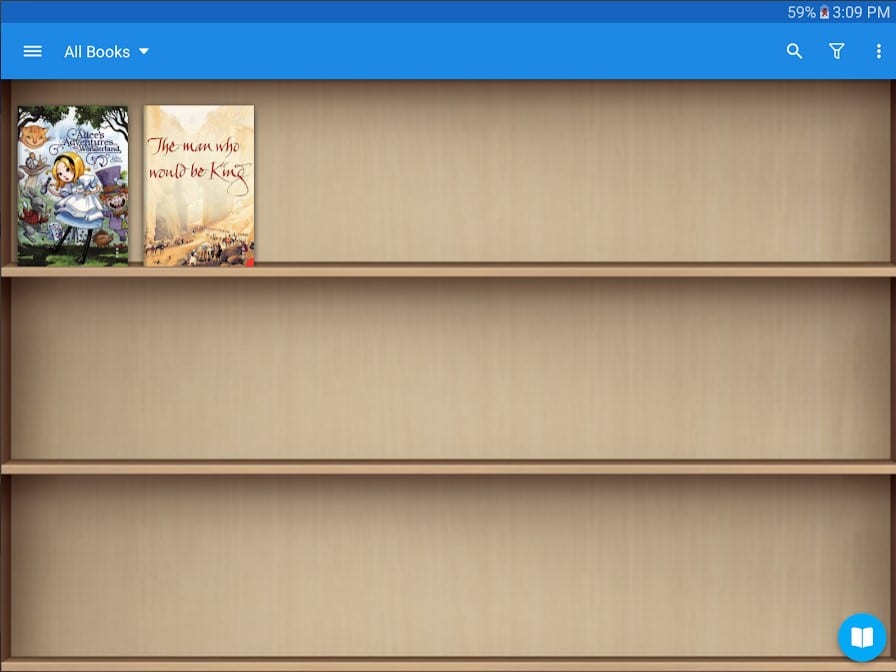 Key features:
Day and night modes, a large number of established topics.
Several page-turning modes with setting speed, color, transparency, etc.
24 customizable operations (touch screen, swipe gestures, hardware buttons), including up to 15 customizable actions: search, bookmarks, themes, navigation, font size and more.
Adjust screen brightness.
Ability to transfer paragraphs, remove extra spaces and indents.
It is possible to set up a warning when you read too long to maintain your vision.
Bookshelf: favorite, downloaded, authors, tags; book covers, search, add books from the SD card.
Alignment of text, support for hibernation.
Turn off the backlight of the hardware buttons in night mode.
Contrast mode, annotations, dictionaries (offline or online, support for Google Translate, ColorDict, Fora and others), translation, the ability to share a book.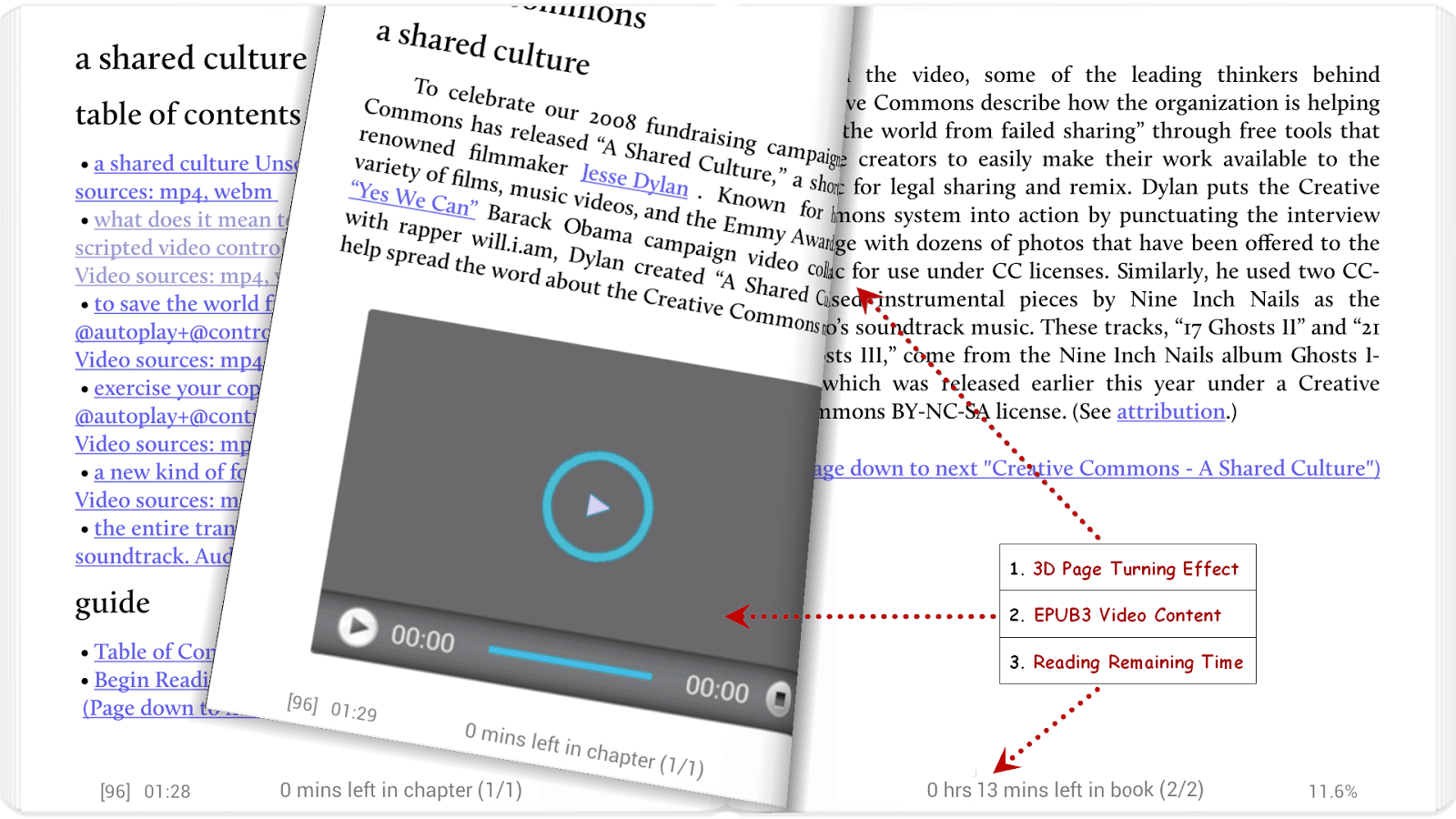 It is impossible not to note that the work on the application is ongoing, updates are released regularly, and some of the advantages of new versions of Android, such as transparency and full-screen mode, appear very timely. From the point of view of design, there are more modern solutions, though inferior in functionality.
The main thing is that in Moon + Reader, the controls, font, page layout and much more are so customizable that, having bothered to set the most convenient parameters for yourself, you will want to return to reading again and again. By launching Moon + Reader, you open, first of all, a book, and not a reader, and this is the primary advantage of the application.
Advantages:
simple and easy to use application;
indescribable amount of settings;
support for OPDS directories;
Dropbox and Google Drive sync
scattering of supported formats;
taking into account regularity and speed of reading.
Differences from the free version:
There is no ad spam while reading.
A fun feature from the developers: if you shake the phone, the program will read an open book aloud.
You can set a password to enter the program.
For convenience, shortcuts to your favorite books can be placed on your desktop.
Supports PDF format.
By email, you can ask developers a question from the program.
You can leave notes, bookmark, highlight text.
New themes for PDF and night mode.
The book can be opened on two pages by turning the screen in a horizontal position.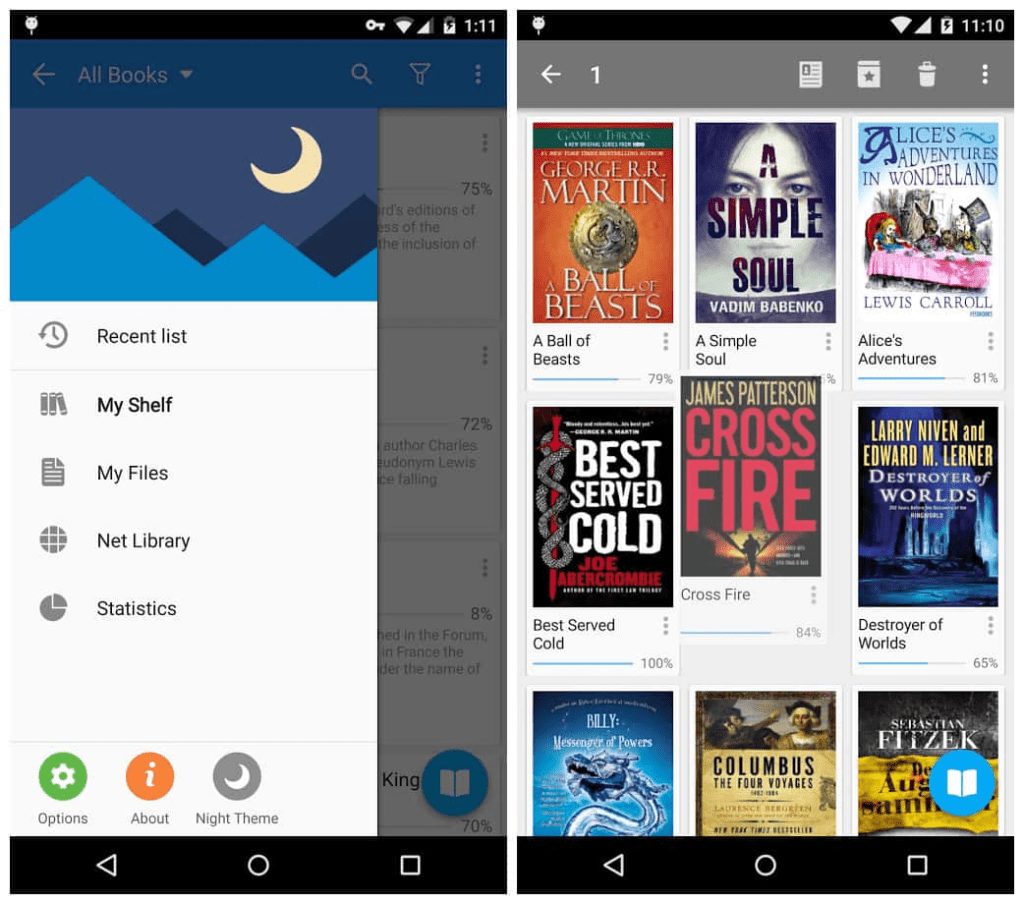 In addition, the program will automatically keep statistics as you read books: how many books you read, how much time you spent reading each book separately, what number you started reading when you finished reading. From the statistics tab, you can go to the book you are reading with the bookmark of the page where you left off.
Conclusion
The beauty of flipping effects and automatic text readability settings make Moon + Reader Pro an indispensable reading program on a smartphone or tablet.
Downloads: +500000
Customers rating:  [usr 4.3]
You may also like:

 10 Best live streaming apps for events