If you're involved in the administration of your church, then this article is for you. We all know that managing a church can be a daunting task, but thankfully, technology is here to make our lives less stressful.
With the emergence of free church management apps and websites, life just got a whole lot easier. No more confusion about who is managing what or which task is due when. These innovative tools have got your back, from keeping track of attendance and donations to managing volunteers and events.
These apps are the answer to all of your prayers: they give you all the tools to focus less on tasks and more on people. Let's get into it!
1. ChMeetings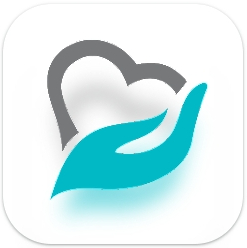 This app is made for church leaders to help them organize events, contributions, and members in one place. With its user-friendly interface and practical instruments, it is the ultimate app for any church leader looking up their management game.
First off, the app lets you store all your member's data securely, including private notes that only you can see. You can make groups to organize your meetings and make follow-ups easier. And the advanced search option lets you find any data field quickly, and the results can be saved as a report for later use.
And if you need to contact members, you can send them an SMS, create follow-ups, or add them to a group with just a few clicks! You'll also get to start single or recurring events effortlessly. You can even plan each session, assign a responsible person, and add notes to each instance. The app also covers attendance tracking and many statistical reports that help improve your meetings.
And what about follow-ups? The app has got you covered there too. You can identify absent members and assign follow-up tasks.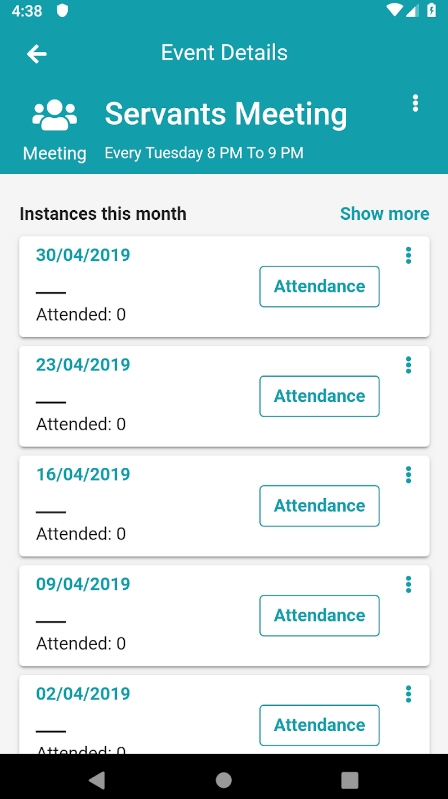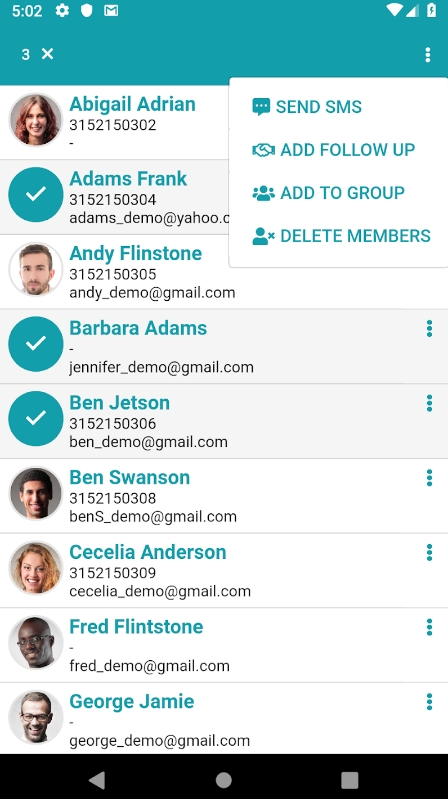 You may also like: 15 Best Free Community Apps
2. Church Manager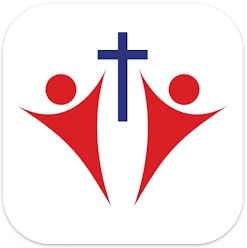 On the hunt for a handy way to stay interconnected with your church while on the go? This app lets you do just that! It's the ultimate tool for tracking all the vital data associated with your church, from attendance to giving and beyond.
One of the best things about this app is how easy it is to use. One of the things we love about the Church Manager app is how easy it is to use. Whether you're an experienced tech whiz or a relative newcomer to the world of church management software, you'll get to figure it out. To be fair, it won't be a problem for elderly people to use it too. It takes minimal effort to organize and analyze all your important church data.
Above that, the app covers a whole host of other features that make it an indispensable tool for modern church leaders. For example, you can use the app to add and manage your church's events, send out email newsletters to members, manage your volunteers, and much more. It's free to use, and there are no ads to distract you from really important things.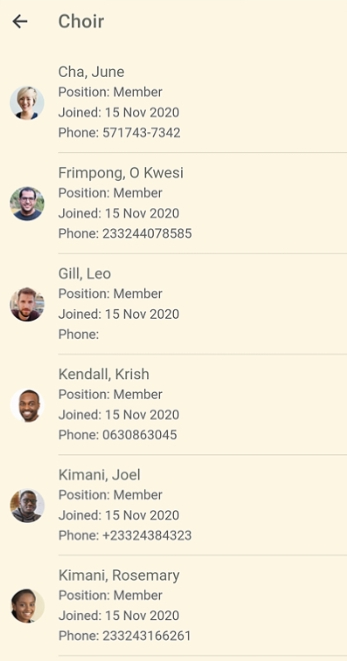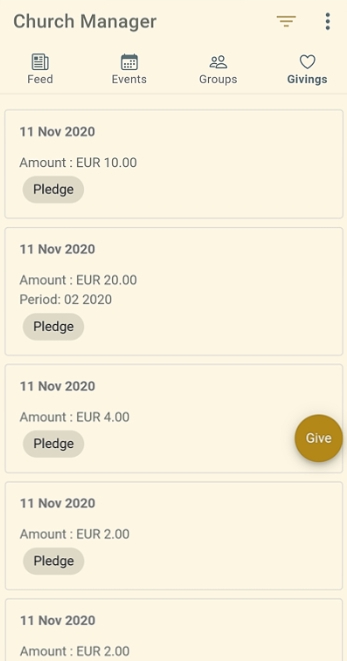 3. The Church App
Tired of missing out on your church's sermons and events because you couldn't make it in person? This app is here to help. It connects you to your church and provides a plethora of resources all at your fingertips.
First of all, you get the ability to save your fave sermons for offline listening. Thus, you'll get to tune in anytime, anywhere, without worrying about internet connectivity. And if you hear something particularly inspiring, you can take notes and access them across all your devices.
But the app can do more than that. You can also read the Bible and follow along with reading plans, sign up for events, and receive updates from your church. Plus, you'll get to browse thousands of leading ministries within the app for quick access to gospel-centered content. And if you're feeling generous, you can even donate to your ministry or other ministries around the globe with quick, secure giving.
The UI is simple, making the app a breeze to navigate and find what you need. It also lets you share some content with friends, so you can spread the message of your faith with ease.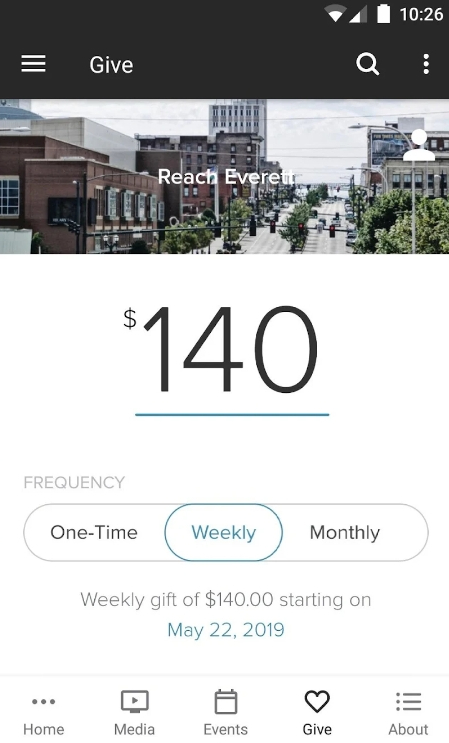 4. E-zekiel Church Management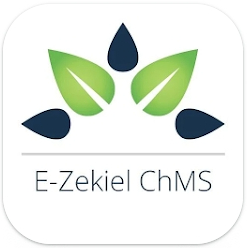 If you're tired o accessing your church's management system from a computer, give this app a try. It helps you stay on top of your church congregation even while on the go. This nifty little app packs a big punch, letting you access all of the core features right from your mobile device.
One of the top perks of the app is its elf check-in option (that's mainly made for parents). Say goodbye to those long lines and wasted time: with this app, parents can check in their kids as soon as they arrive in the parking lot, pick up their labels, and head straight to the action.
Plus, you can add, search, and update people and families, allowing you to stay on top of all your congregation's needs. But that's not all! You'll also get to send mass communications to the entire congregation or specific groups, and monitor attendance.
You can even use the app for notes about interactions with people, which is handy. And let's not forget the church directory. You can find anyone's contact information right from your phone!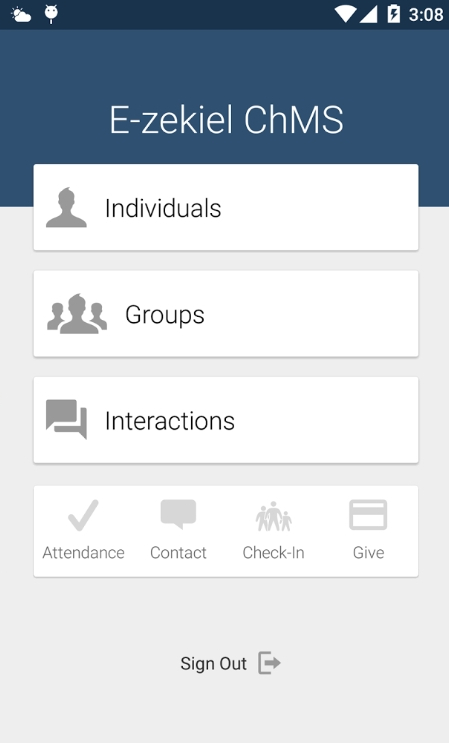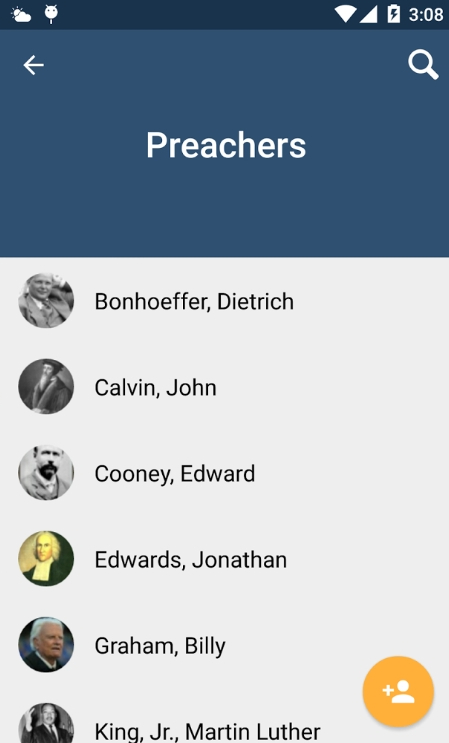 5. Church Metrics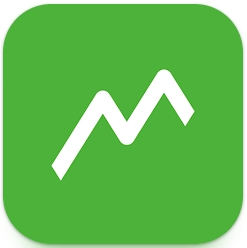 It's a handy app that lets you monitor key info about your congregation. It's a real gem when it comes to tracking our church's data, really. First off, this app is incredibly user-friendly. You can monitor any metric from attendance to salvations to car counts in the parking lot (yes, you read that right!).
The dashboard is fully customizable, so you can display the data that matters to you, and the interactive charts make it easy to spot trends and patterns. But the real magic happens when you start using the app for multiple campuses. You'll get to track metrics for each campus separately or combine them to see the big picture.
Plus, the automatic email reports make it easy to keep key leaders in the loop with reliable data. You'll also get to export data and reports using Excel. You can even make private, invitation-only Groups to manage and review data for an entire denomination, church plant group, or other association if needed.
You can switch before multiple accs with a simple tap if needed. And did we mention that it's 100% free with no trial period or in-app purchases?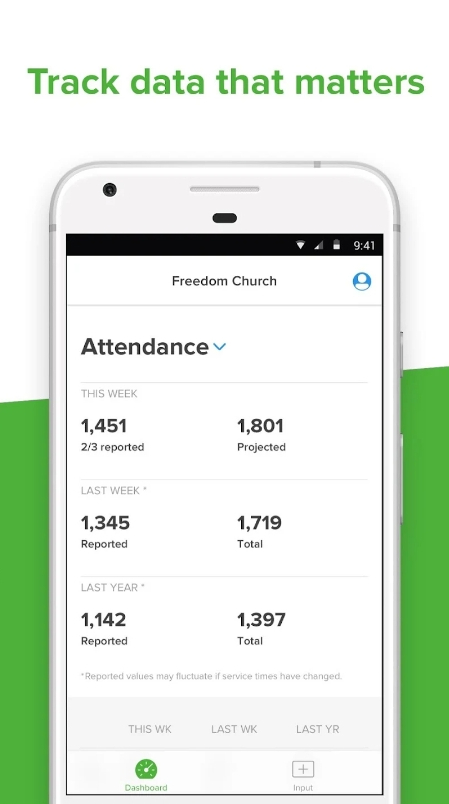 Check also: 10 Best Live Streaming Apps for Events
6. ChurchDesk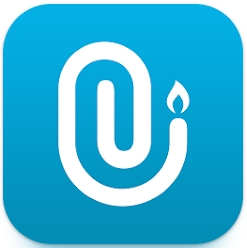 That's a reliable and efficient church management software you'll surely enjoy. It can really change your church work for the better. It's also a game-changer for church management. With the ability to view and manage bookings, reply to messages in real-time, and even the calendar for multiple churches, you'll wonder how you ever lived without it. And that's just the beginning.
Adding, editing, and viewing events and details has never been easier. You'll be able to search for events in the calendar and even keep tabs on who's attending. This comes in handy when you want to quickly find a specific event or when you want to look for a range of events within a specific timeframe. With all these tools at your disposal, you'll be able to save time and work smarter than ever before.
In terms of functionality, that's an all-in-one key that helps you take care of administration and communication tasks with ease. The app is streamlined and user-friendly, making it accessible to everyone, regardless of their technological background.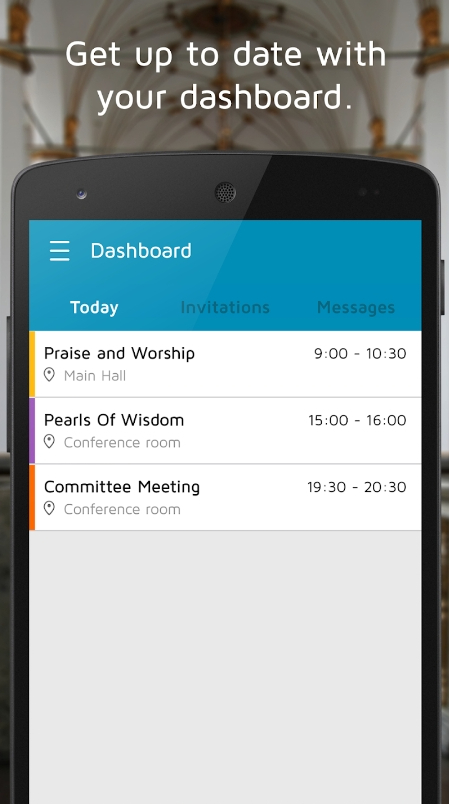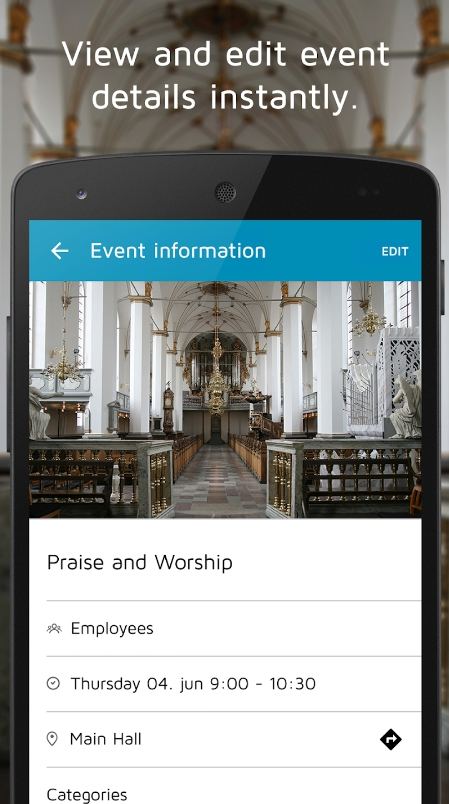 7. Instant Church Directory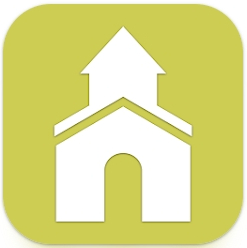 Tired of fumbling through an outdated church directory, desperately searching for a phone number or address? Well, say goodbye to those days and hello to this app! It will revolutionize the way you access your church directory, making it easier than ever to connect with fellow members.
First off, the UI is easy on the eyes and incredibly user-friendly. Navigating through the directory is a breeze, and with the click of a button, you can access any info and photos just like any traditional paper directory. And the best part? Any changes made by the admin are immediately synced to the app, so you never have to worry about outdated info.
Above that, you can easily look for specific members if needed. Just type in their name and voilà! Their contact info pops up, letting you call, email, or even text them directly through the app. And with the ability to click on a member's address and launch your default map app, you'll never have to stress about getting lost on the way to a church event again.
But wait, there's more! The app lets you access staff members and their contact info, as well as group members together for easy browsing. And for those of us who love celebrating birthdays, the app even lists members by their birth month.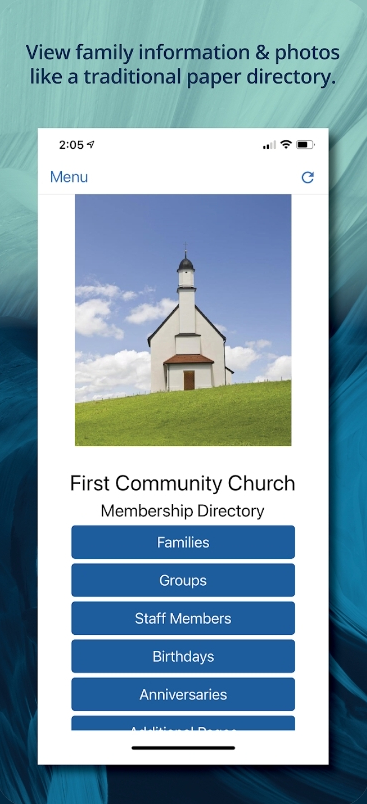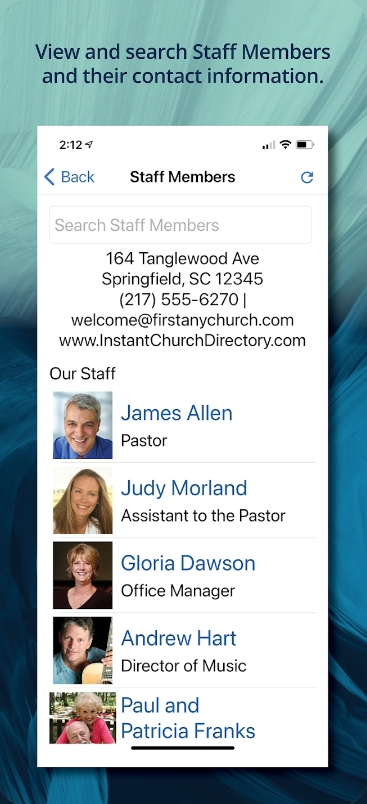 8. ChurchCRM
What can be more useful than an app? A website, of course. It doesn't require a download and can be easily accessed on multiple devices. This particular one lets you keep track of your church's members and events. It's an intuitive CRM system made just for churches, and it's packed with instruments that your staff and volunteers will love.
It's a modern, cloud-based site, so you can reach your church's data from anywhere, whether you're at your desk or on the go. Plus, the website covers unlimited users and families, so everyone in your church community can stay connected.
But that's not all. The site covers the tools for organizing worship services and groups along with event management of all kinds. It also works for contribution and attendance tracking, which is handy. You can even use it for Sunday School attendance and lesson planning. Impressive, right?
But perhaps the best part? It offers a free version, so you can try it out and see if it's a good fit for your church's needs. And if you decide to upgrade to the paid version, you'll get even more features and support.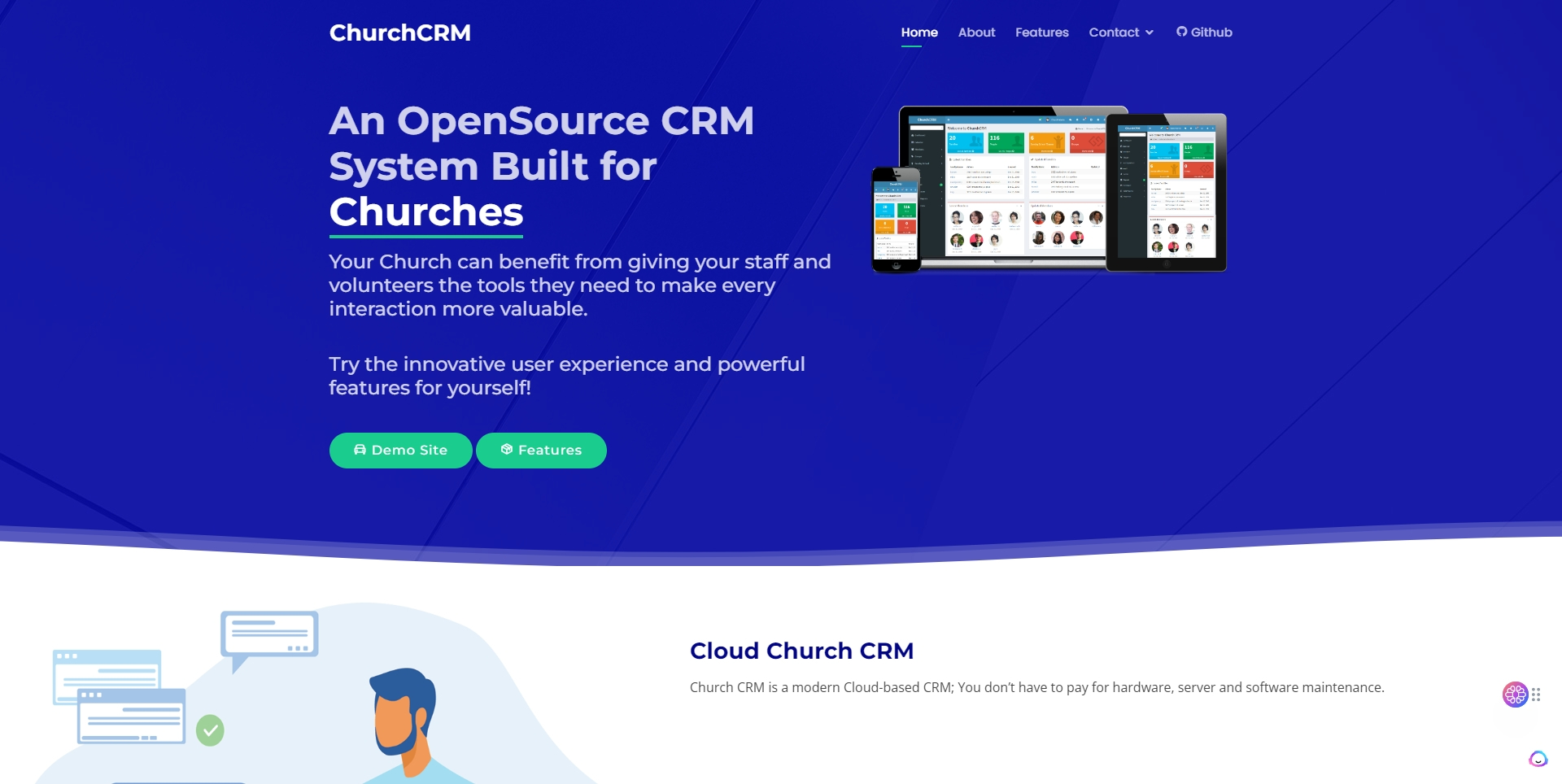 9. Church Teams
That's a church management platform that truly gives you the tools to focus on what matters most – people! If you've ever served church ministries, you know how daunting and overwhelming managing people and tasks can be. But this website will take all those worries off of your plate.
For starters, the app will revolutionize the way you view and track people in the church community. With just a few clicks, you can easily find people, related fam members, and more. It also helps with managing notes, volunteer assignments, and so much more. And the best part? It helps to connect, communicate, and disciple people in a seamless and organized way.
Plus, the ability to easily track supporters and give trends makes financial management a breeze. There's also a tool that offers a secure way to check people into classes or worship services. And for volunteers, there are tools for recruiting, training, scheduling, and connecting, too. Not to mention the automated reminders – a lifesaver!
Event registration is also covered. From capturing sign-up info and payment, everything can be done through online forms.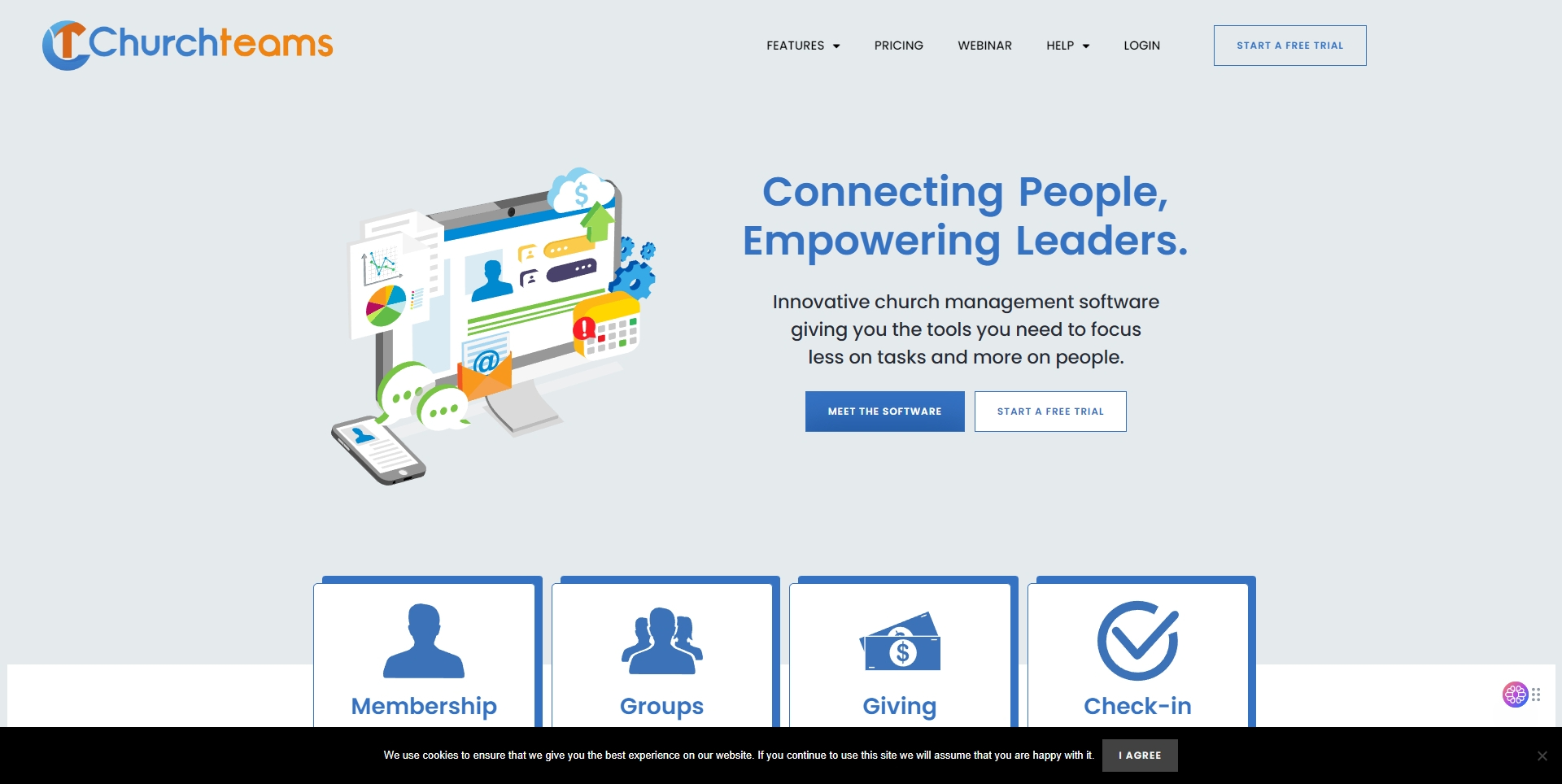 You may also check: 7 Best ROM Manager Apps
10. ChurchTrac
To wrap up, there's an all-in-one soft for church management. It's a real game-changer for any church looking to streamline its operations and communication. First off, the ability to form an instant church directory is a huge time-saver. No more sifting through outdated spreadsheets or calling up members one by one.
And with the mass email and phone tree tools, sending out important announcements and updates has never been easier. The website also has an option for text in church, ideal for any last-minute changes or reminders during services. And for those looking to donate, the online and text-to-give options are a breeze to navigate.
The children's ministry check-in kiosk is an absolute must-have. It even covers your child's allergies and emergency contact info that is easily accessible during drop-off and pick-up. Accounting is also covered, providing budgeting and expense-tracking capabilities that will make managing funds a much smoother process. And let's not forget about the ability to make service outlines, import music, and schedule teams and volunteers.