Have you ever wondered how memes are created? Or how your friends create memes that are suitable for the specific case and situation. Do you want to make some similar memes to put your friends up and laugh over them? Then read this article.
Most of the memes are done simply by using the web or mobile sources which are quite easy to use and don't need lots of time to get your head around the interface. However, people usually want all their tools to be handy and accessible from their phones in a click. Here is the 11 Best Meme creating apps that will suit you.
1. Memetic
This is a really old and very useful application that is quite popular in the memes community. All you have to do to create a meme is to upload your image to make it as a background one and then add your text above or below.
Another nice feature of this app is that usually, you can find all the popular templates straight from the app, as they have been already uploaded there by the developers. This means that there will be no need to surf the Internet for the right template to make your own meme.
One of the bad things about the app is that the places where you can text are limited and the default size of the font is quite large, so this may create some issues when working with it.
Also, the good-bad thing about the app is that it is partially free. You can use it for free, however, your abilities are going to be limited, and also you will have lots of ads to deal with. By buying the premium version you will solve all these problems out, but this version is quite costly – $35.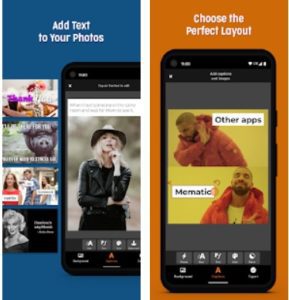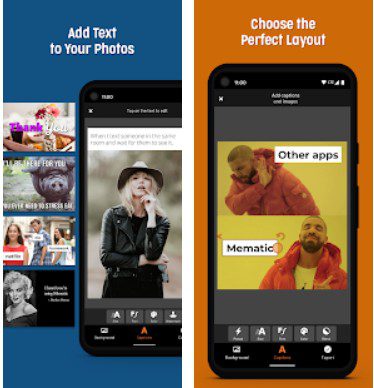 You may also like:  7 Best Photo Frame Apps for Android & iOS
2. Meme Creator: Make Dank Memes
Want to make a meme out of the situation quickly and show it to your friends? Then this is your choice. This meme-creating application is probably the easiest app to use out there in the market.
This meme-creating app has many actual and classical meme templates, such as Doge, Bad Luck Brian, Gru's Plan, and many other classics of memes. You can also add your photo in case you want to use real-life situations for the meme. This app is really easy to troll your friends.
The app is completely free to use which will make it even more compatible with your needs and wants. Making memes from scratch is no need here, as templates are regularly updated. Sharing the memes is quite easy and hence you will be sharing your memes with friends with no headache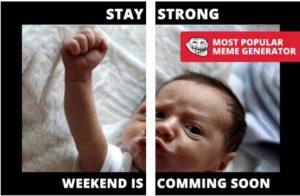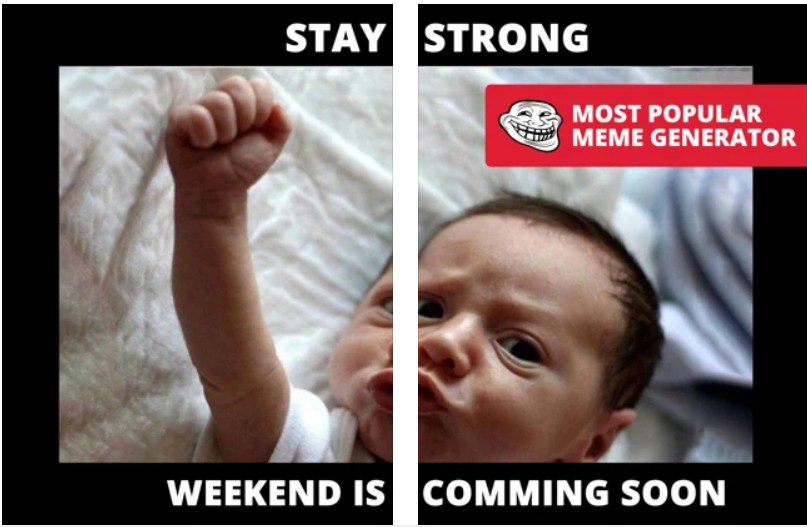 3. Imgur
If you see a gif or a picture while surfing the Internet high chance that it was uploaded from Imgur. Imgur is a sort of meme-sharing social network. You can find there many hilarious memes and laugh at them from time to time. But, be careful not to become addictive!
However, at Imgur, you can not only see other people posting and sharing memes but also create your own one from many Imgur templates and from your templates as well. Also, Imgur can help you with sharing your memes with different websites.
In order to share a meme through different platforms, all you need to do is just copy-paste a link and drop it on the website you need. Be aware, that this may not work for all the websites, as some do not support images at all in their forums.
The other good thing about the app is that it synchronizes with other devices such as your web version and other mobile versions, so you can continue with your meme at any device or place you like.
The app is completely free to use, but to remove all the ads you will have to pay a premium subscription which is not that much of a deal for such a good application.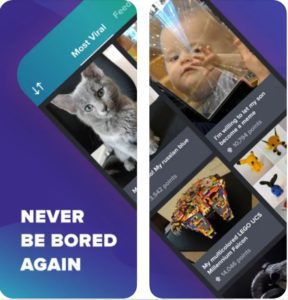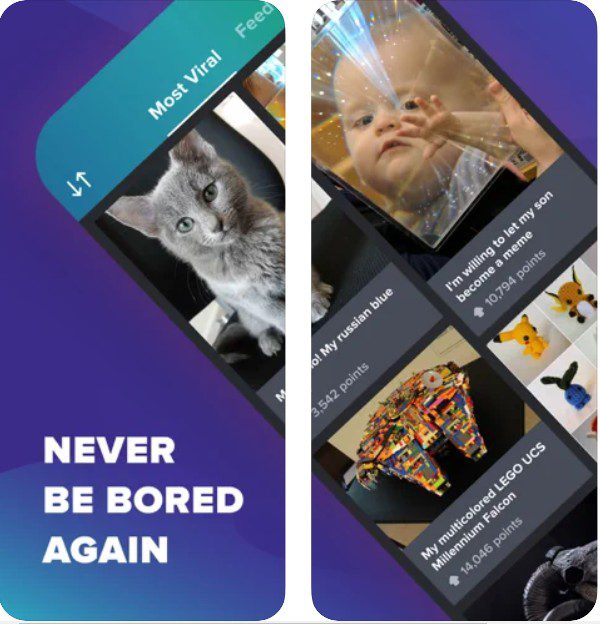 You may also like: 9 Best Night Vision Apps in 2021
4. Memedroid
This is another community of meme lovers where you can create your own memes for the sake of laughter with your friends and the whole community. This is indeed one of the best apps out there.
Constant updates of the memes and meme templates will make you keep pace all the time throughout the usage of the app. A huge collection of memes contain sport political and celebrity memes, gifs and pranks, media screenshots, or featuring dogs. This app has literally everything you need for your fun evening.
As already told, this app has a huge community of meme lovers and you will be able to find friends and people of your mind. You will be able to share with them all your funny stories and laugh about the same jokes. Also, oh will be able to comment on all the memes that are created by the community or leave a rate if you wish.
This app also has easy-to-use sharing of memes and thus you can share your memes with other social networks such as Instagram or WhatsApp. This will make your friends laugh at your jokes outside the Memedroid community.
Also, in terms of an easy-to-use meme generator it is fine, but sometimes with some problems of finding some markers and text editing features, but overall it will suit your basic needs.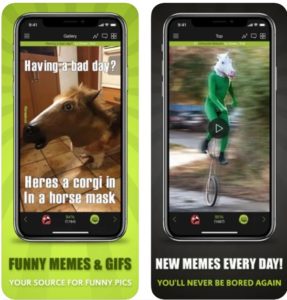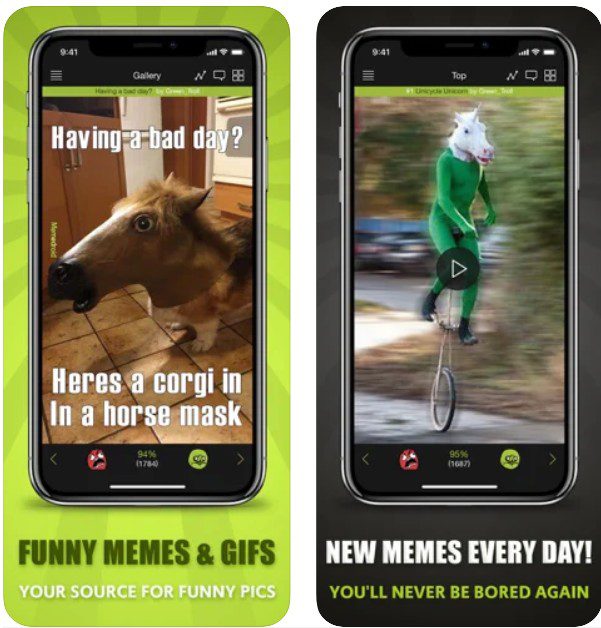 You may also like: 8 Best Memoji Apps 2021
5. Memasik
This is another member community with a built-in generator of memes. More than 900 meme templates will assist you in creating the memes to your own taste and the ability to use your photo or GIF will make this application one of your favorite ones in creating memes.
In the generator, you can use almost every feature of the normal photo editing app, excluding some unuseful ones in meme generation such as lighting your text with a specific color. All the basic colors however are available to use.
A quite nice and easy-to-use interface will capture you from the very first moment of using the application. Editing text font, style, and size will make it easy to suit your text to your image, but be careful as at some point this may result in your text being too small for the community to read it and laugh at your joke.
This app is completely free to use which makes it one of my personal best apps in the market. Easy upload from the app to the social networks makes it even better.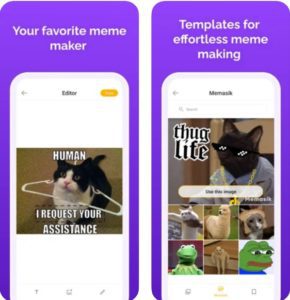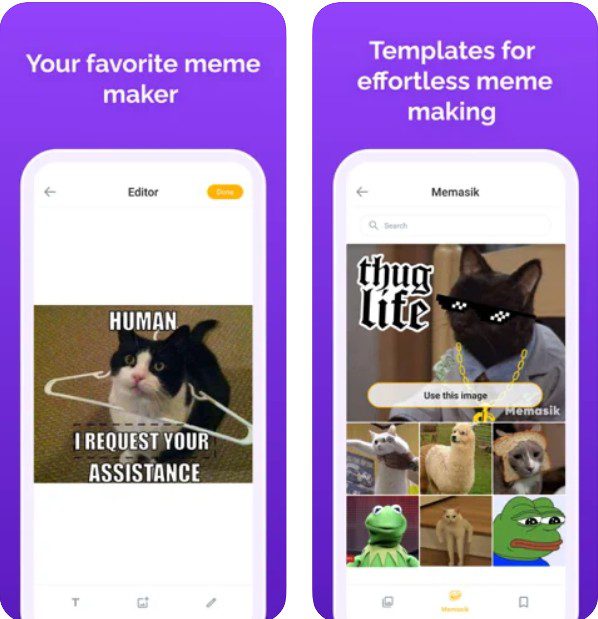 6. Meme factory
Social Media World needs a constants supply of memes. This application may definitely help you with filling out the missing parts of the network world.
Memes nowadays became one of many ways to communicate with one another as we live in our social media and cannot imagine our lives without them. So, that is why Meme Factory might be suitable for you.
The good thing about the app is that it is quite easy to use when generating memes and doesn't take the whole life out of you to share this meme with friends outside Meme Factory.
You can also share your memes inside the Meme Factory community and gain like subscriptions, and reposts of your memes. Basically, it works like every single Social network but consists only of true meme lovers. They will definitely love your memes.
The app is completely free, which makes it even more interesting for a wide audience.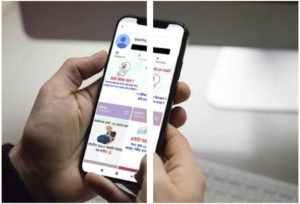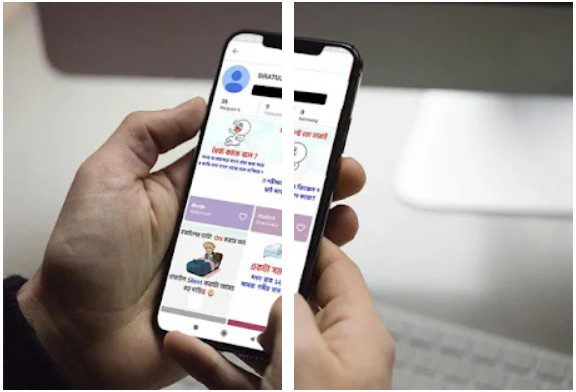 7. Meme Maker & GIF Generator
This application is very simple in use and meme editing. It has a huge library of all kinds of memes, so you won't need to make your memes from scratch. You can edit your profile text in any way you like to do so.
Sharing your memes from the application to other popular social networks is fast and easy. You can also add any background or font color you want. Also, borders may make your memes even funnier!
Having this application in your hand will definitely make you and your friends laugh at the jokes you create. Sharing memes through social media is easy straightforward from the application. Also, you can share them with the community and getting an evaluation of your memes and sense of humor.
This app however isn't completely free. The free version includes only a basic and very limited amount of features, which you can use of course, but the PRO version which starts at $5 / month gives you the ability to flow with your imagination.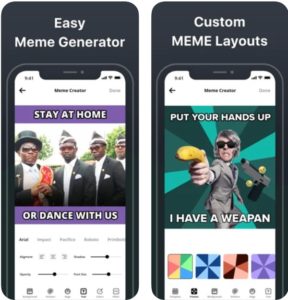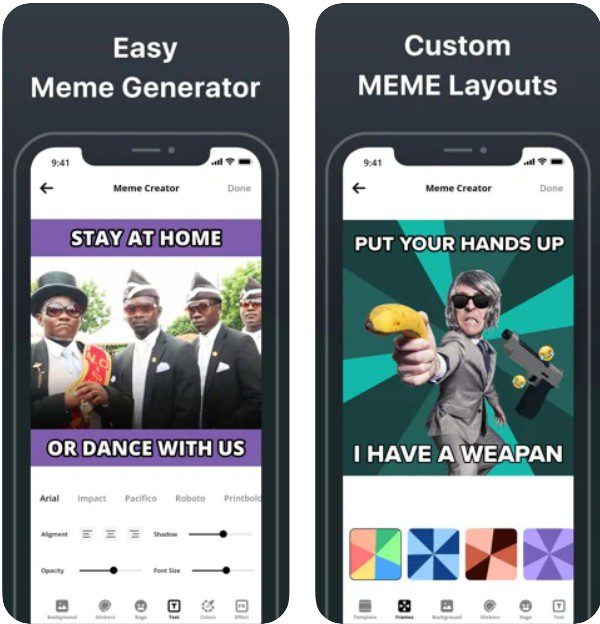 8. Easy Meme Maker
Visualized a meme and want to create it fast and easy without any headache? Then the Easy Meme Maker is your choice. This app indeed correlates with the name as it is a pretty straightforward app to create memes.
Application has tons of templates in its back pocket and you can search for them just by knowing the name. Customization of memes is quite easy and relaxing with all the tools provided by the application. Background coloring, text editing features, and many others will provide top-quality service and memes.
You can also save your memes and templates so you can return to them at a later stage and finish them off, or create similar to the ones already created.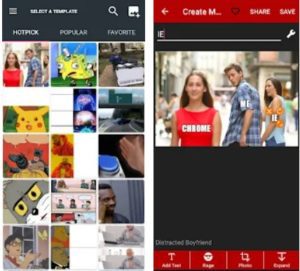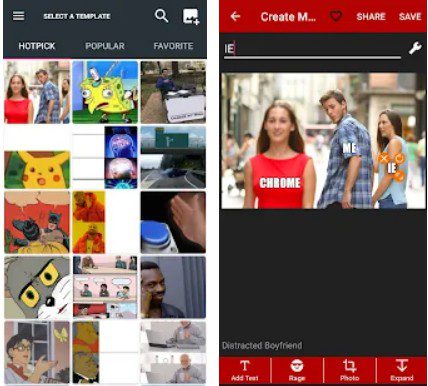 9. Meme Plus's Meme Makers
As most are meme-generating apps, this app is pretty straightforward to use. Powered by Made Plus it creates lots of space for your imagination and creativity so that you can create what you like with all the tools they've got
A huge meme library will help you alongside your meme generation and text editing features will make it even more useful and creative. Uploading is also an option, so you can create your own memes from your own life stories. Saving them in cloud storage is also an option, so you can return to it later.
Want to share your memes with your buddies? Quite easy and handy with tiny the app and outside of the community. This app will help you crop your meme so that it fits all the social media needed, but why would someone want it if they already have the best community ever right in the app?
Want even more? The Pro version will assist you with your goals. If you want to right-reserve your memes, this in-app purchase will help you with that. Other stickers become available as well.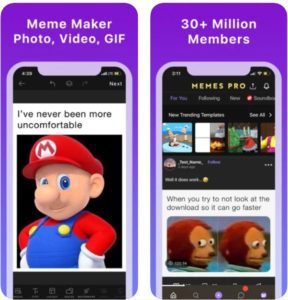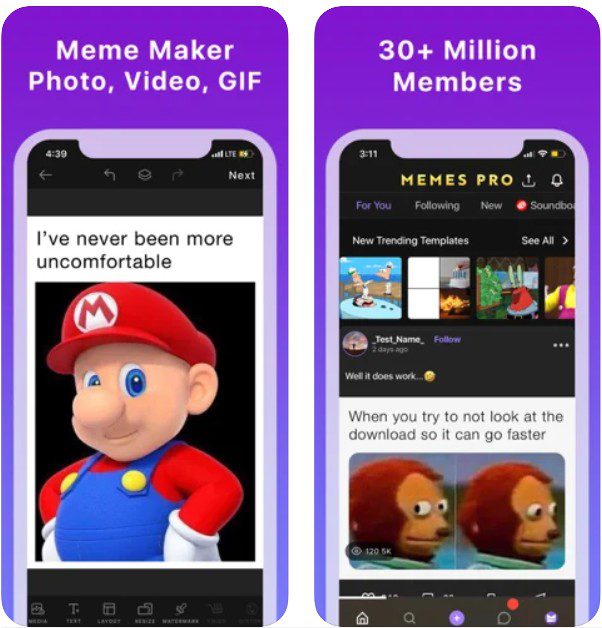 10. Meme Generator
Need an app with a huge library and lots of useful tools? Then this application is for you!
Lots of templates will make it easy for you to choose your own template and give your ideas flow. You can also make your memes from scratch by uploading your own images. If you want to change the font and the size of the text, Meme Generator has it.
Easy and assist full uploaded of images will make your memes the size you want and Instagram or Twitter won't have to crop your images. The system will adjust your image to the size of the platform you are uploading to.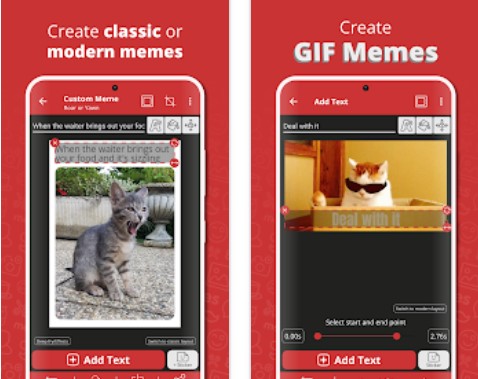 You may also like: 10 Best Before and After Compare Photo Apps for Android & iOS
11. GATM MEME generator
Then consider the GATM Meme generator. A huge library of this application will help you to create your own memes from the ready-to-use templates that are so widely used in the communities of meme lovers. Just some examples are: "One Does Not Simply" or "Socially Awkward Penguin"
You can find all these meme templates just by using the search engine of the application. It will automatically make your mind flow and create the best meme ever. Also, text editing features are quite handy and nice to use, so you can adjust your text, font, and size to the dimensions you like.
The bad thing about the app is ads while using the free version, but the premium version at $1.99 will vanish all these problems away and will add some more features, such as removal of watermarks and adding even more templates to the library.
This application also has a community of meme lovers who may wish to evaluate your memes and laugh with you at the same time. They can also comment on your memes. That's going to be your real test of humor.