Almost every of us uses emojis when chatting with friends or family members. Don't you think that it would be a nice idea to make an emoji look like you exactly? With these so-called memojis, you will easily make yourself delightful to everybody who sees these personalized stickers.
To create a memoji, you don't need to have any skills in digital design. The only tool to benefit from is an app aimed at creating customized stickers. Since there are tons of them in the App Store and Google Play, we have chosen only the best applications in this category. All you will need to do is to choose the most suitable tool for you and make others admire the memojis resembling you.
1. Bitmoji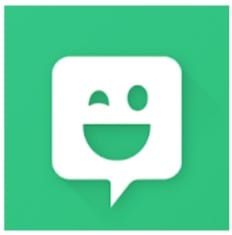 Our post starts with the tool called Bitmoji. Being the most top-rated on this list, this very application will surprise you for sure.
Right after you open the app at first, you will be able to create a memoji in two ways. First of all, the tool will suggest you start from scratch. Alternatively, you will be able to take an instant photo of yours or upload any of the previous photos. After that, the app will transform your selfie into a digital copy of you.
The next step will be adjusting the character you make. You will have access to numerous items of clothing, hairstyles and hairdos. As for the facial characteristics (lips, noses, eyes, eyebrows, etc.) and skin or hair color, the choice of them will be great here. It will let you make the memojis look like you.
Finally, when a virtual copy will be created by you, the most interesting part comes. Thus, you will be able to browse numerous categories and choose the stickers templates you need. In a moment, your character will appear on them. As for the memoji templates, you can't imagine how many of them are in the app. By the app, the stickers with couples are also can be found there.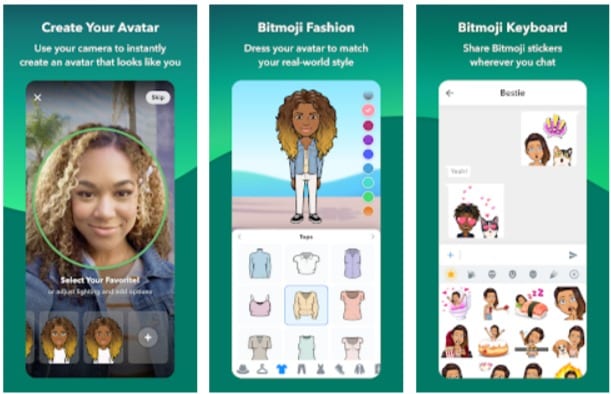 2. Avatoon – Avatar Creator, Emoji Maker & Cartoon Me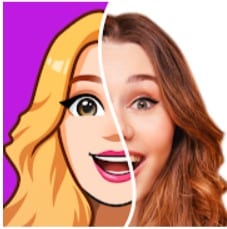 One more tool that we can't help mentioning here is called Avatoon. What are the distinguishing features to pay attention to?
The app will provide you with all the necessary tools to create personalized stickers. The main of them is the face recognition system capable of turning your face from a photo into a virtual one. After that, you will have an opportunity to edit the avatar created by adjusting facial characteristics, skin and hair color, and so on. Apart from this, it will be up to you to choose the clothing items, hairstyles, and so on.
After you have your personalized avatar created, the app will offer you to create snapshots with him or her. In this case, you will have numerous backgrounds, gestures and poses templates at your fingertips. Just choose everything you like and make the app generate cool images with your avatar.
As you are interested in memojis, let's talk about the corresponding features. Within several taps only, you will be able to turn your avatar into customized stickers. Then it will remain to export them to the messengers you prefer and start using them.
Plus, the app is considered to be social media in a way. The fact is that here you will be able to talk with your friends as well, compete in wining coins, show your avatars to each other, and so on.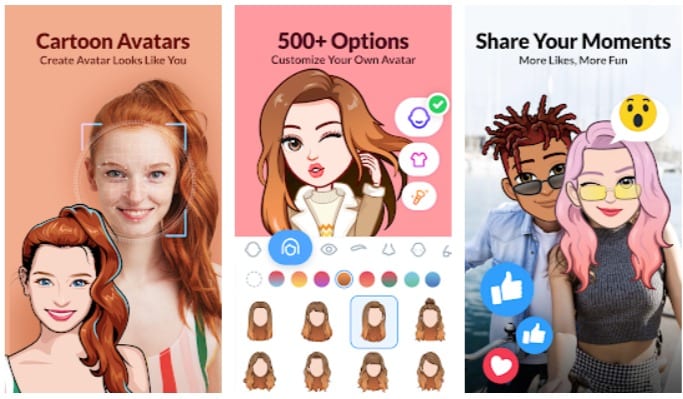 3. MojiPop – My personal Emoji Maker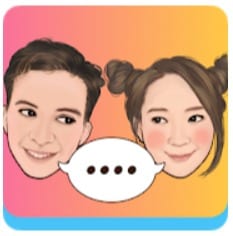 The next awesome app to be explored is called MojiPop. It has so many advantages to be tried.
Again, it will all start with uploading a photo of yours to make the app generate an avatar looking like you. In this case, it will seem as if the stickers were hand-drawn (look on a screenshot below to make yourself sure). After that, it will be high time to edit a digital you to adjust some details in your appearance, choose clothes, and so on.
Then, the app will open its own large collection of stickers, and they will be animated! It means that the avatar that looks like you will move on the stickers so your friends will be amazed. By the way, there won't be any problems with the format. All the stickers will be saved as GIFs with possibilities of access on a keyboard directly. To do this, you will need to add the app's keyboard via phone settings and then select it from your system panel.
In addition, the app is perfect for creating caricatures using your avatars. What is more, you will have a chance to add several characters like you and your friend or beloved one.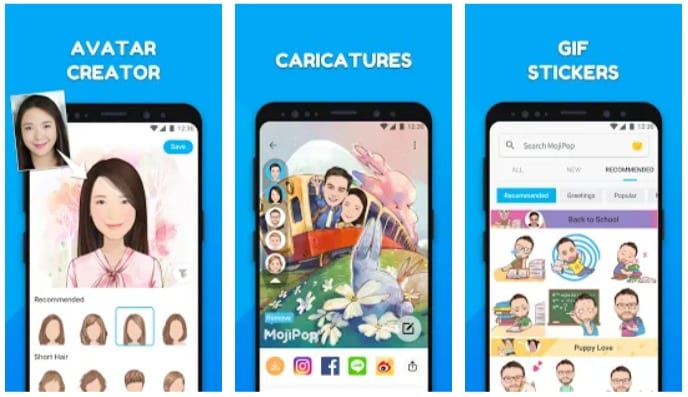 If you prefer hand-drawn graphics, probably you are also interested in the apps to cartoon yourself. Here is the selection of these tools.
4. 3D Emoji Face Camera – Filter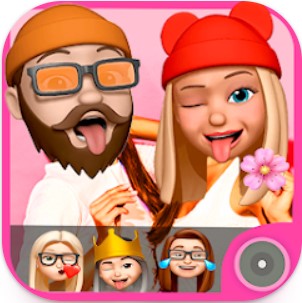 Talking about the tools available only on one of the platforms, 3D Emoji Face Camera is the one that comes to mind first. If you are interested in 3D emojis, the app will be so appropriate for you.
In this case, you won't be able to upload a photo to make the app assist you. Creating an avatar manually is the only way here. However, it won't be tedious at all. Because of the great choice of items (parts of a face, hairstyles, hairdos, clothes) in numerous colors, it will be so pleasant to create an avatar similar to you.
The collection of filters will make every video unique. Apart from this, you will be able to create such videos or even photos with your friends or relatives. You got it right, they will look like emojis too. After that, you won't face any difficulties in sharing this content on every preferable messenger and social media.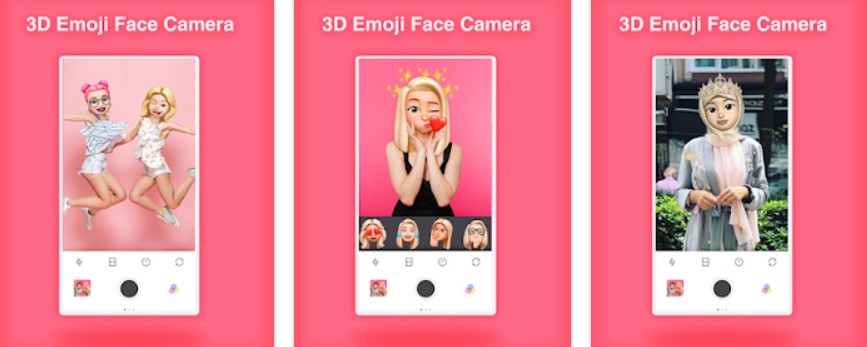 5. Emoji Me Animated Face‪s‬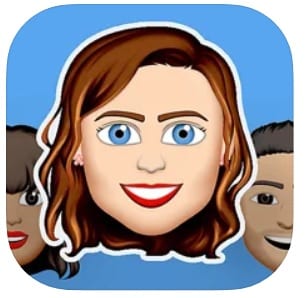 When it comes to reviewing the tools for iOS, we highly recommend you installing Emoji Me Animated Face‪s‬.
With the help of in-app tools, step by step, you will be able to create an avatar resembling you. Just choose similar hairstyles, facial characteristics, eye/skin/hair color to create a virtual copy of yours. After that, an avatar will be transformed into stickers.
The main distinguishing feature here is that each sticker will be animated. Whatever your emotion and feeling are, you will definitely find something that meets your needs. Moreover, adding text to memojis will be possible as well. There is no doubt that it will brighten up the chatting a lot.
Finally, after forming a sticker pack, it will be time to send created memojis via all messengers (including iMessage) and social media like Facebook, Instagram, Twitter.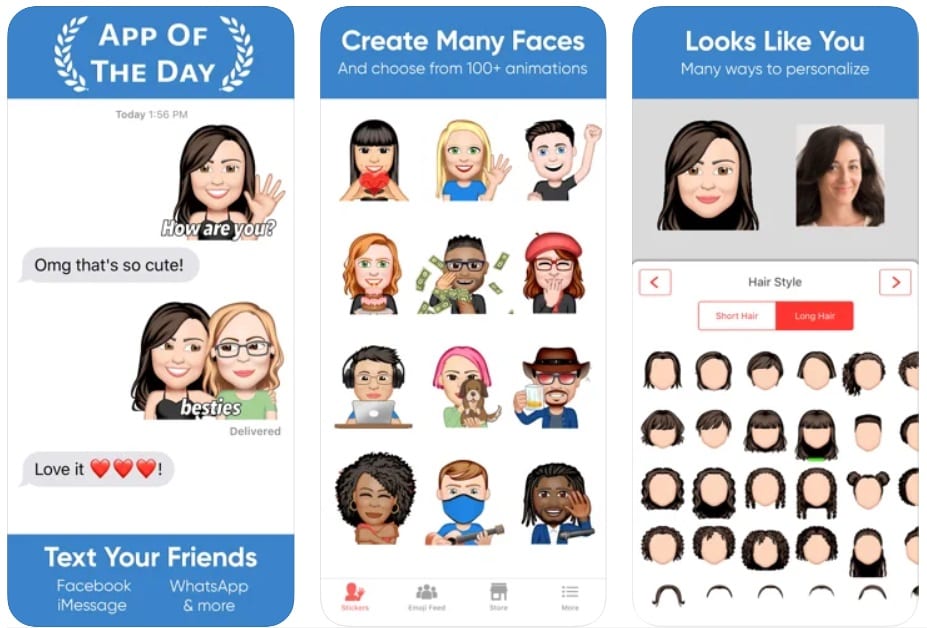 6. WASticker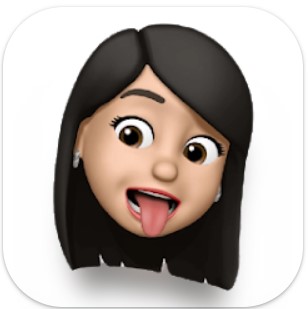 As an alternative, you can also install the tool called WASticker. As it is clear from its name, it will be suitable for Android devices only.
Well, this very app includes 30 cool packs with emojis. The range of the stickers here is so wide, so you will like them. The main difference here is that creating your sticker will NOT be possible. However, because of the great choice of pre-loaded avatars, you will like someone similar to you. Moreover, you may like that everything will be ready-to-use.
As for minor disadvantages, the app's stickers can be used in WhatsApp only.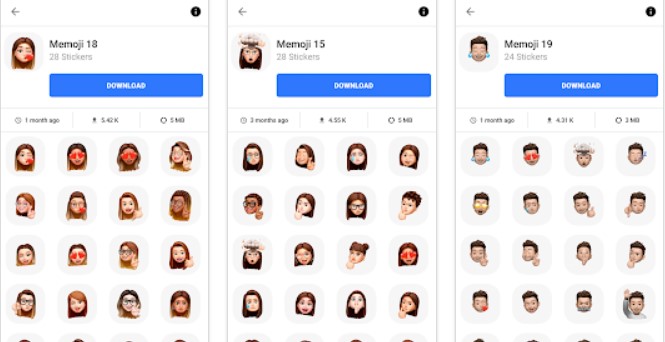 7. Facemoji Keyboard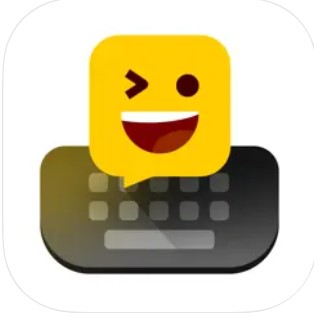 Facemoji is the last but not least iOS app to create emojis. Here are the reasons for installing this tool.
To begin with, the consecution of action will be the same here. You will need to build your avatar by choosing numerous items of clothes, hairdos, facial characteristics, accessories, etc. Then this very character will appear on stickers which will be so easy to download and use in your chats.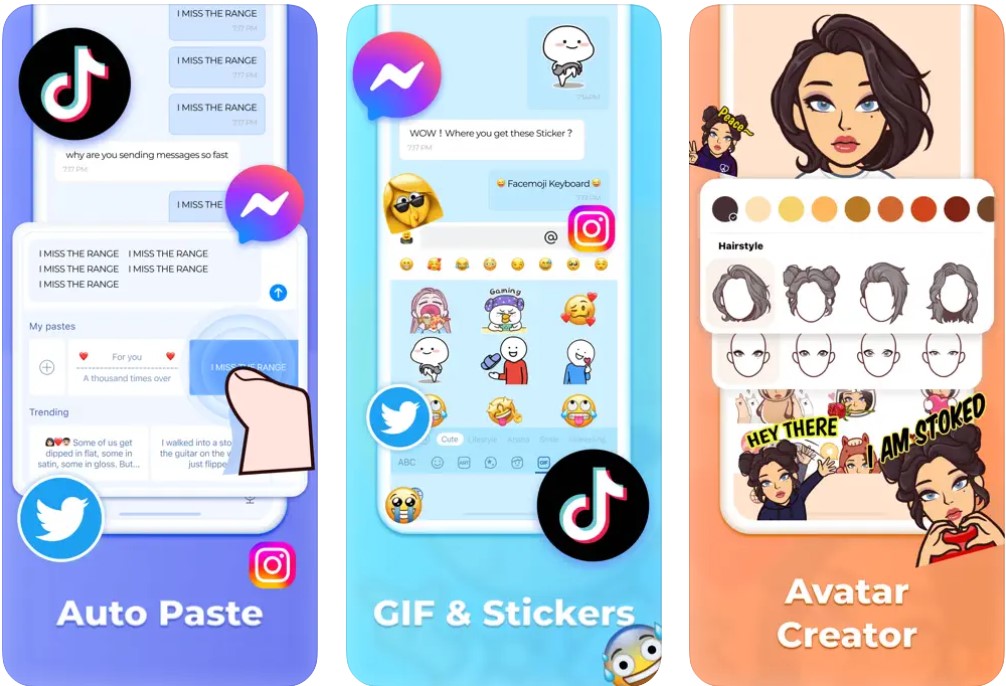 8. 3D Avatar Creator, emoji maker&keyboard | Bemoji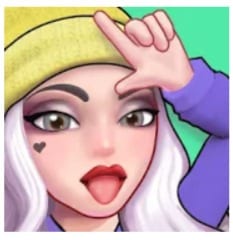 Bemoji is one more extremely popular tool of this category. Millions of Android users already enjoy the simplicity of this tool.
The app will provide you with all the necessary items to create a cool 3D avatar that will be so similar to you. Apart from the facial characteristics, there will be dozens of clothing items and accessories. Due to them, you will have a chance to create a memoji of the same style as yours.
As usual, the next step will be transforming an avatar into stickers. In this case, the memojis will be animated. The process of sending them on messengers and social media will be so smooth.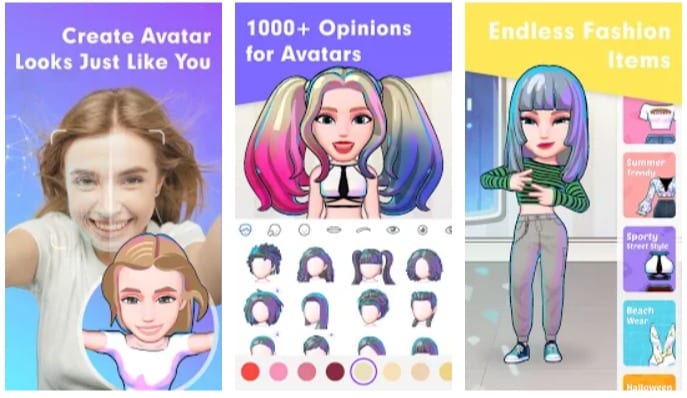 You may also like: 14 Best cute stickers apps for Android & iOS