What are Match and Merge Games? Actually, they are just games that aim at analyzing your moves. Here you have to combine items and merge them after that. In fact, the principle of such applications is simple. There are two types. The first involves the game in which you simply combine and try to get the highest score. While the second has certain gameplay aimed at completing missions.
It is up to you to choose what is closer. Meanwhile, we in turn will help you in this article to choose a suitable app. So do you like exciting puzzle games that make you start thinking? That means you will enjoy these applications aimed at solving riddles and searching for objects.
1. Merge Mayor – Match Puzzle
Merge Mayor – Match Puzzle has been on the market for 10 years. It has gained many fans. That app is like a strategy game. What you have to do is to build a huge village. To complete your missions and tasks you should collect diamonds, which you can then spend on the development of your village.
While collecting unnecessary items you can put them in the inventory where they will be stored in the same way your earned points for completing the daily missions. Open the chests and you will earn new items such as hammers, wood, and fruits and vegetables. Try to make a huge and developed megapolis out of a small village.
On the one side, the app is well worthwhile as it is very addictive. That means you will spend a long period of time with interest. On the other hand, you can spend a couple of minutes in it and close Merge Mayor – Match Puzzle. As an example, you can combine different items needed for construction and then collect the resulting bonuses.
In the end, you just will not waste a lot of time if you just want to collect these bonuses. Moreover, Merge Mayor – Match Puzzle has a very nice interface. All done in bright colors. In addition, this is complemented by a moving 3D animation. In the game, you will be able to progress through the levels and observe how the object variety develops and how the city flourishes.

You may also like: 7 Best Cribbage Game Apps for Android & iOS
2. Merge Magic!
In this game, you combine objects on a nice 3D map. All you have to do is combine items to improve their quality. There are various magical items such as colorful eggs, mixtures, and fruits. Your goal is to combine magic items to get something new and cute. There are over 500 fun items in total in the game.
You combine them to pass all levels. According to the plot of the game, you fulfill the role of the rescuer of the land from the evil magical spells. You have to liberate the settlement and let it develop. Every day you will encounter tasks of different categories. You have to beat the evil witches.
In the end, your goal is to protect the magical garden and collect as many bonuses as possible in the game. For these bonuses, you will be given useful items to develop your magical world. You can also buy useful clues that will be the key to passing missions.
At this stage, there are only 80 rounds, although with each update their number is growing. That means you will never get bored with the game.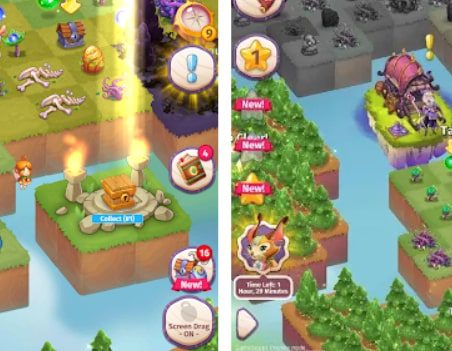 3. Merge Mansion
Merge Mansion is full of mysteries. According to the plot, your grandmother, who owns the guesthouse, reveals various family secrets to you. In return, you search for items and combine them into something worthwhile. You have to decorate the manor the way you have always dreamed of.
You can also buy and find new items to furnish your home. In addition, you can also work on the garden around the house. Complete tasks and get bonuses that you can later spend on useful items. You can immerse yourself in a secret atmosphere, where a lot of mysteries. You will love the game for the fact that it always has a place to develop.
With a small plot of land you will be able to open a garden, and then a whole guesthouse. The interesting thing is that you can always see what was before and what became after. Moreover, the interface of the game is fascinating for its colorful and diverse. All items in the game are made in pleasant graphics.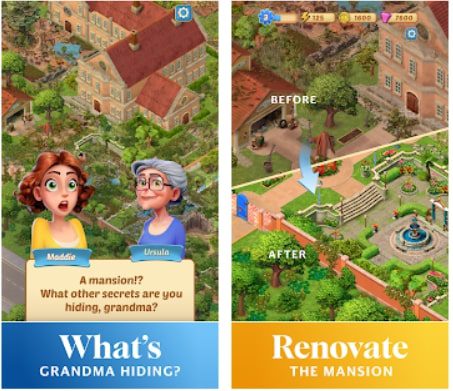 4. Merge Dragons!
Merge Dragons is another match and merge game. You will have to complete different missions in this application. You will need to combine three items into one and create something new. Collect new items such as dragon eggs, stars, magic items, and even mythical creatures. Reach new levels and try to improve your magical abilities.
First of all, you also have to develop your dragon into a mighty creature. Additionally, you will be building your own small estate and developing magical plants and creatures there. Secondly, you can earn bonuses here and spend them to create a better world. In addition to the main levels, Merge Dragons! is interesting because there are also hidden levels that you have to uncover.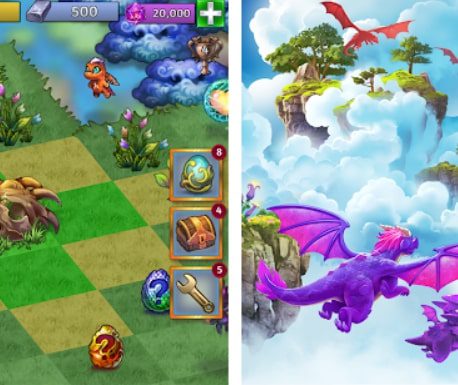 5. EverMerge: Merge 3 Puzzle
The goal of this game is to rid the lands of fog and open up new territories. In this game, users merge items such as wood, tools, houses and make more advanced items from them. Become acquainted with new puzzles and progress through the levels. In this app, you will be expected to unlock coins, magic chests, and treasures.
If you are short of resources you can always plant seeds of trees, fruits, and vegetables. Solve unique puzzles correctly and merge different items. You can earn bonuses while watching videos provided by the game from the sponsors. You will also be able to collect daily bonuses or perform missions.
If you want, you can join Facebook and play EverMerge: Merge 3 Puzzle together with your friends. You can accumulate more power-ups and progress in building your settlement. In addition, you will be surrounded by a nice interface made in modern trends.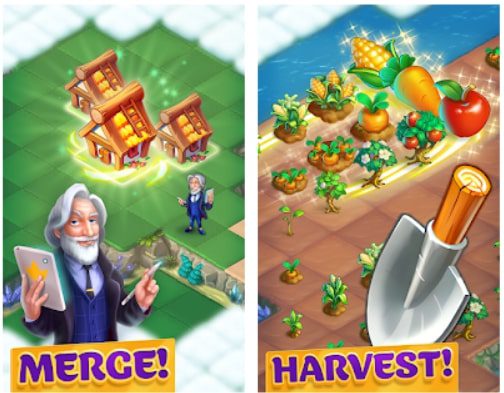 6. Mergical – Fun Magic Merge Game
Mergical – Fun Magic Merge Game will be a place where you can become the designer of your own home. You will be the savior of the island in the game. The players through the story must advance through the levels to open up new territories. To improve the items in the house you have to merge different items.
More than 600 subjects are offered for merge in the game. If you want to see a miracle you need to place three similar items. The game may show up as well as magical items such as magic flowers, unusual animals, and moving furniture.
Users of the game will be able to develop not only the house but also the surrounding areas. So you will receive extensive gardens and lakes, which you can occupy at your will.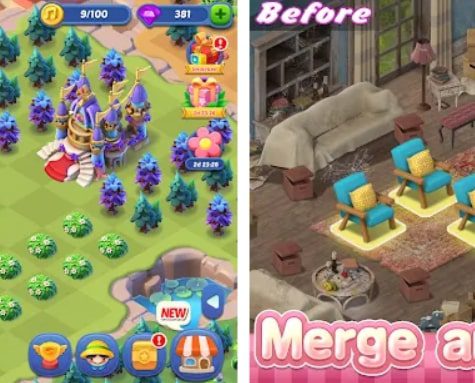 7. Sea Merge!
Merge objects to build a sea kingdom in this Match and Merge Game. The game provides an opportunity to see the life of sea creatures with your own eyes. The most important task you have to do is to save the little fish. Besides, you are combining smaller fish in a merging technique to make a larger creature.
You also perform various tasks to clear the ocean. Discover new locations and travel across the ocean. The game can be purchased in the App Store and Play Market absolutely free. Nevertheless, it offers built-in purchases for extra items. This game will make you think. After all, besides the classic match and merge tasks you also have to solve puzzles and try to collect as many bonuses as possible.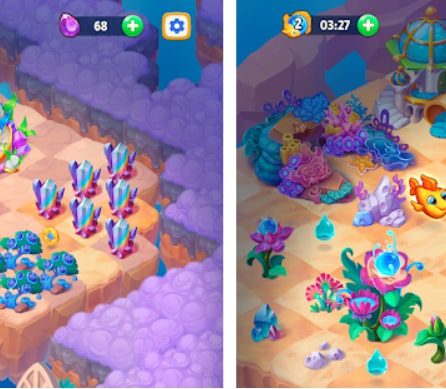 You may also like: 5 Best Blokus Game Apps for Android & iOS
8. Merge Bakery
Be the chef of your own restaurant. Impress your guests with your speedy serving of food. There you need to merge different products such as pancakes, cakes, pies, ice cream, and chocolates. This way you will get newly created dishes. The first thing to do is to earn coins by filling orders.
The second is to get bonuses by means of the likes from customers. The game gives you the opportunity to perform daily and standard missions. So the game itself is all about combining and matching products in order to get what the customer desires. In addition, Merge Bakery is perfect for those who prefer cooking and love the theme of food.
After all, this app is considered one of the best in this category of the current year. The interesting thing is that you, as a chef, use the coins you receive to buy food. So you decide what you are lacking on your own. Likewise, the minigame spinning drum is present here. By clicking on it you will get bonuses after match and merge products.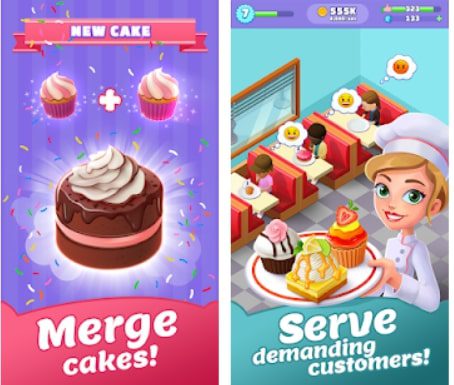 9. Threes!
Threes! is a very cute puzzle game. Thanks to it you will be able to do a little number counting. So the game essence is that the player connects numbers that are multiples of three by moving a finger across the screen. To begin with, this means that you will first have to collect 3, then 12, then 18, and so on. In fact, you can play for a long time.
The second is that by adding up the numbers you increase the screen space. As a result, when the space runs out and you no longer have the ability to move the numbers around, the party ends. That way, the game starts counting your points after there are no moves. The scheme of the game is quite simple. This is probably what makes Threes! appealing.
After all, every time you want to beat your record and see a bigger score on the scoreboard. It is also worth mentioning that users prefer this application because of its pleasing to the eye interface and funny animation. In addition, a piece of pleasant music accompanies the process of connecting the numbers. As a result, this application is a great symbiosis of a logical and nice game.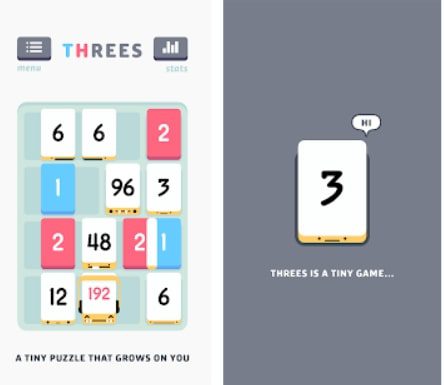 10. Triple Town
This app resembles a combination of a strategy game and a puzzle game. Triple Town offers you to become the architect of a small settlement. In the same way, you have to protect the city from the attacks of cute bears, which in all possible ways will disturb the construction and development process of the settlement.
The game process is that the player merges the necessary material to get a larger resource. For example, to get the hay to need to combine three spikes, or to grow a tree you must combine three sprouts together. The same happens with the construction of various buildings.
In other words, you combine the accumulated resources such as wood and stone to build a hut or a mill. Such buildings will eventually give you additional bonuses and materials. You can spend the gained bonuses and coins to purchase defenses against bears. This way you will be prepared for their invasion.
You will see mini hints during the game. They are exactly what will help you figure out the best way to combine different items together. Complete various tasks and improve your mini settlement.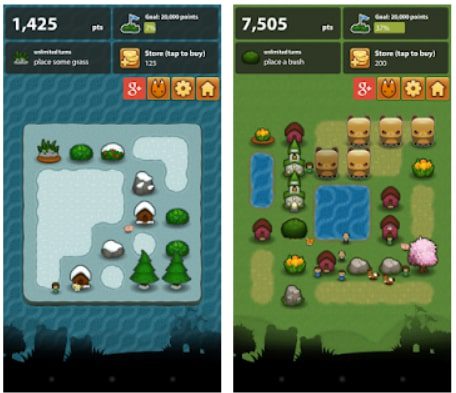 11. Topsoil
Become the owner of your garden with Topsoil. So, this game will be able to increase your logical and analytical thinking. In each round, you will be given a certain task. As an example, to grow a certain amount of trees, find seeds and nuts. Tasks become more and more difficult at each level.
All rounds are over when the playing field has no room and no moves left. As a result, your scores are calculated up and you receive a number of coins and experience. The application is interesting because each level involves a new type of plant.
Also, the graphics of the app itself look simple enough. There is nothing superfluous in it. This is what makes Topsoil appealing. The game process is accompanied by relaxing music, which is quite pleasant to listen to.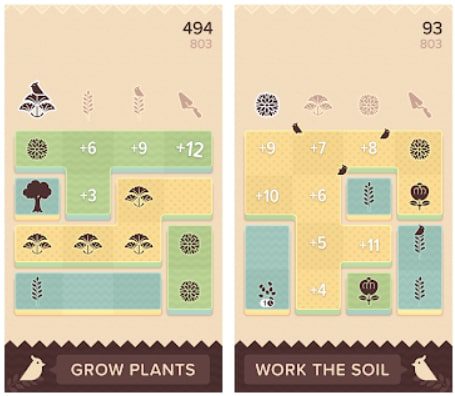 12. Merged!
This app has the same simple concept as its name. So, the game is played by moving your finger across the screen and combining pieces of the same color. The interesting thing is that these pieces are represented by dice. Each color has its own numerical value. It increases as you combine them.
While the dice multiply the value, there is sometimes a super merge, which allows you to collect even more bonuses. The game ends when the player has no moves left. Likewise, in the end, you get coins, which can later be spent on various functions, such as "cancel a move". A significant advantage of the game is that it is completely free.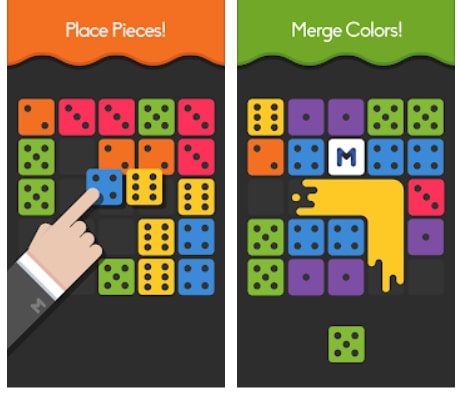 13. Laps Fuse: Puzzle with Numbers
Laps Fuse: Puzzle with Numbers is a challenging game. The gameplay of the game involves the user running the ball with a certain value around the circle. While the ball is moving it should have time to move in to get a certain value. This requires you to connect three 4's, three 32's, three 64's and so on.
Each ball has its own value and color. This way it is easier for you to connect the numbers. Also worth mentioning the fact that there are three different modes in the game, such as "Endless Game", "Fury" and "Extreme".
Besides, the leaderboard is in the app. That means you can always compare your achievements with the best players. You can also challenge yourself and your friends by adding them as a friend in the Laps Fuse: Puzzle with Numbers.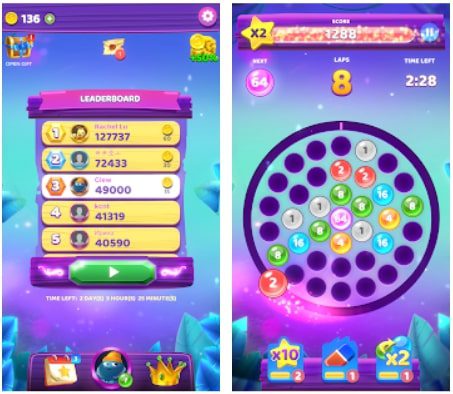 14. 2048
2048 is the original match and merge games app. This is where such applications began to gain popularity. Since 2014, the principle of the game has not changed much. The only thing you do is combine the same tiles then merge them to get larger values. The app is a classic of its kind.
There are no additional features included in it. Nevertheless, 2048 is fascinating, because you always want to get the biggest possible score here. After each game, you also get detailed statistics with your best score, the number of moves, and time spent.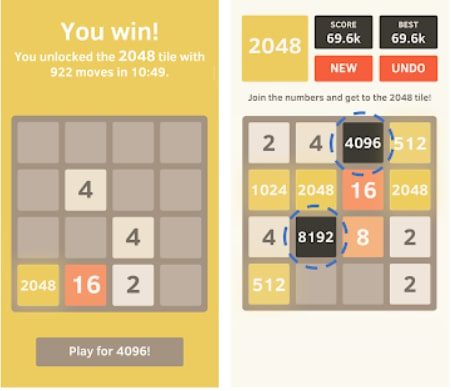 You may also like: 14 Best Medieval Games for Android & iOS
15. Match & Merge
This application resembles 2048 in its structure and gameplay. It also aims at matching certain pieces with numbers to make a merge. As opposed to 2048, Match & Merge has a more colorful interface. Besides that Match & Merge connects more than three pieces of tiles at a time.
In the Match & Merge game, you will also fight against your highest earned score, which will be displayed during the game. This app is compatible with iOS platform owners. What is good is that it is supported on iPhones and iPads. In addition, it has Night Mode, which will save your eyes from overstraining.