In today's article, we are going to discuss wellness and sports. There will be a talk about Pilates. What is Pilates? Pilates is a series of special exercises aimed at improving and strengthening the muscles and joints, performed at an extremely slow pace. Those who practice Pilates notice significant improvements, such as better posture and sleep, and a general state of wellness.
The author of the Pilates theory, Joseph Pilates, claims that the sport is both suitable for the gym and for practicing at home. Therefore, at home, you can use the phone applications about which we will talk in detail. And for those who like to maintain their shape, you should take a look at the 10 Best Indoor Cycling Apps in 2021. So here we go.
1. Pilates Time – home workouts
Let's start with one of the most popular apps on both Android and iOS for Pilates. Consequently, it is a program of special workouts aimed at maintaining one's physical shape and muscle tone. It has received high ratings and reviews on both platforms.
So, what do you get by saying Pilates app? First of all, the most important thing is that your app will prepare a special workout system. What's interesting is that it relies specifically on your level of fitness and the nature of the sport, such as frequency and duration. Secondly, you will get a personal trainer, who will monitor the process of your training. Which will motivate you to exercise all the time.
Thirdly, you will be given a special analysis, justified by your training, its duration, and frequency. As for the duration of the workouts, it is worth noting that the lessons can be both very short from 5 minutes, for example, if you do not have much motivation to exercise, and long workouts, the order of 45 minutes.
It is also worth noting that each of your classes will be accompanied by special video lessons that will explain to you the order and performance of training. Moreover, the application can share various successes with their friends. So you can always stay in touch.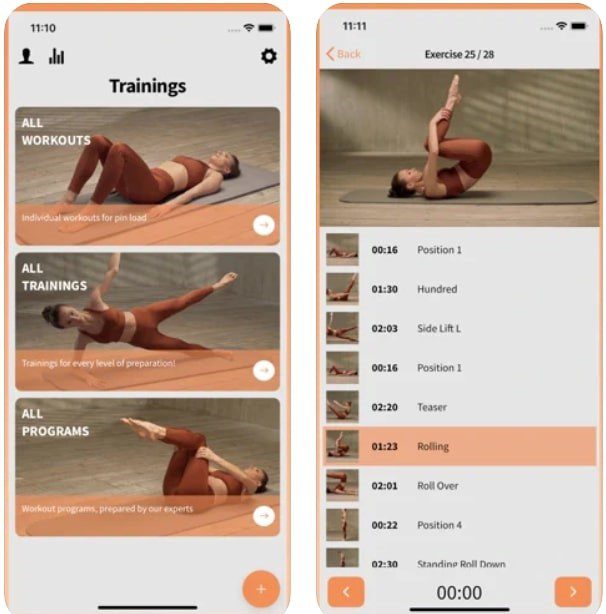 Check out apps that will guide you through your gym workouts. Click here.
2. Pilates Workout Plan or Pilates at Home: Workouts & Exercises
Are you completely new at Pilates and are unsure how to get started? Then take a look at this app. It contains all the materials for those who are just diving into a new sport. With Pilates, you can develop your whole body, especially to feel every muscle in your body. This will be a start in the occupation of such a useful sport. Join in.
Now let's talk about the main features. After downloading, the app will set you up with a choice of which goals you are pursuing: it could be to lose weight for an event, recover from the hospital, or build muscle. Later, you will come across a sports diary where each day you can fill in the workouts you have done, the food you have eaten, or just your impressions of your workouts and how you feel.
Consequently, the workout itself is accompanied by video tutorials, you can call them step-by-step instructions. If you follow the instructions, you will be able to perform the exercises correctly, which means you will be able to strain the following muscle groups. Moreover, with this application, you will get a special plan course for 4 weeks.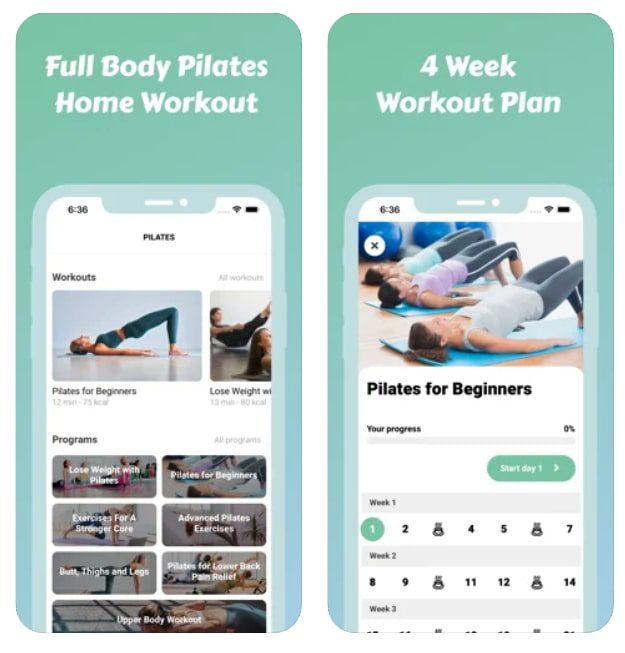 3. 5 Minute Pilates Workouts or 5 Minute Pilates
You want to exercise, but you are frustrated by a lack of motivation and time. Well, then, how would you feel about five minutes of exercise? Daily exercise is going to be the key to developing a strong body. For beginners, it is excellent for so many reasons, primarily because it does not take much time and gives precise instructions.
Among the main features are, first of all, specifically prepared exercises designed for a five-minute time. In addition, they are accompanied by 3D animation that will prompt the correct execution of each exercise. Afterward, you can keep a diary and keep track of your results. Moreover, you can share your progress with your friends.
Conveniently, the application is available on both platforms of the phone. The second aspect of the app can be called, user-oriented. Let's explain in a moment. This app has a chargeable subscription. The first two days of exercise are free, but then you need to pay. And users who have bought it report a noticeable increase in motivation and desire to exercise.
After all, the reality is that five minutes a day is quite a little. But still, with full feature access, you can transform yourself and make a new routine.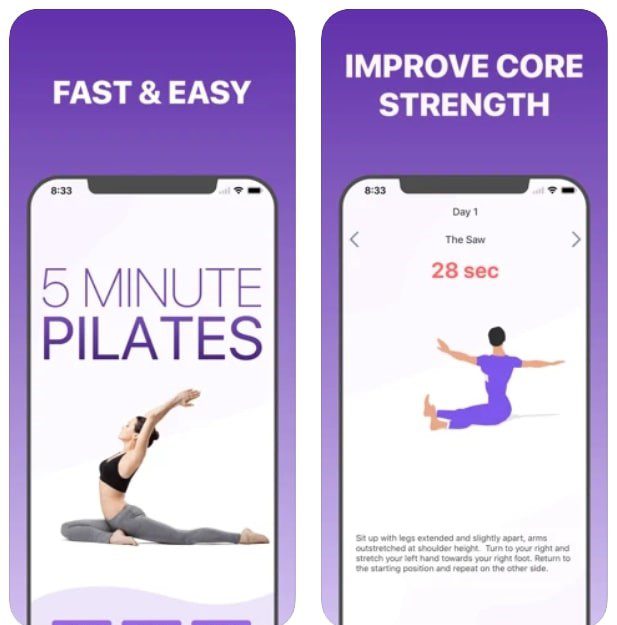 4. Wispence: Workout for Women
In a few words, this is a convenient Pilates app that is aimed to build the body of your dreams in 30 days. Try a muscle-warming workout with this relatively new app. Get great results with minimal effort.
First, the hallmark of the app, is that it gives you a super detailed analysis of your workouts. Calculates your progress, exercise frequency, and workout duration. Then it compares your body measurements, your weight, and how you feel.
Moreover, the app is designed to motivate you and encourage you to form a new habit, so it has a special notification system that tells you when it is time for you to exercise again.
Also, we should not forget that with the app, the user gets an unlimited range of exercises, for different groups of muscles: for your arms, legs, back, chest, and whatever else you want. All workouts are accompanied by written and video instructions. However, the trial subscription lasts seven days. But still, in one week, you can see if this Pilates app helps you.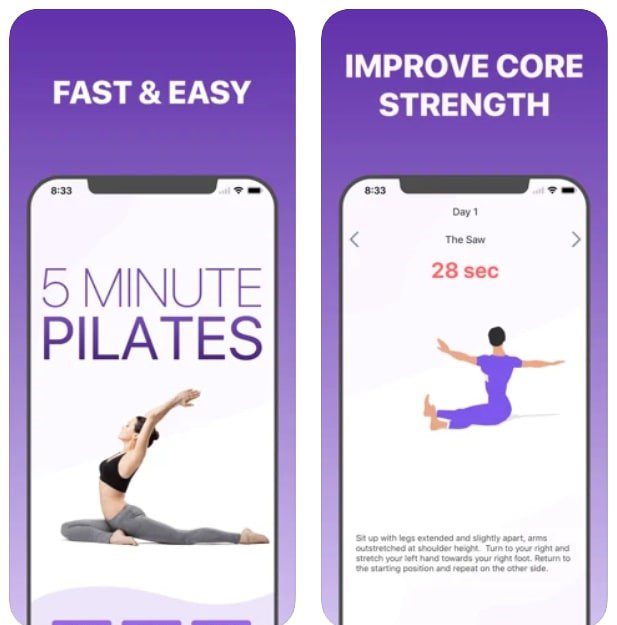 5. 30 Day Pilates Challenge
Some apps suggest exercising on a five-minute daily basis, while others suggest a months-long workout. That is exactly the mechanism of this app. After just one month, the app introduces its users to how to do Pilates and tries to shape them into the healthy physical form they want.
Become a part of the athletic life with daily workouts. First of all, the app provides each user with a specially designed workout plan. Every day when you access the app, you will see a list of necessary exercises, which muscle groups they are aimed to. Secondly, users are given a workout schedule that will build their bodies most effectively.
Since the app is accompanied by a description, you can always understand what you are doing wrong. These exercises are slow and great to warm up your body. After all, the workout is based especially on you and your abilities. Choose your preferred pace and move according to it so you can have a great time.
And then analyze your progress. Within a month you will be able to build a perfectly new and improved self. Try exercising according to the presented exercises for just a few minutes a day. There is a whole collection of really amazing exercises here.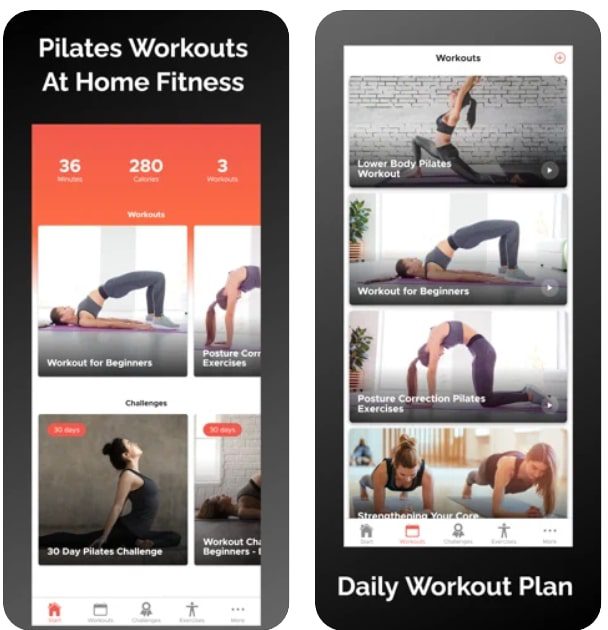 You may also like: 10 Best yoga at home apps 2020
6. The Pilates Class
Please allow us to introduce an app that will share with you lessons of this type of physical activity like Pilates. Get a flexible and healthy body with these lessons.
Speaking of the main features, we would like to point out that it provides a specially selected course of physical activities. The app is tailored to your parameters and the nature of your goal. Go through the different Pilates lessons, repeat the exercises after the narrator and you will achieve results. All physical exercises are equipped with videos, which will make it even more convenient for you.
In addition, you can set up a filter with which to select exercises. Perhaps you are interested in maintaining a specific body part. Or maybe you want to retake a workout but have forgotten the name. A special filter will categorize the exercises according to different characteristics and help you find something worthwhile.
In addition, you can set up a schedule in the app, according to which you will exercise more and more. The app will actively remind you of your upcoming workouts, so you can form a habit.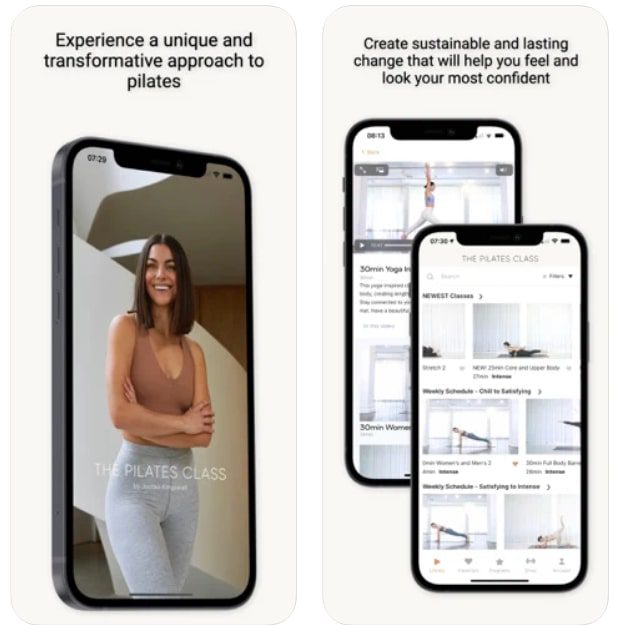 7. Pilates Exercises – All Levels
Do you consider yourself a professional or a beginner in Pilates? Do you want to work out at home more often? All you need is a mat and this app. You will not have to search for information in the browser or ask knowledgeable people. After all, this application contains not only workout schedules but also a detailed description of the Pilates system. Read more about it.
To begin with, you get a course of physical training oriented to you. Also, you can customize which workouts are easier for you or for which muscle groups. Apart from that, however, the app provides its users with an open library of different exercises. It describes the various poses in detail and tells you exactly which is best to do.
In addition, while you are doing the many different exercises, you will have a timer in front of you that will show you how much time is left until the end of the exercise. Also, you will be able to set the duration of the break between exercises. Download the app and become a professional. Daily workouts are much clearer here.
Pilates will be a great solution for you. After all, with this app you will be presented with a variety of workouts aimed at changing your body weight, recovering from an illness, or improving your flexibility.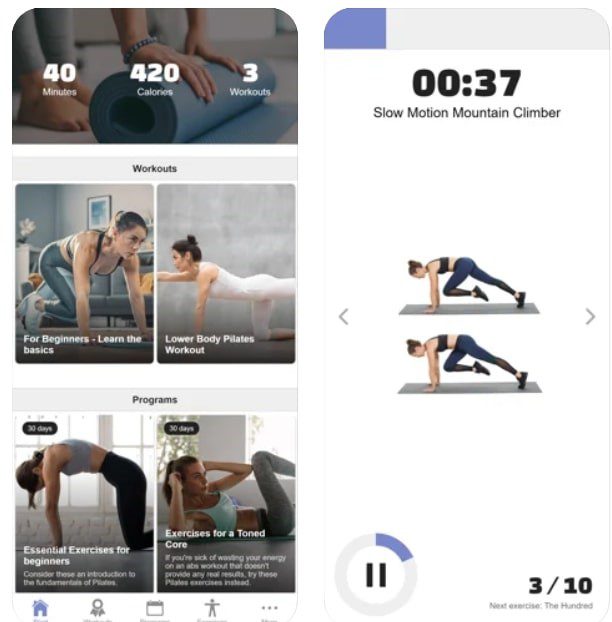 8. Pilatesology – Pilates Online
Now on to the app, which will be your hope and help you to love your body. Because here you will get a variety of lessons for stretching and strengthening your muscles. Pilatesology is a special study that puts you on the path of transformation and awareness of the possibilities of your body. By the way, the app works with thousands of professional instructors.
Indeed, the user not only practices according to the prepared video and audio materials but also consults with a trainer, just like in a gym or a joint training session. It does not matter what is your level, what is important is your desire. After all, the app has lessons for different groups of people. It will help you get oriented and motivate you more.
This app is the best solution for those who for some reason can not go to the gym. Work out at home and learn more about a unique exercise system like Pilates. In addition, the app boasts that if you do not have access to a network, the exercises can be download in advance to always stay toned. Connect to the app on different platforms and take care of your health.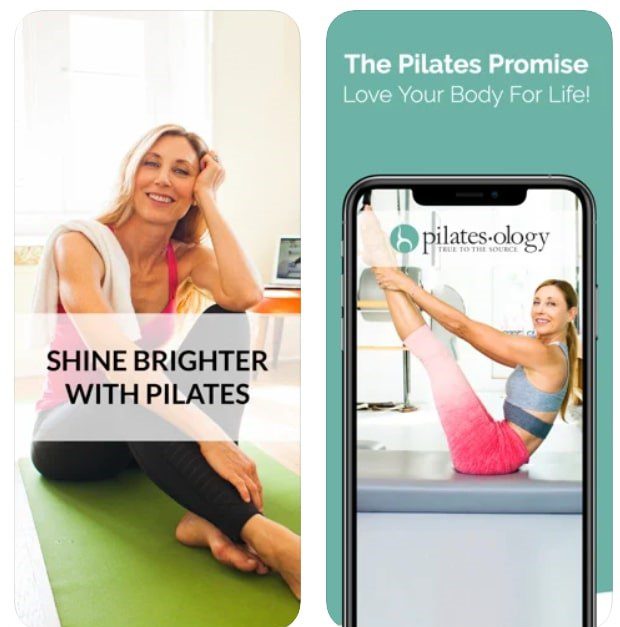 9. U Pilates
Explore, get stronger, and be more flexible with U Pilates. Previously only Apple users could use the app, but now the app is available on Google Play as well. Keep track of your statistics right in the app and try to figure out which exercises you should be performing right now. The app will suggest a series of different activities for you. That way you can always find something of your own.
And for owners of smartwatches, there are a lot of advantages because the application has a version for the Apple Watch, where the main indicators are displayed, and your data are recorded in the application and go to the analysis of the performed workout.
By the way, to start with, the app is suitable for different people. There are versions for complete beginners, for the somewhat confident, and also for professionals. Therefore, the app is equipped with different lessons with exercises that are suitable for everyone.
It is worth mentioning that all the exercises are super detailed and shown, right after downloading the app you can start practicing and immerse yourself in the world of Pilates. Choose different exercises according to the length, difficulty, and level. With the app, you will become even more confident in your body.
In addition, the app includes in-app purchases, so you can improve the quality of the information and functionality of the app if you want.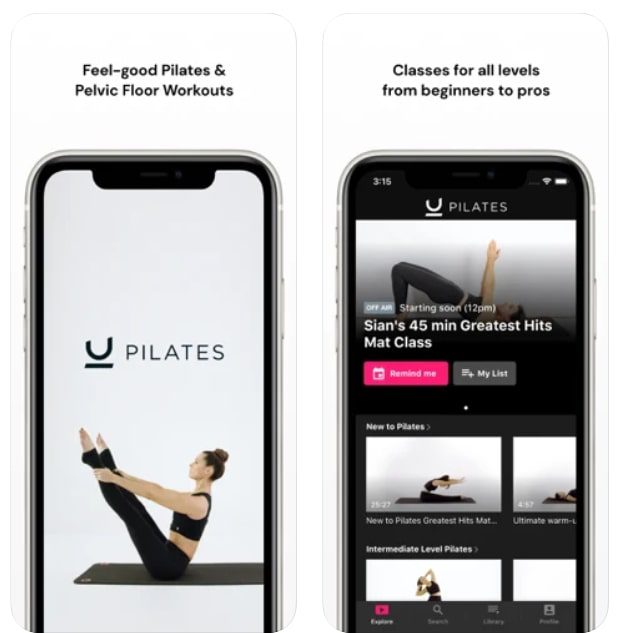 10. Pilates workout routine-Fitness exercises at home
Get yourself into Pilates at home. This app will help you with your introduction to Pilates. Set yourself a goal, such as losing weight or gaining mass for instance, and move forward in your new hobby. But in case you have already practiced Pilates and you are not a beginner, do not worry because this application, as well, will find you and a special course of exercises.
What do you get by downloading the application? First of all, you will be able to monitor your body indicators, such as volume and weight. In the second place, you will be shown a diagram of the sequence and frequency of your workouts, so you will always know what progress you have already accomplished. In the third place, you get a series of exercises customized to your needs and desires.
If you just look at the description of the workout, you will almost immediately know what it will be about. That means you will be given the choice of which course you want to take. Exercise every day and the app will show you the length and frequency of your efforts. Maybe in that way, you will be able to strengthen your body and develop a nice habit.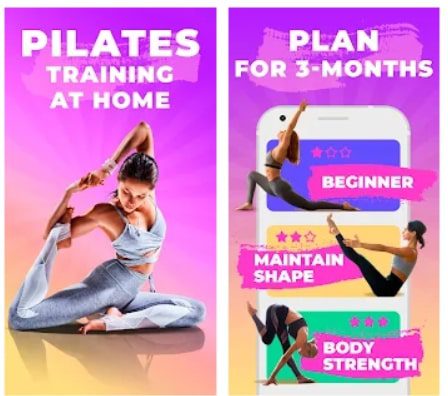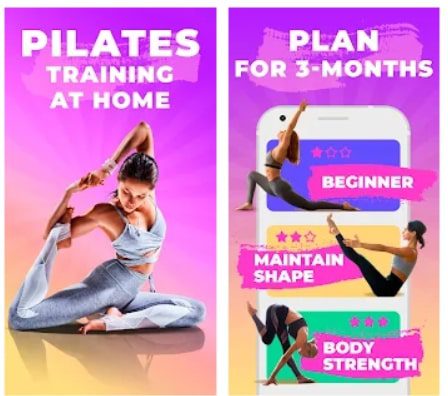 You may also like: 9 Best deep breathing apps for Android & iOS
11. Club Pilates
Have you found your Pilates instructor yet? This app will help you discover the closest Pilates studio to your apartment. You can also find your instructor here, read reviews on them and figure out which one is right for you.
After all, it is classed with an instructor who will help you most accurately perform all the prescribed exercises, he or she will be able to monitor you and motivate you throughout the session. Then, also here, you will be able to book a comfortable place and time with your instructor.
All the detailed information will be displayed here. So you never have to worry that the session is busy, or call the studio, or even worry that your trainer is absent today. You will always be aware of the latest events. The features of this app also include the display of the most important information for you like whether you fulfilled your weekly goal or not.
Keep track of your results right in the app. The app has a convenient and simple interface: it has a calendar that tells you what you are planning to do. It also has a map that shows you the location of your fitness salons, your personal information, and your goals.