Cribbage is a classic card game invented in the early 17th century. Firstly, let's talk briefly about the main game rules. So, all 52 cards are used during the game. Face cards, like kings, queens, and jacks, are graded as 10 points each, while the rest of the cards are valued by their counts.
The goal of each game is to score 121 points using various card combinations. In this article, we are going to review some aspects of these cribbage game apps. We also recommend taking a look at the offline card games before we start.  Now let's move to the article subject.
1. Cribbage Pro
All you need to do is to set preferable game options and start to play. This is a game that users will be able to enjoy playing online. In other words, they can choose their preferred game room and compete with other users from all over the world.
You can also try your skills in single-player matches against artificial intelligence. Any player of different abilities will enjoy the game. For beginners, Cribbage Pro provides special mini tips during the party. Indeed, here it is possible to adjust the level of difficulty. So even a beginner will be able to boost their game skills.
Besides all of the above, the app provides a function to change the interface. This means that users can set up the game boards, as well as the cards.
You can set an avatar and add a nickname. So that way you will be recognizable by your friends, which you can also invite, for example from Facebook. This app has a great feature of log in via social networks. Chat with friends right in the app during cribbage. Moreover, you can always see your successes in a personal statistic. The best players will be shown in the top 50.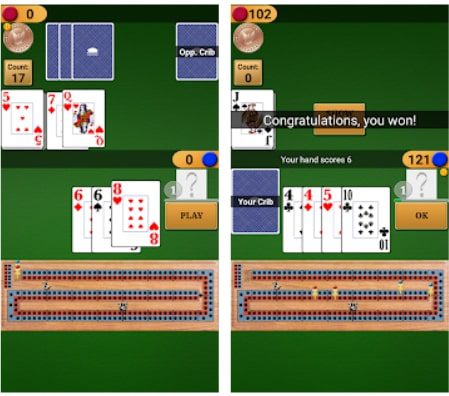 You may also like: 11 Best mafia game apps (Android & iOS)
2. Aces Cribbage
This application is mostly attracted by its interface and 3D graphics. Users of this game can always customize the desired game setting. For example, choose Classic Stag set or Celtic set and so on. Each has its uniqueness. Pick a preferred version.
First of all, it is worth saying that the game is suitable for both beginners and pro players. There is even a special feature in the settings that allows you to slow down the pace and difficulty of the game. That is why this application can be used by everyone.
Secondly, it is possible to improve your skills in the game for 10 players. More than that, you will be able to play against the computer or against real users. There is a handy summarizing of scores, according to the rules of cribbage. You can immerse yourself in the game without distracting yourself with calculations.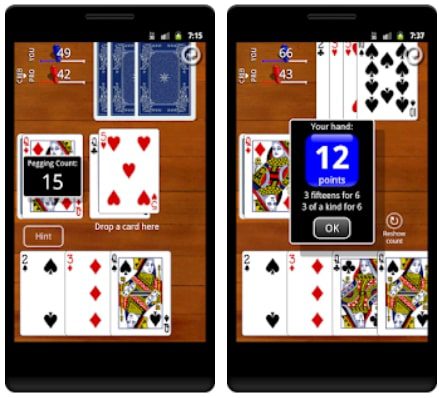 3. Cribbage Club
Cribbage Club is a convenient multiplayer platform for playing a well-known card game. The app has a single-player version as well as its analogs. Each player can find in it something unique. It is worth mentioning that the game can be personalized according to your tastes in the settings. So it is offered to choose the most enjoyable set of cards and boards.
Well, but more about the main features. First of all, beginners will be able to play against the computer. Artificial intelligence will replace two friends. There will be one as a beginner, and the other one is more advanced. That way you can understand the strategy of the game. In addition, there is also a mini dictionary with basic cribbage terms.
The pro players can try themselves out in the Cribbage Squares Solitaire. It is a new version of the game. You can keep score with ease. In case you like to do it yourself, then this feature can be turned off so you can try to personally monitor the game.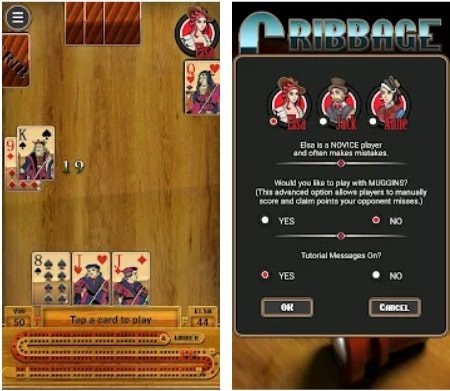 You may also like: 10 Best guessing game apps for Android & iOS
4. Ultimate Cribbage
Cribbage is a classic gambling board game. Its advantage is that, unlike Poker, it does not require money. In fact, cribbage can interest itself just as much. So, what does the app offer? First of all, it provides cribbage players with ten levels of difficulty. That means it is suitable for all kinds of tastes and skills.
First-time players will get hints and score totals, while pro players will play by the super classical rules. For example, pro players can try their luck playing online. Two players can participate in the party according to classical rules. Also, it will be able to play with more than this amount of people. All your family members can take part in it.
The game attracts by its bright and colorful interface with a funny animation. Ultimate Cribbage has such easy management that is so clear even for those who do not know how to use the phone at all. You can install this game on your grandparents' phones. And they will be able to use it properly.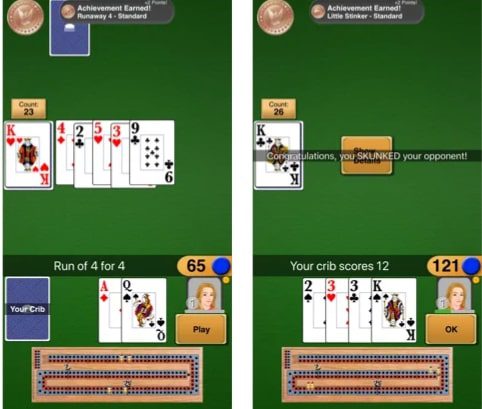 5. Cribbage Royale
You can sign up for this game through Facebook. That way you can save your results on different devices by synchronizing them. The app itself is custom online game cribbage. Here you will be able to fight with random players from all over the world.
Moreover, this app allows you to play different variations of card games, in addition to the classic game, where two people are involved. You will find such game modes as 3-Player, Muggins, Five Card Cribbage, and others. The application itself is a free-to-play online game of cribbage. Here you will be able to fight with random players from all over the world.
Choose your level of difficulty, by the way, there are 4 types and play your favorite card game. You will also be able to change the internal interface of the game by selecting a certain set. You may also earn daily bonuses. Later it can be spent on some feathers right in the application.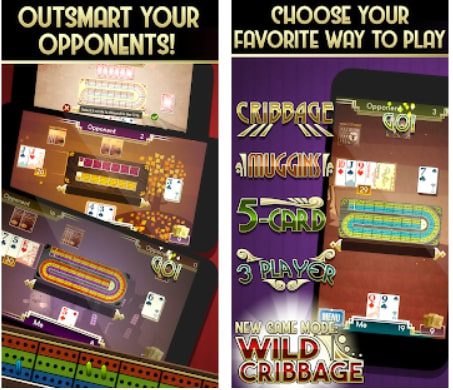 6. Cribbage+
If you want to train your memory and strategic thinking you just need to play cards. You will be interested in this application for Cribbage, as it combines the classic approach and pleasant modern innovations. So, play the classic game for two people and earn the cherished 121 points. This app will allow you to fight against experienced artificial intelligence.
Also, it will please you with its sweet modern graphics. In addition, you will be surprised by the simplicity of execution. There is nothing unnecessary here, but only cribbage. At the end of each game, you will get the total number of points earned. Here you can train your skills without distracting yourself on the multiplayer online version.
You can find Cribbage+ on the App Store. It is compatible with both iPad and iPhone.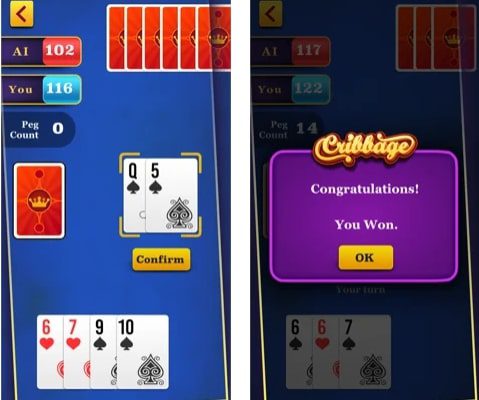 You may also like: 6 Best Offline Scrabble Games for Android & iOS
7. Cribbage
You can relax in this unique application. Not only will it allow you to personalize the game for yourself, but it will also help you to develop your skills. Here you can learn even more about the rules of the game and more accepted strategies. Indeed, right in the middle of the game you can open mini hints and understand how to act next.
Moreover, the changing of the interface takes place in the menu. You will be able to choose your preferred color of background. Fight against trained artificial intelligence.
After all, here you will be able to set the difficulty level and speed of the party. The app is convenient because it is available on both the App Store and Google Play. For each game, you can get a detailed analysis. Further, it will help you to develop the right strategy.