Are you a fan of gambling? If you are, you definitely have several card games on your phone. There is no doubt that this kind of game perfectly allows you to pass the time. Nevertheless, in most cases, people need this time-killing amusement when they are, for instance, on a train or plane. The main problem is that there is no internet connection along the way.
As usual, the Apppearl team has a solution to your problem. In this post, you will find a list of the best Offline card games. There are available for installing from the App Store or Google Play. They will become great tools capable of allaying boredom.
1. Cribbage Pro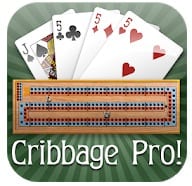 As you know, there are hundreds of card games played worldwide. If you are a fan of Cribbage, this card game will be so suitable for you.
According to the rules of this game, three, four or even more players have to group cards in combinations to gain points. When a player reaches the target score (usually 121), the game ends immediately. Even if you play this game for the first time, you will see informative tips on how to play it.
As for the game itself, there are several modes available: Single Player or Online Multiplayer. In Single Player mode, you will have a chance to compete with a powerful computer. There will be 2 levels of difficulty available to choose from. This very mode supports working offline.
In Online Multiplayer mode, you will be able to play with the game's users from all over the world as well as with your friends. By the way, it will be available to add a friend and chat with other users.
Also, the developers have done their best to make the game fair. Thus, the cards will be shuffled via random.org.
As for motivation, there will be more than 80 achievements in the Single Player mode. Also, in Online Multiplayer mode, you will always have access to the "Top 50" leaderboard, where you can be included as well.
The thing that you will also like here is the user interface. It's so intuitive and convenient to use. Also, there will be available such features as auto-play on selection or confirm auto-cut, and many others. What is more, the game will be available for customizing. So you will be able to choose from a large number of game boards, backgrounds, and even cards.
To make the gaming process more atmospheric, there will be great realistic sound effects.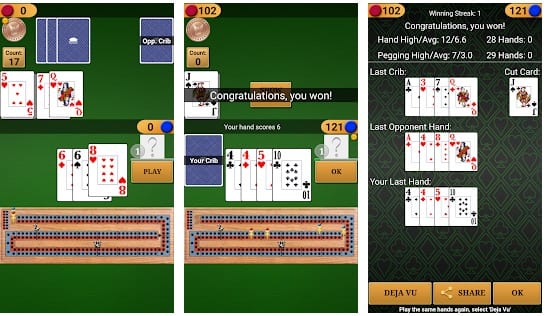 2. Solitarica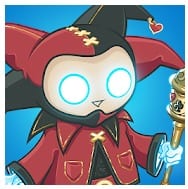 The next brilliant card game includes elements of an RPG combat game and solitaire. So if it attracts you, Solitarica will be perfectly appropriate to play.
Well, it all happens in the land of Myriodd. According to the plot, you are the only brave warrior left that is able to battle the enemy. By successfully completing challenges, you will save the dwellers of your kingdom.
What turns the game into the magic world is dozens of spells and magical items to discover and use. They will dig your heels in even more.
One more thing that motivates a lot is unique desks and cards to unlock and upgrade. They will greatly change the way you play, making it much more exciting.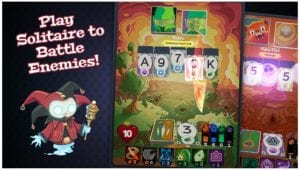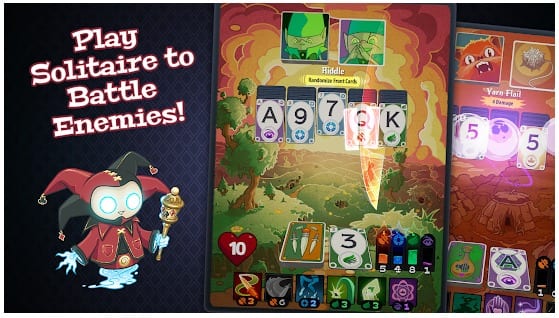 3. Night of the Full Moon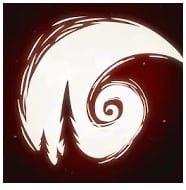 This fantastic card game is connected with the well-known fairytale 'Little Red Riding Hood'. At the same time, this game is not so innocuous as it seems.
The thing is that it has been turned into a little bit gloomy and frightening game. Being a character of this game, you will have to win card challenges. The Night of the Full Moon includes games with 92 opponents. Every challenge will be really unique and amazing.
One more distinguishing feature is that the game is absolutely unpredictable. Thus, there will be multiple plot options depending on your success in challenges. Be sure that it will make you get engrossed in the gaming process.
In addition, the user interface and the game's graphics are also things to admire.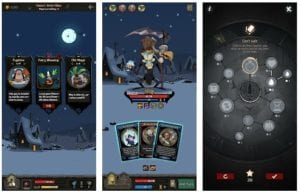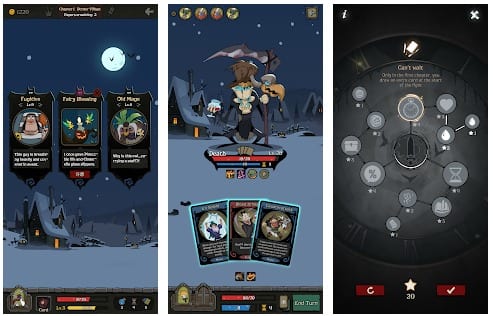 4. Onirim – Solitaire Card Game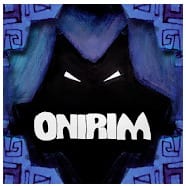 One more unusual offline card game is called Onirim. Like the previous games, this one will make you admiring its plot.
In this case, being a Dreamwalker, you will find yourself in a mysterious labyrinth. Your task will be to gather all the oneiric doors before your Dreamtime finish. Otherwise, you will remain in a trap forever.
The gaming process is based on a solitaire card game. After completing challenges, you will obtain door cards capable of opening them. It is the only way to escape from being trapped.
The user interface is also magical. It becomes even more intuitive due to automated deck management.
By the way, apart from tracking your personal progress, the game also supports the scoring system among all the game's players. It's a great motivation, isn't it?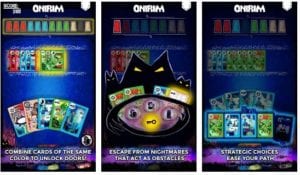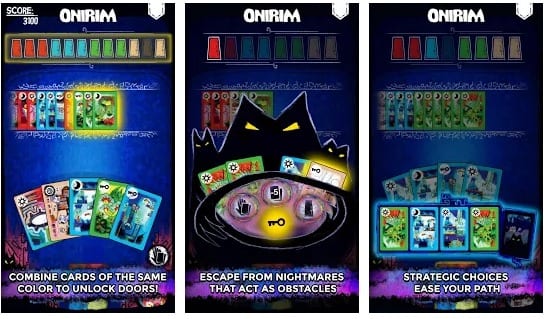 5. War of Omens Deck Builder Collectible Card Game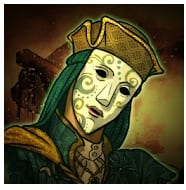 There is no something better than a card game, the plot of which is connected with a Medieval time. If you agree with this statement, the CCG game War of Omens is exactly what you've been searching for.
To begin with, the game is famous for its deck-building gameplay mechanic. There is no doubt that this very feature makes the gaming process really unique.
There will be 4 separate factions and 24 heroes at your fingertips. Every fraction has its own cards and style of a play. As for the characters, each of them is one and only, with their inimitable abilities.
Collecting unique cards will allow you to overcome your enemies much easier. They can be obtained in two ways: you will be able to win them as well as to purchase.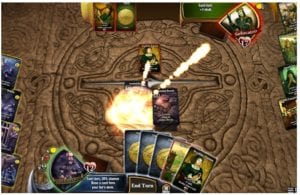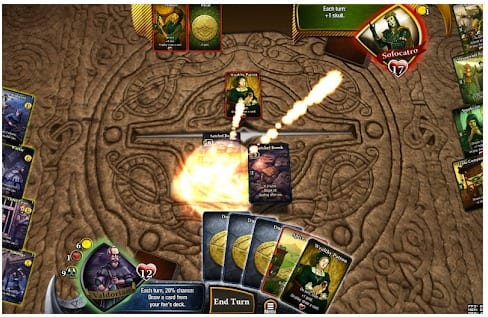 6. Card Thief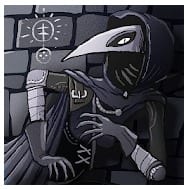 One more excellent card game that supports offline mode is called Card Thief.
In this very game, you will have to play in the Solitaire style. Like in any other game of the stealth genre, you will have to rely on tactical planning only.
You will have access to 4 different heists where you can test your skills against various enemy and trap types. After successfully completing the heists, it will be available to obtain 12 equipment cards. Each of them has a unique ability that will let you improve your high scores significantly.
What is more, the game will perfectly suit users who prefer fast gameplay. The thing is that each game lasts 2-3 minutes. That's really great when the gaming process is dynamic.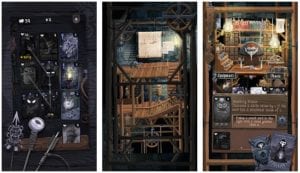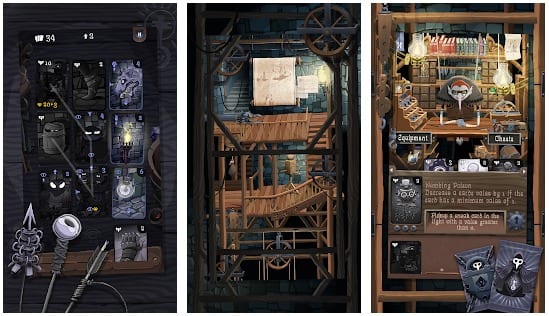 7. Card Crawl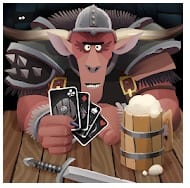 This game is the earlier product of the previous game's developers. That's why Card Crawl is so similar to the game reviewed above.
Your task will be to clear the dungeon by using cards only. Moreover, by collecting gold, you will be able to unlock 35 more ability-cards to get access to new game styles and tactics as well as to increase your scores.
In this Solitaire-based game, you will have four game modes at your fingertips(normal, constructed, daily, and delve). Choose the one you prefer the most and start an amazing journey.
As we've already said in the previous review, each game will last up to 3 minutes only.
As a bonus, the game is compatible Google Play score system. Thus, you will have access to the scores of other players, track your achievements, and even challenge your friends.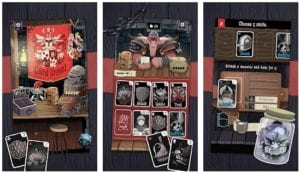 8. Spades – Offline Free Card Games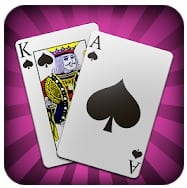 Extremely popular card game Spades is now available on your gadget. It remains to install the game by following links below and enjoy the gaming process even when there is no internet connection.
When playing the game, you will have to battle with a trained AI computer that is a specialist in playing this very card game. So it won't be so easy to beat it.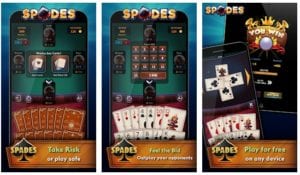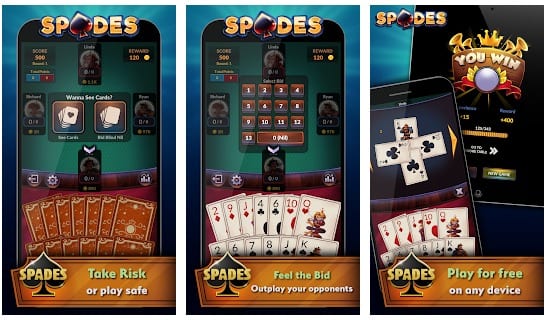 9. Hearthstone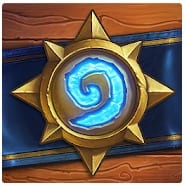 One more fast-paced card game is called Hearthstone.
The rules of the game are quite simple. You will need to collect powerful cards to create mighty decks. After that, it will be available to unite cards into combos to beat an enemy.
The game's interface is considered to be user-friendly. Besides, graphics is one more thing that you will like for sure.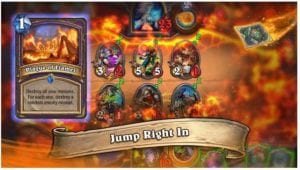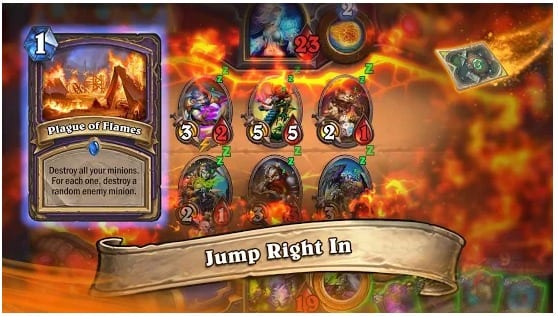 10. UNO!™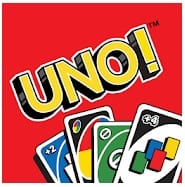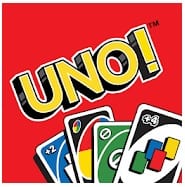 UNO!™ is a great example when a table card game has successfully turned into a mobile card game. Due to a virtual deck, your abilities will be really endless.
So you will be able to play this game with your friends as well as with users from all over the world. There are several modes available to play like Classic UNO and 2v2. Otherwise, you will be able to tap the 'Quick Start' button to play the mode recommended by the game.
The game's distinguishing feature is that it will be available to gather your friends in a Fun Room, establish your own rules of the game, and play with friends in accordance with your own rules.
Unfortunately, in this game, offline mode is available only in QuickPlay and 2V2 mode. Moreover, you will be able to play with the game's bots only.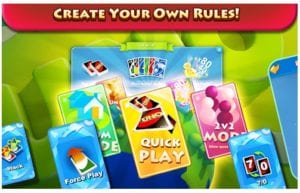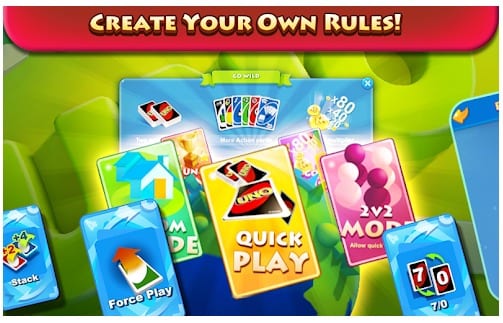 Are you searching for game apps to be played at a party? Here is our post about the best guessing game apps for Android & iOS.
11. Gin Rummy – Offline Free Card Games
Believe it or not, but Gin Rummy also has become available as a mobile card game. Nevertheless, we want you to pay attention that this game is for Android device users only.
By playing this game, you will have access to several game modes at the same time. It remains to beat your rival that will be quite difficult to do. The reason for it is that your rival will be an AI computer that is master in playing Gin Rummy.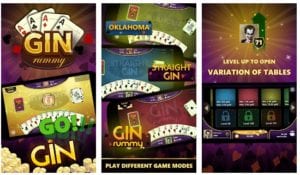 12. Gin Rummy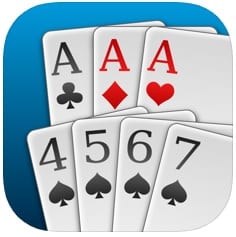 Do you need an alternative from the App Store? If you do, this game is exactly what you need.
Play Gin Rummy and prove the world that even the most trained computer and the most supervised learning algorithm are not powerful enough to beat a person.


You may also like: 21 Best Free offline Android games; 21 Best Free offline iOS games