It may be disputable either we need screensavers on our devices in modern times, but actually that's the matter of taste. We are using tons of other weird apps, so why don't you add a personal touch to your phone with a cool screen saver app? Besides, it is useful in the sense that it can always show time, weather and other essential things.
There is a quite diversity of screensaver apps on the market which proves that many people are still using them despite it is not a necessity anymore. More or less customizable, widgets or full-function apps – you can pick up something that will suit you the most.
1. Lucid – DayDream Screensaver
The first app on our list is a nice screensaver app for Android. The main thing of it lies in its simplicity and reliability. When the screen turns down, you will still be able to see the most important information of the day: time, date, battery level, notification, and reminders.
Make sure to disable the "Keep awake while charging" option in the Android developer settings (if you have enabled that before). On Samsung devices, make sure to disable the "keep display on while eye contact is detected" option (or how they call that).
Another aspect of this app that would prove you are wrong in case you deem screensaver apps are the obsolete topic is that this software is not free – for the full-function version, you will have to pay $1.49. But people are buying that and enjoy, so should you – the price is not unbearable.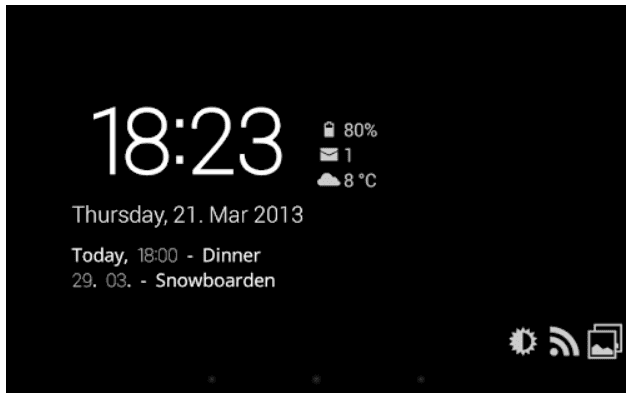 You may also like: 13 Best quotes creator apps for Android & iOS
2. Lock Screen Wallpaper (free)
This app is even more interesting with its function to display beautiful wallpapers on the screen of your gadget while the phone is in "sleeping" mode.
Here you might instantly think what happens if it is going to demonstrate all the pictures from your photo gallery – not very private, right? But don't worry here you can mark the source of images yourself – those can be sources like Google Drive, separate phone folders and so on.
If you are receiving, for instance, a message while your gadget is in screensaver mode you will hear the notification, but it will be hidden behind the wallpapers in order to conceal it from other's eyes. Definitely a nice feature to have.
In case you want more a bigger diversity in wallpapers you can buy a paid subscription for the app.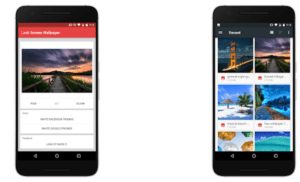 3. Flurry Screensaver
Now we're moving to the screensaver apps for iOS. This one is going to remind you about your old PC screensaver with beautiful graphics elements of various colors. Not that it is that necessary, but it is nice to have so your phone looks awesome at any time of the day.
An interesting thing about this app is that it is an open-source, thus, you can customize it and change the appearance of the sketch in the way you like. Moreover, this app is free and you don't need any additional subscriptions.
4. Rose Live Wallpaper
A beautifully designed app that will probably be more appreciated by the female audience. As you can guess from the name of it, here you are going to get a screensaver with a rose depiction. Moreover, the app includes not only screensaver but also wallpapers with roses in different variations.
What is more, the design of wallpapers and screen savers has an amazing live water effect that simulates the r ripple effect. When you touch the screen it creates the effect like a drop of water is falling into it. This live roses wallpaper fully supports horizontal orientation and looks great on both mobile phones and tablet devices and supports screen switching.
But don't worry if this wallpaper is going to drain the battery of the phone. When your phone has been inactive for a long period of time, it will sleep as well. Animated twinkling lights and glowworms make the pictures look more impressive.
In general, it is a great aesthetical app that you can install and adjust to your phone's screen settings.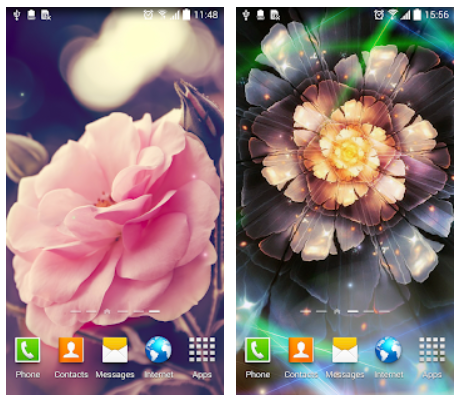 5. Live Wallpapers for Me
In fact, this is one of the best wallpaper apps on the App Store. All the images presented here are in high-quality and would please the eye of any spoiled user. The app is compatible with the following devices: iPhone 11, iPhone 11 Pro, iPhone 11 Pro Max, iPhone Xs, iPhone Xs Max, iPhone 8 and 7.
The usage of Live Wallpapers for Me is extremely simple. All you need to do is to pick the wallpaper for the lock screen, then lock down your device and see what will happen. The image you have chosen is going to say there until the next usage of your phone.
You can also set your own photos as a screensaver using this software. You will find this option in the app's main menu. All the images look especially impressive on the latest iPhone version with advanced screen technologies. The subscription is paid, and you can choose among 1 month, 3-months or one-year length of it.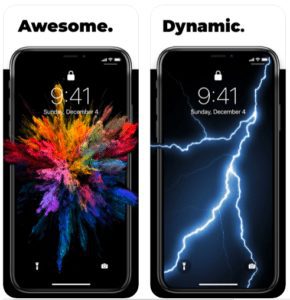 6. Video Screensaver
For those who want to go completely edgy with their screensavers, this app provides the possibility to play videos while you are not using your phone. What you need to do is to install this app, go to the settings and choose the option "Video Table" or "Video Frame" Screensaver at the setting.
The difference between them is that Video Table shows only one video at a time and Video Frame can play multiple videos simultaneously. In order for the app to be able to play all those videos, you need to set the storage access permission to load video files.
Just keep in mind that such a screensaver consumes quite a big volume of a battery's charge.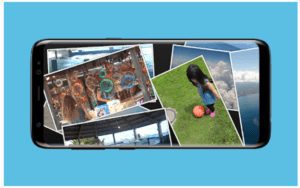 7. Magic Window
An interesting app for iOS that is a little bit more than just a regular screensaver. It gives you the chance both to choose beautiful sceneries as wallpapers and screensavers, which can be accompanied by relaxing sounds and music when you do not use your phone.
Apart from that, there are lots of functions in this app. It includes Dark Sky weather option, alarm clock, wake to music option, sleep timer, and many more. And even though most people may think that a screensaver app is too easy, this one was recommended by many influential media, including USA Today.
It is really an example of how software can be programmed to be as multifunctional as possible and bring the maximum benefit to its users. The app is really nice to use during bedtime, so you would sleep next to soft light and quiet music.
In total, here you can choose between 22 different sceneries as wallpapers. Go to sleep to a sunset in Tokyo and wake up to a sunrise in Costa Rica. Experience a complete sunset in two hours or twenty seconds. In general, all kinds of sceneries, such as mountains, rivers, beaches, forests are presented in Magic Window.
Another cool feature of the app is that it supports external sources such as Apple TV and AirPlay. The app supports resolutions up to 1920×1200.
Moreover, the app is interactive and when you touch the screen in screensaver mode, the picture is going to distort, depending on the scenery. For example, if you have a picture of a lake, the ripples are going to occur.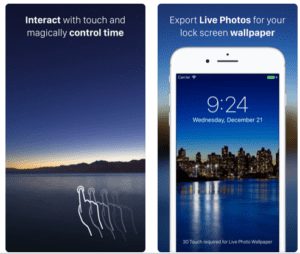 8. Matrix Screensaver with battery and time
For all the Matrix fans there is good news – now you can get a screensaver in the style of your favorite movie. And let's be honest, such design looks truly organic on our futuristic gadgets. As you could understand from the name of the app, it also shows the time and battery level.
Besides, the design of the Matrix is customizable, so you can change the colors of it. There is also a size and speed customization for it. You can choose the speed of letters' falling yourself.
A useful feature here is that you can set a night hours when you are not going to use your phone, and during that time the screensaver will be dimmed in order to save the battery charge and don't interrupt your sleep.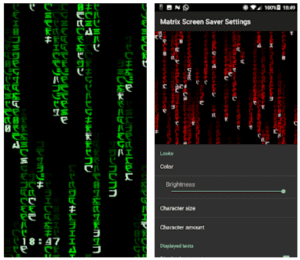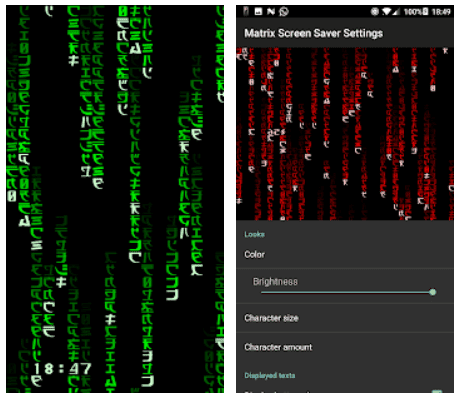 9. Wallpapers HD
A classic app for getting cool wallpapers with the ability to install them as screensavers. All the images presented here have the highest resignation possible. Pictures and sceneries look realistic and bright. Wallpapers HD is moderated by artists who control the quality of all images and constantly improve it.
You can download the images from this app in order to install them as the regular wallpapers or you can set them as screensavers by changing the configurations in the settings of the screen on your phone. All the images will be cropped automatically to best fit into the size of your screen.
The only disadvantage of this app is that comparing with the previous ones its screensaver is not interactive and looks rather like a lock screen image.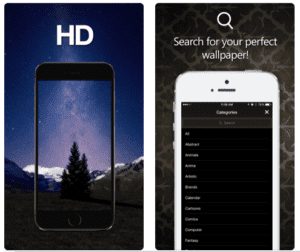 10. Bouncing DVD Screensaver
A super nostalgic app that has a screensaver of your od DVD player. This is an icon that you have seen a million times in your childhood and now you got a perfect chance to have it always with you on the screen of your gadget.
The design of an icon is precisely repeated to look like the original one. Moreover, the color of the icon is customizable and you can change the colors of it, from the basic white to acid-green. With this screensaver, you will still be able to see the time and date, and the latest notifications on your phone.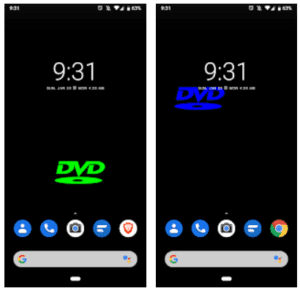 11. 3D Aquarium Live Wallpaper HD
Have you always been wanting to have your own aquarium at home, but there are some obstacles that are holding you away from that? Well, you can get closer to your dream by having your aquarium on the screen of your gadget. This is a really cool screen saver with amazing 3D graphics and realistic depicting of the underworld.
In this amazingly realistic aquarium background wallpaper, dozens of different exotic fishes are swimming on a background of colorful sea corals, plants and beautiful sun rays. Besides, this screensaver app is interactive, and each time you are touching your screen the background is going to move as well.
Of course, this kind of screensaver requires a considerable volume of battery charge, but this app is programmed in a way to make the battery consumption as optimal as possible.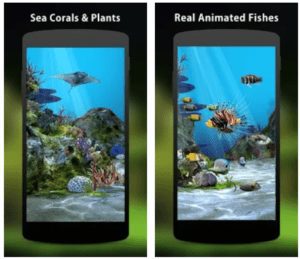 12. Photo Bubble Screensaver
And the next on our list we have an extremely nice screensaver app that allows you to make bubbles for the screensaver with the pictures of your beloved ones. Now the members of your family, your boyfriend/girlfriend, cat, dog, best friends and anyone you want.
When you will put your phone on sleeping mode, the screensaver bubbles are going to appear and move across your screen. An interesting feature here is that you actually can burst these bubbles by touching them with your finger. After the next time, your phone will go to a screensaver mode the bubble will reappear again.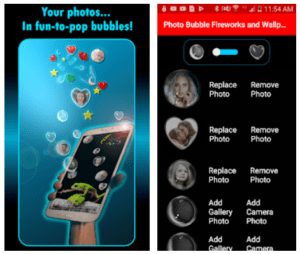 13. SCREENSAVER
For those who appreciate simplicity and functionality in things, this app will be a good choice to make. It is a very basic screensaver app that shows the current time and date. It doesn't occupy much space in your phone's memory and don't consume much of a battery charge.
The time is going to be demonstrated on the lock screen as the round clock, the color of which is customizable. In fact, here you can choose between 3 colors: white, blue and red. The disadvantage of the app is that it includes some advertisements in it.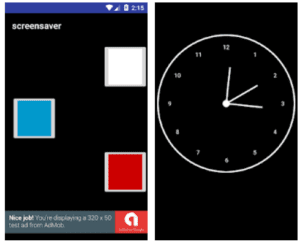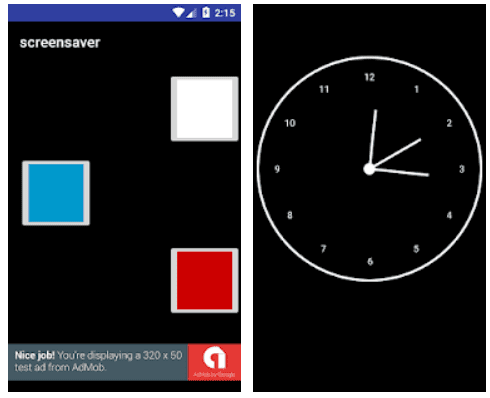 You may also like: 10 Best cinemagraph apps for Android & iOS