There is not much time left at all for personal life. Thus, new acquaintances with potential partners do not take place in the continuously changing world. In such a case, it is quite logical to get acquainted with people through dating apps. People around us have been using such services more recently having found pleasant communication and some are even building families.
Meanwhile, in this article, we will try to summarize the main applications intended for Latin Americans who may feel lonely. With little thought, you can also pay attention to these unique apps, where there is a chance to have a lively dialogue with strangers.
1. Chispa – Dating for Latinos
This app offers you a chance to socialize and go on a date. Interestingly, there are only Latinos here, so you will always feel a connection to your culture. This app is very much the same as the popular Tinder app in terms of features and principles. If you are familiar with Tinder you will have no problem getting started with Chispa.
Anyone who uses the smart feed of this service will be able to contact you based on your interests including gender, age, and of course your current location. Set up a list of preferences and the list will pop up once you decide who will be compatible with you. It will be even easier for you to find a free Latino.
Here you'll find interesting joking questions to help build your profile, making it more accurate. Based on your answers, the app will find a potential partner for you. Swipe right or left until you catch a match, that is, mutual sympathy.
After these simple actions, a dialog box will open. Here you are sure to find a person close to your spirit, as here there are representatives of the same people.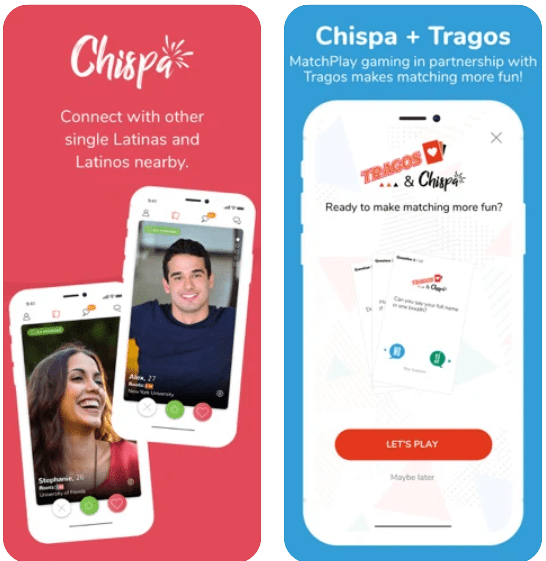 You may also like: 10 Best Bluetooth Chat Apps in 2021 (Android & iOS)
2. Spanish Dating
Let's say you are from Spain but live in the U.S. Maybe you would be interested in this app designed to meet Latinos like you. In general, this app works all over the world, if you are going to travel. You can meet people from all over the world. Here you can make the acquaintance of your future friends and love partners.
The interesting thing is that this app has the ability to upload videos and photos, therefore you will always be able to assess how the person looks. In addition, you will be able to put a filter on the search for people and look for the best match for you. When you use the app, you can find people who are nearby who also use Spanish Dating.
Observe which Latinos like you too. By doing so, you can stay closer to your culture. By downloading the app not only can you communicate one-to-one, as well as in various group chats.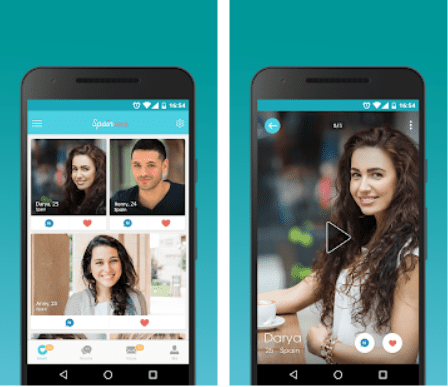 3. Teamo
We would like to present you with this application, which is already loved by 17 million users. All in all, many users have come to love Teamo because of the special features the application provides. For example, here you can find people not only by basic criteria such as age and location.
But also to choose your partner according to the psychological portrait. To start with, take a quiz and the app will select the right partners for you by filtering out your human traits. Discover people by proximity. This app describes itself as a serious partner search app.
Therefore, you can always be sure that here you will find what you are looking for. If you catch a mutual sympathy, you can open a private chat with the person you like. All you need to do to get more likes is create a profile and post your best photo.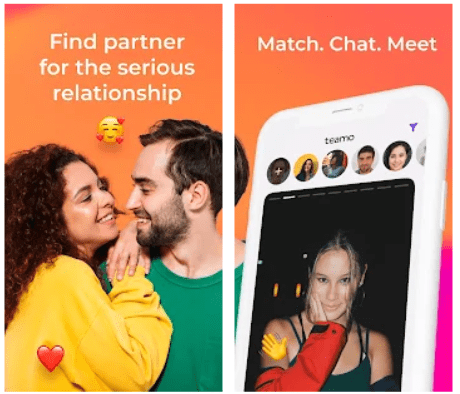 4. Match.com Latino: Relaciones
Try this app, which has been on the market for more than 10 years. It has made a name for itself all over America. Use it to try and find a partner through the features provided by the app. First of all, you can start communicating with all the people of Hispanic origin here. After all, it is very popular throughout South America.
Secondly, the app has a nice filter. You will be able to find not only a partner but also a friend to spend time with. Connect with people of all ages, genders, and sexual orientations. The app gives you the ability to browse through a variety of profiles. And most importantly, all the basic information is visible to users.
The communication system here is simple. In order to start communicating, just open the main page and view the available profiles. After that, put a "like". It is noteworthy that you can see who likes you.
And also all with each profile displays an approximate location, which allows you to get acquainted almost on the same street. Explore the application and download it from Google Play.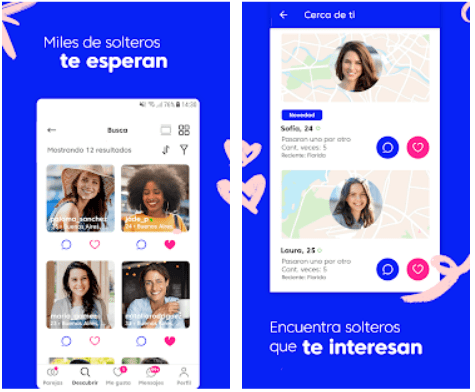 You may also like: 17 Best bisexual dating apps for Android & iOS
5. DiHola: Latino Dating App
The smart feed of this app will suggest people according to your interests and location. You will be able to chat preferably with Latinos. Their profiles will be displayed on your selection screen. All you need to do is to start a dialogue with the person you like. Additionally, a feature of the service is that you can describe your profile in a captivating way.
Since in addition to your basic data you can choose your preferred language of love, in other words, an attractive model of behavior in a relationship. It is also possible to set up your nationality, and of course, as elsewhere, your interests. The main feature of DiHola is video calls.
So with a man with whom you have a crush, you can talk via video, pre-planning a meeting online. Can we say that in this way you get to know the person most closely and understand whether you want to continue communicating with him or her in the future, whether it is worth it to go on a date? In a way, it can keep you safe.
With a Premium subscription, you can see who likes you and who visits your profile.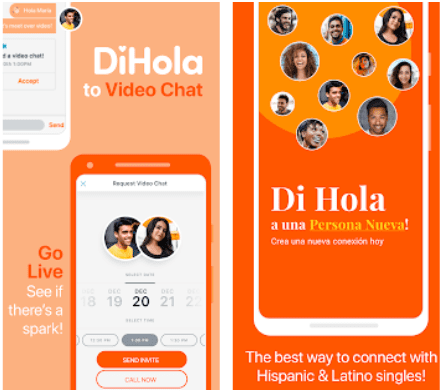 6. Latiner: Latino, Latina Dating
If you are looking for single attractive Latin men and women, check out the Latiner app. This app is known for its security since here your photos are verified. So you can reduce the risk of getting profiles containing other people's fake photos.
As for the user profile itself, here you can add a photo, age, location, and also it is important to briefly describe yourself, state your interests and character as well as your lifestyle. Equally interesting is that with this application, all astrology lovers will rejoice. After all, here you can create a match based on your zodiac sign.
Latiner is as tolerant as possible to all people of different nationalities, skin colors, and sexual orientations. So for sure, it will be a safe space for you to find a partner. The app works not only in the U.S. but also in many countries such as Mexico, Spain, Brazil, Peru, and many others. Thus, the user can always find a friend or a partner while traveling.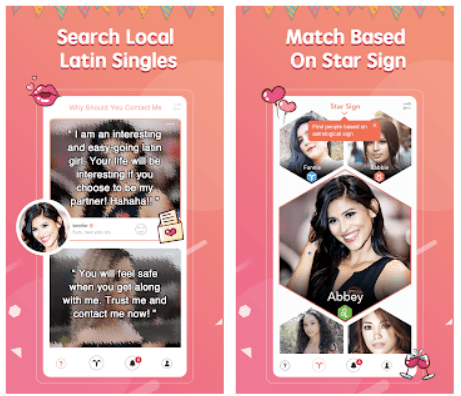 7. Wapa: Lesbian Dating
The Wapa dating app has gained love throughout Latin America and is popular in many countries. But if you are Latino, this is the app you will be most comfortable using. So what is it like? In short, it is an app for dating, mainly for girls of gay orientation, representatives of the LGBTQ+ community.
If you are looking for a partner, this is the right place for you. First of all due to its opportunity to give you safety. It regulates the verification of your photo. That means all photos are of real people. That way you will have less fear for your life.
Moreover, the app will show you who you like and who's accessing your profile. Plus, chat rooms are much friendlier than the ones you find on the analog version of the app. After all, you can send not only text messages, be sure to send voice messages as well. That way girls can get to know their partner's voice.
Meet ladies near you. Thanks to the app, you can meet different people and make friends who will definitely understand you as they are also not so straight.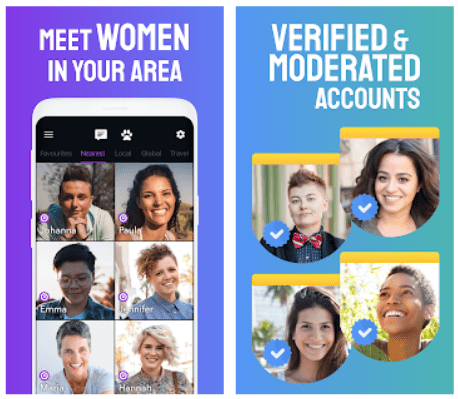 8. Coffee Meets Bagel Dating App
One of the most popular dating apps among the Latino population around the world is this Coffee Meets Bagel Dating. Perhaps the creators of this app have taken into account all the nuances of dating apps.
Therefore, after analyzing some shortcomings, they concluded that the best means of communication can be a relaxed meeting in real life over a cup of coffee everyone loves.
So, the creators have established a function that a person can see a limited number of profiles per day and give the profile sympathy according to a certain number. That way, the developers wanted to eliminate unnecessary dialogues in the chat application and go straight to concrete acquaintances.
This app is most suitable for busy people who can make a quick appointment, for instance for lunch. Especially with a premium subscription users get even more features. First of all, the user will be able to see all his or her likes and. Secondly, it observes the activity status of other users. In any case, this app is designed for serious relationships.
After all, here you will be able to create the most detailed questionnaire answering all basic questions. Try to meet your partner having a cup of coffee.

You may also like: 9 Best casual dating apps for Android & iOS
9. Aventura – Latin Dating App
There is an app called Aventura for all free Latinos of all genders. Here all Hispanic people can find a soul mate. All you have to do is sign up for the app via email or sync it with Facebook, both of which are much convenient.
Afterward, as in other similar applications, you will have to look through the profiles and swipe to the right or left, thereby selecting the people you like. Here in the U.S., Latinos can easily find people of their own ethnicity and cultural code.
With a premium subscription, you'll instantly know who you're liking and who else in the neighborhood is using the app. The user will also be able to view the person's online status. So, with the appearance of the match, you'll have a better chance of meeting the right partner.