Philips Hue has brought to market an entire ecosystem of "smart" lamps and lights that are compatible with your smart home. The company's lamps create a special atmosphere and automate lighting. Such lamps can be controlled by voice-activated assistants, but also by apps. Therefore we present for your benefit a selection of apps designed for Philips Hue.
We have tried to collect the most interesting applications that have amazing features. The fans of modern technology will appreciate the selection of Best IPTV Apps. There are described ways to watch TV on your smartphone. So let's start the review.
1. Philips Hue
The Philips Hue app was originally a light switch. But with the update of the technology and the software itself, the app has come up with an incredibly large functionality to create comfort in your home. The main feature of this app is smart lighting control. To begin with, users can group lamps by room, purpose, or other groups in this app.
So for example, attach "Kitchen Chandelier," "Floor Lamp," "Window Sill Light," and so on to the app. And if you already have an account on the Hue website, then you can control the light without being at home. Then you can set "light alarms" which is a feature that allows you to turn on the lights at a fixed time.
For example, you can set a slow light a few minutes before you get up and the light turns on at dusk. Also, you can choose the color of the light according to your preferences. For example, you can set a color of your preference from the huge color palette. In addition, you can adjust the saturation of the light. This is useful if you feel a lack of light when you study and need more light.
On the other hand, it would be great to make the light dimmer when your eyes are stressed in the evening. Also, the app is capable to create small icons on the main screen of your smartphone. That way you do not even need to open the app. Everything will be at your fingertips.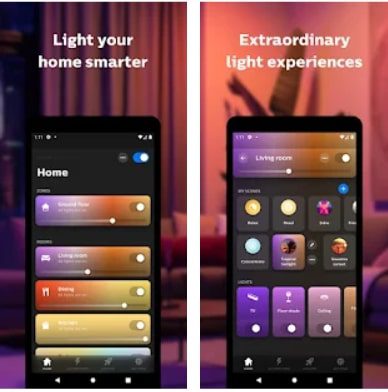 You may also like: 11 Best Home Inventory Apps for Android & iOS
2. iLightShow for Philips Hue
Ambify is an app that is compatible with your iPhone and iPad. It presents an atmospheric way to listen to music. This app is great as an accompaniment to your evening parties. So, first of all, the app can self-generate lights for your tracks. When you turn on the music, you will see a palette of colors that the app thinks is in perfect harmony with the music.
You will see in your room switching lights of different colors. It is a real atmospheric creator. Secondly, you can choose tracks, music genres, and playlists and assign them certain colors.
In addition, you can adjust settings such as color matching, saturation, and start time in a versatile way.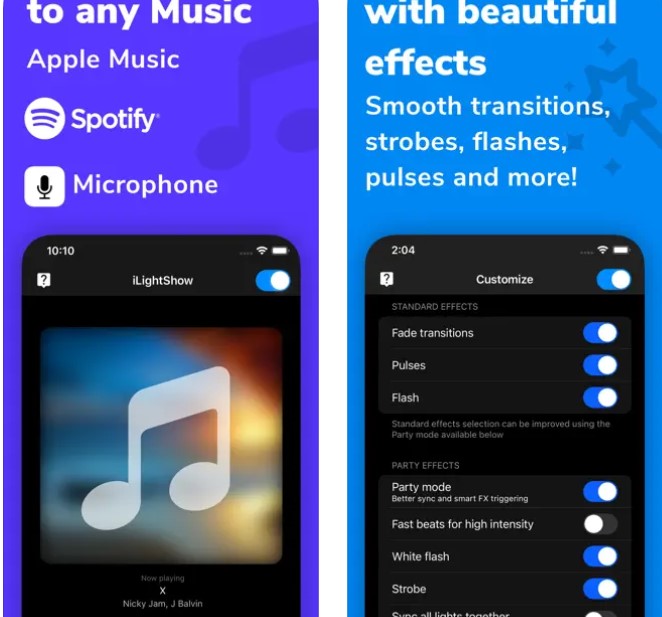 3. QuickHue – QuickSettings Tile
QuickHue – QuickSettings Tile is a quick way to turn lights off or on with your Android phone. The main feature of this app is that you will see the light control button right from Quick Settings.
That means that when you leave the house or as you go to bed, the light can be turned off with a slide of the settings down and a single button press. This gives you full control over Philips Hue lights.
The app has only one function, but sometimes for quick action, it will be enough. That way you save time and effort when, for example, you want to sleep a lot and notice that the lights are on in the kitchen.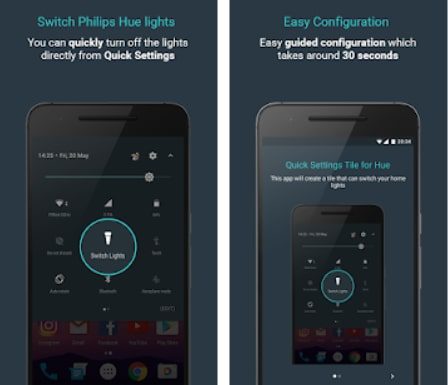 4. Hue Disco
If you have Philips Hue lighting, you also need Hue Disco to create a real party. That way you can save a lot of money on fancy lighting devices. This app has a number of incredibly useful features. First of all, you can synchronize all the tracks with the lights in your room.
This function is useful for everyone, for example for the owners of the coffee shop, it is a great way to have a party. Your visitors will be delighted. Secondly, the app gives you a huge range of lighting settings. Go to the app settings and you will find a way to personalize your lighting.
So here you can choose the color gradient you want, then you can choose the color boundaries, adjust the brightness and colorful. You will also be able to adjust the smooth color switching. The application provides an interesting function to customize the light with your voice. If you have a connected microphone you can adjust the lighting with it.
You can also select the amount of volume at which switching is triggered. In addition, the application gives you the possibility to create special themes that can be activated for certain conditions. So for example you will see Color Gradient, Eighties Disco, Reggae, Desert, Jungle, Relaxing and many others.
In fact, you can create your own theme. You can also set the color change under the bit or set how many changes of light per minute you want. You can also control which light needed to be switch for example a soffit in the dining room, a light on a shelf and so on.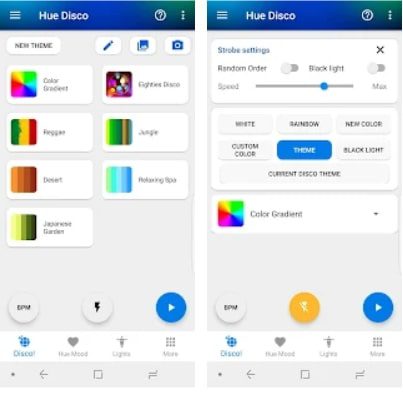 5. HueParty for PhilipsHue & LIFX
You probably want to better organize your lighting at home. With this app, you can turn on and off lights in a room with one click. It is also worth considering that you will have 16 lighting devices under your control. So you can make as many lighting groups as you want. You will also be able to rename each light device.
So you get a list that allows you to smartly control the electrical lighting. HueParty for PhilipsHue & LIFX is adjustable in strength and saturation. On top of that, you will have the possibility to adjust the color of the light. All you have to do is click on the color you want on the palette.
It is also interesting that you can turn off the light directly from your smart Apple Watch. You can also sync all your devices to make the app even more functional.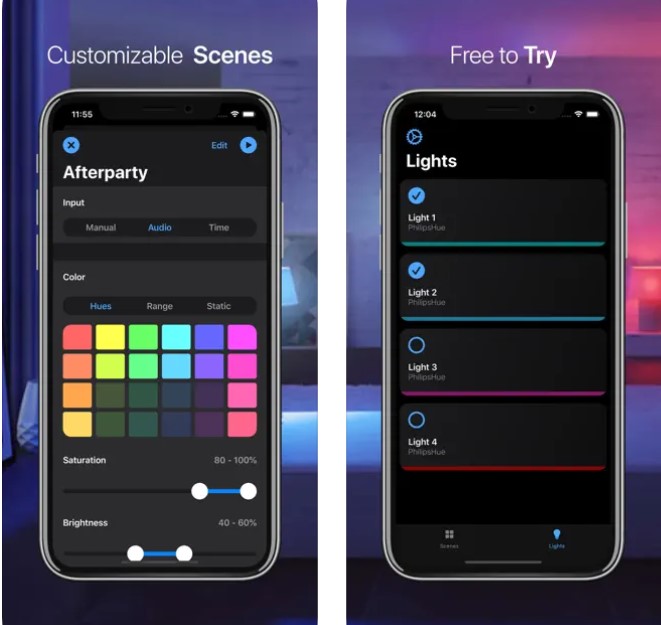 You may also like: 13 Best home decorating games for adults
6. hueDynamic for Philips Hue
You probably want to improve your Philips Hue system to make it work one hundred percent. That is why you may want to take a look at this app. After all hueDynamic for Philips Hue is an app that helps you synchronize light and sound. It enables you to play a game with your PlayStation, for example, while the app creates a gamer's ambience in your home.
You can choose a theme for every occasion and mood. Indeed, you can adjust the intensity, hue, color and many other lighting parameters. So you can create lighting patterns that you can turn on while reading, partying, cooking, watching movies, and other things.
This app also allows you to bring a new level of control over multiple devices at the same time without switching between them. You must also be concerned about your electricity consumption if you use Philips Hue Lighting.
You can stop thinking about forgetting to turn off your lights when you leave home. The program has an off function for long, uninterrupted lighting sessions.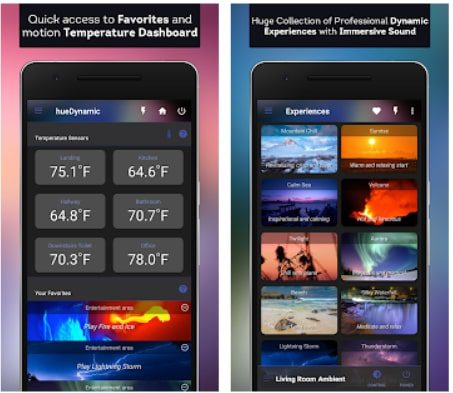 7. iConnectHue for Philips Hue
The iConnectHue for Philips Hue app can help you improve Philips Hue lights. Indeed, it is because the app has the most extensive functionality among similar apps. So what does it offer? The first thing worth mentioning is that you can adjust the color, brightness, and saturation of the lighting.
Also, the light will be adjusted depending on the tasks that you set yourself. For example, the light can be automatically dimmed when it is time for you to go to sleep. The app works the same way with waking up and other time options. A useful feature is the synchronization of music and lighting.
You can choose the gradient and colors in a way that they automatically match the songs you are listening to. By the way, the gradient is incredibly easy to configure. The app has both basic and advanced light settings. Just set the three colors you like and the app will give you the resulting gradient.
Moreover, it is possible to use Siri in your commands. You may ask her to turn off the light and the command will be executed. This program allows you to interactively and quickly control all the lights in your apartment.
You will see on the main screen the buttons responsible for each light, each bulb and each lamp from all rooms. It is convenient that you can personalize an icon by setting its appearance with the help of the color and style of the button.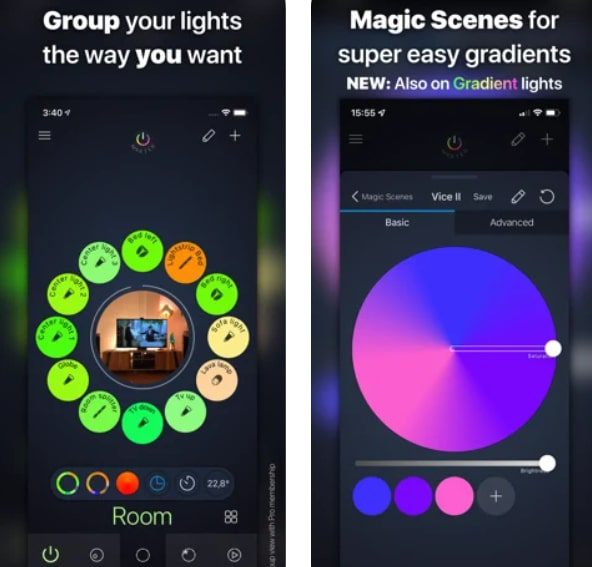 8. Hue Essentials – Philips Hue & TRÅDFRI
The future is already here. All devices in your apartment can be controlled with a single phone. The Hue Essentials app – Philips Hue & TRÅDFRI perfectly demonstrates this. So, first of all, it presents an organized list of the rooms and the light appliances in it. So for example in the kitchen section you see floor lamps, light bulbs, and things like that.
It helps you to be in one room and control the light in all of them. At the same time, you can adjust each light device. So you set commands like a real programmer, and they are properly fulfilled. Secondly, you can set the lighting parameters. Specifically, you can set the atmosphere, adjust the saturation and contrast of the light in the rooms.
Speaking of lighting scenes, the developers have taken care of a wide variety of lighting presets. You will be able to feel both calm relaxing mood and incendiary party dynamics. To do this you just need to choose a prepared lighting template.
Thirdly, the app has handy widgets that you can place and organize on the main screen of your phone. This saves you a lot of time, because right from the main screen you can turn off all the lighting in the room or select the lighting mode.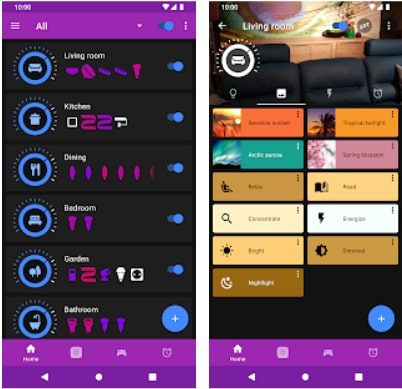 9. Yonomi
Yonomi – Smart Home Automation is a system that connects all your appliances and smart home applications. We have tried to understand the main advantages of this application. First of all, it synchronizes Philips Hue lighting devices. It does this by giving you a preview of the device.
Here you can edit its name so that you can quickly identify which light fixture you are controlling. You could call it "Relaxing" for example for the lounge. At the same time, you can click on the device to adjust its saturation, brightness, and color. You can also make these settings fixed.
Or you can set the active time. Thus, you get a kind of automatic light switch. This app allows you to attach many devices, such as Google Home, Philips Hue, Energenie, MiHome, Amazon Echo, Schlage, OSRAM LIGHTIFY, and others.
With this app, you not only control the lighting, but also learn about new products in the world of technology and get various tips. The most interesting articles to help you better manage your smart home are available here.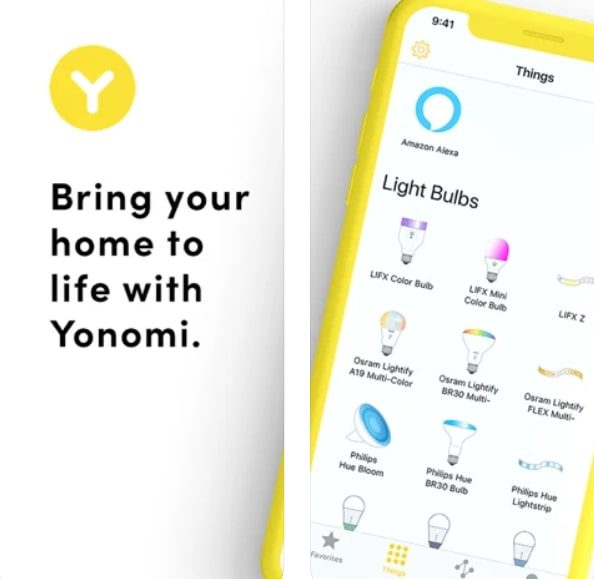 10. All 4 hue for Philips Hue
This application is good for those who are looking for something multifunctional, something that will contain a lot of interesting features. Let's move on to discuss what this program is capable of. It allows you to use the Dashboard. In a few words, it is a place where all your lights are organized by room.
This is where you can control and configure your lights, fixtures, and floor lamps. The app will offer you quick tips that will tell you more about how you can control your Dashboard. In addition, there is a feature such as Room Scenes. It can be used to combine the devices in order to create a certain combination of lights.
For example to achieve a certain ambience or mood. You can use the built-in Scene or you can make up your own. You will find a way to program the Philips Hue system in the Room tab. Here you can select the session duration, brightness and color. All depends on your needs and fantasies.
The app also offers you an alarm and timer. The interesting thing is that the application has prepared effects such as Disco, Color Loop and Bonfire. It is also important to note that the app only functions as long as all devices are connected to the same local Wi-Fi Network.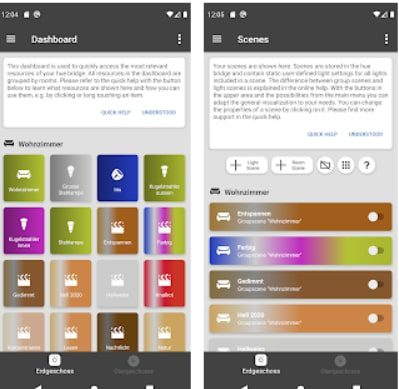 You may also like: 9 Best handyman apps for Android & iOS
11. Lightbow
The App Store is where users can buy apps, while Lightbow allows them to acquire Light. This is the place where a large number of presets, which you can download, are collected. There is a huge variety of themes for all occasions, both for holidays, parties, and for the seasons, moods. Here you can find special winter packages for New Year's Eve.
There are also such effects as the Crypt of the Vampire, Golden Autumn, Magic, Zombie, Sheriff and more. In addition, every day you will receive random recommendations in the form of presets that you can apply in your home.
With this app, you will have a way to find more and more ways to control Philips Hue and other smart home devices. This is where all your themes, durations, color palettes, and other settings can be adjusted.