Probably, all of us would like to have a house of our dreams. Everybody has a different idea in mind, but it is usually one of our biggest dreams that we all cherish. It can be also explained by the basic human needs – the needs in protection and safety because your perfect home is where you are going to feel safe.
And we always admire (at least most of us) the most beautiful home decorations – you can easily find such pictures on the Internet. You have probably seen them already, where the interior is organized in such a marvelous way that you wouldn't even think about it.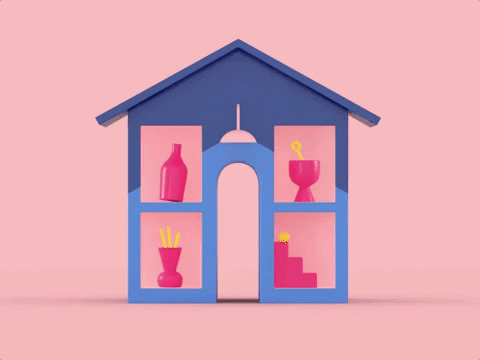 And the whole process of such creating – watching how the comfort and home coziness are being made off of nothing is a truly captivating process. It is just a pity that not all of us have a chance to actually do that.
But that's what we need our games for! They give us an opportunity to try our skills at anything we want. Now you can finally feel like a true interior designer and decorate your own house, house for your mom and dad, boyfriend/girlfriend, friends and so on. Practice your skills with the apps, listed down below and who knows – maybe it will lead you to a life-lasting hobby.
1. Home Maker: Design House Game
A fabulous game that allows you to create the house of your dreams. Don't think about the materials and money – just be creative. Here you will discover the best customization options to decorate rooms and houses. Thousands of options are going to be presented to you on the way to decorating your perfect house.
What is more, the app has been released quite recently to the market so it follows all the latest trends and updates in 3D modeling software. By the way, it can also become a good practice for designer faculty students, giving them chance to have something to practice on right in the palm of their hand, when they are, for instance, on the road.
Homa Maker contains lots of options and decoration sets for all the kinds of rooms: bedrooms, bathrooms, dining rooms, kids' rooms, library, gyms, kitchens, gardens, terrace, and even swimming pools. In case you are planning the decoration of your actual house, you can first create a model here and then show it to your designer.
You can also make decoration in different styles: modern, fashion, classic, literary, austere, rich or noble. Choose among the huge range of furniture types, furnishings, and accessories.
You will significantly improve your designer skills by applying all the decorating possibilities to the rooms and coming up with more and more ideas of beautiful designs. Another cool feature of the app is that it gives you a chance to see at the other members' designs of rooms and be inspired.
Users can also vote for the designs they liked the most. Each week the most popular designs are going to be demonstrated on the main page at the top of the list. So it is really the point where the app turns into a game with a competitive element.
There are also various rewards and game levels where you have to create a new interior for a room. What is more, daily challenges design missions will give you a chance to earn start and gem plus having fun all along.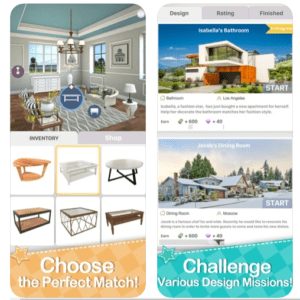 You may also like: 10 Best farm game apps for Android & iOS
2. Home Design Makeover
This home design game differs from the previous one since it actually looks like a real game. The graphics are more cartoon alike here, but it is still a good choice for those who prefer that style.
Here you are going to play the role of a designer to whom people are turning to for the best and amazing home decors and you need to match their expectations. Solve fun match 3 puzzles to help design, customize and decorate the perfect dream home with beautiful decor.
You will get a wide choice for decoration and customization, starting up with the style in which you would like to decorate a house. Do you want it to be in a modern style? Or victorian? Or Scandinavian? It's up to you to decide. Along with the whole house, you can also decorate separate rooms: a bedroom, hall, bathroom, dining room and so on.
And since it is a game in the first place, here your clients are going to be all kinds of people – Hollywood celebrities, usual people, people from France, Japan, UAE and many more.
But as a designer, you will always be able to stay creative with this app. With all that variety of high-end designer furniture, lighting, flooring, and other decor elements, you will be able to add the piece of your personality to each detail.
The game has dozens of different modes and more than 3000 puzzles to solve. Besides, it is getting updated regularly, so no matter how much you play, you always going to face something new and exciting.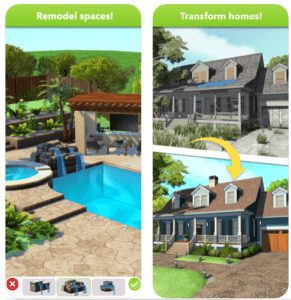 3. My Home – Design Dreams
Well, this one looks more like a kids' game, but it is only because it has more of a cartoon type of graphics. But actually, there are a lot of adults who like that style and would enjoy playing it, besides, this game is really challenging and captivating.
The main mission of this game is to build the house of your dreams. From a condo to a mansion or even a villa, you can design and decorate everything on your device at your fingertips.
So, you will be allowed to design some rooms of the house. You can work with several projects at the same time, switching from one to another.
There are a lot of daily rewards and updates that make the game process unpredictable and exciting.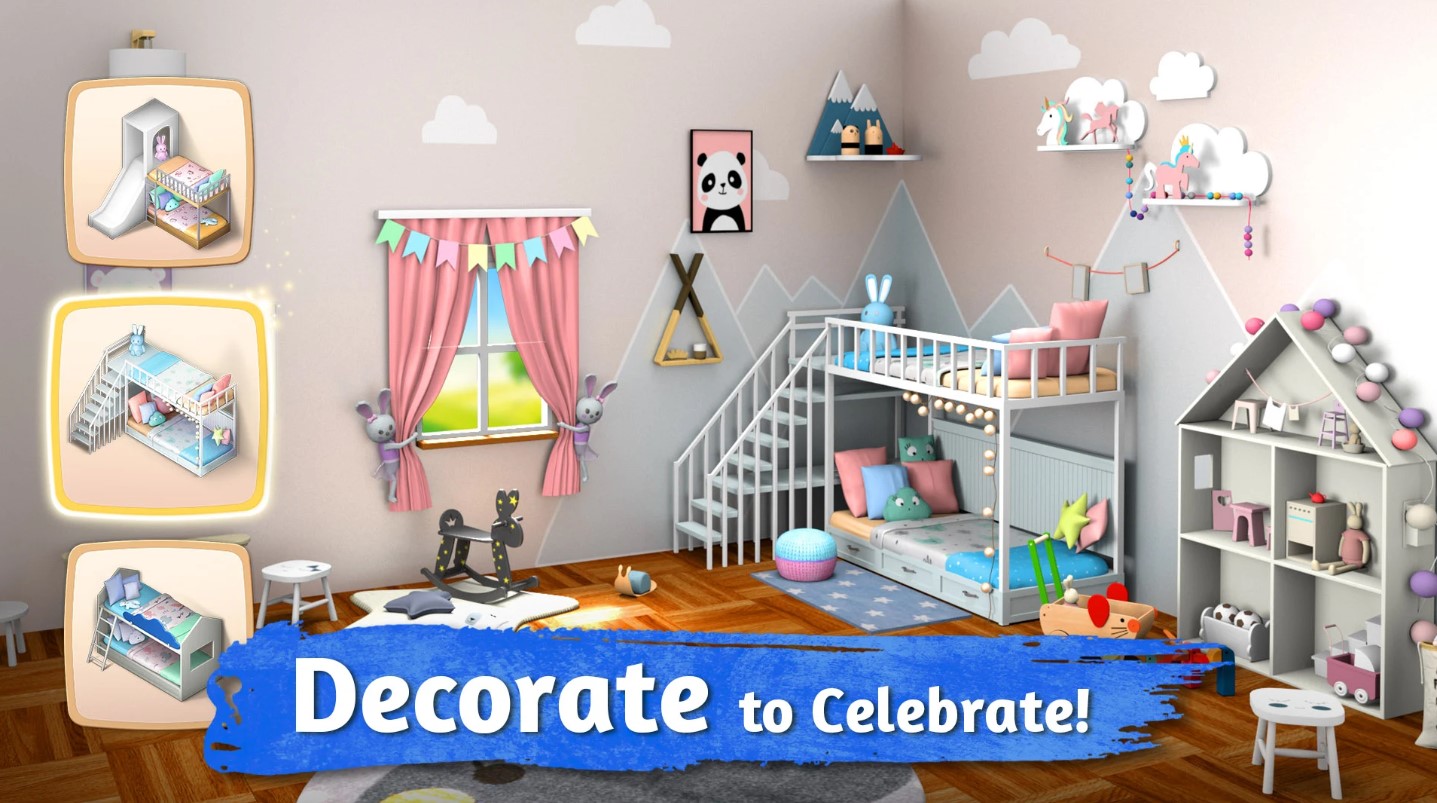 4. Kawaii Home Design
Like the previous one, this game is executed in cartoon style, inviting you to the world of paper dollhouses. Well, logically, this app will be more interesting for the female audience. But it's hard to deny that Kawaii Home Design has its own significant virtue and charm for those who would appreciate it.
The distinctive feature of this game is that here you will have not to just decorate your own house, but your own office. So this app will mostly suit those who are looking to play something dealing with furnishing and decorating the business offices.
Another virtue of the game that all the graphics are in 2D style here. It is not because the game is obsolete, but to highlight the sticky and sweet atmosphere of it. Moreover, the absence of too complicated animation elements makes this app more lightweight for your phone's memory space.
And just like in the previous cases, here you can see the works of other users and vote for the best that you've liked. When your design is getting popular you get rewards. The only disadvantage that here the choice of the decoration elements is not so wide as it was in the 3 first apps and it makes it look more like a childish game in some aspects.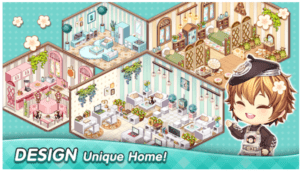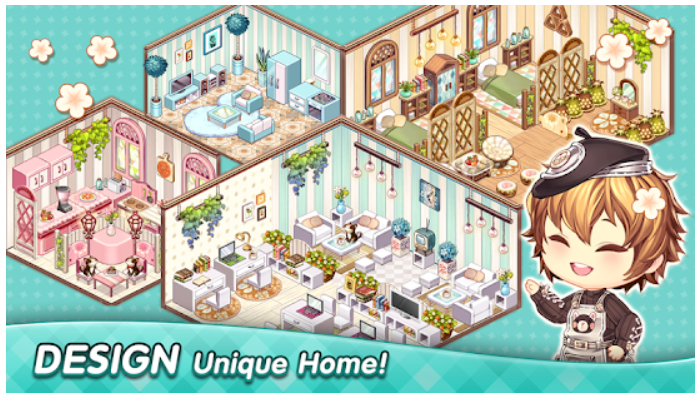 5. Design Home
Design Home is one of the coolest home decorating games on the market with thousands of elements and possibilities to express your creativity in decoration. One reason why it gained such a demand is its incredibly realistic graphics.
Sometimes you can even look at the pictures, made in the game, not able to distinguish them from real-life photos. So practice your designer skills with the high-end elements of furniture and decor brands.
Moreover, this game is a community, where you and other users can share the designs you have made, exchange the experience and be inspired by the ideas of each other.
Here you can choose the rooms that you want to decorate separately or the whole house. For each type of room, you will get the necessary sets of decoration elements and will be able to combine them with each other in the way you want creating your personal style.
Each piece of furniture contains a short description under it, as well as the materials for the initial design of floors, walls, pools and so on. After you are done with your decoration you can save your project, give it a name and share it with other users. If people like your work, they will vote for it and you will get some rewards.
The only disadvantages are that the app contains ads and to fully unlock all the features you will need to buy a paid subscription.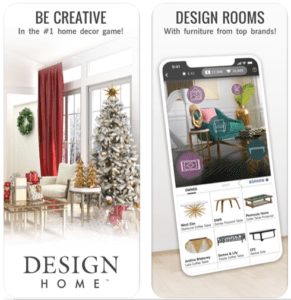 6. Home Fantasy: Home Design Game
It is definitely nice to see that there are so many high-quality apps in this category of games. In this app you are going to find all the amazing possibilities for home decoration once again, but with some special features.
What distinguishes this game form the other ones is that it doesn't really provide the high-end furniture sets and decoration elements authorized by various brands. In fact, the whole customization is up to you here and you can change the items in the way you like.
For example, choosing a sofa for your living room, you can choose the color of pillows, the color of materials and their appearance (shape, size and so on). It gives you definitely more possibilities to create something that is specifically you want, not looking back at the brands.
And the choice of decorative elements is tremendous here. You are able to choose between modern, fashion, classic, literary, austere, and many more. In this game you are going to be a successful designer, helping people to construct their dreams. Meet them, listen to their stories and create masterpieces.
You can make the game more challenging by providing a lower budget and more lean options to build something outstanding out of them. Or you can repair the old houses, giving them a new makeover, that the owners will be astonished.
The game works like a decoration puzzle that you need to collect in order to get a perfectly decorated house. Earn coins from the match puzzles to customize the rooms with a variety of decorations and furniture, enjoy the unique style of every house and the absorbing story of the hosts. With the beautiful and grace decor, transform their dream to reality.
The only dubious aspect is that the game is not updated that often, thus, if you play it frequently, it can get boring.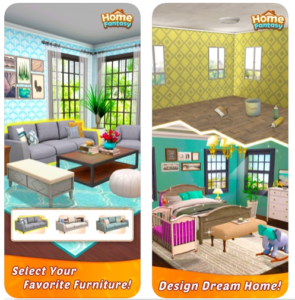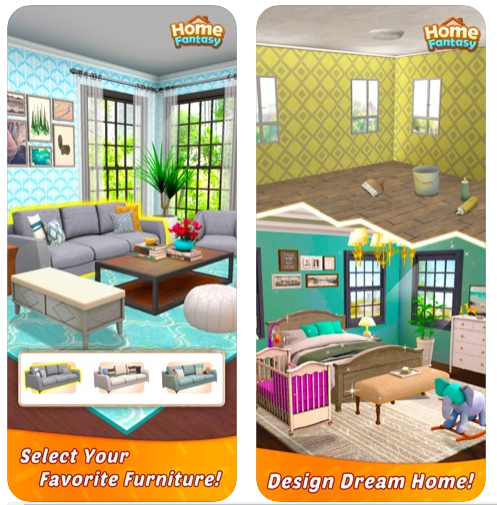 7. Home Dream: Word & Design Home
A similar game that has a little bit altered graphics so here everyone just chooses something they like. And the way thing looks in this particular app it is possible to say that it would appeal to the female audience more.
Let's immediately mention the interesting feature of this game. Here you have to solve the crosswords in order to get the rewards in the game. The more points you get, the more design possibilities you got.
And when it comes to the main story, then here (once again) a famous designer who decorates lavish houses for people. You are starting from scratch, with the very basic decoration of the walls, floors, doors, etc. All the famous furniture and decor brands ARE NOT presented here, but again, it gives you more space for your own customization of items.
As a bonus, all the client in the game that you are working with is going to have their unique captivating stories which are interesting to listen to. And sometimes those clients can have unexpected and challenging requirements but that what makes the game cool.
Create a special design for each room, whatever it is: a bedroom, a living room, a backyard… By the way, the diversity of designer styles is extremely decent in this game – choose among American, European, Japanese, Chinese and many more.
As you have designed a house, you are unlocking the next level for you to go. Before each level, you will have to solve the crossword.
The only disadvantage is that some tasks tend to repeat themselves several times.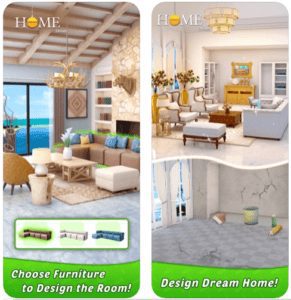 8. Homecraft – Home Design Game
Moving on, we have a more simple, but a nice app to play when you are bored. It doesn't differ significantly from the previous apps, maybe the graphical aspect of it more obsolete. But the decoration possibilities are almost the same with the wide space for customization of elements.
But still, the choice of some items may seem quite limited. For example, the app can suggest only 3 variants of the poolside benches. In total there are around 1000 items, but you will have to learn how to combine them in a unique way so your works would look authentic each time.
Homecraft also works according to the solving puzzle principle. In order to unlock a new level, you will need to solve a puzzle. Thus, all this puzzle thing might be not certainly for everyone. It distorts the main focus of the game – the home decor. In general, the app gives the feeling of an old school game that is good to play when you are nostalgic.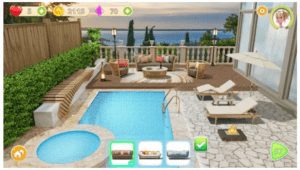 9. Room Planner: Home Interior 3D
A curious app that brings to us a little different perspective on playing house decoration games. Here you can design your house in detail. Moreover, with the ability to look at the house from the insider's eye, it gives you a feeling like you are actually in your own house.
There are a lot of decorating features. You can choose trim, tile, laminate, or parquet in each room. Also, you can pick and match the furniture in style.
By the way, the game works in offline mode. In addition, you can check whether the furniture stands symmetrically each other.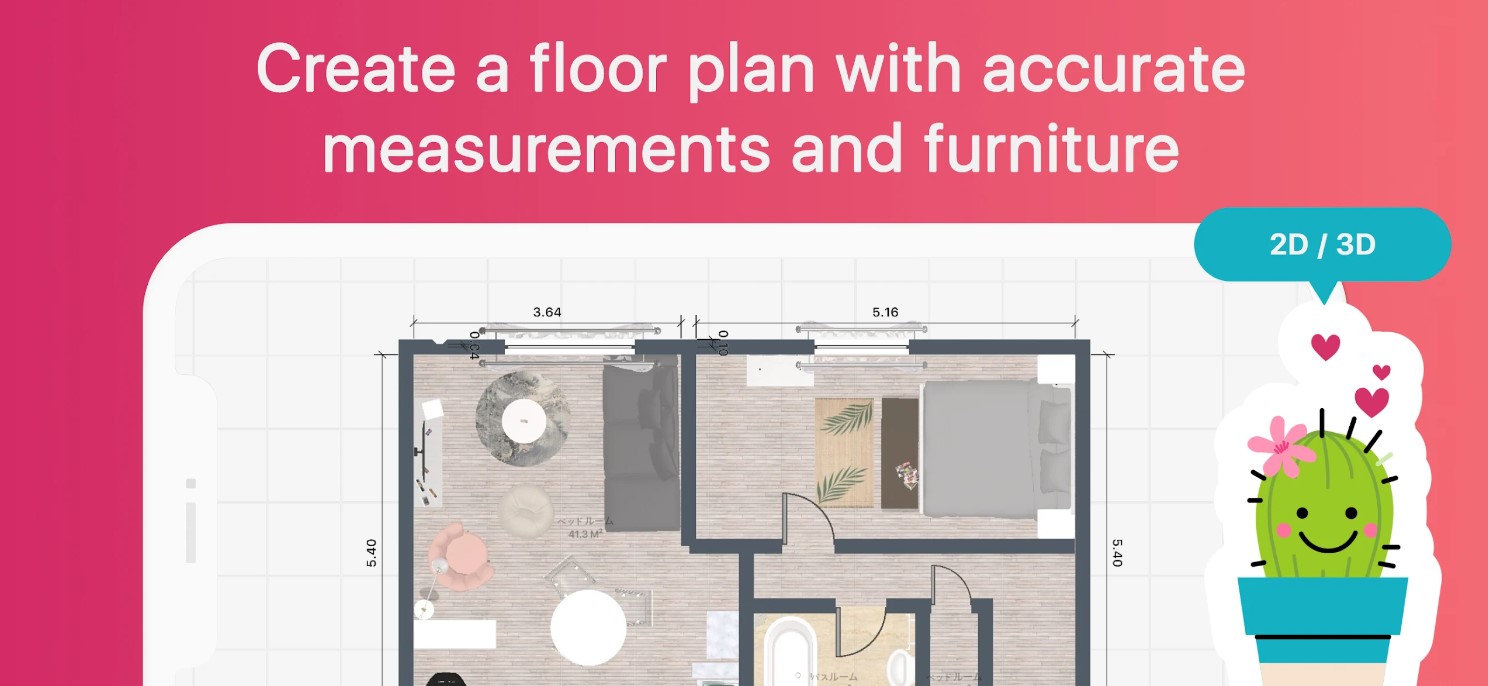 10. Fashion House Designer Games
And this is the extreme variant for those who prefer very, very cartoon style game with a fake sweet note. Well, playing this game can be fun though. Even if the style might not be liked by everyone, the developers still put much of a though in the elements and overall image.
The game is in 2D mode. And by the way, this Fashion House app differs from the previous one in the sense that here you don't have to solve any puzzles in order to unlock the levels. And here you are actually decorating a house for yourself, not for the clients (according to the game).
The choice of decor elements is quite limited in comparison with the previous games so without any significant updates this game won't hold your attention for too long.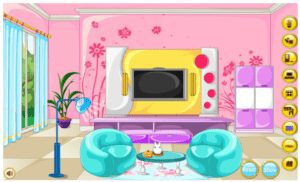 11. Home Designer – Match + Blast
New possibilities for those who like to furnish and decorate dwellings. If you are into that creation of new design variants, then this game would be interesting for you. Here you will find not only ways to decorate different houses, but also interesting quizzes that will make you think to unlock the next levels.
Here you are an interior designer who makes the best house dreams of her clients come true. Each client that you are going to get here is unique and you will have to match their expectations in order to pass the challenge. Without your help, their dreams are going to stay just dreams.
The game has qualitative 3D animation and is full of bright and remarkable details. The only thing, here you don't start from scratch – there is already a certain room with some furniture elements that you need to play around and give it the best makeover. Customize things, see what you got in your arsenal and get the score.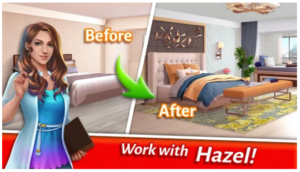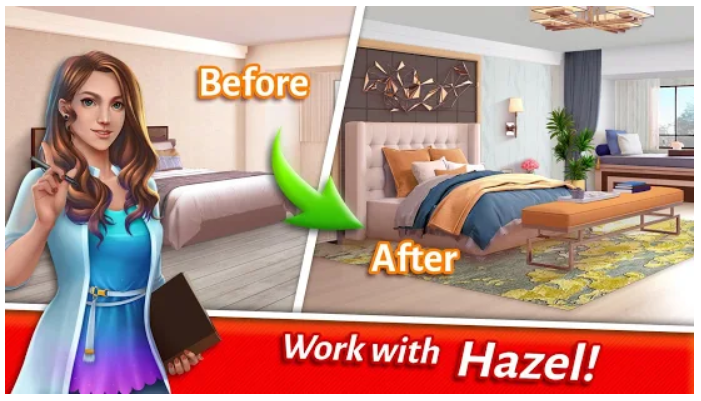 12. Wordington: Words & Design
For our list would have a better diversity, all kinds of home decorating games are included so everyone would find something interesting for them in particular. This game is executed in a more old-fashioned game style and it doesn't have that many possibilities for customization, as, for example, the first apps on our list, but it is still fun.
And if before we actually had games with the very stinky pinky atmosphere if a game was that simple, then, in this case, the broader audience would find this app interesting. It reminds of the early mobile phone games where you have to measure the space by squares.
According to the plot of this game, you are a designer named Emma and you need to redecorate the old mansion. The process of the game is also based on solving puzzles to open new levels and then you will be able to decorate a new room.
And unlike the previous games, this one stands out with the fact that it does have a full interesting plot. It has several characters with a background and the history of the mansion that you will need to rebuild and redecorate.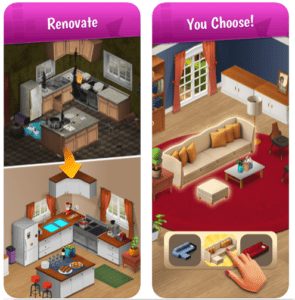 13. House Flip
For those who don't want to waste their time on stories programmed in the app and just want to try their skills in home decoration House Flip will be the best decision. Maybe this game is not the first one according to the graphic parameters but it includes a lot of decorative elements that you can combine and express your creativity.
The main idea of this game is that you are a designer of houses which are for sale. Your task is to decorate them in the way so they would be sold immediately. An interesting feature of this game is that it actually can introduce you to some basics of the real-estate business.
In order to unlock more colors and skills, you will have to constantly work on the design of houses so they would be demanded by buyers. The more items and styles you discover, the broader your possibilities to create lavish and uniquely designed houses of your dream.
And in this game, you are also capable to check out others' works and rank them. The same goes for yours. The only negative aspect of the game is that it doesn't really stand out with anything considering the graphics and decoration. Similar looks you can find in Sims game, for example.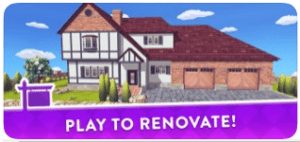 You may also like: 10 Best base building games for Android