If you don't have access to cable or satellite television, here is the alternative for you called IPTV (Internet Protocol television). With it, you will be able to stream hundreds of TV channels on your phone and, in some cases, on your TV-set.
Though there are tons of IPTV apps on the App Store and Google Play, not all of them are powerful enough for high-level broadcasting. However, we have chosen the leaders among them.
Your only task is to become familiar with the list below, choose and install the most suitable tool, and enjoy smooth streaming.
1. LazyIptv Deluxe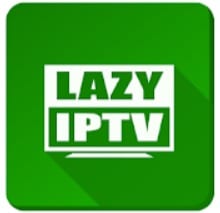 The first tool to be reviewed is LazyIptv Deluxe. By the way, it is the most top-rated app available on both platforms at once.
The app represents a powerful IPTV player for watching TV online. All you need is to purchase an IPTV subscription from your provider. As a result, you will be able to play HTTP and UDP streams. Also, the app supports links from Youtube or Vkontakte, providing smooth playing for all users.
When it comes to reviewing its tech details, it must be added that the app supports several EPG (in xmltv-format, in open-view, or archived zip/gz). A user can always switch between them while working with the app.
As for the user interface, despite several color themes available, the app's design is not so flawless. However, the functionality is quite good here, making the tool user-friendly. To be more precise, you will be able to customize every in-app detail or element, which will make the use more convenient.
Thus, to find the channel you need, you will be offered a powerful search assistant. At the same time, you can sort and manage channels, add them to favorites, group them in playlists. The playlists themselves are also adjustable. Consequently, you will be able to personalize the list, icons, titles, and so on.
The next thing that makes the app cool is the history of watched channels. In some cases, it will simplify the process of searching for something worthy to watch.
Talking about synchronizing in detail, the app supports backup and restore all the settings, including viewing history, playlists, and favorites. As for the last parameters, alternatively, you will have a chance to export them in numerous formats.
One more useful feature in the app is reminding for broadcasts. Due to it, you will always stay aware of broadcasting your favorite TV shows and movies.
Plus, the app includes a parental control system. So if you have children who are fond of watching IPTV, this very app is what you definitely need.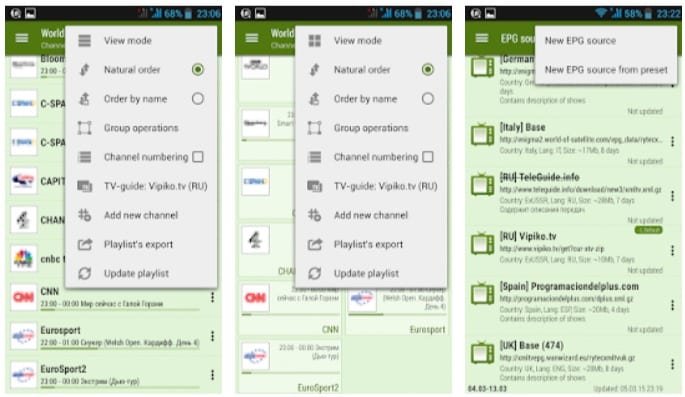 2. Smarters IPTV Pro: Player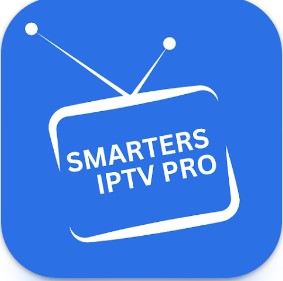 The next IPTV app that is worth your attention is Smarters IPTV Pro: Player. So let's find out its features.
With the help of this tool, you will be able to stream the content endlessly. As the app supports Xtream API, EPG, and loading M3u File / URL, it will be appropriate for almost every user. Its built-in player will do its best to make you enjoy the process of watching movies, TV shows, and other programs.
Apart from this, the app is compatible with external players, which can be useful for you. Then, if you are especially interested in watching content in foreign languages, you will surely benefit from embedded subtitles. What is more, it will be so easy to switch between the languages.
Again, the app includes parental control. With it, your children will stay protected from improper content.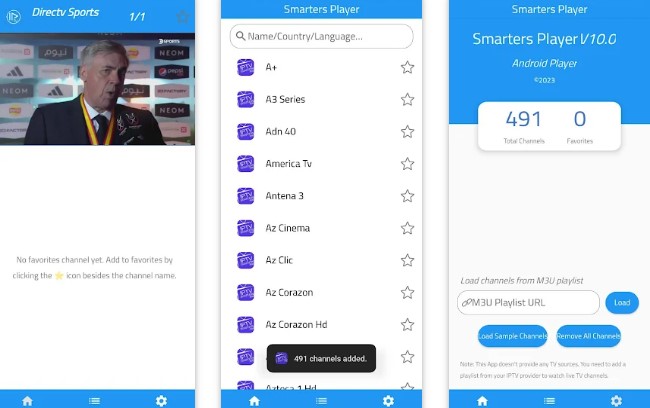 3. GSE SMART IPTV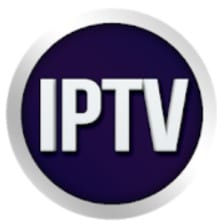 Here is one more awesome IPTV app alternative. Its name is GSE SMART IPTV.
First of all, the app supports so many EPG TV program file formats, including local and remote files, XML, zip, gz, etc. Secondly, if you need an app capable of API support automatic live and VOD playlist, this tool meets your requirements for sure. Also, it suits perfectly for live streams.
As for additional features, we can't help adding that the app contains a parental control system. In addition, each user has a chance to benefit from subtitles, both embedded and external. When it comes to the second option, the subtitles can be imported to the app in dozens of formats (DVB TELETEXT, DVD subtitle, DVB subtitle, xsub, hdmv pgs subtitle, and so on).
Lastly, you will be able to adjust the app to make it meet your requirements. Thus, you can choose any of the interface themes available. Plus, the app supports 31 languages, which is a large number.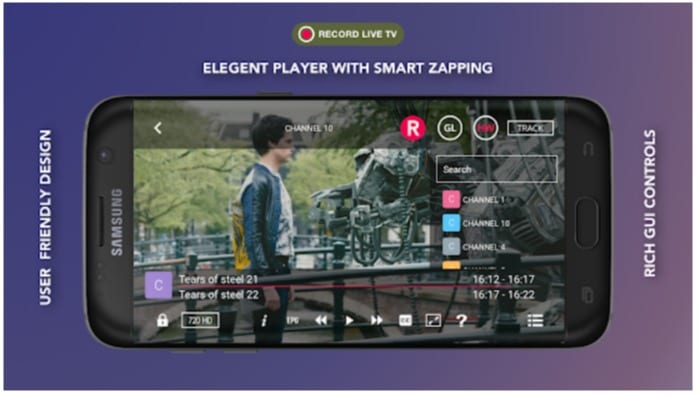 4. OttPlayer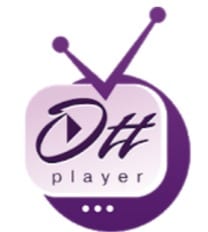 OttPlayer is one more must-have app for you. Thousands of users across the globe have already appreciated it.
To begin with, the app supports such protocols as HLS, RTSP, TS by UDP, RTMP. That's why we are sure that you will find the required protocol here.
To make use of the app, you will need to follow their official website and create an account there. Then, you will be asked to upload the m3u8 playlist received from your provider. After that, snap it to your gadget, and that's it.
Again, the tool will provide you with an opportunity for managing the channels within the playlist, add your favorites to a special section, and turn on the parental control. In a word, the app includes only the most necessary features. There is nothing excessive here.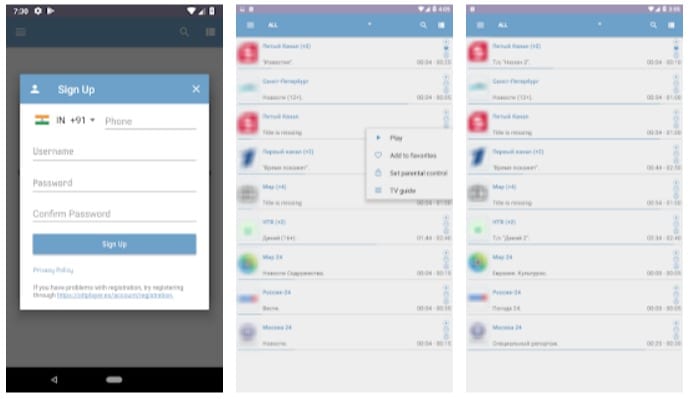 What about installing some apps to view the content independently from television? If your attitude is positive, here is the list of free movie apps for Android & iOS 2020.
5. IPTV Smarters Player
Now let's review IPTV apps available only for one of the operating systems. The section starts with IPTV Smarters Player.
Well, you will need to prepare your M3U playlists to start work with an app. After that, the app's EPG will become your assistant in playing the content of channels, managing them, and so on. And, of course, saving channels to favorites will be possible as well.
In this case, the main distinguishing feature is the app's capability of casting the content on your Smart TV. However, keep in mind that streaming on a Smart TV will be available only after a subscription.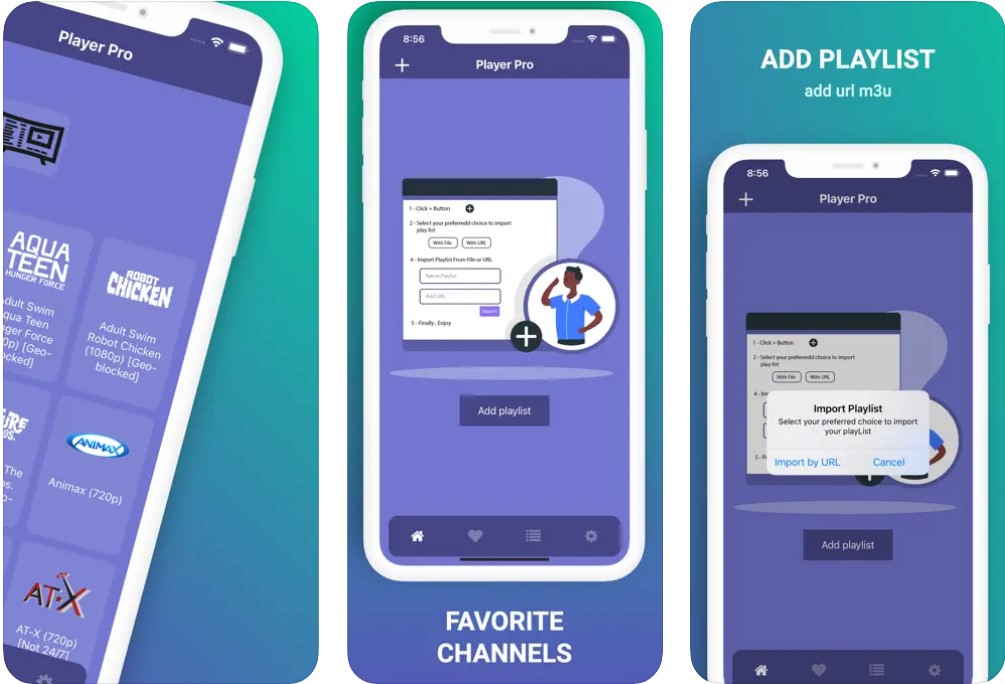 6. OTT Navigator IPTV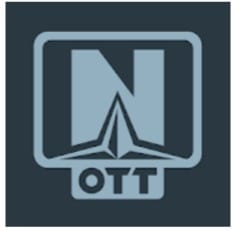 As for an analog for Android devices, we highly recommend you install the tool called OTT Navigator IPTV. What is it famous for?
With this tool, you will be able to view IPTV with no difficulty. To make the app convenient for you, the developers included the capability of adding channels to favorites as well as grouping them into sections. In some cases, the app can do it automatically. Besides, you can use the app's search system to filter channels on various parameters (countries, genres, etc.).
Apart from this, you will have archives at your fingertips. Saving playback progress with automatic resume from a previous moment will be so suitable in this case. Also, the playback speed is the feature that most users prefer.
As a bonus, the app will remind you about the shows and movies you need. If you don't want to skip something, this very feature is what you need.
What is more, if two programs are broadcasted simultaneously, you can view them both at once. To do this, you can use the picture-in-picture mode. With it, you will be able to view two streams on your screen.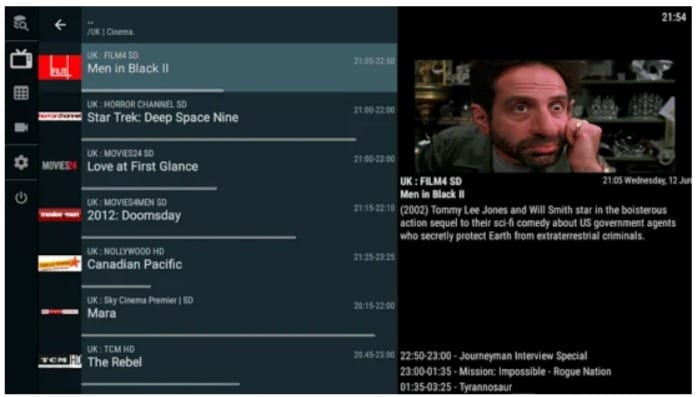 7. IPTV Player: play m3u playlist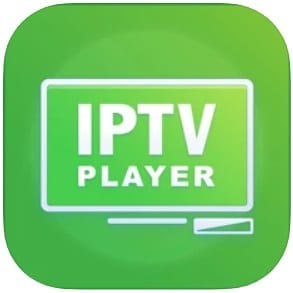 If you want more, that is what you've been searching for. So if you install tools from the App Store, choosing IPTV Player will be a good idea.
Firstly, you will need to load playlists (local and remote m3u, xspf, jspf). After this, it will be high time to start streaming the content. Thus, you will be able to scroll the playlists received from your provider, create your own ones, edit and even share them with friends. Also, if you need to have access to playlists across the devices, the app will suggest you create an account. With it, using playlists on multiple devices will be possible.
One more distinguishing feature is that the app will allow you to stream the content on your TV-set via AirPlay or Chromecast. What is more, each session will be safe for your children because of parental control.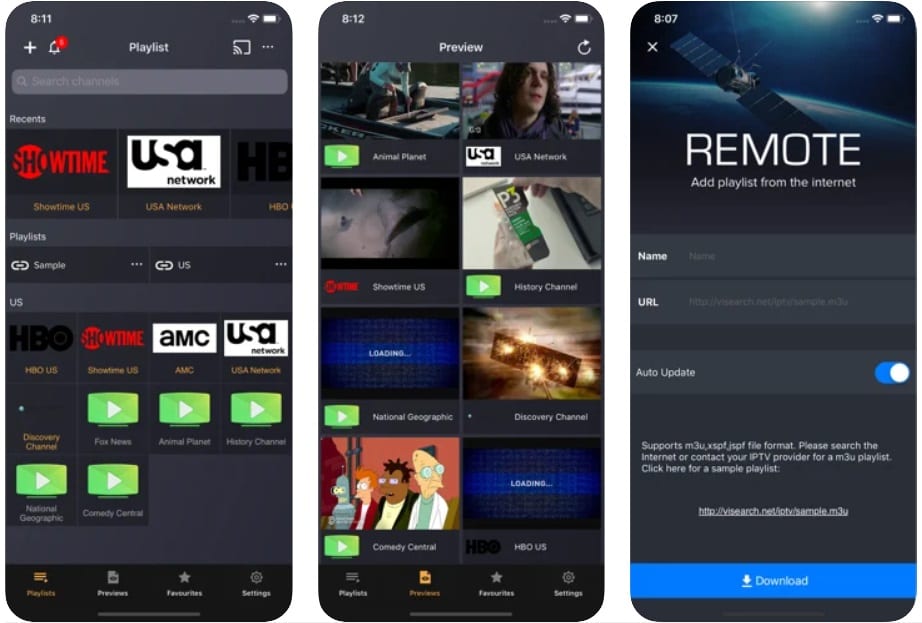 8. XCIPTV PLAYER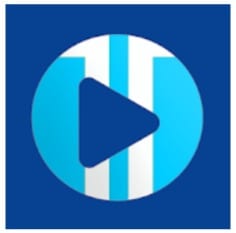 Going back to the apps from Google Play, we should definitely include one more app to the list. Its name is XCIPTV PLAYER.
In this case, the tool comes with two built-in players with Adaptive HLS Streaming. At the same time, the app's usage will be smoother with the EPG, helping you in every matter.
In addition, the app is really perfect in navigation. Thus, apart from the categories suggested, you will be able to group the content by yourself. It can be done by adding this or that item (TV channel, VOD, and series) to Favorites. As for the last point, you can add the whole series, only particular seasons or even episodes.
In order not to miss your favorite TV programs, we highly recommend you to use the built-in Reminder feature. All the notifications will be adjustable from A to Z.
If you are going to use the app on several devices, such features as Backup and Restore will be especially useful for you. As a result, the settings will be synchronized across several devices.
These are the key features. So let's better review the distinguishing ones. Well, with this very tool, you will be able to schedule recordings. Just choose where do you want to save it (both internal or external storage available), and the app will make a recording with no difficulties. So it's not a problem anymore if you are busy while your preferred TV shows are broadcasted. Since now, you will always have a chance to watch them recorded.
Besides, as we were talking about several devices, the app can be installed on your phone, tablet, and even TV set. Once again, in this case, the app will automatically synchronize your settings.
Plus, there is built-in VPN support in the app. It will provide you with access to even more content.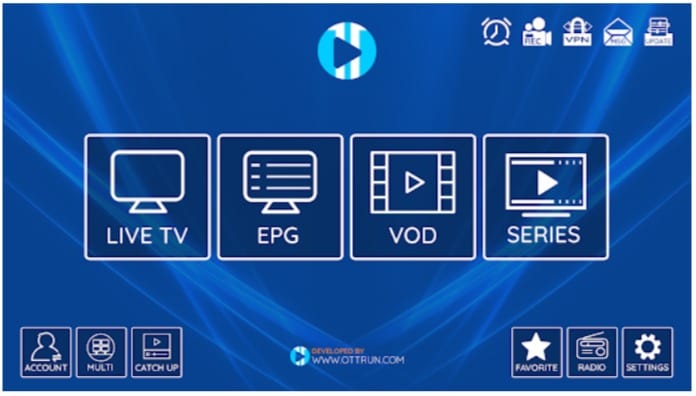 9. GSE IPTV Smarters • Live TV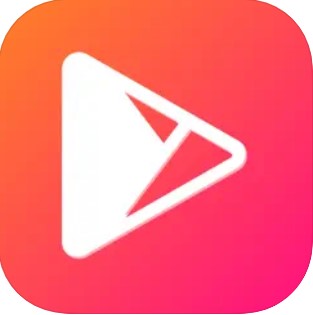 How do you feel about reviewing one more app for iOS? If your attitude is positive, here is the tool called GSE IPTV Smarters • Live TV.
Right after you install the app and import the M3U playlist, you will have all the channels provided at your fingertips. By the way, as for alternatives for importing, you can use any mail app or even a Pastebin link.
The player itself supports numerous formats, including m3u8, MOV, mp4, MPV, 3gp, Mkv, ts. We guess here you will very likely find the format you need.
Are you planning to use the app on several devices? The fact is that it can be installed on iPhone, iPad, Nac, and even Apple TV. If you are going to cast the content on multiple gadgets, you will definitely like the app's synchronization via iCloud. As a result, all the channels will be stored in one place and available for casting on numerous sources.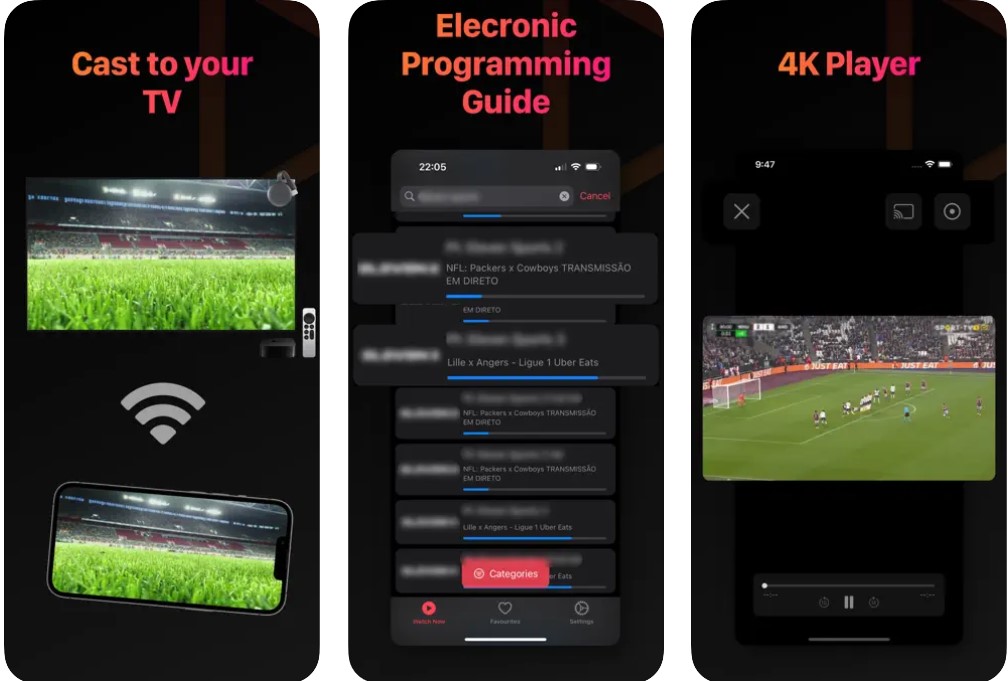 You may also like: 10 Best live streaming apps for events (Android & iOS)