Paper Trading means trading with a virtual balance. There is neither a need to open and connect an account in the exchanges nor to invest real money. It allows you to try trading, evaluate potential, and gain trading skills and strategies. We have gathered the best apps dedicated to trading for you to gain experience in trading.
So we hope trading will be profitable since it completely mirrors all price movements from the real trades. The only difference is that losses and profits are not reflected in your real balance. In addition, we recommend the article Best Multi Crypto Wallet Apps where you can store currencies.
1. eToro: Investing made social
This choice is optimal, thanks to the fact that it allows receiving substantial dividends in the long term. The platform allows each investor to follow the remarkable traders, which by the way, there are many on the platform, as well as to copy their strategy.
The main difference from other markets is that trading is free for the investor and there is no transaction fee. This unique platform provides the best conditions for social trading, foreign currencies, stocks of famous companies, and commodities.
In addition, it describes itself as a social investment environment, giving a unique opportunity for each participant to make deals and communicate with each other using the same application. It also allows following the work of any chosen trader, thereby learning the basics and details of trading.
In addition, you can use filters to find the right trader, which will match the profitability, drawdowns, aggressiveness, and other specified parameters. And you can choose a real or virtual portfolio and financial funds for personal investment in the personal account.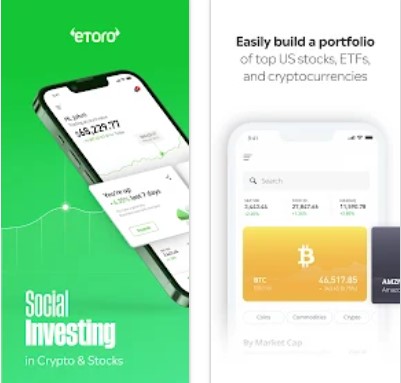 You may also like: 7 Best NFL Prediction Apps
2. Webull: Investing & Trading
This is another broker that offers its customers favorable partnership conditions. Webull is full of user reviews, which proves the point that it is one of the best investment applications available at the moment. Moreover, you can take advantage of fee-free investing in stocks, ETFs and others.
In addition, the app provides investors with various trading services, including market data from over 100 exchanges and different countries. In addition, you can find everything here, stocks, bonds, commodities, currency instruments, derivatives, and cryptocurrencies.
Moreover, there are no commissions, no trading platform fees, and no minimum deposit requirements. There are also no account maintenance or management fees. Webull, of course, has one of the most outstanding features of paper trading, which will allow you to trade beyond regular trading hours.
You only need to open the menu to activate it. The simulator allows you to use both limit and market orders. It allows you to track your favorite stocks and ETFs from one page and go to the details of each asset with a single tap.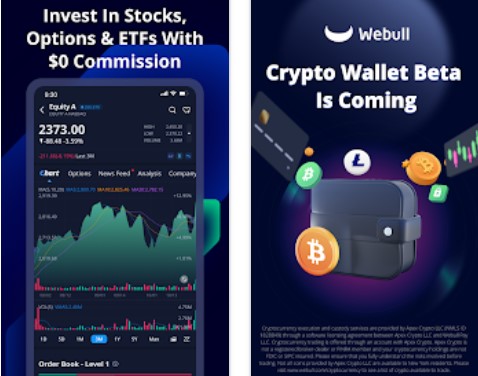 3. moomoo: Trade Stocks & Options
Moomoo offers its trading platform, which is suitable for both beginners and experienced traders. It is also intuitive and easy to use. The application is user-friendly with a simple navigation design. The platform requires no minimum deposit, which is ideal for beginners in trading.
Deposit currencies include not only USD but also HKD and CNH. It is a feature-rich platform that offers real-time charts of an entire trading history. It also provides access to all analytical functions, including economic data releases and profit and loss reports, so you can view investments on the go.
Outstanding features include the availability of many customizable charts, ticket or asset search functionality, and special alerts. And there are several order types, including limit, market, stop-limit, and others.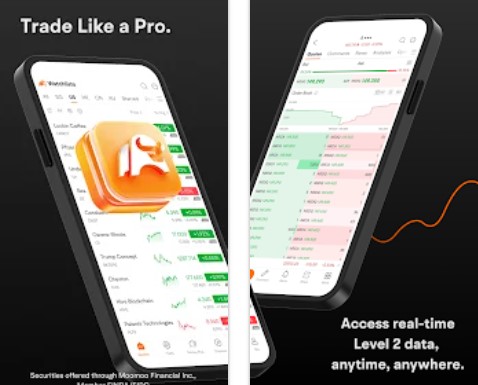 4. FXCM – CFD & Forex Trading
This platform for only $50, which is the minimum deposit, will offer you a chance to try your hand at trading. Moreover, the platform is easy to navigate and the FAQ section solves all the major problems. It also appeals with an extensive knowledge base and education center offering a lot of information on trading strategies for beginners or experts.
Beginner traders can open a demo account to learn more about trading in the market without risking their own money. Moreover, a demo account offers dummy capital in USD, EUR, or GBP. You can choose the platform you want to use for demo trading and take advantage of all the training materials and tools available to regular traders.
In addition, there are video lessons, seminars, webinars, and online courses to gain even more profound knowledge and understanding of trading. In addition, different trading markets are available, for example, CFDs, cryptocurrencies, commodities, and world stock indices.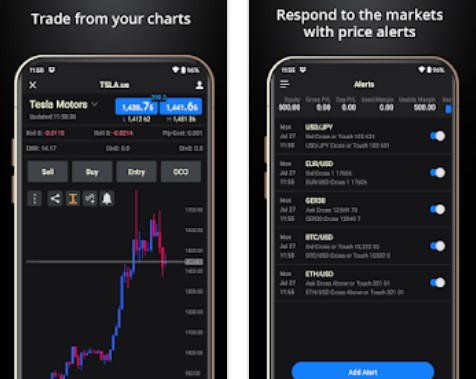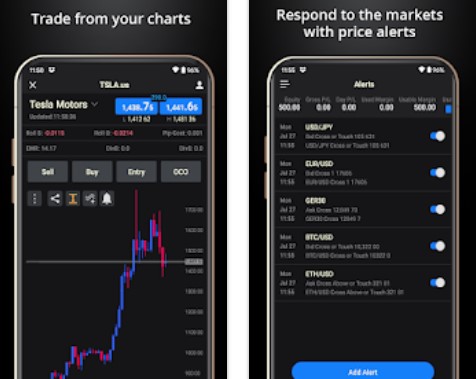 5. Trading 212
Trading 212 is a platform for trading and long-term investing. You can start for free with a demo account to get a better sense of the app's functionality. The app gives you access to unlimited trades without commissions. There are over 10,000 real stocks and ETFs from the US, Germany, Spain, and other countries in the service.
There are mobile and tablet versions of the service. Also, the platform offers you some user-friendly educational materials. You can use smooth and simple charts for analyzing your income. Besides, it has a significant technical support service that works even on weekends.
In addition, it is possible for you to monitor the growth of your stocks and set a mark when you want to close a trade. In addition, you can check out news in the trading world in a nice custom newsfeed right in the app. You will also be able to chat with other users of the app and watch your investments in real-time.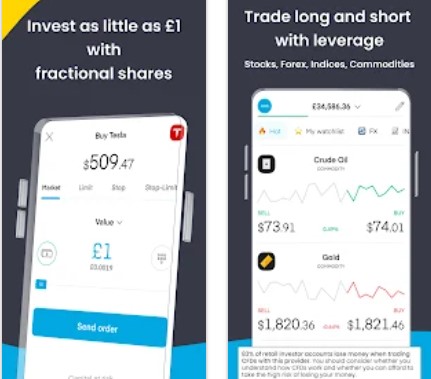 6. BTC Bitcoin Paper Trade tradin
This application is used as a stock exchange coach for advanced paper trading. At the beginning of trading on the exchange, the app suggests you a demo account, which will help you to comprehend the functionality of the app and calculate an investment strategy as well.
The service will give you free unlimited access to virtual trading BTS or USD. Paper Trade will present you with over three hundred stocks and one hundred cryptocurrencies with real-time rates.
Besides, it will give you all the relevant information and advanced tools for stock trading and technical analysis. The app will also give you reports in the form of a chart, thanks to which you will be able to monitor your progress.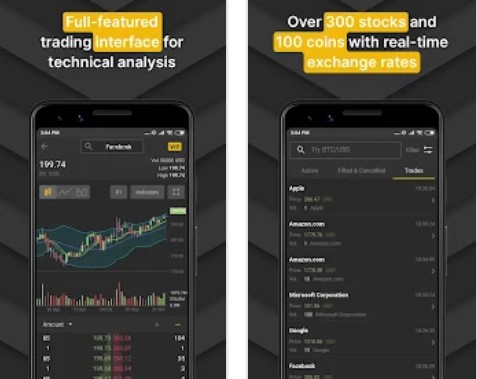 7. TD Ameritrade Mobile
This application offers comfortable, intuitive features for first-time users. In addition, the platform provides analytics features that help you better track price movements. This gives you access to trading charts, market trends alerts, and the ability to make deals on the go. Also, this platform stands out from other brokers in terms of commissions.
It does not charge any additional fees other than the pre-negotiated ones. Also, all trading platform data as well as market data, news, or any other thing is free. Moreover, the trading platform has official extra trading apps that work in collaboration with your account.
In general, the app has only three tabs, such as quotes, research, and accounts. The first displays the charts, news, options, and ETFs related to the stock.
The second one has the main headlines of the day, technical index overviews, economic events of the day with various reports, the most profitable and most unprofitable sectors of the day, as well as news, videos, and so on. The last tab, however, displays an overview of brokers' account balances, as well as positions, orders, history, and documents.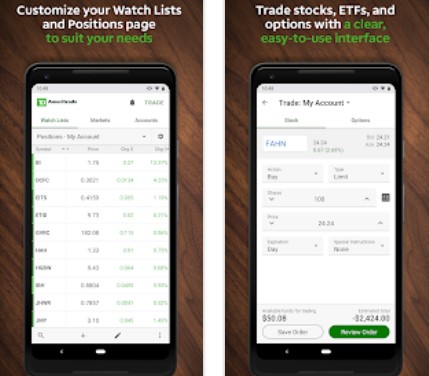 You may also like: 9 Best Apps to Buy Land in Metaverse
8. IBKR Mobile
It is the largest online broker that offers a wide range of financial instruments. It has everything from stocks to futures options. In addition, you can trade on 150 markets in 33 countries through one account. The platform also supports transactions in 25 currencies.
The app is notable for the fact that at first you are greeted with a test that is supposed to assess your trading knowledge and abilities. So, based on your answers, IBKR will determine the level of access to trading certain stocks. For beginners, the platform offers tutorials.
The application has everything to make trading on a phone just as convenient as on the desktop version. There are basic tabs such as account, portfolio, and currency conversion. The last tab is required if you have an account, not in USD. Also, you can buy a particular paper according to the set parameters.
In the Favorites tab, you will find a list of preferred ones. The portfolio contains all stocks. Also, there is liquidity. Besides, you can generate documents concerning your financial statements.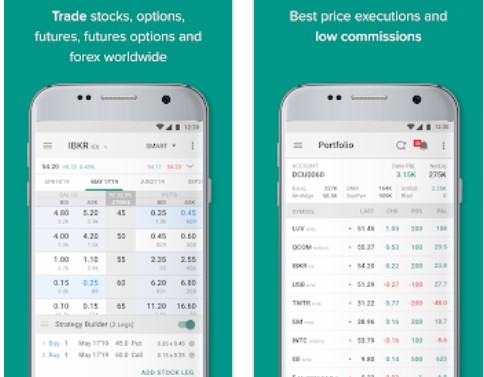 9. Vantage: Trade Smarter
Vantage offers you trading instruments including margin trading, commodities, and indices. The app has very easy and pleasant functionality. It allows you to easily open an account, manage your funds and also gain access to a feature-rich trading platform.
Moreover, it provides you with extensive app functionality that will help you make trading easier on the exchange. You can customize your watch lists and monitor your trades. Also, you can set up alerts about your trades. In addition, you can open your demo account and try out the program in advance.
In addition, you can open your demo account and try out the program in advance. Besides, you can also set orders, which will protect your profits and limit your losses. The platform has tech support daily.
In addition, you can check out all the news in a nice news feed in the app. All your trades will be displayed in the calendar. The app also will give you information on all your trades and calculate the percentage of profit or loss.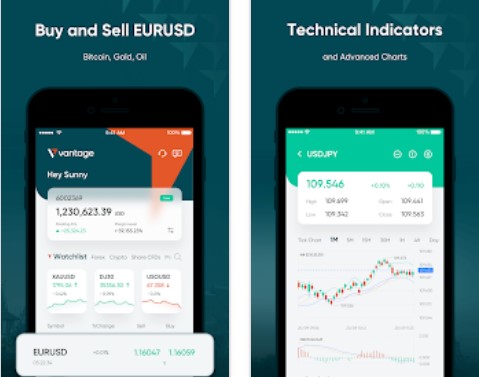 10. TradeStation – Trade & Invest
The app trading platform offers excellent analytical and research tools. And most importantly, the app features high-quality educational content, expert analysis, and a social network. All it takes is a single trading account to access thousands of instruments, including stocks, bonds, futures, options, and cryptocurrencies.
The application has an extensive arsenal of instruments. In addition, you can trade using the mobile, desktop, and web versions. The demo account represents a sort of demo account where you trade virtual funds to test strategies and see if the platform is suitable for you. Here you will see several types of trading accounts.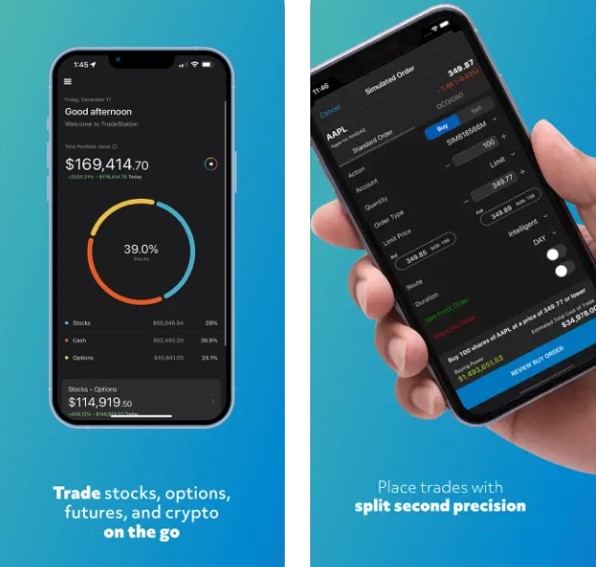 11. Robinhood: Stocks & Crypto
It is a free brokerage service for trading and investing in stocks. The platform previously dealt only with traditional securities, such as stocks and ETFs, but now it is possible to make crypto trade. The main advantage of the brokerage app is that all transactions in it are free.
In addition, the application itself will select the most favorable exchange rates for you, based on the analysis of various trading platforms. Moreover, the program tracks the changes in the rates of several cryptocurrencies and the latest news from the cryptocurrency world.
Also, users note that this service, unlike others, has instant transfers without delays. Furthermore, in contrast to many other exchanges, the application supports limited orders. If you set a certain price in the settings, it will automatically buy or sell whenever the rate is equal to the selected level.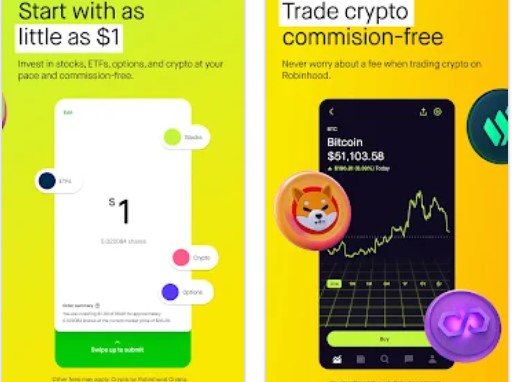 12. IG Trading Platform
This application is perfect for those who have been dealing in the market for a long time. However, this app is not suitable for everyone since the program includes foreign exchange trading on margin with leverage. The minimum deposit is 450 USD. To start trading in the market, you will need to pass verification.
Besides, it has nice functionality. In addition, the application has a demo account to help you better understand the features of the service. You can easily create a list and monitor your favorite markets using this account. It allows you to split charts up to four times to compare timeframes.
You will be able to react to price movements and communicate with other people who are trading the market in real-time. One of its main perks is 24-hour support that works even on weekends. In addition, you can stay up-to-date due to the Reuters newsfeed.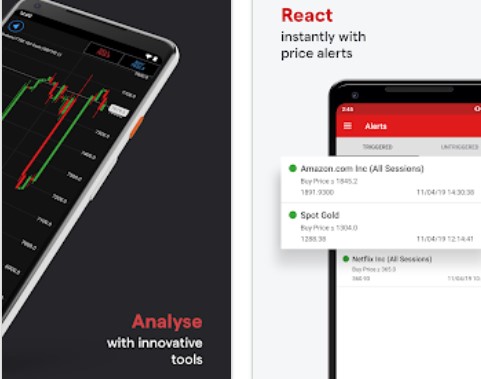 13. Paper Trading School & Game
This is a professional game for all those who want to learn more about securities and crypto trading. It presents functionality to manage risks, increase potential income, and minimize possible losses. After a standard registration procedure, you will get a simulator of real securities trading.
In addition, the application has the most detailed guides on setting up all the instruments, describing the characteristics and functionality. Also, here you can compete with your friends on the leaderboard. This simulator will reward you with bonuses for your investments.
In addition, you can get bonuses just for logging in to the exchange every day. Moreover, all of your virtual trades will take place during the opening hours of the real major exchanges around the world. You can turn on special notifications to be ready for future life pace.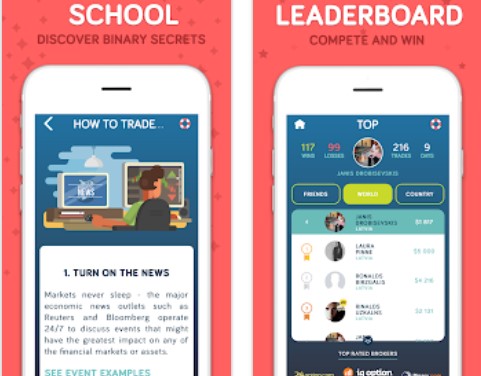 14. Acorns: Save & Invest
It is one of the interesting projects offering to reinvest your change from various services and stores. So, the change from a basic grocery store invests money for you when a change gets to your wallet in the app. So you can invest by opening a current account and creating one for your loved ones.
In other words, the program allows you to link your card and invests a percentage of your transactions automatically into a personalized stock package. It will also give you extra benefits by opening an account. However, you are not allowed to choose the stocks by yourself in the program.
The platform asks the user several questions during registration. A personalized stock portfolio is generated after answering them. If the user is willing to take risks, he or she will be offered a more aggressive stock portfolio, otherwise, a moderate or conservative one. In addition, it invests in bonds, stocks, and real estate.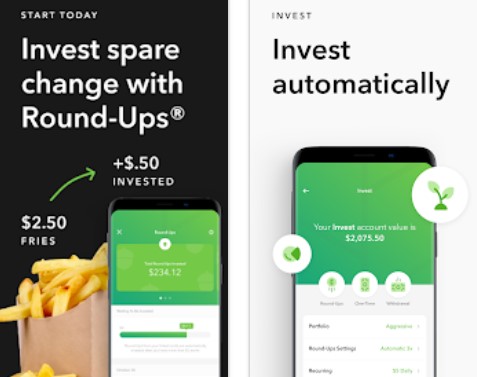 You may also like: 9 Best My Track Cost Calculator Apps
15. Stash: Invest & Build Wealth
This is one of the trading platforms that is best suited for beginning investors. Unlike many other exchanges, the platform allows you to invest in smaller stocks. The distinctive feature is that you can buy stocks with gift cards. In addition, the app makes it possible to practice profitable trading.
This way, complex stock exchange processes are presented in the most simplified form. You will also have a choice of what stocks you want to invest in. For instance, there are various cryptocurrencies available right now.
In addition, beginners will receive a custom portfolio with papers selected by the program itself. Besides, there are special training materials that are suitable for beginners and advanced traders.