Walking is an essential part of human life. Not only does it strengthen our muscles, but it also improves our respiratory system. Moreover, researches show that medium-paced walking improves our thinking process. We all need to remind ourselves to walk a little bit from time to time. The apps in this article are great if you are not able to manage to do so.
This article will break down the different types of apps. There are some that will help you walk more, while others will simply act as a reminder. In addition, your well-being can also improve breathing exercises. With this activity, you can get acquainted by using the apps in this article. So let's start talking about walking.
1. Walk with Map My Walk
The most popular walking app on the web would be like nothing better than a reminder. Walk with Map My Walk is a multi-user platform that has many useful features. Not only will you motivate yourself to start walking here, but also to do it as regularly as possible increasing the distance. In fact, the app is fitted with many bloggers who publish their progress on a daily basis.
The routes presented will help you to start walking more. This is where there are a number of routes. It is possible to create routes yourself, or you can choose the roads that are offered. Later you can add them to your favorites to walk these paths again.
First of all, Walk with Map My Walk gives you access to an account of the distance completed, the number of calories burned, as well as the time, speed, and pace of your walk. The second is that it collects your data and does analysis. This way you can always see your improvements.
Among other things, the system offers you to do various different types of activity. You will receive personalized recommendations for each sport and tips to improve your performance. Walk with Map My Walk offers a variety of plans such as exercising at home, outdoors, and with a trainer. Enjoy it all with the premium version of the app.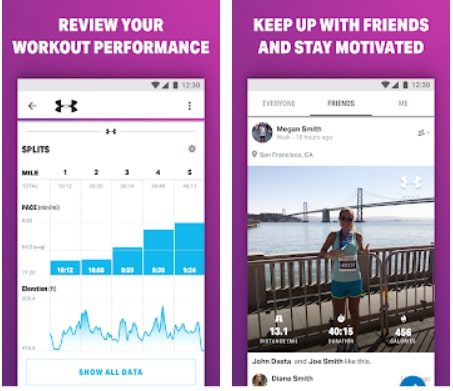 You may also like: 10 Best Indoor Cycling Apps in 2021 (Android & iOS)
2. Walking App – Walking for Weight Loss
This fitness app will be a motivator for you to start walking. It will remind you of your planned physical activity such as walking to keep yourself in shape. Walking App is designed especially for those who want to burn their fat.
So why would it be a good one? First of all, with its help, your walks will never be boring. Indeed, you will be equipped with your favorite music, podcasts, and just motivation from the app while walking. You can change all of these things in the app's settings.
Secondly, there are a variety of route trails near you. The app has a tracker that will be responsible for your activity. When the workout is over, you will get a detailed report on the calories burned and the nature of the route taken. In other words, you get a detailed report on how much you walked, at what pace, and at what speed.
All in all, you get an app that will plan your walk and perform it according to your desired physical activity. Take control of your body. The convenient thing is that users can build their walking schedules. Afterward, you will receive notifications on your phone, which will inform you about upcoming walks.

3. Winwalk – Rewards For Walking
Winwalk – Rewards For Walking is a kind of walking counter, which is designed to receive bonuses for completed activities. There are many promising and successful companies such as Amazon, Google, Starbucks, Nike, Target, and many others working with this app. The app will remind you that it is time to get bonuses, discounts, and incentives. You get them every time you walk.
That way you will not only improve your physical condition, but you will also earn something interesting. Indeed, the app has good functionality in terms of activity. First of all, it counts your walk and the number of calories burned. And secondly, it does not require you to provide access to your location. This means that your smartphone will waste less energy and save the battery.
Also, the app will not be able to collect your data. Winwalk – Rewards For Walking do not synchronize with other fitness applications. So you get a secure app that runs on either the built-in pedometer or accelerometer sensors. The app does not ask you to register and fill out a profile. All you have to do is to download and set it up so as to regularly remind you that you should take a walk.

You may also like: 11 Best Pilates Apps for Android & iOS
4. Walkster: Walk & Track Steps
You can remind yourself of walking with Walkster. It will help you walk more and more every day. The first thing to do is to choose a walking plan that suits you. There are many to choose from. For example, you can choose programs for burning calories, reducing stress, and improving well-being.
In addition, you can set your own speed and distance. Then you will see a calendar in which you will mark your activities with all the data. Every day you will be reminded of a new walk or perhaps even a jog by this app. It is convenient that at the end of the physical activity, Walkster gives you a map of the route taken. That way you can always walk the same path again.
The app is rich with different types of workouts that come with motivational audio and video materials. Your walk will always be done correctly. In addition, you will get recommendations from experienced trainers without using additional resources. This way you can solve your jogging problems and start walking a lot more.
This app is useful because you can always transfer your data to different devices by registering. You can also personalize the theme of the app based on your own preferences.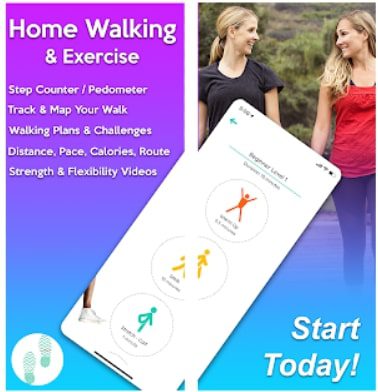 5. StopSitting
You need to use the StopSitting app to start moving. It will help you to improve your active state. You can set the intervals you need to start moving in the settings. Also, you may choose active reminder hours, for example, from 7 a.m. to 11 p.m. Users will be able to receive notifications on an hourly basis.
The tracker itself will calculate how often your movements occur using a pedometer. This app is good to use if you are used to a sedentary lifestyle. Indeed, it will inform you that it is time to move. Notifications will be sent to your phone. There are different color themes available for all users.
You will also be able to set up sound notifications right from the basic settings of your phone. Basically, StopSitting is only for motivating you to start moving.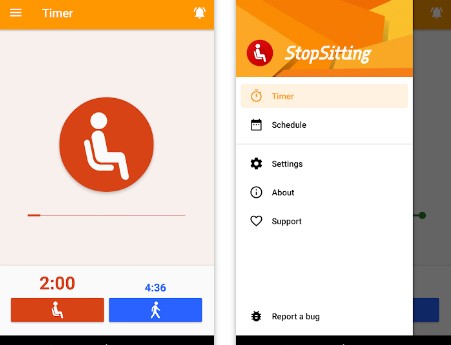 6. Fitbit
To improve your physical and mental well-being sometimes it is enough just to walk. With the Fitbit app, you can reach your goal of 10,000 steps a day more often. It will remind you of your lack of steps and prompt you to take a short walk outside. When users accomplish the goal, they receive rewards that help boost up their motivation.
In addition, not only does the app take care of your activity, but it also takes into account your sleep patterns, heartbeat behavior, changes in weight, and nutritional intake. It also allows you to share your progress with your friends on all social networks and messengers.
The Fitbit app is convenient to use if you like to analyze your statistics and want to track your improvements. So your walking will be counted in terms of a duration time, the number of calories burned, and the distance you completed. It will collect the data on your walks and determine the average number of steps you have walked.
This way you will always know that you are moving outside the standard range of motion. As a reminder, you just have to give access to the notifications and you will see the necessary messages on the screen of your phone.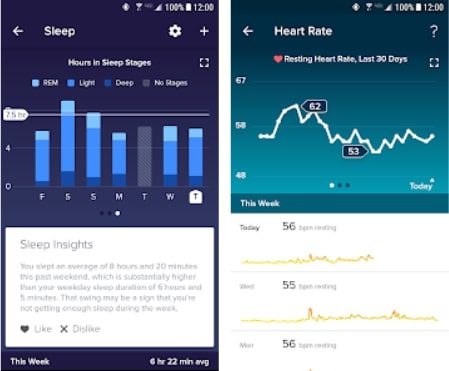 You may also like: 9 Best sleep talk recorder apps for Android & iOS
7. Google Fit: Activity Tracking
The developers of Google Fit note that you need to walk briskly for 30 minutes every day to feel good. That is why they advise you to get this application as well as the SmartWatch, which will keep a close check on your activity. You fill out a profile in the settings section, where you specify your basic data. Users can set up Google Fit so that reminders will be popped up at a certain hour of the day.
The app's algorithm, in turn, offers you a daily goal. Keeping performance is provided by a smart tracker, which will tell you the nature of your completed activities. Moreover, it is convenient that you can use Google Fit to connect to other fitness applications. That way your data will be distributed wisely.
You will be able to track your activity, sleep, and mental state. Furthermore, you will receive daily recommendations to improve your condition. Meet your daily goal to fill all your indicators to 100 percent. Also, you can change your workout type into boxing, swimming, pilates, yoga, and many others.
Google Fit users in combination get their own trainer, activity reminders, and a great feeling of well-being. The developers of this application work with feedback from their users and come up with new interesting features. For example, they have added a tracker of breathing and heartbeat with just a smartphone camera in the latest update.