The United States of America, 50 US States Map, Capitals & Flags – American Quiz app was created for those interested in geography! The app contains interactive quizzes, which develop a memory for names, spatial thinking, and help to open the mind.
You may also like: 11 Best zombie tower defence games for Android & iOS
With this app, you can learn all 50 states of the United States of America, all 50 state capitals, the state flags, and outline maps. To start learning, take advantage of two teaching tools – cards for quick memorizing or a table with main data about the state. After it, check your knowledge.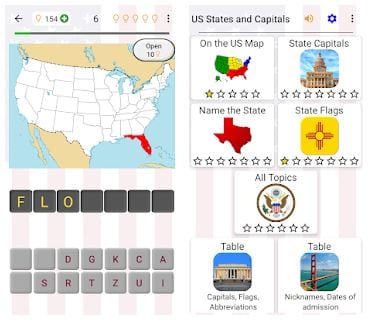 Rest assured, the learning will be fun! You can choose tasks from different groups, for example, guess the name or postal abbreviation of the state highlighted on the US map or the flag, name the state capitals or state nicknames. Maybe do you interest in the recognition of a state by its geographical borders?
Or can you answer the dates of entry into the Union? Be sure, you will find an activity for yourself! Because, in each group, you can choose a game mode. The first mode is a spell check, where you also can choose a level – easy or hard. In this mode, from the proposed letters, you will need to create a word.
The second mode offers multiple-choice questions with 4 or 6 possible answers. Do not be afraid to answer incorrectly, you will have 3 lives. The third mode is a time game, where you need to give as many answers as possible in 1minute. Can you answer 25 questions in a row and earn stars by setting a record?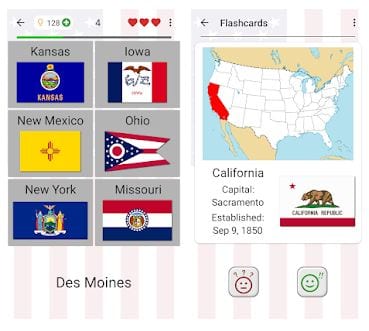 The app interface is very intuitive and facilitates quick memorization. We promise, that with the help of this app you will easily gain new knowledge.
You may also like: 7 Cool apps that make you look skinny
You can also download additional levels, for example, guess cities and national parks. And for complete assimilation of information, memorize in different languages, because the app is translated into 14 languages! The developers have created a great app. Recommend!