Have you ever been considered the possibility of being a sleep talker? As the study finds, the vast majority of those, who are prone to sleep talking, are usually not aware of it. Sleep talking can happen to anyone out there regardless of age or gender. However, there are certain conditions that may provoke sleep talking: stress, medication and sleep deprivation are among the top causes.
You will be surprised to learn that sleep talk can hugely vary from person to person, from voicing a few words and swearing to carry on full conversations with an unseen communicator. One way or another, sleep specialists claim there's usually nothing wrong with talking while being asleep. And this condition can be regulated with a mild fix in a lifestyle.
Ready to find out if you're one of the sleep talkers' team? In this article, we've charted 9 best sleep talk recorder apps that will help you learn more about yourself, your partner or a roommate. Give these apps a try and learn more!
1. Night Lab
This app is designed to provide you the best sleeping experience possible. It offers various options for different tastes and needs. It records the sounds during the night and analyzes the results to let you know more about your sleeping trends. With the help of the app, you'll figure out whether you snore, talk or walk in your sleep. And this is just a tiny part of what this app is about to bring you.
Do you have difficulties while falling asleep? Just open the app and play a soothing game made specifically to help anyone to beat insomnia. Otherwise, turn on relaxing sounds that will help you release the tension accumulated throughout the day and get ready to fall asleep in no time!
The app is created in darkish colors, which makes it nice to work with during the night or early morning and also excludes any discomfort that might be caused to sensitive eyes. So if you are an Android user, try this app out and enjoy your bedtime at the fullest.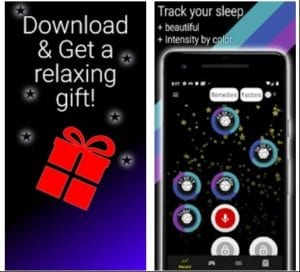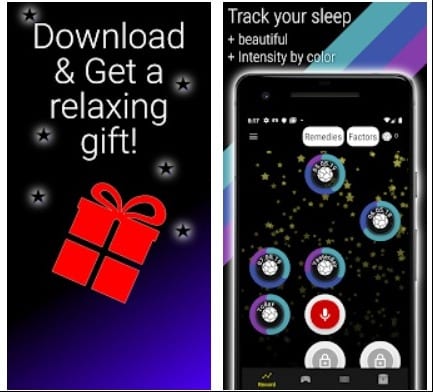 You may also like: 8 Free drink water reminder apps for Android & iOS
2. Goodsomnia Lab
Another decent variant for Android users. This app is pretty much easy to work with, it records snoring and other sounds during your sleep. In case you're having problems with snoring, this app is definitely what you are looking for.
Not only does it record the sounds of snoring, but it also analyzes them by constructing a graph and giving you a detailed report on your sleep. Moreover, with this app, you can forget about the morning stress when you have to wake up to the annoying sound of your alarm.
The alarm that this app has will wake you smoothly at the needed time. The design feature of this app is also a distinctive feature. If you are into esthetic you will love this app, made in a minimalistic style it looks pretty up-to-date and will surely bring you visual satisfaction.
An interesting fact is that the developers of this app didn't stop on the app alone and made a further way to creating a special device aimed to cure snoring. As they claim, the device has to work with muscle stimulation and looks similar to an ordinary electric toothbrush.
Plenty of people struggle with sleep problems, whether it's snoring, insomnia or not being able to have proper sleep at night. Try this app to learn more about your sleep and to get access to sleep improving advice. Besides, it is essential for your health in general.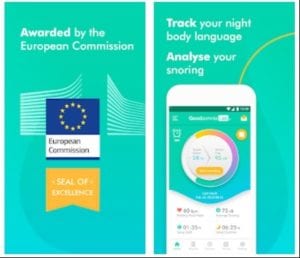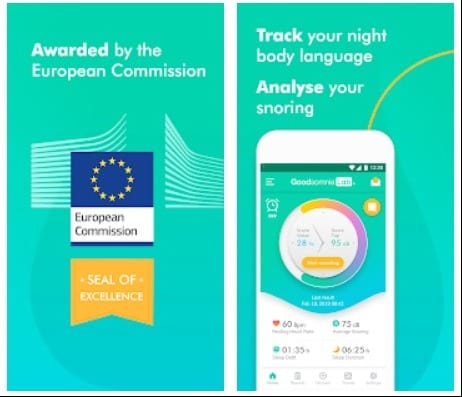 3. Sleep Talk Recorder
Here is the app for iOS users which does deserve our attention. This Speel Talk Recorder has gained 5 million downloads and it's daily used by people from all parts of the planet: UK, Sweden, Germany, Finland, Norway, and many more countries.
The app is released in a variety of languages, so the problem of understanding won't occur with this one. An interesting fact about it is that it's been helping to record sleep talks already for over a decade. However, take into consideration that it is not fully free, sp later it may ask you to pay to continue listening to your recordings.
The app starts recording only if it catches a sound, freeing you from having to listen to prolonged and sometimes blank recordings. It makes it possible to collect the history of your recordings and to mark your favorite ones. Apart from that, it saves the battery charge of your phone.
Another curious feature here is that you will be able to listen to sleep recordings from other users and to share your own with the outer world, just give your recording a funny name and let it out. For those who need it, it is compatible with iPhone, iPad, and iPod.
So trust the recording of the sleep to the professionals who have already been working with it since 2010 and get deeper into studying the nature of sleep talking.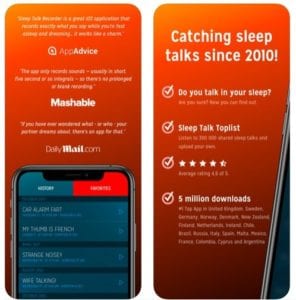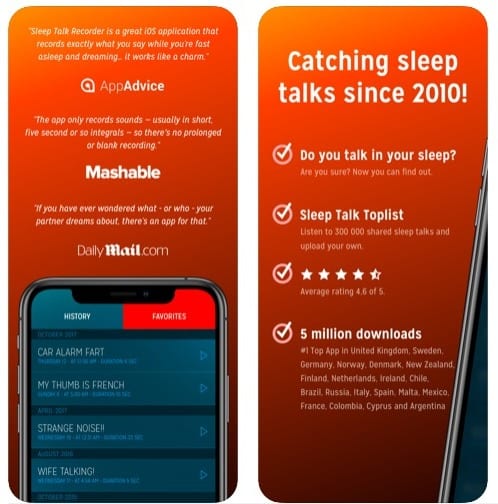 4. Dream Talk Recorder
This particular app is compatible with both iOS and Android systems. It is an easy-to-use app with simple settings. It records snoring and talking as well as any other sounds during the night. With this app on your gadget, you will easily figure out whether you talk or snore in your sleep.
It is used worldwide by more than 4 million people. By the way, did you actually know that only 5% of the world's population talk during their sleep? Are you that lucky one?
Besides, you can record your partner or anyone in the room and have reliable proof in case they didn't believe that they actually snore at night. Just as the previously viewed app, this one makes it possible to listen to other users' recordings and if you want you can let them hear to your sleep talking or maybe snoring whenever you want to.
The app is made in black-and-blue colors and there's a high probability, that you will like the icon representing someone resting in a hammock under a starry sky. The interface design of the app looks really nice in soft blue tones.
However, it may seem to you plainer than in previous apps that we reviewed. Well, since Dream Talk Recorder is free software, be ready that it will have some limitations in it.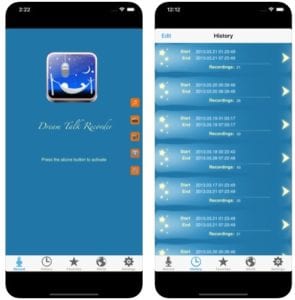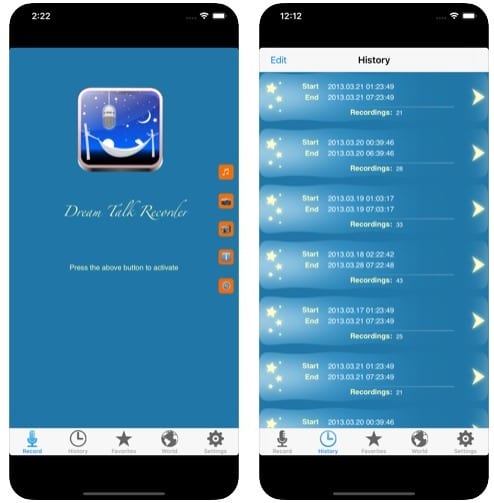 5. Do I Sleep Talk
The name of the app speaks for itself, the creators aimed to give the answer to this question by developing this app. You can take your chance to find out if you talk in your sleep, and if the answer is "yes", learn how often you do it and what exactly you are talking about.
Well, talking in your sleep may be funny and cute but sometimes it can cause some awkward situations. For example, if you don't know that you are asleep talker then certain situations may occur, like, you are spending your time together with your groupmates at the camp and all of a sudden they hear you're talking at night.
Or your partner, whom you are mad about, finds out that you are mumbling something, breaking their sleep.
As some of the earlier presented apps, this one starts its recordings only when there is a noise, so you will not have to listen to lengthy audio, wasting hours of your time. It also has the function of time-delayed start, which is, by the way, pretty useful, as very few of us fall asleep the very moment we get into beds.
You can adjust the sensitivity to eliminate catching of background noise. It records while the screen of your phone is locked to minimize the battery consumption. The app is available for iOS users and is adapted to different languages.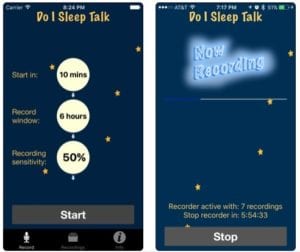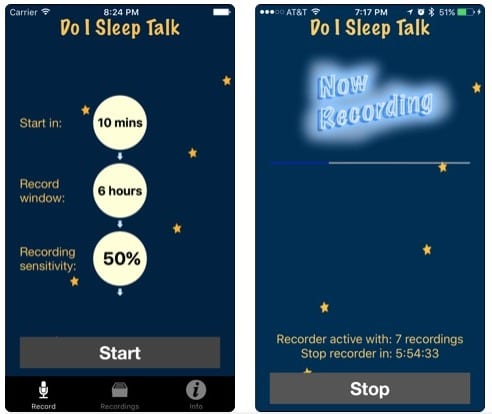 6. Dream Catcher
This is one of the easiest apps from our list in terms of usage. Recording your sleep conversations and play them in the morning is extremely easy with it. The app stores previously recorded files, which you are able to delete whenever you want.
Moreover, Dream Catcher also makes it possible to delay the recording mode for up to an hour. Android users should definitely check it out, this Dream Catcher was made specifically for your devices. By the way, did you know that almost 50 percent of young children tend to talk while they are asleep?
In this app, you can edit your recordings and mark the most important ones. The only thing is that the interface design is not quite attractive in this app and it may cause some inconveniences while usage.
This phenomenon is considered to be part of their development and usually fades away as they grow. So, if your children murmur during the night don't be worried, it's natural for them to do so. Did you talk during your sleep when you were a child? By the way, sleep talking has a scientific name – "Somniloquy".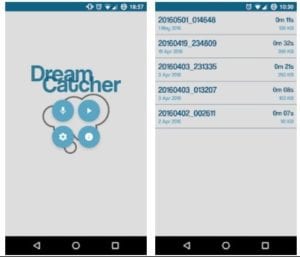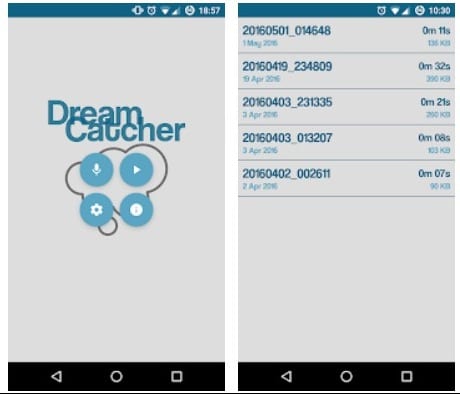 7. Sleep Talk Recorder
As you can see, sleep talking recording apps don't really stand out with the diversity of the names. Well, it is the problem of many recording apps, actually.
Here we have a colorful application that looks super digital and a little bit out-of-date. Whether that was the thought of a designer or it has not really been updated for a long time is unclear. With this software, you shouldn't forget to adjust the recording sensitivity level so that your device will catch the sounds.
What makes this app quite practical is that you can make it stop recording automatically after a few hours by pushing the button which indicates the amount of time. You won't necessarily have to listen to your recordings only from the start.
It allows you to listen to recordings in any possible order. The files may be uploaded to Dropbox or Email from the app. In general, it is not a bad app for Android users which won't occupy much of your phone's memory space.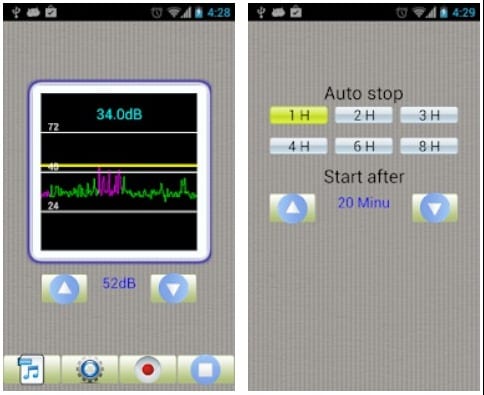 8. Sleep Recorder Plus
This app has a brilliant interface and visual design. It is not only a sleep talk recorder but also a smart alarm and a snore treatment app. It will analyze your sleep cycle and work out statistics of your sleep patterns. It has a fine built-in alarm system, which allows setting an unlimited quantity of alarms: daily, weekly, etc.
The alarm sound in this app is fully customizable. You can use given sounds or your own tracks to wake you up in the morning or go with those provided by the app. Another impressive option here is that you will be woken up at the lightest sleep phase, the app uses special techniques based on your movements to make your mornings less difficult.
What is more, luckily, you won't have to enter a password or unlock your phone to snooze an alarm, simply shake your phone and that'll be enough to turn down the sound. Sleep Recorder Plus works with iOS devices. You can even synchronize it with Apple Health to improve your experience.
Sleep Recorder Plus is not totally free, but for all the functions that it includes, it is worth it. Besides, the prices for subscription are not that unbearable and definitely justified. And, of course, the excellently designed interface is worth one more mentioning.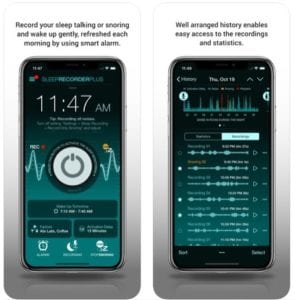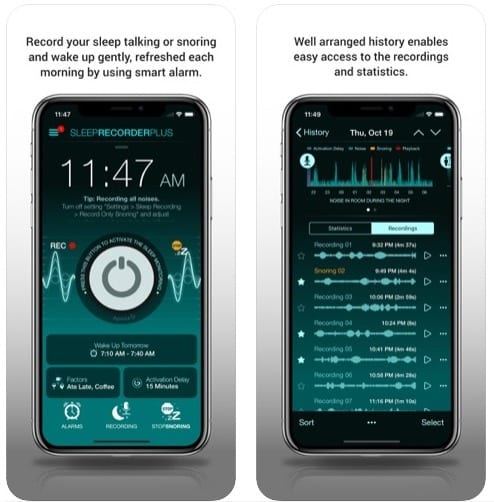 9. Sleep Monitor
The last, but not least sleep talk recorder app in this chart. This application is a true eye-catcher, it has a wonderful interface design and beautiful purple-shaded background pictures. This software concentrated on recording and analyzing your sleep cycle in order to improve the quality of your sleep.
It records all the sounds during the night. Besides, you can share your habits or particular activities that you were doing before going to sleep, such as drinking coffee or exercising in order to learn more about their effect on your sleep. The setting of the alarm is also possible here.
In case you feel a bit tense and your mind won't relax, try listening to soothing melodies in the app, they will calm your mind and ease the tension to help you have to restore sleep. As you can see this Sleep Monitor was developed more to cure your sleep problems and help its users to have a better rest at nighttime.
So is you happen to e one of those with those issues, try this app out and sleep like a baby to feel as good as possible the next day.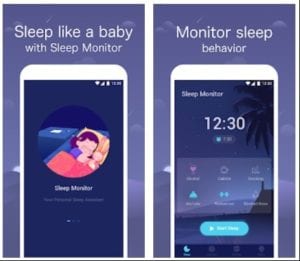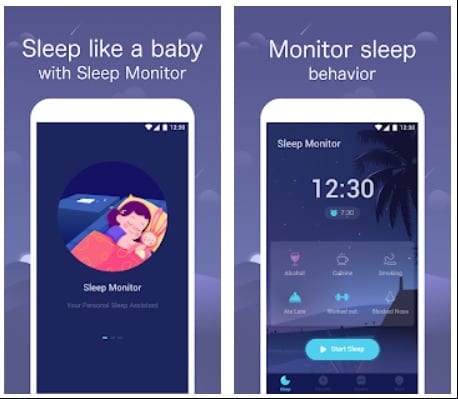 You may also like: 9 Best deep breathing apps for Android & iOS