What do you know about multitasking? It is explicitly one of the crucial features every person should have in their backup today. Combining various actions and succeeding in all of them is not the easiest thing existing so far. But how to simplify the process of multitasking?
You don't need to contemplate how it is available to cooperate with all the websites you're working at to perform several tasks at a time.
This way, the ready-made apps provide only one complex platform that incorporates all the functions and the websites you used to exploit before. Thereby, it won't take up too much place to download and collect all the apps you need; only one of them is necessary.
Besides, Free Handwriting To Text Apps can make you even more productive.
1. Floating Apps Free (multitasking)
This app allows you to open several apps at a time in one particular program, which makes it easier to collect and save all the sites and apps necessary for you not to lose anything important and not to cause problems for yourself.
Floating Apps is considered the most prominent app for multitasking existing so far on Google's servers. Comprising 41 apps like Browser, Calendar, Calculator, Social Networks, Translator, Games, and many others already brings an advantage to precisely this app to be chosen among a myriad of others.
By the way, you can create your own apps to download and open in this application by using URLs and home screen widgets. If you can't find the right floating app to fulfill your needs, create it by yourself and enjoy it. This app lets you do whatever your soul desires.
One more thing, you have access to your floating apps from anywhere, whenever you want and whatever needs are. Your context menu simplifies the transparency of the apps included and the functions they carry. You don't have to spend your precious time researching the right app to fulfill your task and do a great job.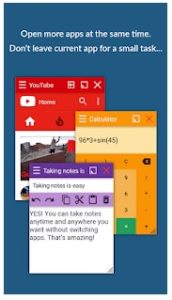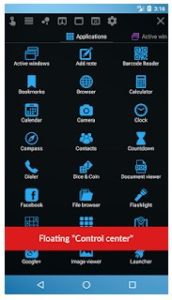 You may also like: 15 Best Apps For US Freelancers
2. Lynket Browser (previously Chromer)
Lynket allows you to easily switch between diverse apps and sites you opened in this app. If you've chosen the wrong site to follow the link, the app has a function where you can tap an X button and return to the previously opened page with no harm to your work.
This app works with all the apps which carry the Custom Tab Protocol. That means the transmission between the web page and native content becomes seamless without any missings. You can easily control the Web page behavior and make it safer for yourself and people who'll also have access to it.
By protecting the behavior of pages opened at this app, you are able to track the protection, share login info and perform many other functions, even unknown, until the moment of the usage directly comes.
By the way, there is a function that can be turned on at any moment you'll need it; it's an Article Mode. That will make you see only the information, the content of the web pages used on your app. They are presented in a pretty neat interface which makes you feel comforted and peaceful.
Also, Lynket allows you to manage your web pages individually. Some of them can be hidden and used incognito; some can be placed in one place to sort the pages in a most convenient and appropriate way to recognize them at a glance and navigate between them in the right way.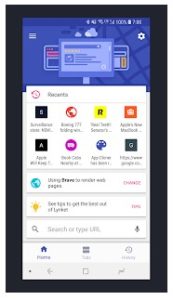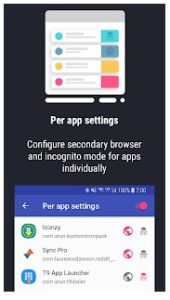 3. Split Screen Launcher (Early Access)
This app allows you to open two documents simultaneously in one app in two windows located right under each other. You don't need every time to turn from one file to another; their positions allow you to observe both of them at a time.
Less time will be spent switching from working on one document to another; you can easily combine your work and simultaneously make edits in both of them. Looking firstly on the top screen, finding the mistakes, and then turning your attention to the second one, which is located right under it.
This way, it will help you concentrate equally on both of them, not to make one of them flawless while the second one will be swarming with typos and minor mistakes. Working simultaneously on both of them will train your brain to divide your attention into several tasks, performing all of them greatly and raising the level of their uniqueness.
Also, it will help you physically to find out your brain's hidden capabilities and develop them by constantly multitasking and constantly working at improving yourself, your own abilities. It will also make you get out of your comfort zone and try something brand new.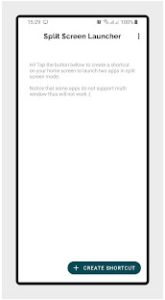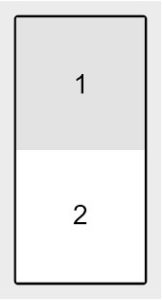 4. Taskbar – PC-style productivity for Android
First of all, Taskbar allows you to hide, put a PIN or even block some apps. If you don't like the content they include, just prohibit it, and you'll never see any information from that web or app anymore.
All the apps Taskbar consists of will be presented on its Start menu. So if you don't like some of them, you can easily manage their work, functions, offerings, and value. Thus, you can customize it in any convenient to your methods.
By the way, this app offers you two different modes of using it.
The first one is a Desktop mode available for Android 10+. It requires an external display. Suppose you want to choose this mode particularly. In that case, you'll need a USB-to-HDMI adapter that will transmit the information, the display from your phone to a PC, and a compatible device supporting video output.
Meanwhile, the second one is a Freeform Window Mode for Android 7.0+ with no external display required. This mode allows you to launch the apps in floating windows of this type of Android supportive device. All you'll need to turn on this mode is simply to follow the instructions offered by the app itself.
One more thing that should be mentioned is that the app is totally for free without any ads. You don't have to spend money to download it.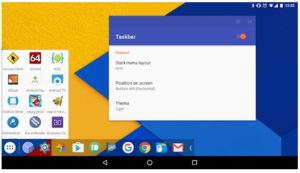 You may also like: 11 Best Planner Apps For iPad
5. Edge Screen – Edge Gesture, Edge Action
This app allows you to add any of the apps which are your favorites or just the ones you need the most. The opening is relatively easy; you should only open the sidebar panel, which will transmit you to the Edge panel with all you've added so far.
Also, you have a specifically designed panel for Contacts only. You don't need to open the Contacts downloaded on your phone; the program itself incorporates all the necessary functions.
You don't need to search for them anymore as soon as you download all the necessary apps, files, contacts, music, and many other things. All of them will be sorted neatly on the Home screen. No other system settings or adding shortcuts will be needed; all the actions will be done by the program itself, simplifying your life.
One more thing that should be done before the usage is giving the permission to the app to make the apps function correctly. No personal information will be collected; this measure has been taken only for your convenience.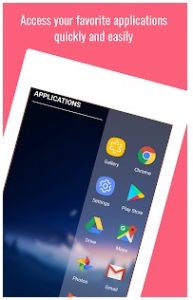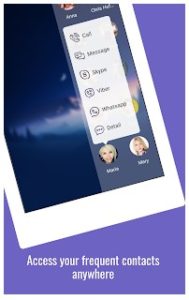 6. Panels – sidebar. Widget, contact and app launcher
Despite all the other apps created exactly for this function, Panels provides you with an opportunity to alter the size of the sidebar as suitable for you as you want. You can change the number of columns on the sidebar or change its row.
Also, you can turn on the notifications on any of the apps you have added so far. That will help you not miss any important messages, updates, or other crucial information to be in touch and follow. You have a chance to decide the colors so you can easily navigate what types of messages and notifications you've received.
To simplify your app usage, specifically designed icons that may be familiar to you are available for downloading from Google Play. While trying to find the right app, you don't need to look at the names; you can make it visually obvious.
Adding any of the apps existing so far will create this particular app less time-consuming. No necessity in using several ones, which will take more place in your devices' memory. Just download this one and use it as you want with no limitations in the number of available applications for comprising.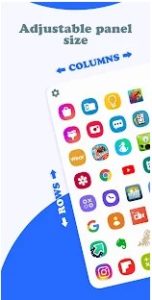 7. Everywhere Launcher – Sidebar
If you read a novel and suddenly need to open your e-mail to check the messages you received from your professor about the assignment you have, no need to close the first app.
This app will help you create additional space for work and study. Here you get an additional window with all the important applications. In addition, you can customize all the parameters of this window, and select the color and size.
One more thing which makes this app more attractive is the freedom of apps. They won't distract you from direct studying or working processes, which will make you succeed in this field.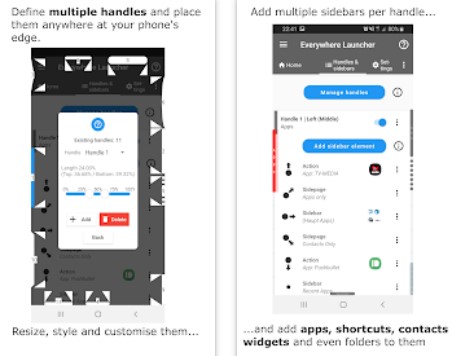 You may also like: 11 Best Credit Building Apps