The modern human being has many tasks and subtasks that are beyond the scope of ability to keep in head. That is why it is better to write down the main things so that you never forget to do them. What is the best planner? There are a great many of them on the market right now. But it all depends on the tasks and goals you set for yourself.
In this article, we have collected the best apps for iPads. Some of them support stylus and pencils, while others are characterized by striking features. In addition, another article titled Best Split Screen Apps will make working on your iPad even more functional.
1. Trello
Trello is an app that helps you plan and perform your tasks. The app is available on both your computer and phone. Once you sign in, you will be presented with a flexible and customizable platform. It has special boards. On each board, you will have the ability to build columns. This will allow you to customize any planner you are comfortable with.
You will also be able to customize the color of the columns and their sequence. You will be able to create your cards inside the columns, which will serve as tasks and projects for you in the future. This app's simplicity is one of its pluses, you can easily customize everything and use the app for teamwork.
Also, the app has to sync between the mobile app and the desktop version. In addition, you will be able to attach the documents you need, and photos up to 10 MB. You can also set up alerts to remind you of your scheduled tasks.
On top of that, the app gives you a subscription, which can improve the multitasking capability of the app. This program is excellent for those who want to manage their tasks in a flexible schedule and work on them together with others.


You may also like: 11 Free Voice Aloud Reader Apps
2. GoodNotes
This app has a more elaborate structure for organizing your notes. GoodNotes is great for students or people who need to write down their work schedules. It is extremely straightforward to use a planer that does not take a long time to get started. It will sort everything into folders and you will have no trouble finding a particular document.
There is the ability to search for both handwritten and typed notes, a large number of paper templates, and many options for customizing the design of your document. There is also a dark theme in the application. In addition, you will be able to create an unlimited number of folders and subfolders and mark them as favorites to work in comfort.
You will also be able to create charts, and graphs that will help you perform your tasks. You can back up all your records to any cloud space. In addition, the app works with many external resources such as pencils, and laser pointers.
All in all, if you want to work with several documents at once, enjoy customizing things according to your needs, investigate app functions in detail and find features in them, then this app is a great choice.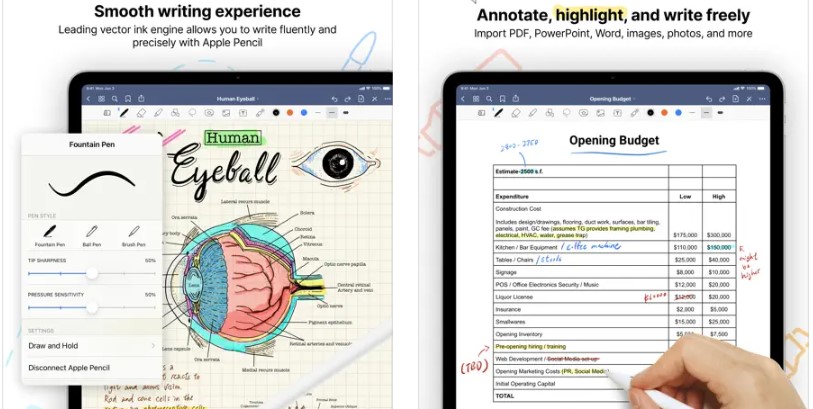 3. Notability
It is also possible to create audio notes and listen to them later. And in the conditions of a large amount of information at the lectures, it will be very useful. Also, this program is considered to be a simple tool for taking notes. The application is designed in a minimalistic style that will be suitable for those who need to write down basic things.
You will be able to create your folders and sort your notes in them. Also, you can customize their layout and move them from place to place as you like. It is possible to design the background of your notes. In addition, there is the ability to import recordings directly into your notes. It has the function of adding links, and much more.
One of Notability's nice features is the ability to create audio notes. Also, you can display your charts and ideas on the full screen by connecting a monitor. In addition, you can work with two notes at once and place them side by side. In addition, many external devices are available in the app, one of them is the Apple Pencil. It gives you the ability to write and erase your notes by hand.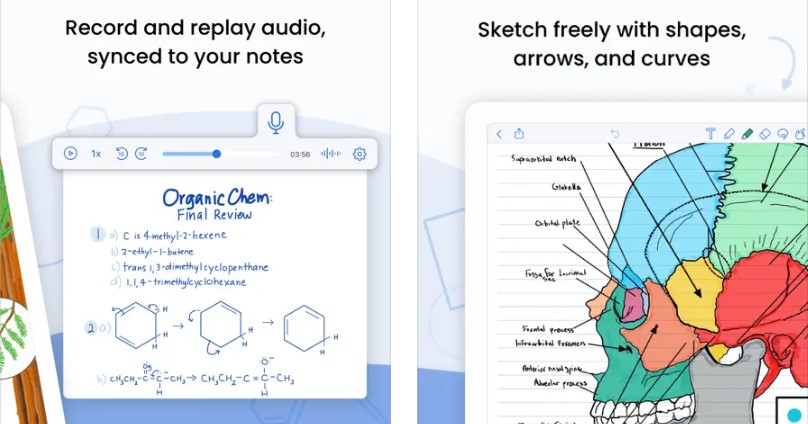 4. Habitica: Gamified Taskmanager
This is probably the most creative and out-of-the-box app that takes a unique approach to daily planning. Planning comes down to solving your tasks in a super game format. Here, as in a real role-playing game, you have to earn rewards by completing the tasks on your list. As rewards, you get new characters, items, animals, and skins.
And there are also penalties if you fail to meet your goals or go behind the schedule. Also, this planner is a social network in which you can compete with your friends. In the beginning, you will meet an assistant, with which you choose a character, choose his appearance, and set the task. The interesting thing is that you are the one who influences the growth of the character.
There are sections in the app such as habits, daily chores, and tasks. So, here you can form beneficial patterns in behavior depending on your goals. In addition, there are one-time tasks. So, if you set a goal, your character is sure to receive a bonus or mana. The to-do list can be filled with tasks of a range of difficulty. The higher the difficulty, the steeper the reward.
Each task can include several subtasks. In addition, you can assign deadlines. And you can spend game currency to buy artifacts for your avatar in the rewards store. Most importantly, the app is free. In addition, you can always take on some challenges created by the community of the app. When you pass such challenges, the rewards are usually higher.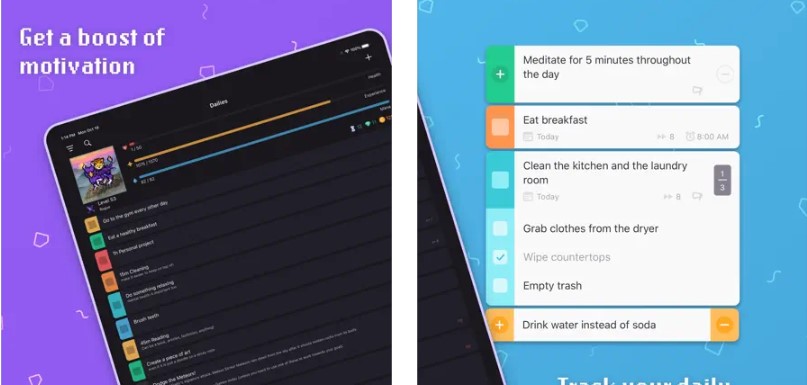 5. Pencil Planner & Calendar Pro
This program is designed to make it easy to keep a personal plan diary. You will no longer need to write down your notes on paper, and all your notes and documents will be stored in one place. You can create an unlimited number of notes, and you can export all your notes wherever you want.
Moreover, you can create your schedules and show them in meetings. It is possible to sync up your calendar on your device so all your notes will be transferred into this app. The program also includes an option for you to use a Pencil.
There is a handy taskbar where you can use markers, pencils, and erasers for charts, and note drawing. In addition, you will be able to set a dark or day theme for the application.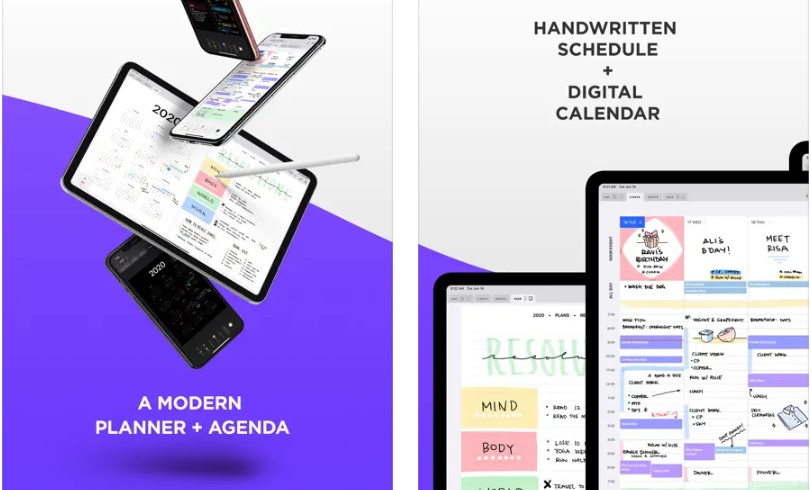 You may also like: 12 Best apps for conference calls
6. Noteshelf – Notes, Annotations
This is one of the best applications to help you create your notes. The app is great for both study and work. You will be able to create your notes as well as edit them. The app has many features, one of them is handwritten note conversion. You will be able to handwrite and create notes from them. You will also be able to convert your handwritten text into plain text.
The app recognizes more than 65 different languages. When creating notes, you can import your PDFs, documents, and images. The app offers you many resources for easy typing. You will be able to choose one of the styles and options for converting your text. One of the handy features of this app is audio note recording.
You can record your important conferences or tasks. It is possible to record as many sound notes as you like and the number of notes is not limited. Also, the app supports iPad multitasking. You will be able to split your screen into two pieces and work with two notes at once. In addition, the application has a link to the Watch. It will also allow you to create voice memos with them.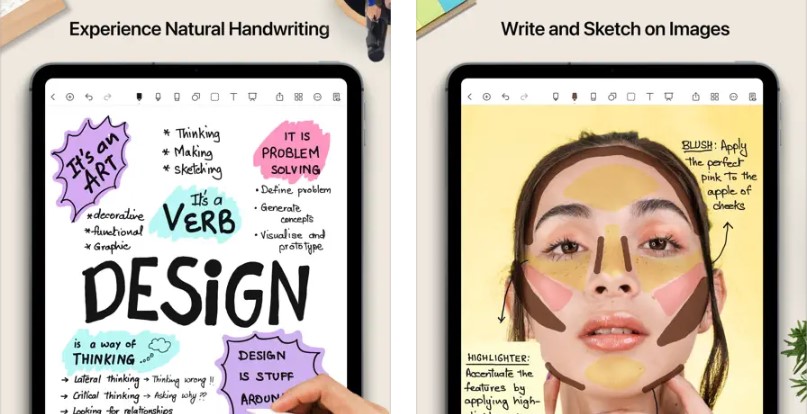 7. OmniFocus
This personal notebook will help you reach your goals and create your projects and tasks every day. You will be able to sort them by tags and navigate to your desired notes. The app is great for multitasking. You can create an unlimited number of tasks and notes in the app. The app is designed for both iPhone and iPad devices.
When you create your tags, you will be able to sort them as you want as well as modify them. You can also click on the icon which will display your tasks and your calendar events. This will display your calendar events to make it easier for you to view your notes. You will be able to view all notes that you kept on your device, right in the app.
Highlight the notes that are important to you and keep your favorites where you want them. You can add graphs and audio recordings to your notes. This will help you get specific. In addition, you can create notes without having to go into the app. Just ask Siri what you need to write down.


8. Fantastical Calendar
We have included in our list a planner that combines a standard calendar with useful features. In terms of design, the app is hard to distinguish from standard Apple apps. The panel on the left is the calendar, and everything on the right is your goals and tasks. The calendar shows all upcoming events and can add new ones.
If you are a user of the Reminders app and you use it to set scheduled reminders, they will automatically show up here. All events are integrated into your calendar, just like any other task. In addition, important events like anniversaries and birthdays are displayed with photos and animated icons.
You can also detach the icon from the status menu and move it around the screen as a separate element. The app also has an auto-complete event feature, where you just have to say what you want to do. Each event is marked with a colored circle. Its color changes depending on the calendar to which the event belongs.
In addition, you can change the theme of the app, using your device during the day and at night as comfortably as possible. Another great thing is the search. A keyword search displays all related calendar events in chronological order.


9. Any.do: To do list & Calendar
Unlike other apps, it offers standard and premium versions for periods of 6 months up to a year. The program combines scheduling, list management, a calendar, and a reminder system. Moreover, tasks can be supplemented with subtasks, notes, attachments, or reminders.
In addition, it will notify you about the need to perform the task by a certain deadline or remind you of it in a specific geolocation. In addition, the app is distinguished by the ability to sync to built-in applications, such as Calendar and Reminders, as well as third-party applications, for example, you can join Google Calendar or Outlook.
This allows you to share data and combine your tasks. The planner was originally designed for collaborative working with just a few clicks exchanging specific tasks or whole lists with other users so they can edit them, too. You also get a personal virtual assistant that supports multiple languages.
In addition, you can quickly create tasks using voice dialing, noting categories, deadlines, and reminders whenever you need them. In addition, there are many useful features, for example, one of them will help you plan your day. All tasks can be rescheduled, postponed, marked as done, or delete.


10. Pencil Planner & Draw Calendar
The iPad planner is incredibly useful with its pencil support feature, which makes it easier to study or work. In addition, the app supports not only the original pencil, but also styluses from other companies. In addition, it is similar to a paper planner, and it copies its nice features. So, for example, you can take notes on paper with pages just as if they were from the paper original.
If you like to write down your plans, the program will please you. All kinds of markers, pens, and pencils in different colors are collected here. And you can plan your things for one day, one month, or one year. All tabs are located in one window. In addition, you can work with it in dark and day modes.
Moreover, all the data can be synchronized and edited on your other devices, such as your phone. In addition, the program supports split-screen mode, which is useful when you work with two different programs at the same time. Besides, you can change the background to switch on the paper texture display and write as much as you want.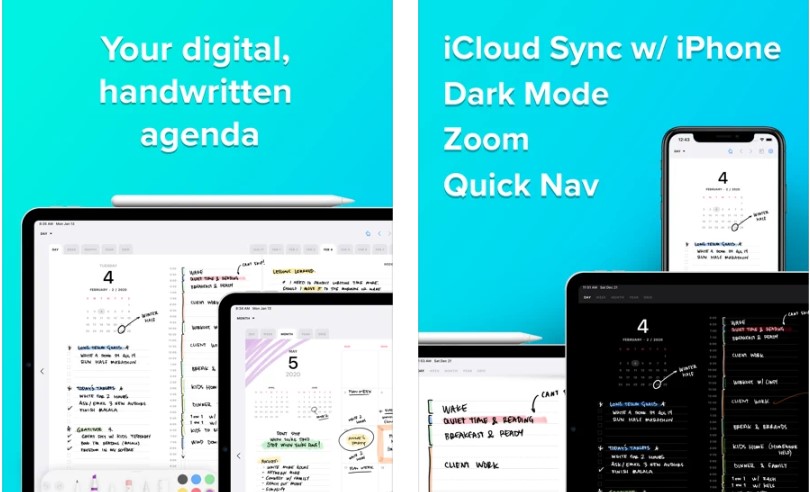 You may also like: 11 Best Anti-Procrastination Apps
11. Reminders
This is a completely free built-in program from Apple. And to manage your task lists, you only need to log in to your iCloud account. Also, it automatically syncs, allowing you to manage your data and make any edits to all your connected devices. In addition, you can share your lists with family or colleagues by sending them an invitation to a valid email address.
In addition, the scheduler is functional. You can add tasks quickly and easily thanks to the familiar voice assistant. And even when you are not even in the Reminders. All you have to do is say the command for Siri to add the task. Besides, the notification system works in such a way that it reminds you of actions related to a certain place.
For example, if the task is related to work, you will be notified at your workplace. You can also create notification templates that adjust their repetition. In addition, there are priority levels that sort your goals by importance. Moreover, it is worth noting that the program regularly receives extensive updates that simplify interaction and adapts to your tasks.
The past updates have already allowed you to create groups with multiple lists, set morning notifications summarizing the things you need to do for the day, and add checklists to reminders. The scheduling here resembles the best option for everyday tasks.