Oddly enough, in this era of multitasking and productivity, everyone needs to stay awake in order to maintain a personal life. Currently, many people use all kinds of gadgets and applications that allow them to take their performance to a new level, such as applications for planning specific goals. And in this article, we're going to talk about useful applications.
More specifically, those that give you the ability to divide your smartphone screen into two working panels that are focused on different areas. That is how you can write a report and watch your favorite stand-up comedian at the same time. What you are going to use this feature is up to you, and we will describe the practical features of all the presented applications. So this is where we begin.
1. Multitasking Split Screen
The first application we will talk about contains all the necessary features of the application needed to delimit the field of activity. First of all, with it, you can watch any video of your favorite blogger on YouTube and at the same time watch your own photos, for instance, from the last party.
The second is that you can download different files from the site while doing it on both sides of the screen. For example, you need to open different files, but viewing them at the same time is much more convenient. A major omission, however, is the fact that the widget does not share all of your applications, but only those that have web versions.
In addition, some people might be discouraged by the fact that the app is only free for three days. After that, you have to pay for a subscription. But if you are reading this article, it means you can handle some of the costs. And so now you can enjoy the parallel work of different services instead of wandering through many tabs.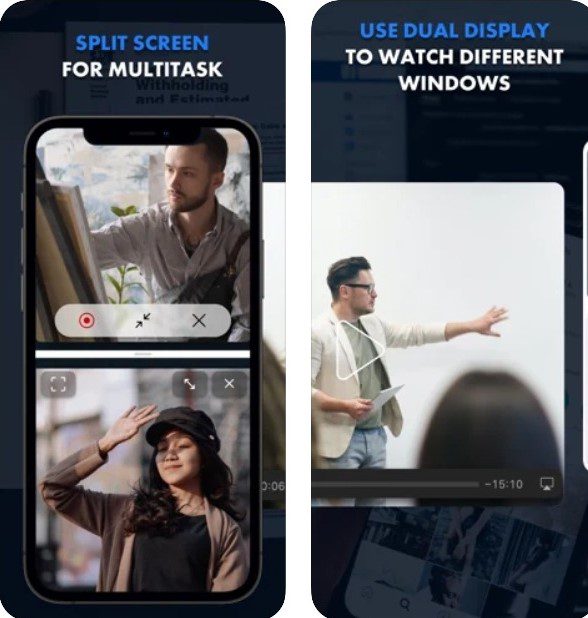 You may also like: 21 Fun games to play over Facetime or Skype calls.
2. Split Screen Shortcut
This Android-based application. For this reason, if you still do not have the screen sharing feature, this app will be an excellent solution for you. The only thing you need to do is to download the app. Then run the mod that allows you to share your phone screen. It is quite simple. And so you get the division of the screen with a special button.
What is interesting here, you can take a photo and at the same time look at the same picture in your gallery. You can also chat with two friends at the same time. With this application, you will have new possibilities. Customize the app specifically for yourself and use it according to your interests and needs.
In addition, the developers of the application state that Split Screen Shortcut will replace Android Oreo, which enabled the multiscreen mode by long-pressing the Last apps button, and which the Android company has removed. For all those fans of the past technology, the app will be a brand new alternative.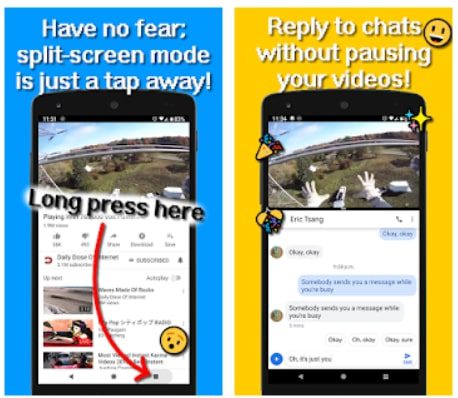 3. Split Screen View
Now we are going to talk about an application designed for all Apple owners. If you have an iPhone or iPad, you will be able to use this application because it supports both devices.
Split the screen and enjoy the content of the web. It is possible to search for requests in the search line, type a report, communicate with friends on social networks, watch videos from YouTube, and fulfill all these actions simultaneously. One exciting recent update is that there is a new feature. From now on it is up to you to adjust the size of the split windows.
With a paid subscription you will get the best out of the app and get even more useful functions like multi-tabs and ads disappearance. The developers offer different subscription options.
4. Split Screen – Multi tasking window manager 2021
This application is an exciting interaction of different programs. The great thing is that it separates not only the web browser, but also some of your applications, such as YouTube video hosting, WhatsApp messenger, or some of your integrated applications, such as a gallery or a calculator.
In this way, the use of the app is much more convenient, and as opposed to the app designed for iOS we can see significant advantages. With the app there is a subscription as there are elsewhere, you have to buy a premium subscription if you want to use the full functionality. There are different types of payment options in the app.
So what else is impressive is the speed of the app. You can switch between different tasks and application areas much easier with this app. Try out screen sharing on your own.
5. Split Screen – Dual Window
Split Screen – Dual Window gives you the ability to learn or work much more productively. Divide and conquer, according to Caesar. The great thing about this app is that a lot of users have appreciated it. In the AppStore, there is a decent number of positive reviews. Among the analogs, users note that this application is the most ethereal for work or study.
After all, in this application, you are allowed to share the screen and use the smartphone with many turned-on separated tabs. In fact, it is possible to bookmark favorite sites and, secondly, to preserve the search history, in order to always be able to return to the desired information.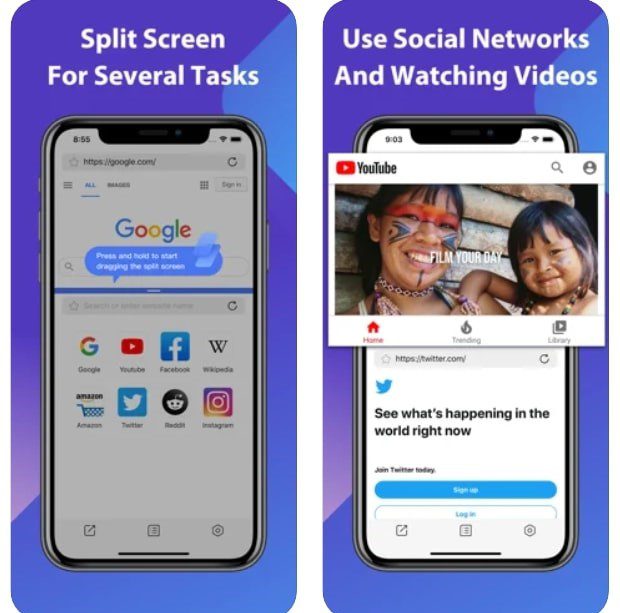 You may also like: 11 Best Anti-Procrastination Apps.
6. SplitScreen
Now on to the following application. An excellent application with the simple name SplitScreen divides the screen into more than two parts. Just try to divide your tasks and use applications on three sides of the screen. It can be as divided as a web browser, for example, Google, or you can try to divide the apps on your phone, embedded and purchased.
But the developers did not succeed without a subscription here and probably a short period of time will not impress you. But the application has an interesting feature for those who care about the appearance of icons. The program has a special editor that allows you to change the icon, that is to personalize it for you.
Moreover, concerning the division, you can adjust the size of the divided areas. For example, make one tab larger than the other as appropriate.
7. Split Screen Dual Window View
May I introduce the following application? Of course, its main function is screen splitting, so what else is in it? It would not, of course, be in this article for no reason. The first thing that interests us is that the application has Dark Mode and Light Mode, which means you can use them at any time of the day.
The second is that you can open a lot of tabs at the same time, which will make it more interesting to spend time on or be more efficient. And finally, the last useful feature is the ability to quickly switch between split screens. It will save you time and nerves. And moreover, you can customize which screen is where and what the priority place will be.
However, unfortunately, the trial period lasts only one week, after that the application will automatically withdraw money from your card. Nevertheless, you will subscribe to a unique subscription to help make your life more flexible and multitasking.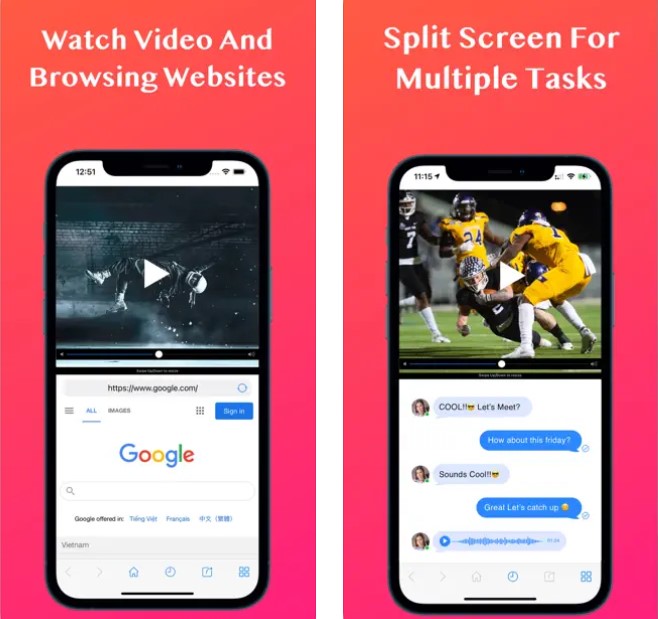 8. Easy Split Screen – Manage Split Screen Shortcuts
The app for screen division has made sure to take care of its users in the following way. The developers of the application have equipped a special button that is permanently on the screen of your phone. With its help, you will only need to click and get a split screen with different applications. It is necessary to note that in the settings of the phone you will need to allow the button.
And moreover, what seems nice, you can customize it according to your taste. For example, you can change the background color or transparency, specify the size of the button itself and then start using the application. Besides, the split screens can be controlled and swapped perfectly. Making some screens a little bigger, and others a little smaller.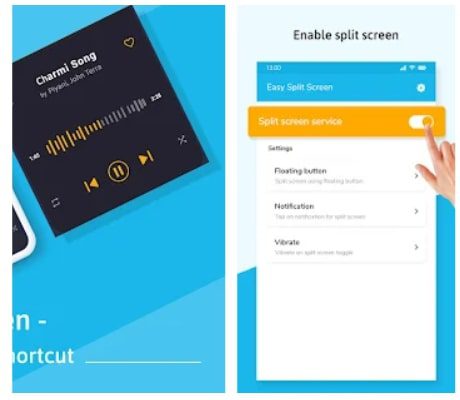 9. Split It: Split Screen
And this awesome app is great for your iPad and iPhone. Break up your screen into different working areas and experience a whole new way of operating your device. It is a common screen split app. It has a function to set up the size of the working areas of the screen. Now you can text your friends and watch a movie or TV show at the same time.
Doing this way you will not be distracted by extraneous occurrences. Screen division is performed in fast mode so that switching will not take much time. Like the others, this application is also one of the paid ones and the free subscription expires very quickly as well. In order to take advantage of all the wealth of features, it is necessary to buy a monthly premium subscription.
Try this app on your iPhone. It may be the right one for you with all its functionality.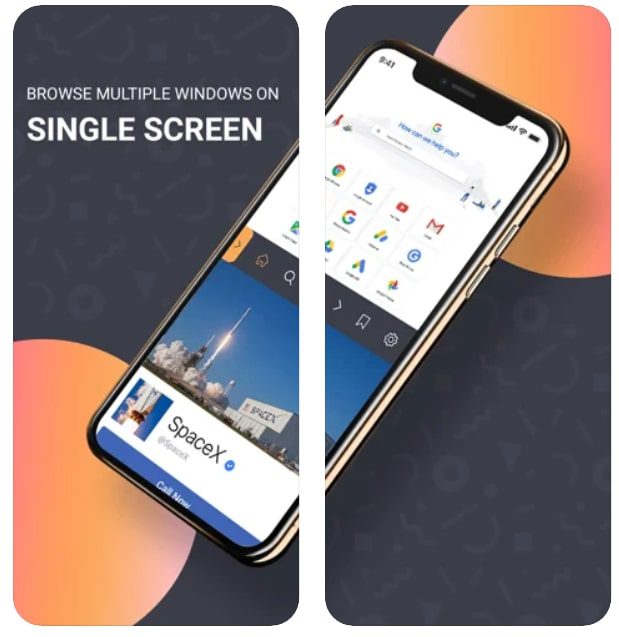 10. Dual Browser Split Screen: App
Here is an app that splits the browser on your phone. Experience multitasking with this application on the Android platform. Immediately let's move on to the main qualities of the application and its advantages.
First of all, it is worth noting that this application provides its users with a private, individual browser. It allows you to partition your screen, listen to and download music, or watch various videos. We should note that the browser itself declares as a quick solution for your tasks. Here you can easily work and study.
The developers have done a tremendous amount of work to make both separate zones work efficiently. Users report that their devices work well in combination with this app.
Split your web browser and precisely define your tasks.

Surely with such a vast number of tasks, you would need an app to remind you of the rest. Check it out here.
11. Floating Apps (multitasking)
Give this app a try and see if it might be your key to multitasking. Perhaps it will be the key to splitting up just the way you want. So what is so interesting about it? Apparently, it will allow you to divide the screen of your mobile device or tablet into different parts. For instance, for different tasks, you can use a split-screen.
Or if you have a project ahead and you need to search for information from multiple sites, then it will be more convenient to do this without being distracted by switching between pages.
Moreover, you may split images into floating tabs that you may place in a specific place on the screen.