Does getting up early in the morning go against your nature? There is a way that can perfectly brighten up your daily awakening. By it, we mean talking alarm clocks.
Happily, the App Store and Google Play are full of tools with this feature. Being able to deliver various types of information in voice, these apps will help you to wake up with no difficulty.
1. Speaking Alarm Clock – Hourly Timer Water Interval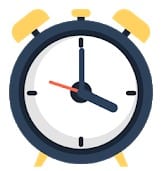 There is no doubt that the Speaking Alarm Clock app worth being put on the top of the list. Why do we think so?
In a word, you can't imagine how multifunctional the app is. However, we will start with a feature you are interested in the most.
Besides the sound of an alarm, the app can wake you up by pronouncing the current time. Due to these features, one can stay aware of the time while awakening. Also, you will have an opportunity to pre-write a sentence or a couple of words, and the app will say them as well.
If you prefer to wake up on time, the app will offer you some simple math tasks. With them, your brain will become fit instantly. Otherwise, if you like snooze, there is a button for it to delay the alarms.
All these features also can be used as reminders during a day. There will be so many capabilities for customization. So wherever you are, an alarm clock won't make you awkward.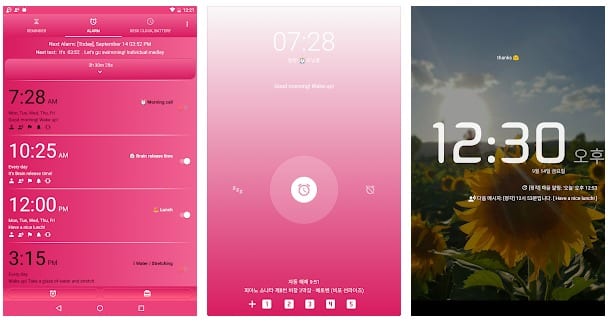 2. TalkingAlarm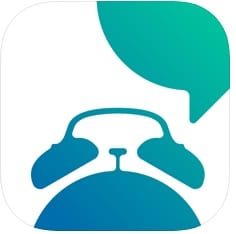 Talking about the App Store, the first speaking alarm clock app that comes to mind is called TalkingAlarm. We are sure that you will find it extremely useful.
Let's start with an awakening. Well, instead of a boring alarm clock sound, you will be able to hear much interesting stuff. It can be the time, your tasks for today, weather forecast, and so on.
By the way, the beginning of a day with your favorite music will be possible as well. What is more, the music starts very quietly, so you won't be frightened by it.
As for alarms during the day, you can also make your phone speak. In this case, it will tell you the time, the current appointments, reminds, and so on. What is more, you will be also able to set a countdown until this or that event. So the capabilities are almost endless.
At the same time, the app will be very useful for keeping track of the time while working or studying. Set the intervals you need to stay aware of the time.
As for additional features, the app includes so many things to make your sleep better. For example, if you want to know the time at night, tap the screen twice to make the app tell it to you. By the way, the background of the clocks will represent the relaxing streaming video of fishes or animals. Alternatively, setting your own background will be possible, too.
Also, if you prefer sleeping while listening to music, the app is what you need. The thing is that it is capable of playing tracks from your music library. There are two options available: it can be faded out gradually as well as played the whole night.
In addition, there is much unusual stuff regarding awakening. For example, if you are afraid of oversleeping, the app will help you to wake up by asking intellectual questions to turn off the alarm clock sound. With them, you won't face any difficulties in waking up.
Do you need the lights turned on right after awakening? Or maybe have the curtains opened? If you do, the app will help you to do this with no effort. The thing is that it is compatible with some smart house apps. So there is no need to open dozens of apps anymore. The app will do everything automatically right after the alarm activates.
Finally, the app also contains a snooze feature and screen brightness adjusting feature. Such a good addition to the app, isn't it?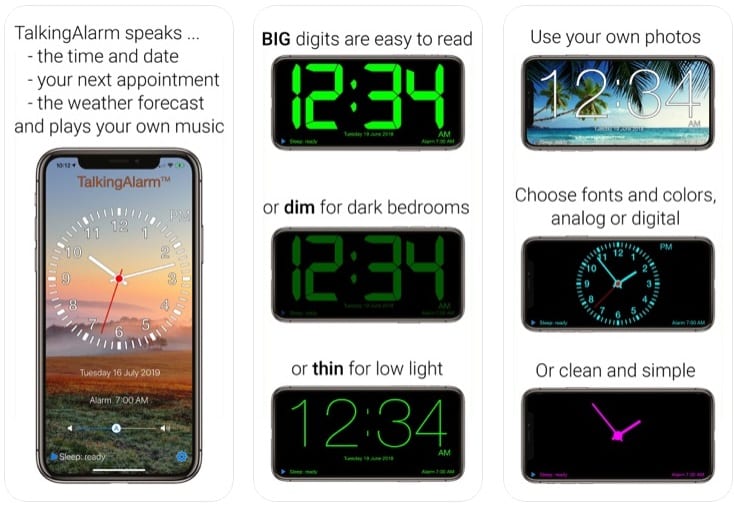 3. Speaking clock DVBeep Pro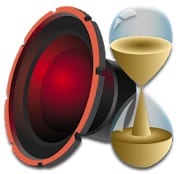 The next app to be reviewed is called Speaking clock DVBeep Pro. Though its design considered to be a little bit primitive, the tool functions great as a speaking alarm clock.
Before we start, it must be mentioned that you will need to install additional voice packs to make the app speak your language.
Well, in this case, the app will tell you only the time instead of a typical alarm clock sound. By the way, there will be so many tech parameters while setting the alarm clock.
In addition, the tool can be used as a reminder to do this or that appointment. Apart from telling you about upcoming tasks, the app can play different melodies for every hour, repeat the melody by the number of hours, play the melody with a pre-set volume and vibration, and so on. As you can see, everything will be completely adjustable.
Also, the app is powerful enough to say the current time (hours or even minutes only). To learn this information instantly, you will have access to a cool widget. It can be placed on your Home screen. At the same time, within one tap only, you will be able to switch this feature off. Additionally, the silent mode will be also supported. It will be so useful while listening to music or watching a video.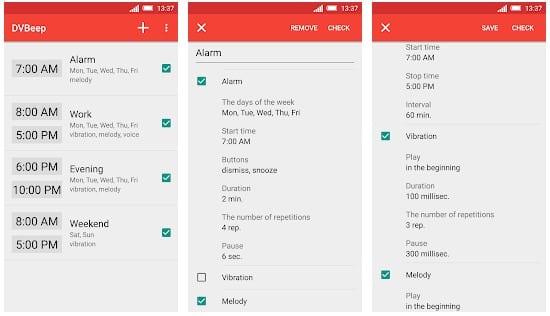 4. CARROT Alarm – Talking Alarm Clock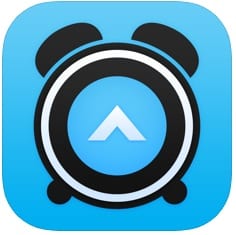 CARROT Alarm is a digital assistant for iOS device users. Being a professional in waking up people, it knows many tricks to do that.
After the app installed, every day will begin with witty dialogues offered by the AI. The app will promise to give you a present if you wake up without snoozing. Alternatively, it can also threaten and even bulldoze. One way or another, it will be so fun. At the same time, it will be a great way for you not to fall back asleep.
As for an alternative, you will also have access to the app's pre-loaded tracks that are good old or current hits. With them, you will avoid getting up from the wrong side.
In addition, you will be offered to complete the small but crazy missions (like clean out the lab monkey cages) the app has. Again, this option will be both fun and efficient.
Do you want to be even more motivated? If you do, the app supports an awarding system. So you will succeed greatly if you wake up on time, complete the missions, etc. As for the presents, you will have a chance to win new songs, the app's upgrades, bedtime stories, and many other cool things. It seems so amazing.
Finally, the app is capable of synchronizing the data with iCloud. Besides, it is also compatible with another CARROT app called To-Do. By the way, it is also a worthy thing to be tried.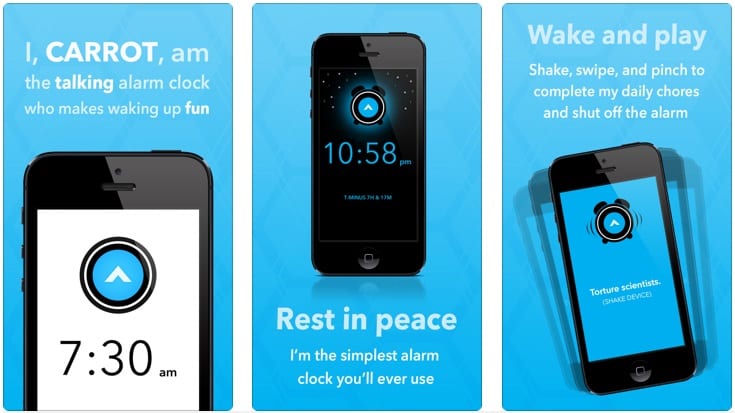 5. Talking Alarm Clock Beyond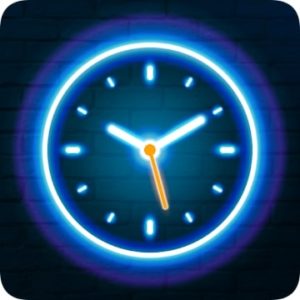 The Talking Alarm Clock Beyond app is designed to wake you up quickly and easily. With its help, you can wake up in time in a good mood and get a charge of motivation for a successful day.
In the utility, you can choose motivation and productive morning activity. The app allows you to create an unlimited number of alarms for waking up. The option to sound the time and extra motivation is provided.
The utility allows you to specify dates in the calendar or prefer a regular alarm activation option. It is possible to choose the melody and sound volume. You can set the number of repetitions, the moment the motivation sounds, and activate the vibration.
The app provides several ways to turn off the alarm. Alarms can be sorted by activity. The utility automatically saves the statistics of awakenings. Different time zones are available in the app. You can select the capitals of the world and allow to display the current time in them.
The utility contains a stopwatch and a timer. You can set the time, melody, and volume for it, as well as add a text marker. The app has a "Do Not Disturb" mode. Its activation disables all created alarms for a specified time.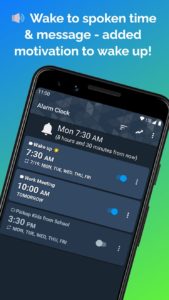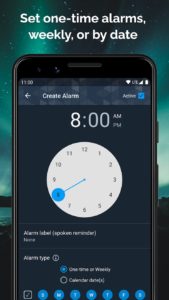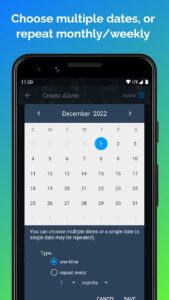 Do you suffer from insomnia? We have discovered a solution to the problem. To know about it in detail, study the list of the best white noise apps for Android & iOS.
6. Talking Alarm Clock -free app with speech voice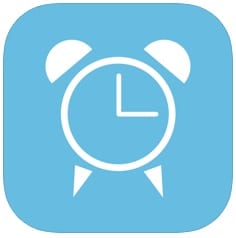 Talking about analogs from the App Store, here is one more great tool to try. It is called Talking Alarm Clock.
Apart from the usual sound (one of pre-loaded), the app will wake you up with the time pronounced. After that, you will need t input the current time to switch the alarm off.
As for additional advantages, the app includes an excellent collection of soothing music. There is no doubt that with this feature, one can avoid insomnia.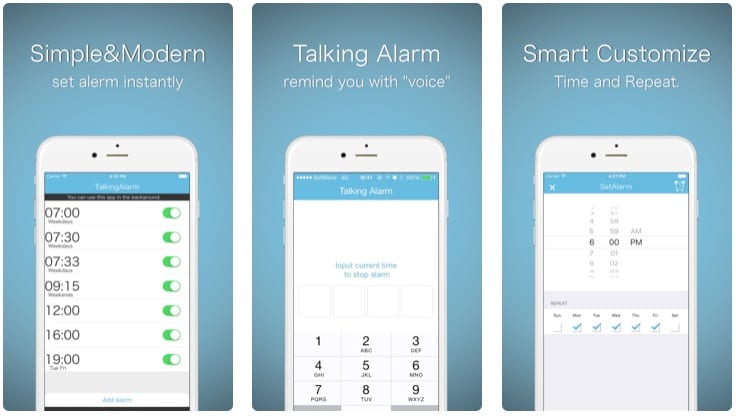 7. Alarm Clock Xtreme
This app is designed to use an alarm clock with its own ringtone. The utility has a built-in timer, stopwatch, different design themes, and ways to disable it.
The app is a multifunctional program for waking up quickly. Various settings are available in the utility, allowing you to choose the most suitable mode of operation. It is possible to turn on a gradual increase in the volume of the alarm for a gentle awakening.
The app has a "Put off" button that will not allow you to accidentally disable the alarm clock. You can choose different ways to deactivate, such as solving math problems or shaking. The number and interval of ringer repeats can be set. You can also set a single beep.
Besides, this utility allows you to select a standard ringtone. Set your own melody among the music on your smartphone. It is possible to tune in to any online radio wave that will automatically start instead of the usual alarm signal.
The app shows useful information that may come in handy when you wake up, including the weather forecast and a to-do list from the calendar.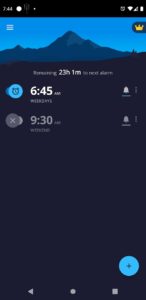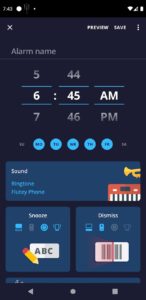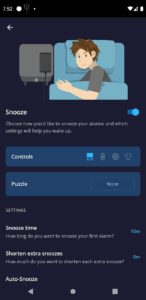 8. Simple Talking Alarm Clock Pro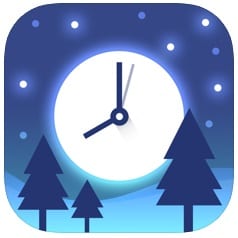 Here is one more outstanding app that we can't help adding to our list. Let us introduce the Simple Talking Alarm Clock Pro app.
First of all, just look at the screenshots below. Convenience is always an advantage, isn't it? Undeniably, the app's design and the UI itself worth being praised. Thus, apart from various buttons, you will be able to track the time remaining until the last signal.
As for the app's features, it will tell you the time when the alarm goes off. You can make the app speak your language by choosing a necessary option from the list. What is more, there are several variants of English supported.
As for the additional details, you will have 6 sounds at your fingertips. They will make your awakening so harmonious. One more good thing is a snoozing button. It will help you to wake up on time.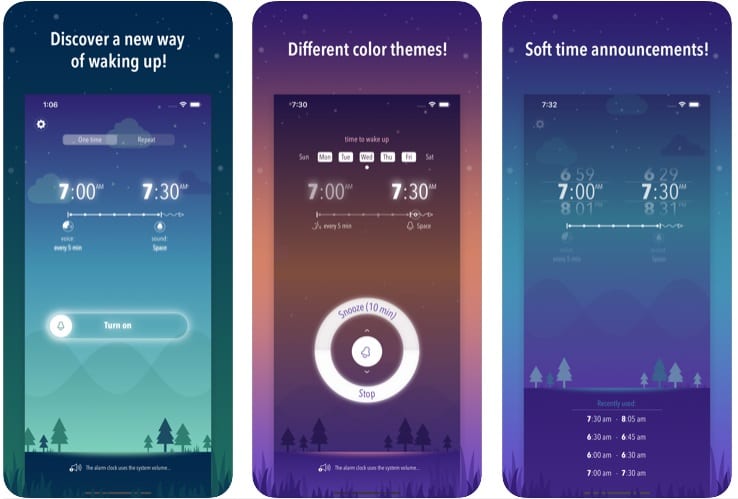 9. Talk Talk Alarm Clock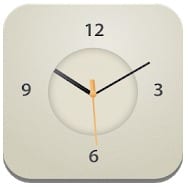 Talk Talk Alarm Clock is a nice app available for all Android users. The app is famous for its simplicity. So if it is essential to you, it will be a good choice.
The app works great as an alarm clock. Talking about speaking feature, when the alarm goes off, the app will also tell you the current time. It will let you wake up much quicker, or, vice versa, snooze for a while. That's why we find it so valuable.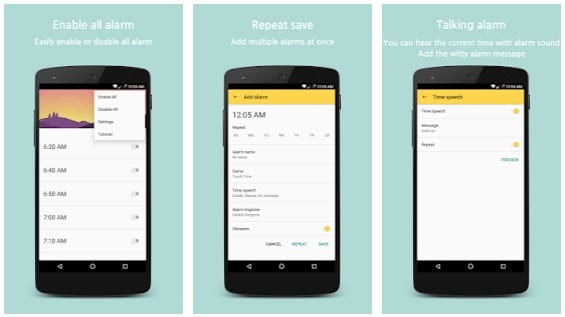 10. Talking Weather alarm clock – free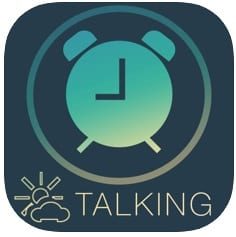 When it comes to considering one more tool for iOS, we highly recommend you to install Talking Weather alarm clock. By the way, it has an additional cool distinguishing feature.
However, let's start with the basic ones. The app represents a complex alarm clock with its own background (4 interfaces available). As for awakening, when the alar clock goes off, you will be able to hear the current weather (up to 5 days), news, assignments for today, and even horoscope! That what makes the app an object of admiration.
As for the speech, the app supports 10 most popular languages. But you will have access to 50 voices (several options for each language). Isn't it great?
Probably, you are especially interested in snoozing. Of course, the app supports this feature, too. Moreover, if you need to change something suddenly, there will be instant access to the list of alarms just by swiping.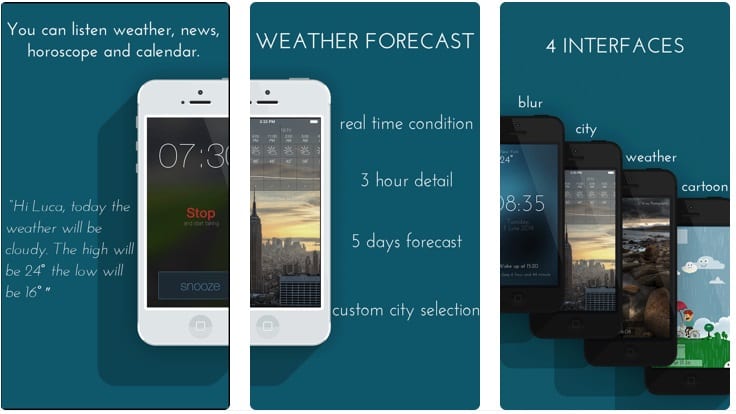 You may also like: 9 Best sleep talk recorder apps for Android & iOS