Do you ever feel like you could use a good massage? Maybe you've had a long day at work, or you've been hitting the gym hard and your muscles need some TLC. Well, you've come to the right place!
We've scouted the top massage finder apps out there that can help you find the best therapist in the USA! These apps help you get the best massage experience with a few clicks.
Not only can you find a therapist near you, but you can also read reviews, compare prices, and book an appointment, all with these apps. Wave goodbye to endless Google searches and reading through reviews that seem like they were written by robots. Let's dive in!
Urban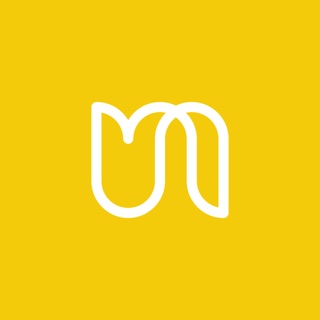 Tired of the whole appointment and beauty service drill? This app is here to fix it all! Trust us, you will be pleasantly surprised by its sheer convenience.
It covers over 50 services to pick from, so there's smth for everyone. From massages to beauty treatments, osteopathy to physiotherapy, this app has it all. And let us tell you, waiting in queues or listening to that groovy elevator music is so passé now!
The massage options are pure magic, melting away stress like nobody's business. Their pregnancy and sports massage? Absolute game-changers! Oh, and did we mention those incredible online sessions? Transformative, folks! Osteopathy or physiotherapy needed? Get expert rehab and recovery right at your doorstep, no GP referral is needed. It's as easy as pay-as-you-go!
You can take those treatments to a whole new lvl of convenience with this app. Picture this: glowing facials and flawless nails, all from the comfort of your home. And those hairstyling options? Salon feels without leaving your doorstep.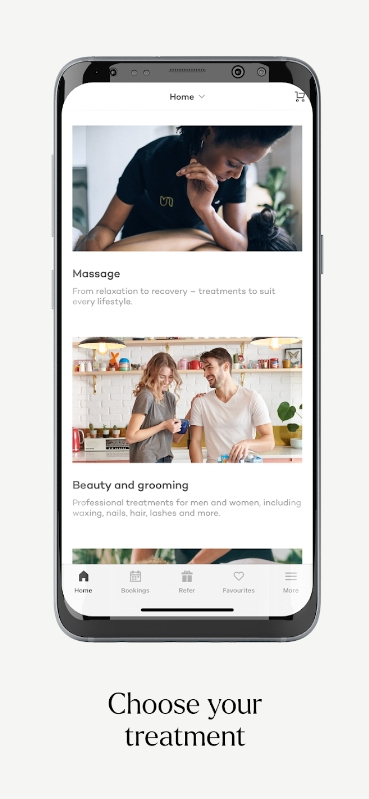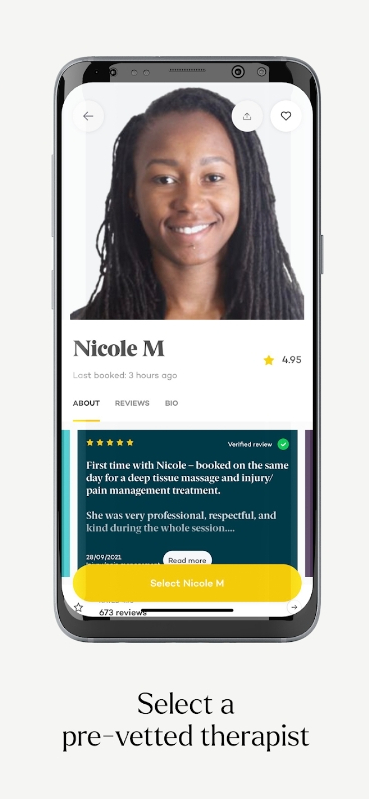 You may also like: 7 Best Yoga Streaming Apps
Zeel In
Tired? Achy? Longing for a massage without stepping out of your door? This app is your passport to the ultimate in-home massage. It covers over 10K skilled therapists available 24/7 across 85+ major metro areas. Thus, finding an ideal match is a no-brainer. And yes, you even get to pick which gender you prefer!
Your confirmation arrives with your therapist's pic and bio because the app knows how much first impressions matter. Oh, and guess what? Your home is about to become a luxurious spa, complete with a massage table and all the necessary supplies. Just sit back, and relax.
Safety? Check! The app is actually crowned the most-trusted name in massage by US Spa and magazines. And if that's not enough to put your mind at ease, feel free to read reviews. For both customers and therapists, the app sets the gold standard.
And hey, want even more bliss? Get a massage membership and boost your wellness game with regular massages in the comfort of your own home.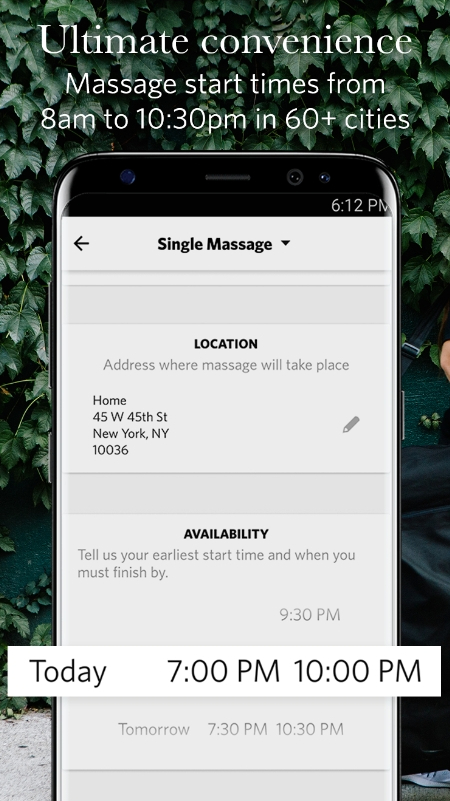 Blys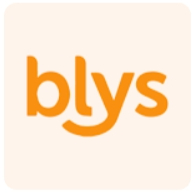 If you're a fan of massages, you have to try out this app. It will take on you on a wellness adventure like no other
First off, the convenience factor is unbeatable. There are over 2k fully qualified, insured, and background-checked providers ready to serve you, available for in-person or online booking. No matter where you are, a 5-star wellness treatment is just a tap away.
And with services available 7 days a week from 6 am to midnight, self-care fits into even the craziest schedules. Booking and paying? Piece of cake! With a few taps on the app, you're good to go. And want to know the best part? You can track your provider in real-time, so no more stressing about their ETA.
But let's talk about the treatments. Brace yourself for the ultimate menu of massage services. Whether you crave Swedish relaxation, a rejuvenating facial, or a zen-like yoga session, the app has your back! Oh, and get this: you can enjoy all these top-quality treatments in the blissful comfort of your home, hotel room, or office. No more traffic jams or lunch break scrambles for relaxation. It's all about you!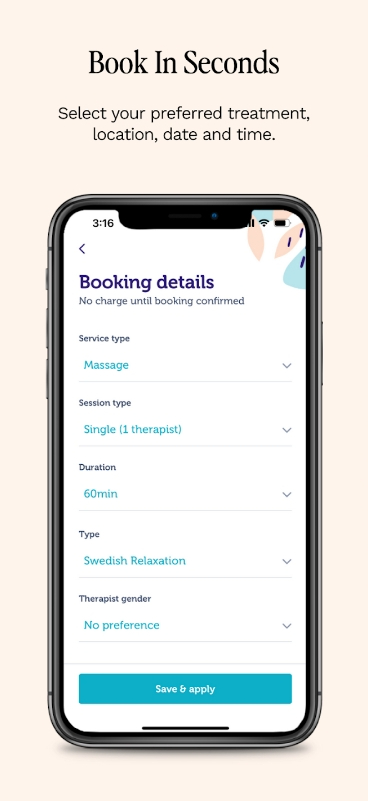 Soothe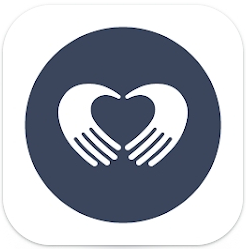 This app lets you get a world-class spa exp that's personalized, trustworthy and comes to you in pajamas if you want. Just pick the service, time, and location, and boom: a highly-rated specialist magically appears at your doorstep. No more stressing over finding the perfect spa, the app does the matchmaking for you!
The app is all about customization, so whether you need a treatment to heal your neck or to add hot stones that feel like heaven, they've got it. Their secret sauce? Partnerships with wellness gurus to bring you the crème de la crème of products.
And the best part? Trust is their middle name. The app has an award-winning trust & safety team that vets their providers harder than a royal corgi breeder. Only experienced, bg-checked, certified wellness pros make the cut, so you can lay back and indulge with complete peace of mind.
But wait, there's more! Want to throw a spa party, impress pals with gift cards, or score free services by referring pals? You can do that, whether celebrating a bride tribe or simply spoiling yourself rotten.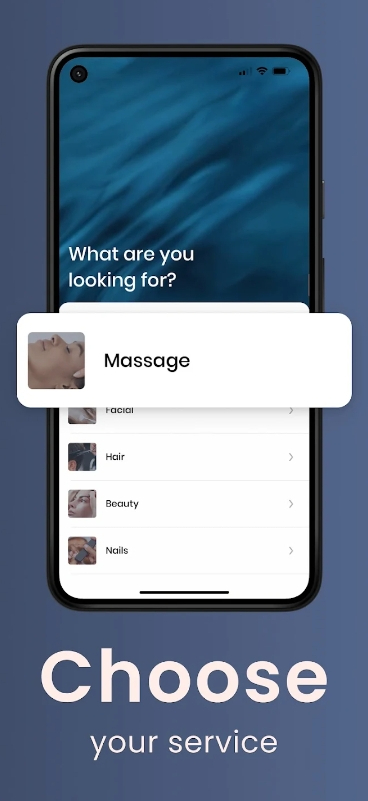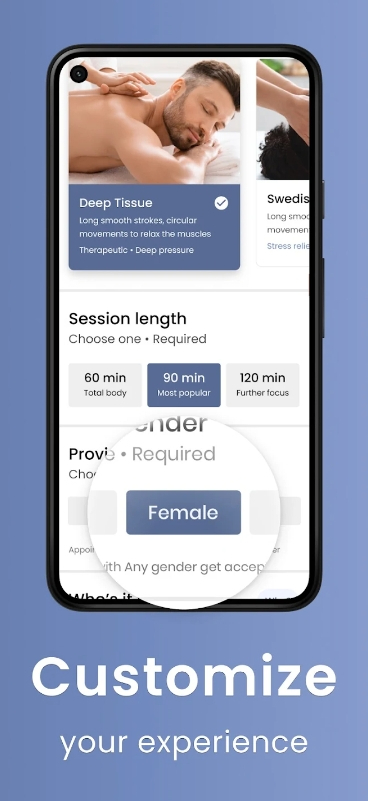 Mindbody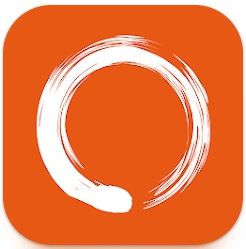 This app is a one-stop shop for all your needs. It's a total game-changer for your wellness routine. The app is incredibly easy to use. Like, you open it, and bam – you can find workout classes, wellness services, and beauty appointments with just a few taps.
The filters are like magic: find whatever you want, whenever you want, no sweat! The app has everything, from intense workouts to pampering massages and refreshing facials. Need we say more? Oh, and you can book everything in one place. Talk about convenience for us busy bees!
You can also drop-in classes at discounted rates with last-minute offers to try out new studios or classes. No fancy-pants memberships are required. You and your workout buddy are gonna rock this wellness journey together! You can also check out all your stats on classes, appointments, and enrollments with ease.
And don't forget to sync it with your fitness tracker. The activity dashboard tells how many calories you've burned, how you're crushing it in class, and more.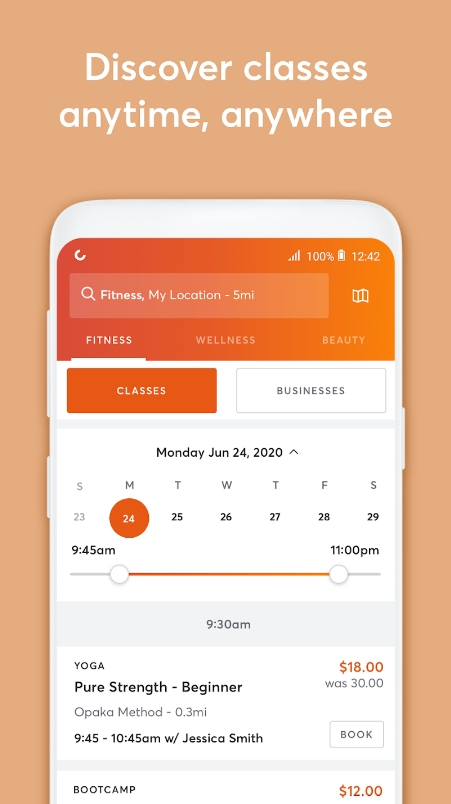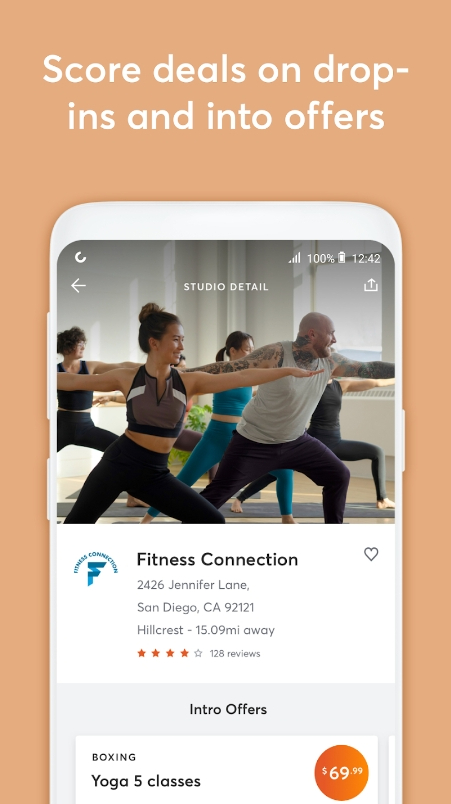 Check also: 11 Best Skin Care Apps
Bigtoe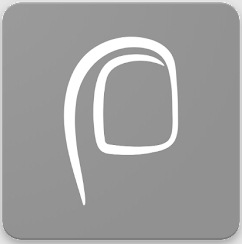 Want to unwind with a massage therapist or certified yoga teacher without ever leaving your cozy abode? Don't get past this app, then. It's your go-to for booking mobile massages and private yoga sessions.
With just a few clicks, you can request a preferred provider's gender, location, and time. No more endless back-and-forth convo, we promise! The app's certified and experienced providers are quick to accept your request or propose alternate times, so you have the power to pick what suits you best.
Once your request is accepted, it's confirmed automatically! So sit back, relax, and let the magic happen. And guess what? The providers show up 5–10 mins early, so you can breathe easy and dive into that zen state promptly.
All the providers go through a bg check, so you can be sure they are all experienced, certified, and safe to invite into your home. You can also read reviews to read about other people's exp. The app itself is free, so you're only paying for the service you're getting.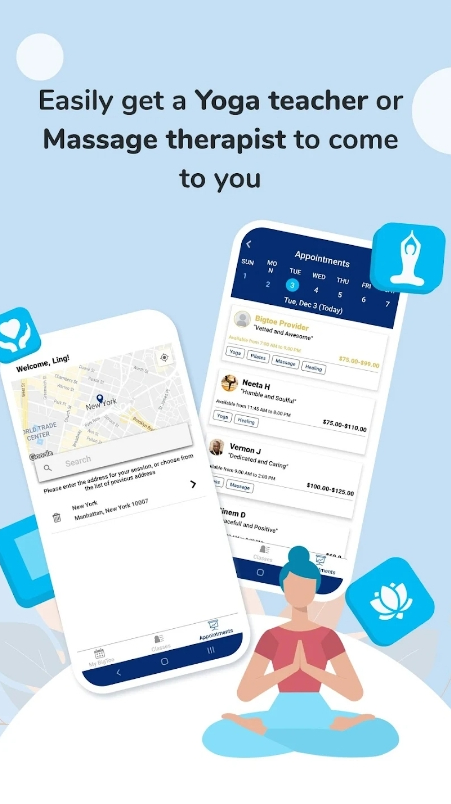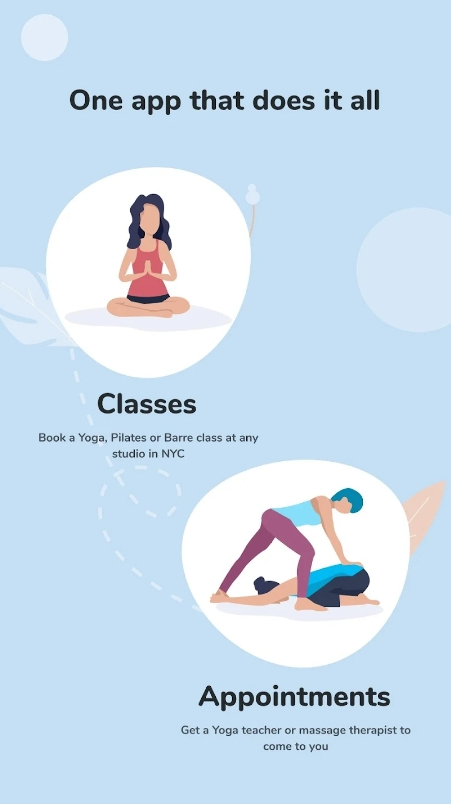 Massage Therapists in My Area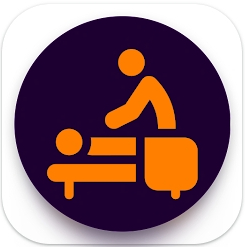 Tired of searching high and low for the ideal wellness expert? This app can help! This app makes the process a breeze, so you can easily find skilled specialists that help you to unwind after a long day or get rid of the pain.
First off, the range of pros is quite impressive. You can scroll through countless accs, comparing prices, ratings, and specialties until you find the ideal match for your needs. And the coolest thing? You don't even have to share your number!
Use in-app live chat and VoIP calls to communicate with your therapist – it's never been easier to book an appointment. The app also covers real-time maps and a list of all available pros in your area. No more endless searches or confusion about where to go next.
Plus, the ability to read reviews and exchange private texts with pros means you can feel confident and informed before booking an appointment. All the pros are being checked by the apps team, too, so no worries about the quality and safety.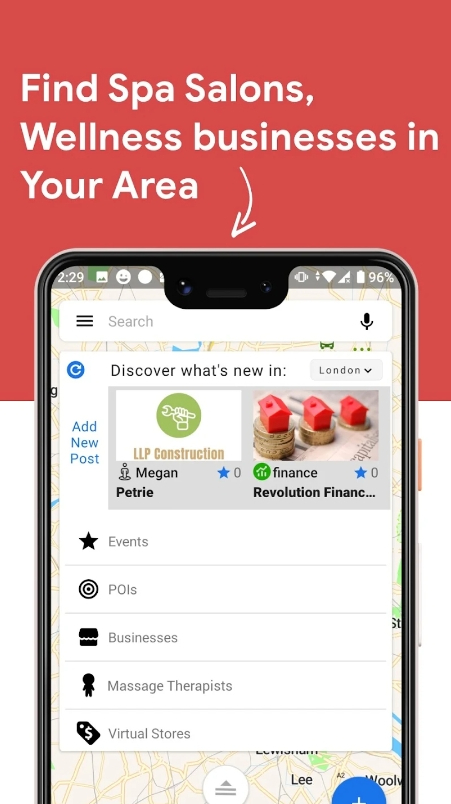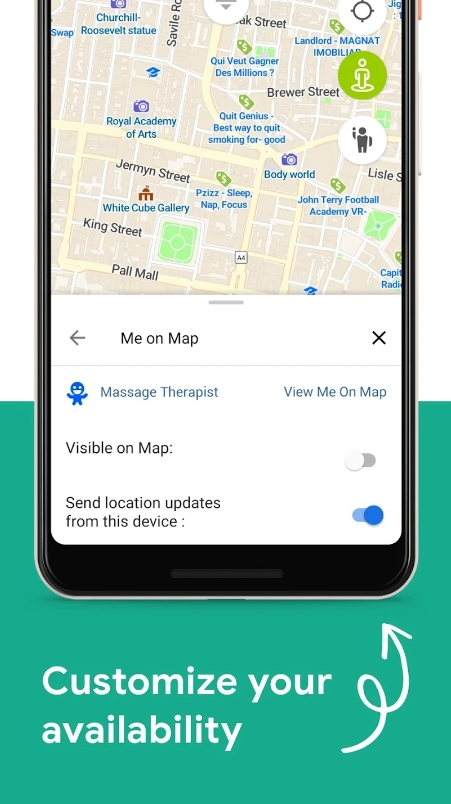 RLAX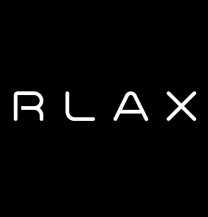 Who doesn't love a good massage? It's pure bliss to be pampered and kneaded into tranquility. But until now, getting it meant trekking to a fancy resort or spa which is not exactly convenient. Well, good thing this app is here to bring messages to you.
Let us tell you, these therapists are no ordinary hand rubbers. The apps team is accredited and trained to work their magic. Fair pay? The app has got that covered too.
But let's talk about the treatments. From aromatherapy oil indulgence to heavenly facials and revitalizing head massages, the app has the one of your dreams, just a few clicks away. No more phone calls or confusing websites, it's that simple.
What really sets it apart is its mission to make wellness accessible to everyone. Whether you're chilling at home, relaxing in a hotel, or trapped in the office, it will be there for you. Seriously, who doesn't need a massage to cure office syndrome?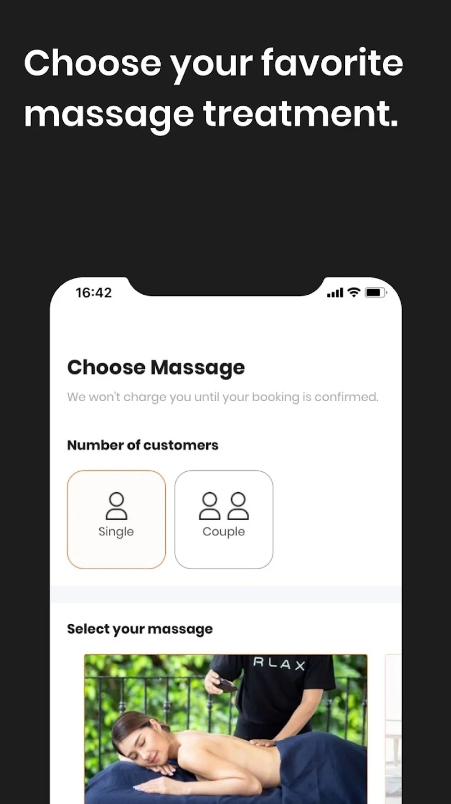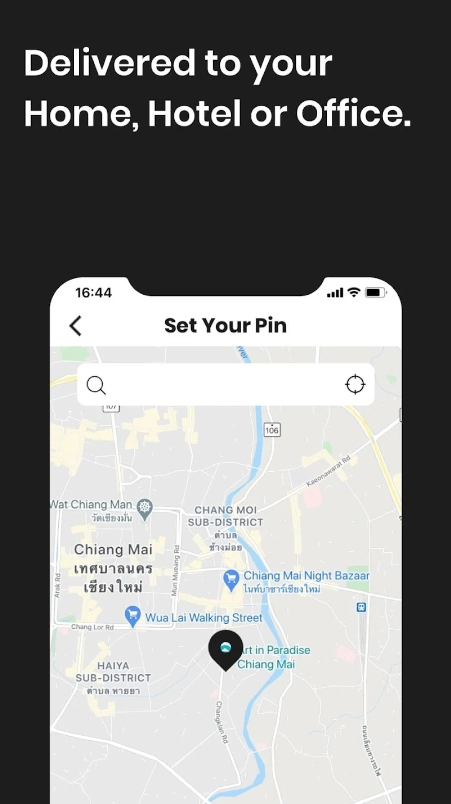 nearby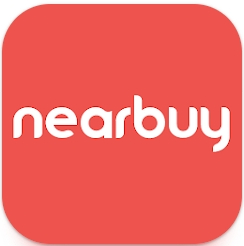 This app is your sassy foodie friend, soothing spa guru, movie maestro, shopping superstar, and adventure aficionado all in one! Sounds impressive? That's because it is!
Hungry? This app serves up the top buffets, a la carte delights, and scrumptious snacks. It's your yummy discounts and deals hub, with the coolest spots ever. Don't dig any of the prepaid deals. No worries, this app saves you money anyway!
It also spoils you silly with rejuvenating spa sessions at heavenly places. You can read reviews and mark the ones to gravitate towards. Need entertainment? You can easily book discounted movie tickets, and even quench your thirst for adventure parks. It even boosts your shopping exp.
The app showers you with discounted gift cards from multiple shops and online stores. Why bother with websites when you can find it all in one fabulous app? Time is precious, darling! With this app's filter option, you can find what you want, where you want, in a jiffy! And guess what? All your payment needs are sorted too.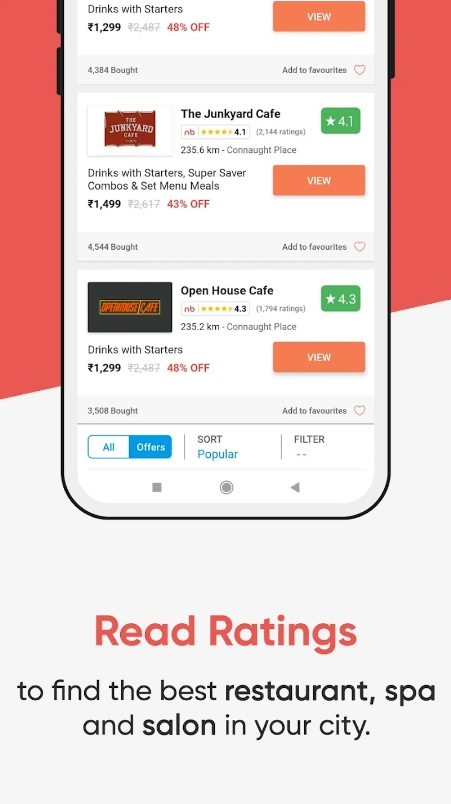 You may also check: 10 Best Yoga at Home Apps
Relaxgo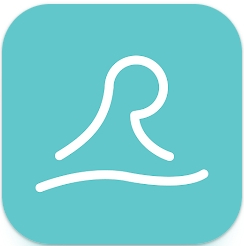 Lastly, there's an app that lets you get an at-home massage whenever you need it. It's your ticket to tranquil bliss, really. This app is a genius solution for all your relaxation needs, delivering massage right to your doorstep.
Booking? Piece of cake! With just three simple steps, you'll have a certified, insured therapist spoiling you silly in no time. Plus, there are a variety of treatments available, so you can find the one for your needs. From soothing treatments to therapeutic marvels, the app has got it all. Say goodbye to stress, and hello to pure bliss!
Oh, and did we mention it? No sneaky fees! Securely pay through the app's gateway and get a seamless, worry-free transaction. The whole process is stress-free and straightforward, which is exactly what you want when booking a massage. Booking a treatment has never been so easy-breezy!
But wait, there's more! The app is all about wellness made wonderful, providing accessible self-care tailored to your busy lifestyle. You can also read reviews to ensure you're getting the best specialist out of them all. And don't forget to use filters for quick navigation.