It happens that people need to have a text paraphrased. It can be connected with the study, work, personal needs, and so on. Whatever the case, one can do it without exerting efforts.
The reason for it is an Artificial Intelligence that is capable of rewriting any text you input. What is more, you can become the owner of a such great tool.
To do that, we have prepared the list of the best paraphrasing apps available for Android and iOS. As a result, after installing one of them on your gadget, you will take this burden down.
1. Paraphraser: Reword your text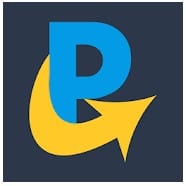 Traditionally, we start with apps, available on the App Store and Google Play at once. As we lack these apps in this case, our post begins with an app for Android devise users.
Well, the Paraphraser is going to become your assistant every time you need to rewrite a text. It has a unique built-in system that will paraphrase any text within a few seconds. What is more, you won't face any limitations while using this awesome tool. Thus, paraphrasing will be available for you 24/7. But the most essential is that texts of any length can be inputted. That what makes the app even more outstanding.
It must be said that the app comes with a bunch of other features. By it, we mean a Plagiarism checking. Again, the service works surprisingly smartly. What is more, every check will be completed by detailed reports on uniqueness. It will also show websites from which you might have copied the text.
Apart from this, the app will provide you with comprehensive grammar checks of your texts. It supports identifying both grammar and spelling mistakes. With this feature, your paper will become even more high-grade.
One more thing that we can't help admiring is the app's user interface. The developers have done their best to make the process of working so convenient. It is especially priceless while dealing with text information. So the things that simplify using the app are undo and redo buttons, saving drafts, importing the content in various formats, instant sharing, and so on.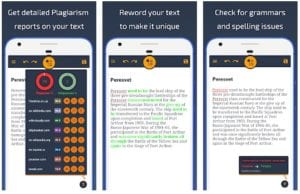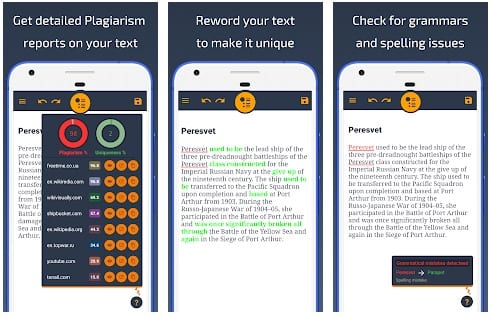 2. Spin Rewriter GOLD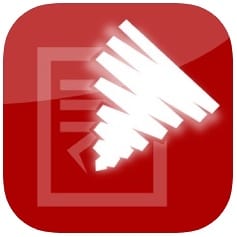 Talking about paraphrasing apps from the App Store, we can offer you the one called Spin Rewriter GOLD. It will allow you to avoid struggling while rewording the text by yourself.
To begin with, it is claimed that the app contains cool ENL Semantic Spinning technology that is extremely powerful in paraphrasing texts. So let's review its capabilities.
Well, before starting paraphrasing, the app will offer you to choose the degree of so-called spinning (re-writing). There are three of them the app support: low, medium, and high.
What is more, you will be able to choose whether you want your text structure to be changed on a sentence or paragraph level. Besides, combining both options will be possible, too.
How to protect the text from the unintentional change in meaning? The algorithm of avoiding it is considered to be well-thought. Thus, you will be able to write down the words you don't need to be changed. It can be key words, proper names, etc.
When the text is generated, the app's user will have an opportunity to make some changes. For example, one of the options is replacing these or those words on synonyms. This and other options will make your text look as if it was created by a human. Also, the general editing of a generated text still will be possible.
As a bonus, in case you need a global paraphrasing, the app includes such a feature as giving a text summary. With it, the structure of the generated text will have no resemblance to the original one.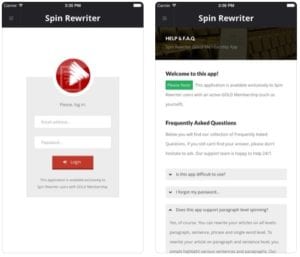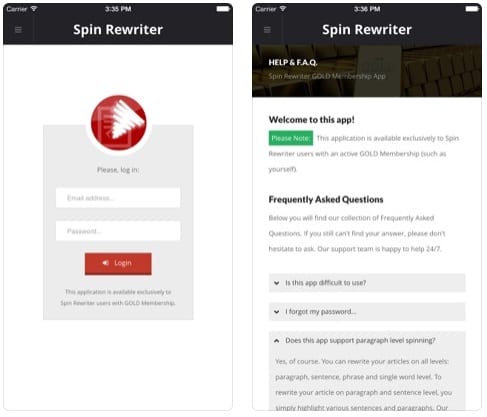 How do you feel about enriching your vocabulary? As it is an integral part of successful writing, we highly recommend you become familiar with the Best apps to learn a word a day for Android & iOS.
3. Article Spinner and Rewrite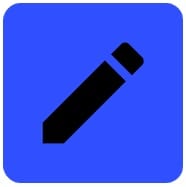 The next app we are going to review is with no-frills. Nevertheless, in this case, simplicity is only an advantage.
The Article Spinner and Rewrite app requires from you a minimum of efforts to paraphrase a text. All you will need to do is to paste a text. After that, the app will start a process of rewording. It will take just a few seconds to generate a text with renewed sentences but with the same content. Finally, after taping the Copy button, you will be able to use a text wherever you need it.
The app offers 3 options for paraphrasing. The first is the lightest one, it is absolutely free. If you need more progressive changes, there are two more variants for you, but they are paid and quite questionable. Take into account that some users find it senseless to pay for these app's features.
One more disadvantage is that the number of signs/words is limited. So keep it in mind before pasting a text.
Finally, some people say that the app sometimes changes even unnecessary words. So it isn't so intuitive.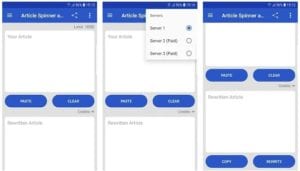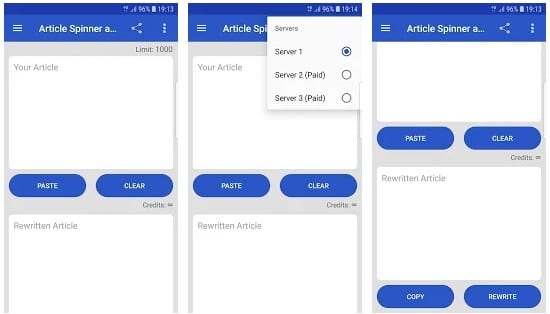 4. Grammarly – Grammar Keyboard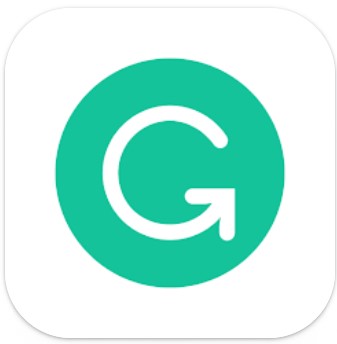 When it comes to considering apps for paraphrasing, we can also present Grammarly. What is more, this tool will be especially appropriate for those who are searching for an all-in-one app.
First of all, the app will provide you with a great tool to paraphrase a text. Again, after finishing rewording, the app will suggest you some words that can be changed. The number of synonyms for these words surprises a lot.
Talking about other tools, you will also have this app. It is quite accurate, so use it without any doubts.
Apart from this, the app will become your assistant in finding both grammar and spelling mistakes. As a result, the errors will be underlined. There is more to come. You will also be offered some alternatives on how to correct all the mistakes in your text.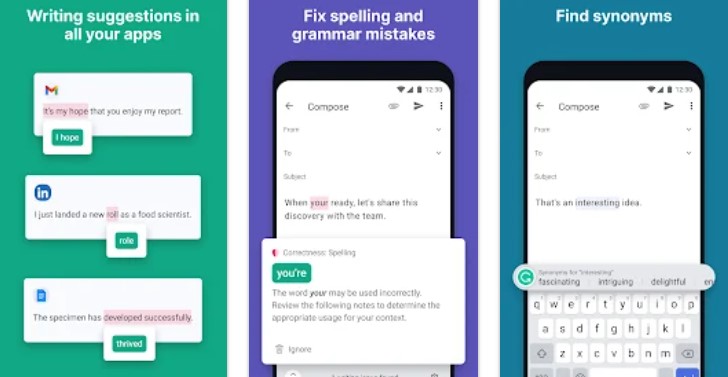 5. EssayPro: Essay Writer for Hire (official tool)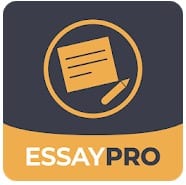 In case you want a human paraphrase your text (of course, for a fee), here is an app that is going to connect you with a professional in this matter. The service's name is EssayPro.
As it is clear from the app's name, it orients on essays mostly. Thus, every person can hire a skillful writer to create an essay of various types. Nevertheless, the app team's service also includes text rewriting. So let's talk about this option in detail.
You will be able to place an order 24/7 by choosing the kind of assignment (editing, writing, rewriting). After that, it will be required to select the type of paperwork (from a movie review to a dissertation). The choice of them is so wide, so you will surely find a suitable category. Then, you should define a deadline. If the work isn't so large, you will have a chance to receive a paper in a few minutes.
The next step is to choose a writer. You will be able to view the profile of every candidate, completed by his or her rating, a number of completed orders, preferable subjects, etc. With these details, you will surely make the best choice. 
Then, it remains to pay and wait for a result. Before a deadline ends, you will receive your paper paraphrased (alternatively, wrote from scratch, or edited). It will be so easy to download it from the app directly. 
As for the service guarantees, they assure that the work will be of 100% uniqueness, top-qualified, and delivered on time, which is essential. What is more, the writers work remarkably flawless. At the same time, you can demand your money back, if any disadvantages in a paper.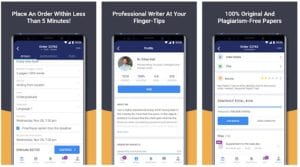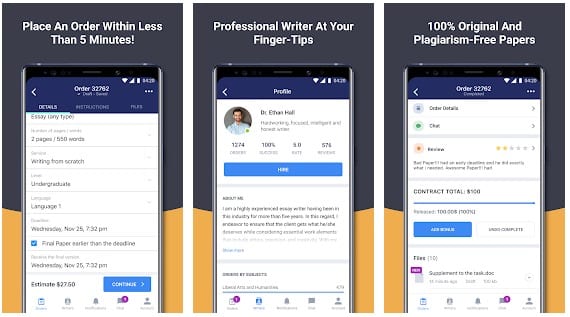 6. Paraphrase Tool
The last paraphrase app to be reviewed is Paraphrase Tool.
To make the app rewrite a text, you will just need to paste it. Next, the program will offer you several options for synonyms that you can use to improve the diversity of your text.
Like other applications, Paraphrase Tool suggests checking for grammatical and spelling mistakes.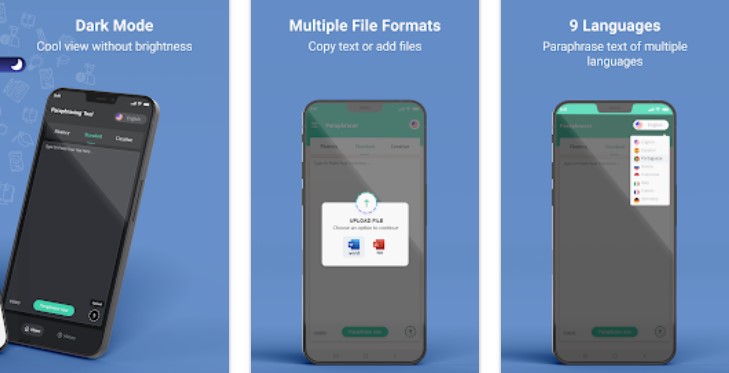 You may also like: 5 Top apps to write business proposal (Android & iOS)