EPS or Encapsulated PostScript is a graphics file format used in vector images in Adobe Illustrator. You can open and edit an image on different platforms because it contains both bitmap and vector graphics. Such files are used in Word documents. They are suitable for use on websites to create clear pictures or banners without loss of quality.
You can find a PDF file and convert it to EPS afterwords. This article will focus on applications designed just for such cases. You will find these apps very handy for your business. Also, you may be interested in the possibility of having both notes and files at your fingertips. That is why we recommend these apps where you can always create your own personal notebook.
1. The Vector Converter
Are you tired of not being able to find the right conversion application? With this vector application, users can convert PDF files to EPS. The convenient thing is that it does not take much time to process the files. It takes about 15 seconds for the average file. First of all, you will be able to save the resulting files in a convenient place.
You can save them in the application files on your iPhone. It is also possible to create a download link. Alternatively, you can just save them to your galleries. Secondly, users will be able to view the resulting file in the app browser after the conversion. The input file can also share EPS files directly to your computer, tablets, and other devices using the function AirDrop.
The application works so that your file is placed in secure cloud storage. After you can download it from there. And this means that the memory of your phone will be less loaded. This will also be due to the fact that immediately after downloading, the file is removed from the application.
There is also a function of local conversion which is performed in the application and does not require the use of the Internet. However, you still need a network connection for any conversions.
In addition to EPS files, the application will convert other files such as AI, JPG, PNG, SVG, PDF, OTF SVGZ, and many others. So you can use this application for other purposes. The available input formats are SVG, PNG, PDF, BMP, TTF, CDR, EPS, HEIC, PSD.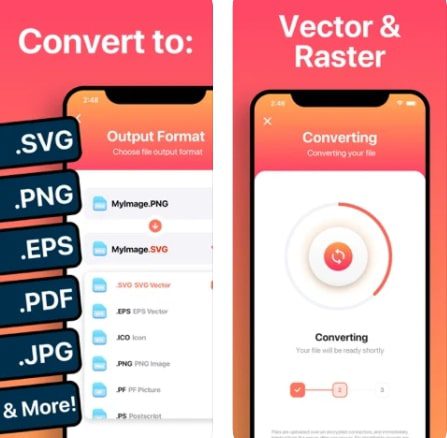 You may also like: 10 Best apps for spreadsheets (Android & iOS)
2. SVG Converter: Photo To PDF
All you need to do with this application is to click a button once and you will get a fully converted file. The application gives you access to convert PDF files to EPS. You will be able to select a file or an image from the repository. Then you will see two separate lines for choosing the type of conversion.
In fact, this application supports up to a hundred different types of processing such as EPS to PDF, SVG to PDF, PNG to SVG, HEIC to PSD, HEIC to BMP, SVG to EPS, PNG to PDF, JPG to GIF, and many others. The important thing is that here are preserved informative safety of your files.
So the conversion is done on a secure server and after you upload the result all the data is erased. It is important for any conversion to have a stable high-speed internet connection. Converted files can be conveniently organized in the application folder. You can also save them to iCloud or on your device.
You can open the converted files immediately in the application you want. The app has a premium subscription that starts after a three-month trial. With this subscription, you will get even more possibilities. Use this app to create graphic and vector images, gifs, photos to documents, and much more.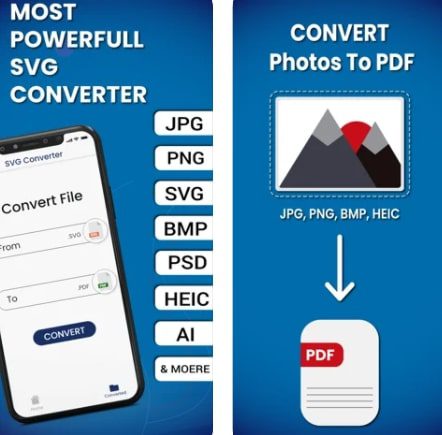 3. Photo & Image converter: jpg pdf eps psd png bmp
Photo & Image converter can change any image by converting it into the format you want. Choose an image or a file in PDF, JPG, BPM, PSD, GIF format and convert it to something else. You can select an image from your storage. This application is great for working with PDF, creating PowerPoint presentations, and for other changes to your photos and images.
It is perfect because you can always scan a document in any format with this application. It is also good for Excel spreadsheets. The finished projects can be shared in any application or sent via messenger or email. In addition, users note that the application does not require much charging of the phone.
The reason for this is that the converter optimizes its work. You can also convert files and use your phone at the same time. In other words, the application works in the background mode. When the processing is finished, users get a notification on their phones. Your PDF files can be easily converted to EPS.
It will not take much time. In addition, you can also make PNG to JPG, JPS to PSD, BMP to JPG, PNG to PSD, and many others. You can also work with Adobe Photoshop and Adobe Illustrator files. It is possible to convert any kind of photos, images, and various documents. It is worth mentioning that it is very easy to use.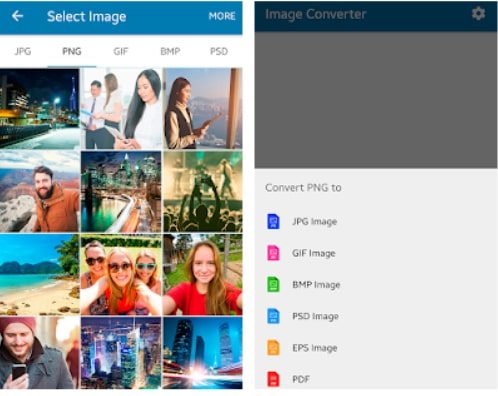 You may also like: 8 Best Text to Speech Apps for Android & iOS
4. All File Converter
All File Converter is a converter of various file types. It takes little time to convert PDF to EPS. You can choose a file from Gallery, Google Photos, Google Drive, ES File Explorer. All you need to do is click on the format you want to convert. The application works with documents changing them to doc, Docx, txt, RTF, HTML, and the other kind.
It is also useful for working with e-books. Indeed, the application supports Mobi, PDB, fb2, epub, lit, pdf, and others. You will also be able to change images in JPG, PNG, EPS, ICO, TGA, SVG. Musicians can pay attention to converting MP3, WAV, OGG, AAC, OPUS, and so on.
To work with video, the developers have included AVI, WEBM, OGG, MP4, and many more different formats that are compatible with the major video formats. Create funny gifs and high-quality video and images, work with PDF and plenty of other files. The interface of this application may upset you a little.
However, users note that in spite of the defects in appearance, the application performs its functions well. To use this application, you will need an Internet connection. You will also be able to change the quality and size of the converted image. Make the image of low quality to save more space. Also, converted files can be archived in zipping or gz.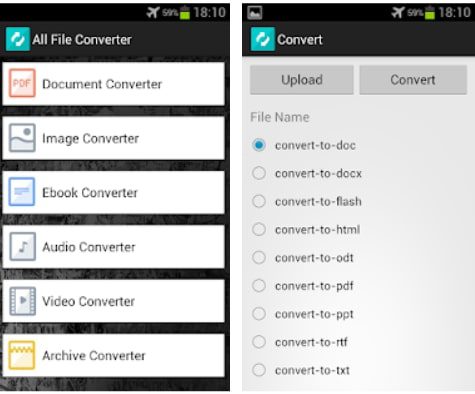 5. Photo Converter: Edit Pictures
Photo Convert: Edit Pictures is a platform that can change many EPS, PNG, GIF, PSD, JPG, and BMP formats. Users can change files to any desired format. You can also take a picture of a document right in the application and convert it immediately. In addition, it is possible to select files directly from the gallery or the storage.
You can also take a snapshot with the app's camera. Click on the button and you can show the resulting vector images via messenger, mail, or social networks. You will be able to link to PDF Converters, Video Converters, and other software converters. The application supports the following formats PDF, BMP, HEIC, GIF, PNG, JPG, EPS, PSD.
This application has a simple and easy-to-use interface. You will be able to work with illustrations from Adobe Photoshop and Adobe Illustrator. In the editor, you can always change the size and quality of the image.
This way you will always save space on your phone. Use this app on your iPhone and iPad. The developers made it look attractive and perform its functions of converting EPS files and others.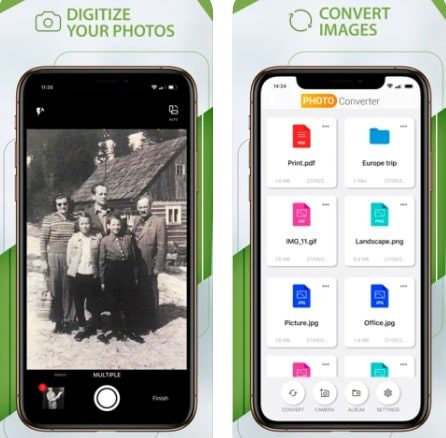 6. File Converter
The conversion of vector images is possible using an application such as File Converter. So let's move on to reviewing the main functions of the application. First of all, it is worth mentioning that this application requires an Internet connection to convert your files to the cloud. In addition, the application can be played in the background.
That means you can start the conversion and continue to do your activities using your smartphone. This way you do not consume unnecessary energy. Secondly, this app supports more than 2,000 available formats. So you can convert e-books, graphic and vector images, music, videos, documents, presentations, photos, and most importantly PDF files.
The formats available for e-books are AZW, ePub, FB2, LRF, MOBI, PDB, TCR, TXT, PDF, and more. While for images there are GIF, EPS, SVG, and WBMP. Likewise, you will be able to convert files for 3Dmodels, fonts, subtitles, and video. Meanwhile, the file itself can be edited. In other words, you have the ability to rotate, resize, change the size and quality, and stabilize it.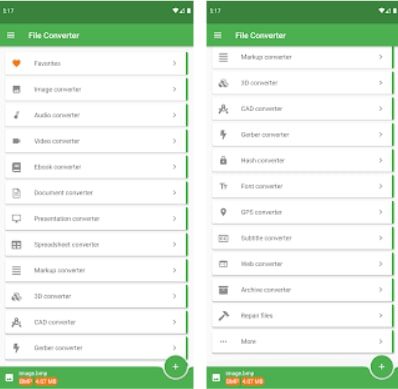 You may also like: 11 Free currency converter apps for Android & iOS
7. File to PDF Converter(Ai, PSD, EPS, PNG, BMP, Etc)
File to PDF Converter works with PDF files. It will help you to turn your file into different formats. Also, the application works with various formats such as Adobe Photoshop, Adobe Illustrator, DOCX, PNG, PUB, EPS, PNG, BMP, RAW, and others. You can organize PDF files right in the application.
In addition, you can share resulting files via Bluetooth, Google Drive, and much more. You will also be able to preview received files before you save them. This is convenient because you will always know what the file looks like. This app can be used to change vector images and modify them right in the app.