Even if our work is not related to office routine, sooner or later we all have to deal with documents and spreadsheets. Usually, such work is carried out on desktop computers or laptops, but what about even greater portability? Which applications for smartphones are better suited for these tasks?
Google Sheets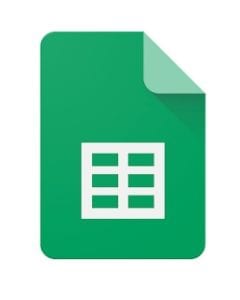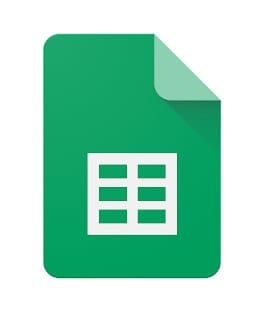 Google Sheets is a version of the official spreadsheet tool from Google, which has been perfectly adapted for Android and iOS devices. With this tool, you will be able to create and edit spreadsheets, as well as share them over the Internet to work on them together with other users.
By installing the application, you can:
Create and edit spreadsheets;
Open access to spreadsheets and work on them simultaneously with colleagues;
Work even when you're not connected to the Internet;
Add and respond to comments;
Format, enter and sort data, insert charts and formulas, and use many other features;
Don't be afraid to lose your results, as changes are saved automatically;
Ask questions about data in spreadsheets, quickly apply formatting and paste charts using the Data Analysis function;
Open, edit and save Microsoft Excel files.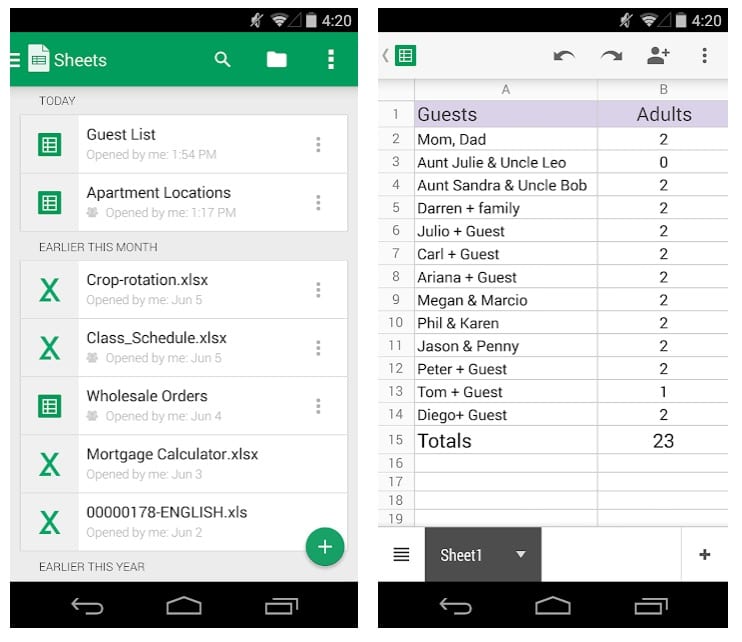 The app lets you work with any spreadsheet, whether you have an Internet connection or not. Plus, once you've finished working with a spreadsheet, even if you don't have an Internet connection, you can save any changes and they will be added to the cloud as soon as you have a connection.
Like the desktop app version, the official Google Sheets app automatically saves all your changes, so you never lose anything. Even if you're running low on battery power or the app has been closed, all changes will be saved.
Google Sheets is an excellent spreadsheet tool that can be particularly useful for editing documents together with other users.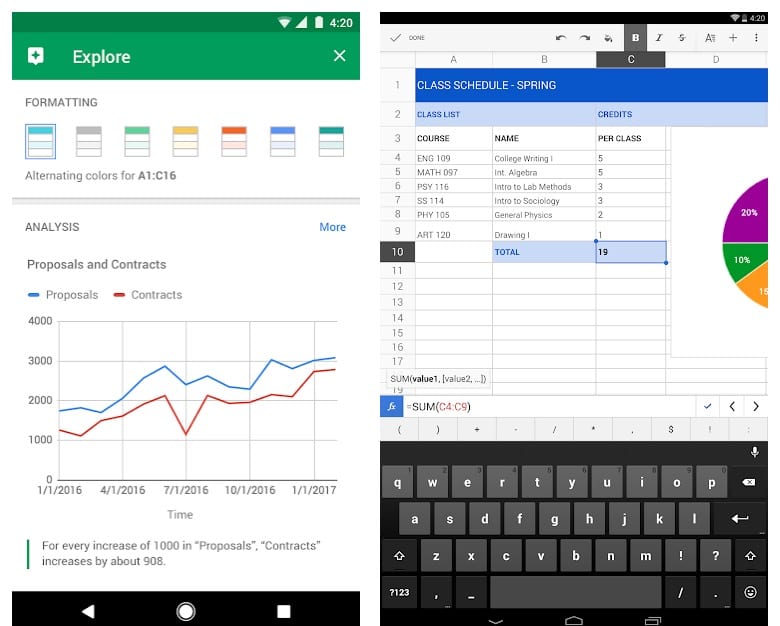 You may also like: 13 Best screensaver apps for Android & iOS
Microsoft Excel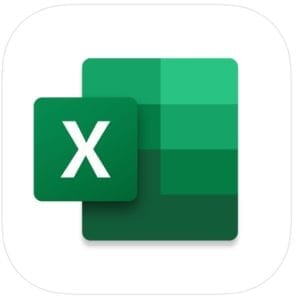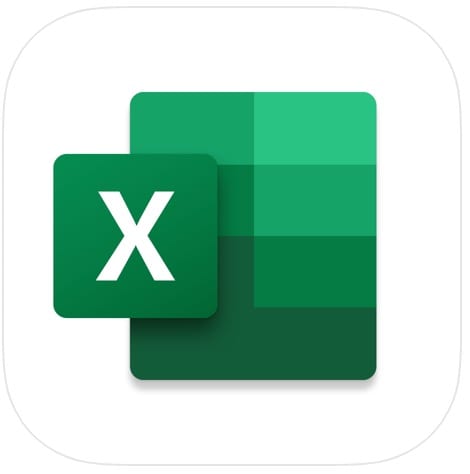 Microsoft Excel is the official Excel application for Android and iPhone, which allows you to view, edit and create spreadsheets. The application allows you to create large sheets, write formulas, make charts and graphs, etc.
The mobile version of the famous program has turned out to be of paradoxical quality – even on small screens graphic tools, spreadsheets and formulas are used neatly and comfortably, and all work takes minutes, thanks to the changed style and touch interface.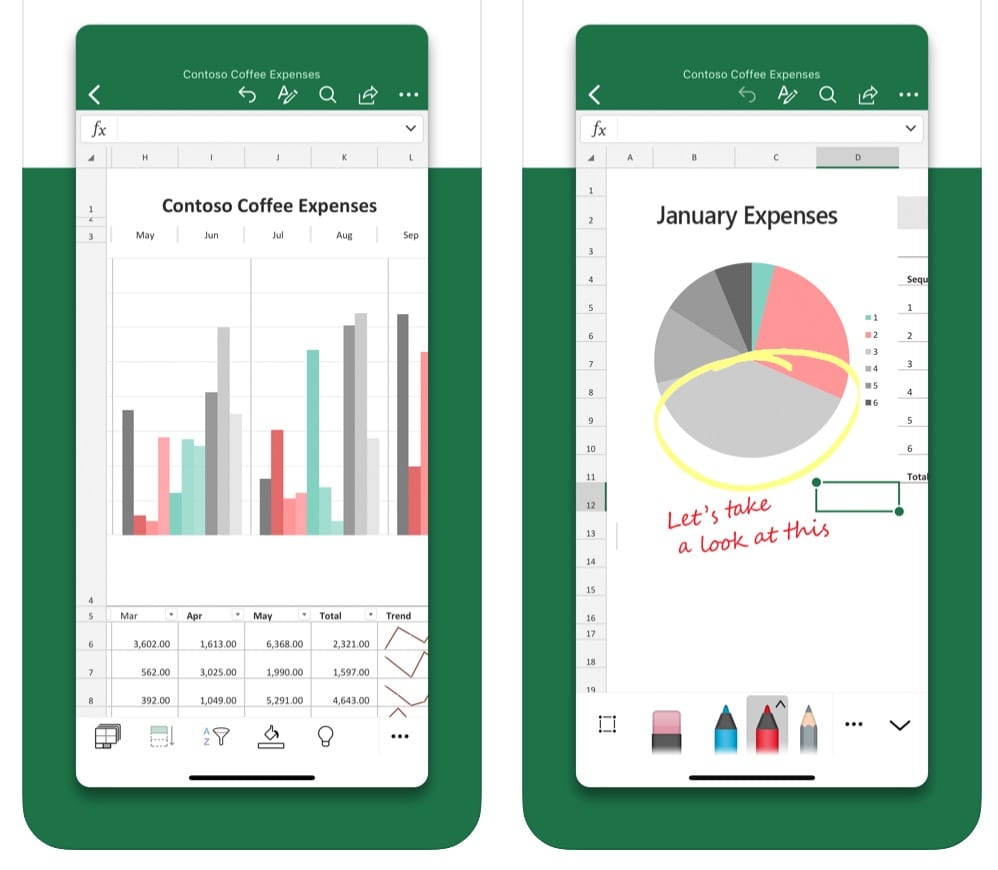 By means of Microsoft Excel, you can open existing files, create new ones and, of course, edit them. You will always be able to continue to work exactly where you finished, because Microsoft Excel recognizes which file you have changed recently, no matter what device you were working on. It's very convenient when there is a lot of data in spreadsheets.
So that the interface doesn't interfere with users' work with the program, its elements are automatically hidden. That way, when working with an application, most of the screen is occupied directly by the spreadsheet.
Also for the convenience of users, the program has the functions of intelligent selection and correction. This allows you to quickly edit and enter data, making fewer errors.
With Microsoft Excel, you will be able to synchronize spreadsheets both through your Microsoft account and through other similar services, including Dropbox. This way, you no longer have to worry about losing any new changes.
Microsoft Excel is an excellent spreadsheet tool that provides everything you would expect from an official application. It will be useful for both company executives and their employees, as well as for students, for example.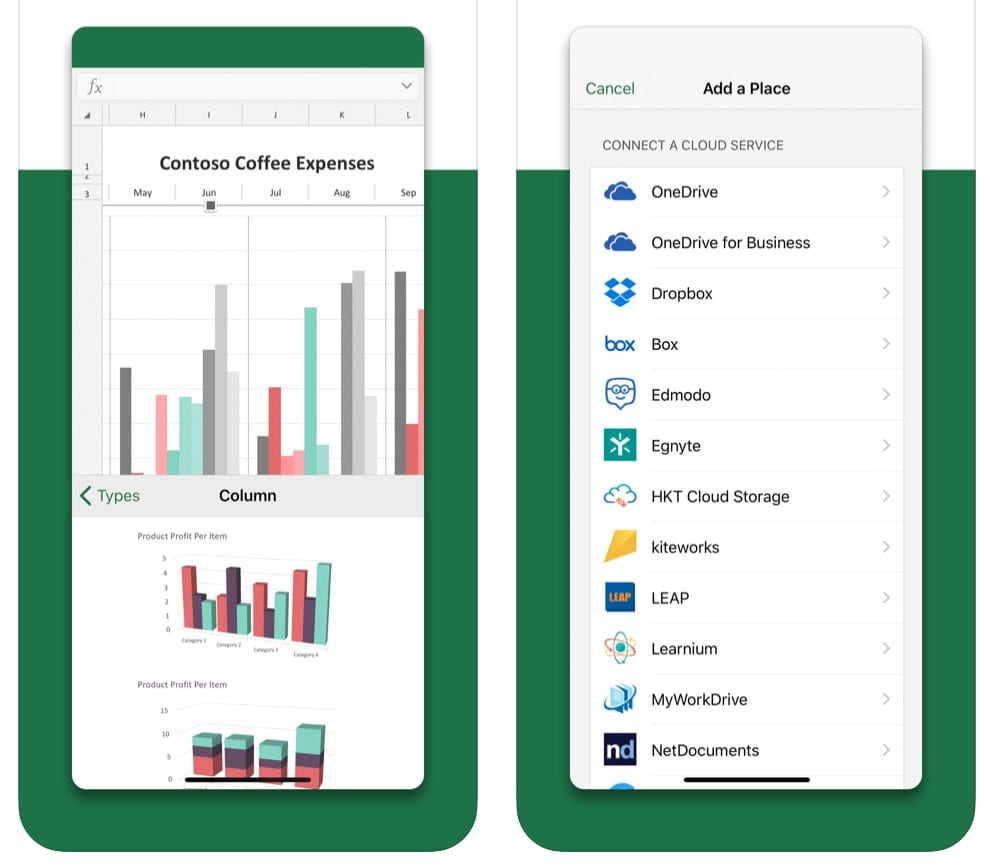 Smartsheet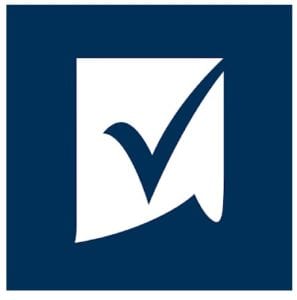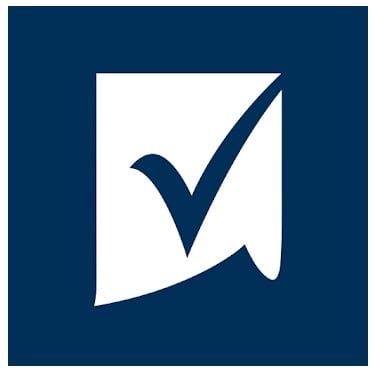 Smartsheet is an online service for workflow automation in the form of spreadsheets. The system features allow you to manage any project, regardless of their labor intensity.
The service provides the possibility of joint work because it contains all notes, folders, files and team discussions in a centralized way, and this information can be accessed from any browser and operating system.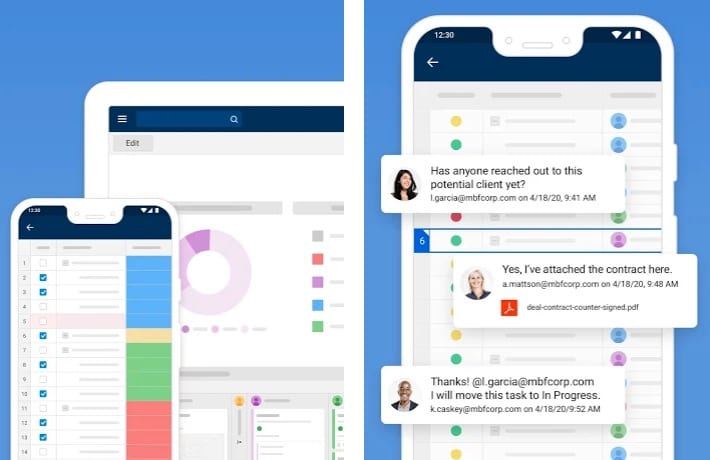 The basis of the system is represented by tables, to start working with which you can use existing templates or import from Excel, Google or Microsoft Project.
In comparison with available applications for spreadsheets, Smartsheet has advantages:
Smartsheet allows you to instantly share the results with your team members or organize joint work on a particular task.
To work on projects, you can invite people from anywhere in the world, giving them access to information in seconds.
The Smartsheet mobile app opens up unlimited possibilities for collaboration from any convenient place.
The convenience of scheduling tasks using the Gantt chart is especially pleasing. Everything works smartly and stably.
The interface of the program is simple, you can work with spreadsheets without programming knowledge. The service is easy to adapt to specific activities and business areas, which is suitable for large companies and corporations, as well as for individual entrepreneurs, or freelancers.
The tool is quite powerful, there are many templates and there are no problems with mastering the interface.
Polaris Office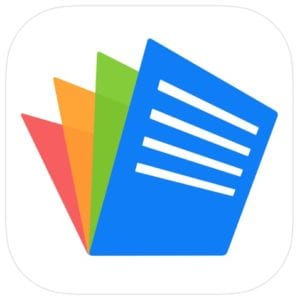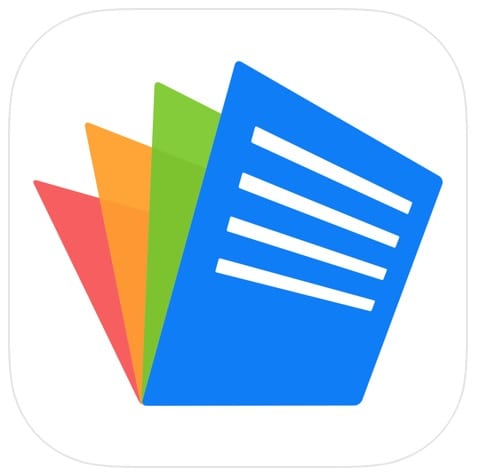 With the advent of the universal program, Polaris Office – Word, Docs, Sheets, Slide, PDF, working with MS Office documents on modern smartphones and desktop computers became much more pleasant and effective.
What can be done with the help of Polaris Office:
Work with files and documents of various formats of MS Office;
Integrate files from a variety of cloud services;
Synchronize files between your smartphone or tablet and your computer;
Ability to edit files freely;
Different slide effects and animation effects;
Ability to create various notes in the fields of documents;
Free work with footers in documents, and also with footnotes and a ruler;
Ability to take photos and paste them into documents right away.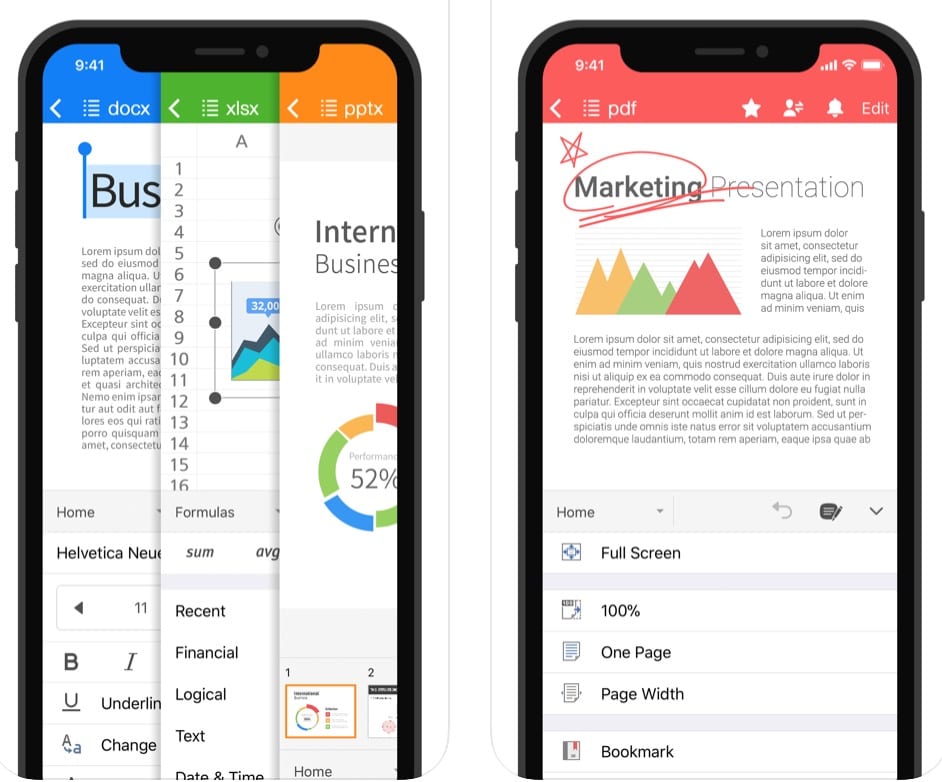 The useful search feature will save you time by extending your search range by using not only the file name but also any words contained in the text of documents of all formats as a search query.
Update all your documents on all your devices, such as your PC, tablet, and smartphone, by synchronizing them with Polaris Drive or another cloud service.
When the work is done, use the convenient file exchange system by e-mail – create a list of contacts and simplify operations!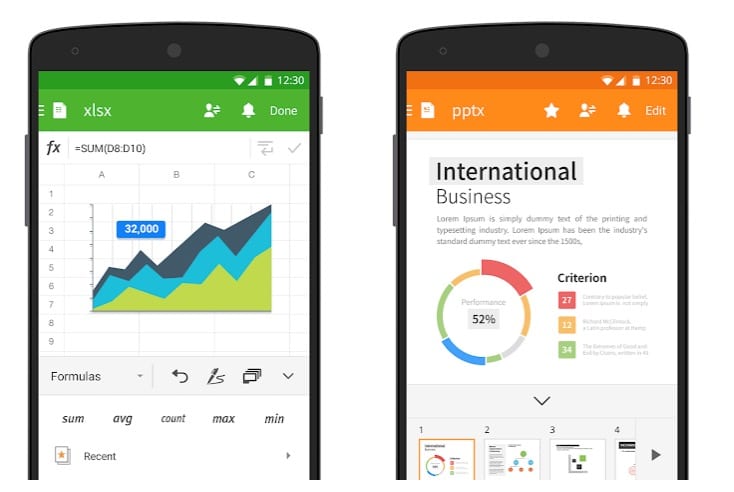 OfficeSuite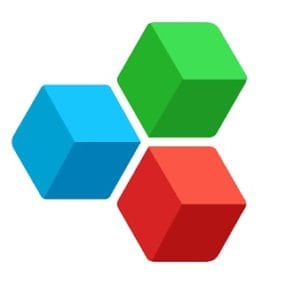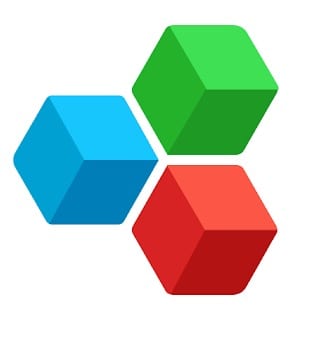 OfficeSuite is a mobile office application for smartphones and tablets that is almost the best of its kind.
There are very few of these applications that could provide such a wide range of functionality. After downloading the application you will be offered a 5.0 GB cloud, which is absolutely free. So it's convenient, and at least enjoyable for each user who downloaded this application.
The cool thing is that it can replace a desktop software package for those who are constantly traveling and working with this software. That is it will be very convenient to use the full functionality right on your smartphone or tablet.
But it will be a little uncomfortable to work on your phone due to the small screen diagonal. Edit, view, create and share your files and documents with other people. By the way, the cool thing is that there is a very intuitive interface, which is very concise and very well optimized.
Interesting features of the application:
A large number of different functions that you will use all the time;
Synchronization between all your devices, and the ability to upload your projects and files directly to the free cloud;
A convenient user interface, which looks very nice on all your devices.
OfficeSuite is a complete set of tools that will make your work much more convenient. In the paid version there are even more tools available for working with documents to achieve maximum results, no matter where you are.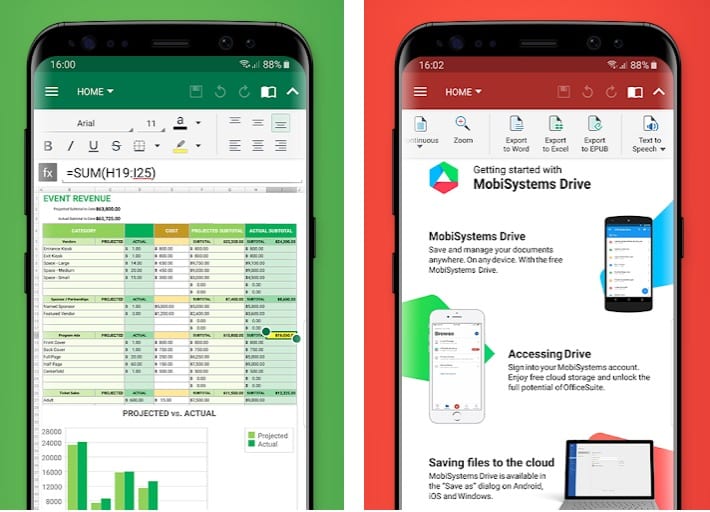 WPS Office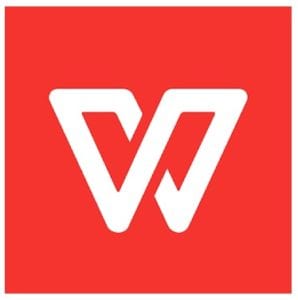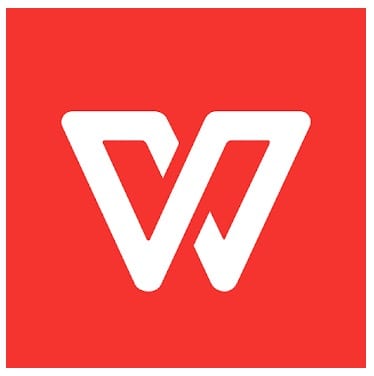 WPS Office for Android is a utility that allows you to view, edit and share text files directly from your Android device.
The application supports 51 different languages including English, German, Dutch, Portuguese, French, Korean, Italian, Russian, Serbian, Arabic and Spanish.
The interface of the application is very easy to use and allows you to work easily with simple swipes.
Kingsoft Office for Android supports the following formats: DOC, DOCX, TXT, XLS, XLSX, PPT, PPTX, and PDF. You can view and edit all of them except for PDF, which is viewable only.
Some cloud storage services are also compatible with an application such as Google Drive and Dropbox, which will allow you to automatically store all your files online.
Comfortable and feature-rich spreadsheets. Fully customizable formulas make it easy to create basic data and manage files. Automatically save your office documents to the cloud: Dropbox, Google Drive, Box, Evernote, and OneDrive. And keeps all your documents up to date in the cloud.
WPS Office – a powerful office suite from Kingsoft, designed to work with text data, and sheets. In other words, this application gives users all the necessary features of MS Office, but only on the Android smartphone.
Of course, we must say that the interface is fully optimized for fast work with the general storage of your data, and the transfer of documents by mail is done in a couple of clicks. It's a very useful tool for those who work on their mobile phone all the time.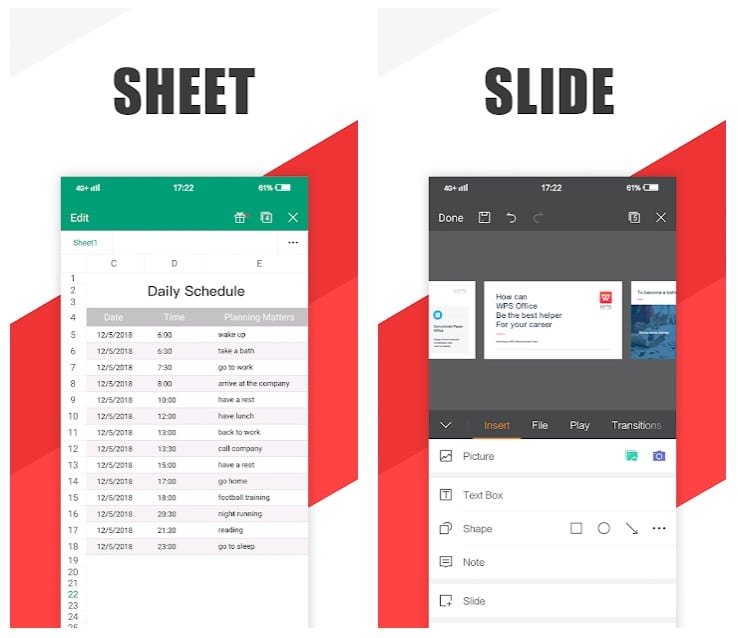 iSpreadsheet™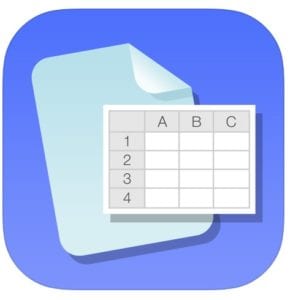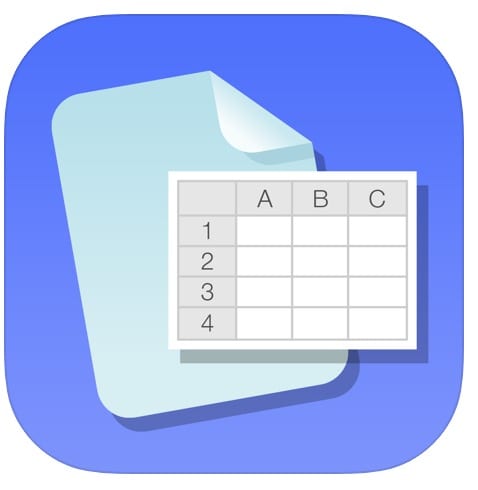 The program is a mobile spreadsheet editor that allows you to create, format and edit spreadsheets, work with formulas.
It supports work with MS Excel and Numbers files, export and import of data into other formats. You can work with several sheets at once. There is synchronization with cloud services and automatic data storage. The application interface is convenient, beautifully designed, with support for portrait and landscape mode.
Features of iSpreadsheet:
Integration with Google Docs;
Works online and offline;
Support for portrait and landscape mode;
Download .XLS and .CSV files from Google Documents;
Multiple spreadsheet management;
Access to useful Excel formulas;
Copying and pasting data;
Online support;
Offline formula assistant;
Autosave and Recovery;
Free updates.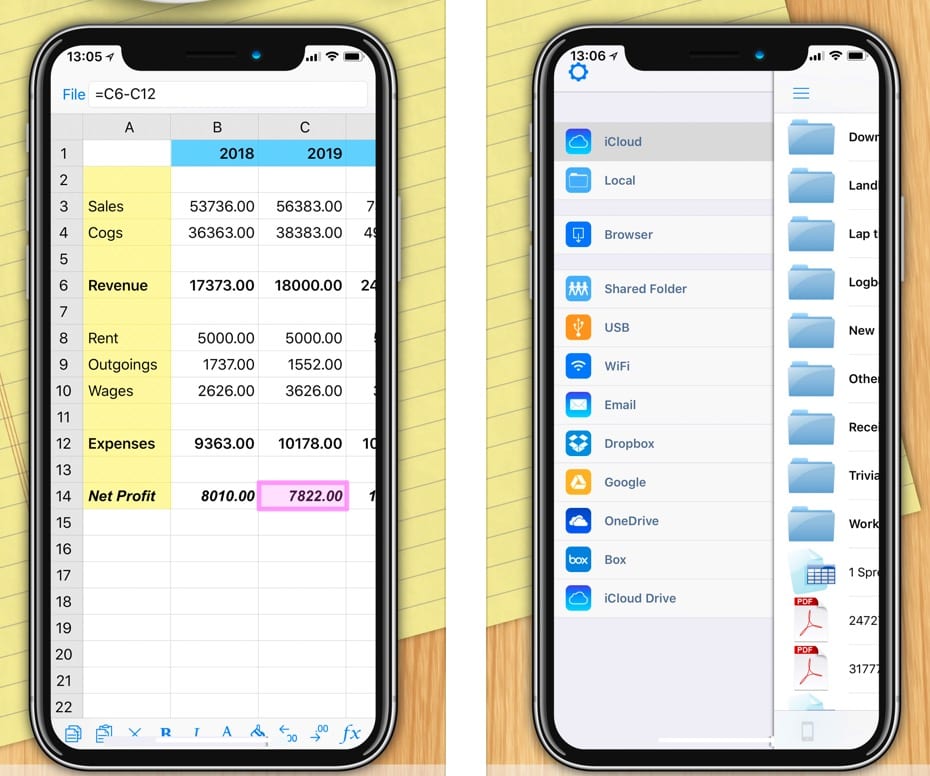 Airtable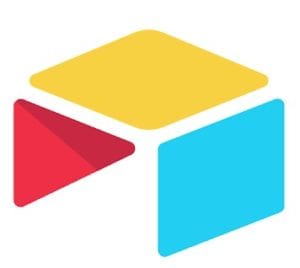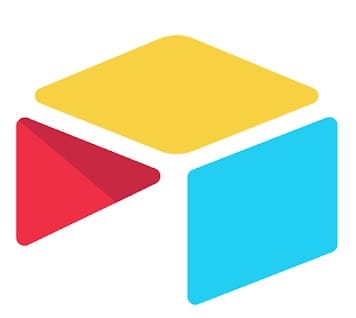 There are a lot of services for a convenient organization of personal space, but it's difficult to find one single for all tasks. Airtable is the place where you don't need anything else to plan your life.
At first glance, the service is very similar to the well-known Excel program. Information in Airtable is also entered into tables, it's possible to create several offline pages within one document. The difference is that Excel is a blank page, and the developers of Airtable have thought of almost everything for users.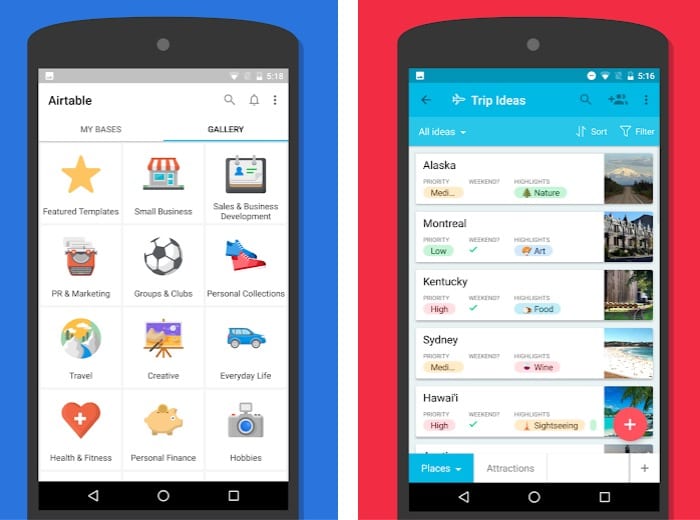 First of all, Airtable is an organizer. After registration, the service will immediately ask you to select your preferences to make special tables. And then you just have to place all your tasks or databases.
The application interface is cool, intuitive and understandable. Airtable offers users almost unlimited customization options. And if you still don't understand how to deal with this or that function, the tab with video tutorials, available immediately in the settings, will come to your aid.
On top of that, there will be the opportunity to work with other people: view what they are working on, as well as comment and mark users in your tasks. In addition, you can add media files to Airtable and share them with other users. All information is stored in the cloud, so you don't have to worry about the safety of your shared data.
And in general, the application will be an excellent helper in organizing your own life and work moments – we recommend it. It allows creating databases for all occasions. With it, you can easily structure your business contacts list, your own ideas, a selection of your favorite movies, your personal digital library, and much more.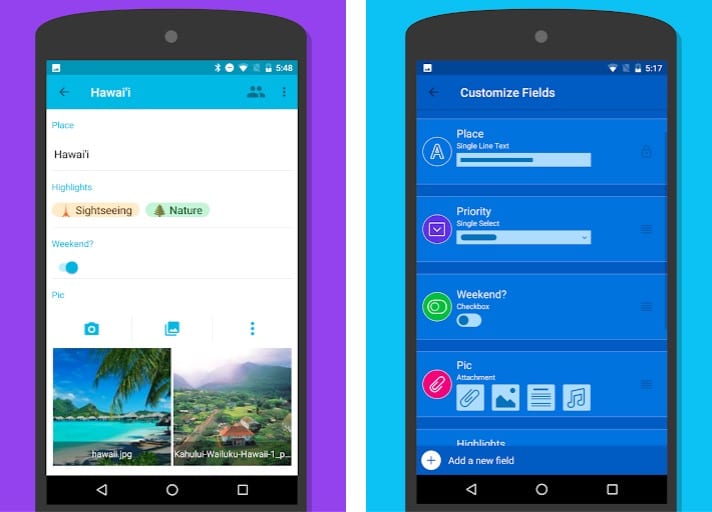 Quip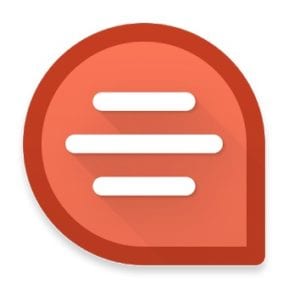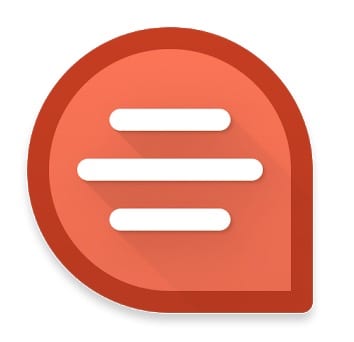 Quip is a modern file editor that allows you to professionally create documents on any device, be it a phone, tablet or a computer.
Setting up group work is easy. You can do this at the stage of creating a document or folder by specifying the appropriate settings, or directly from the document you're editing by selecting Sharing.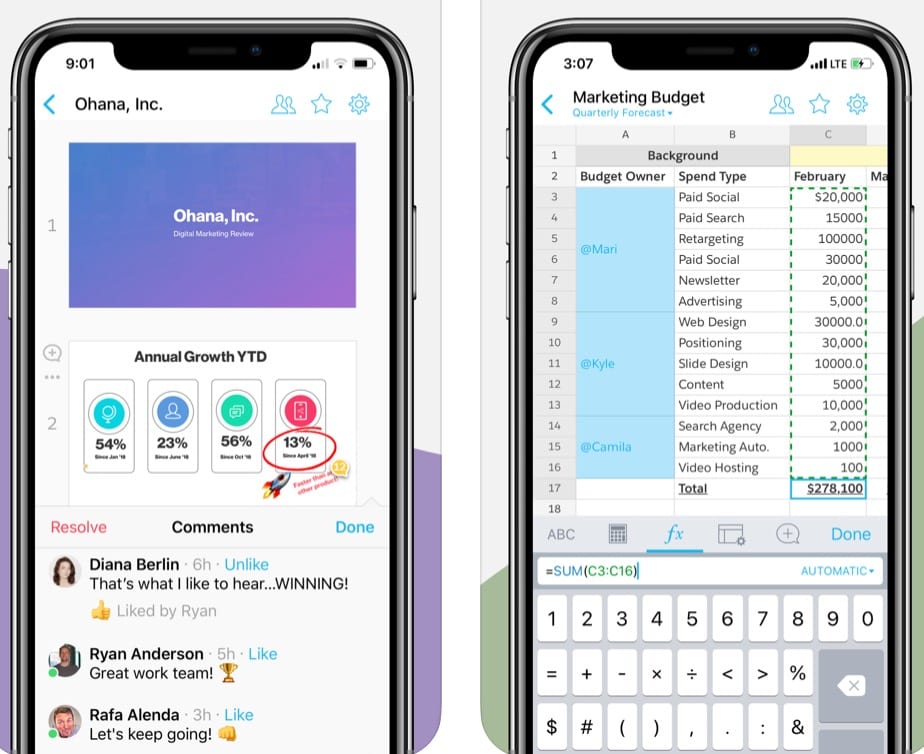 Take notes, organize task lists and work together with other company employees. Provide access to folders to work on any projects. All functions work perfectly offline and synchronize when you're connected to the internet.
Quip allows you to leave comments directly in the document that are clearly visible. It should be noted that in Quip it is possible to work simultaneously with several groups of people. All you need to do is to create different folders for projects.
To work in Quip, you can import documents from Dropbox, Google Drive, Evernote, and an email box.
However, Quip is unlikely to be suitable for creating documents with complex formatting, rather a service is at the level of common note editors.
It's hard to call Quip a new word in document collaboration, but it's really convenient to work on uncomplicated projects in a team using the program. There are all conditions for this, including convenient chat and comments in documents.
Import and export capabilities are standard and don't always work smoothly. Nevertheless, Quip is really good in its field. It's about group working.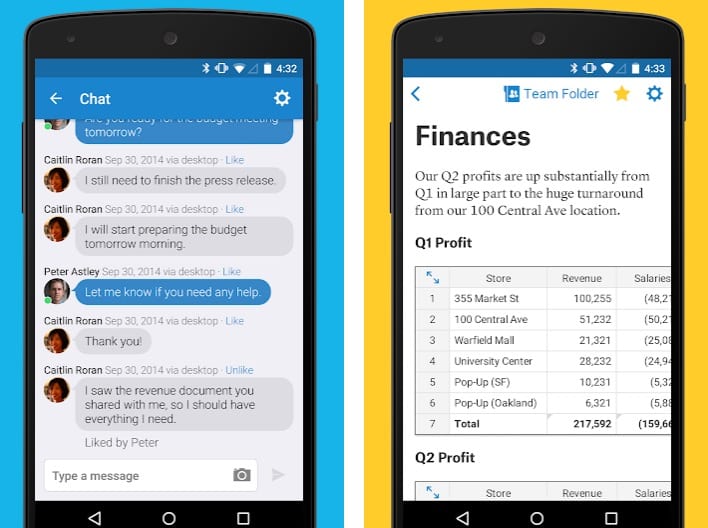 You may also like: 11 Free audiobook apps for iPhone & Android
Zoho Sheet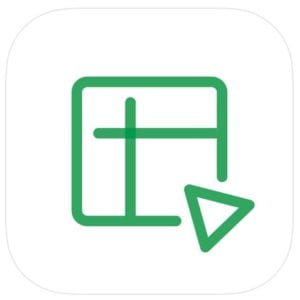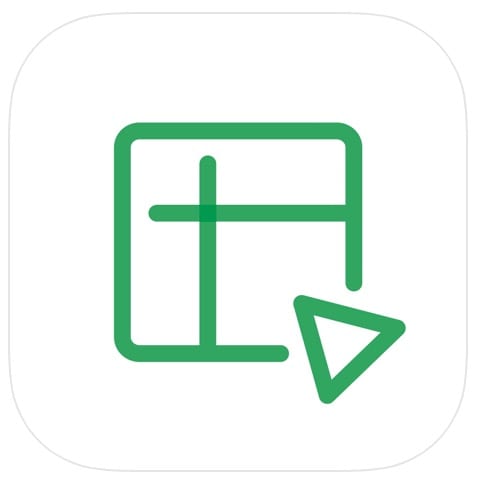 Create new sheets or import them from Excel, work with your team and share documents with the Zoho Sheet app for iPhone and Android.
Work with spreadsheets on business trips. The Zoho Sheet application works perfectly on any device. Create, share and work with spreadsheets on all your devices.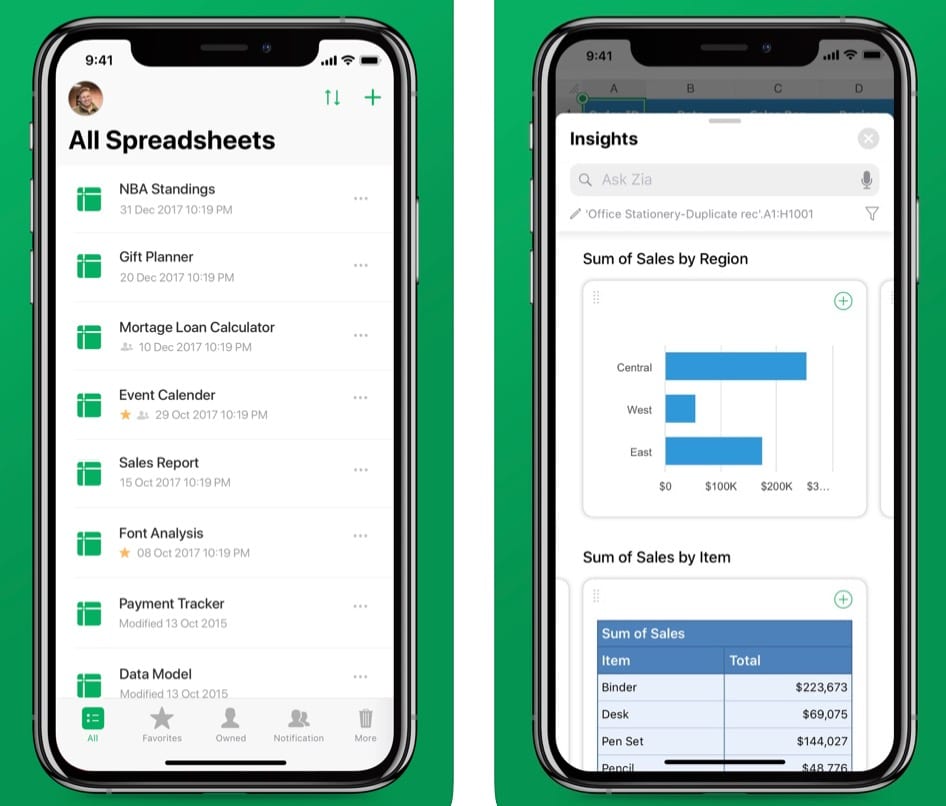 With the "Data from Picture" function, you can convert table data from paper and images into a digital format. In just a few seconds, you can convert them into spreadsheets that you can easily share. You can also preview the converted data and make minor changes before inserting it into spreadsheets.
Use a wide range of tools to work with numbers. Around 350 functions and formulas for complete and accurate data analysis.
Share your spreadsheets with others. In addition to the ability to collaborate on tables in real time, you can easily share documents using messaging applications and other programs (in Microsoft Excel [XLS, XLSX] or PDF format).
Universal sheet copying function. No more repetitive routine with spreadsheets! Duplicate sheets or copy and paste them into other files.