Because the rhythm of modern life is so intense and we have to do several things at the same time to achieve all our goals, audiobooks are trending right now. Indeed, you maybe don't have time to read a physical book but you can easily listen to someone's reading in while you are in a traffic jam or while doing your home chords.
There are plenty of amazing books that are presented in audio format and listening to them is a great source to fulfill your knowledge. The only thing, most people only aware of such audiobook portals as Audible. And, unfortunately, it is not free. You will have to pay for the subscription and for the books separately. Together it consists quite a sum.
But luckily, there are apps that allow listening to audiobooks for free. Now you can just download them and enjoy beneficial information and captivating stories without paying a single dollar for it.
1. Hoopla Digital
This app works like a digital public library where you can borrow audiobooks and then give them back. A great system to spread knowledge. eBooks, audiobooks, movies, music, comics, and even TV shows – all of those can be found in Hoopla.
In total, the app includes more than 800000 titles – more than enough to find something interesting. All the latest books are uploaded to the app as well as the classical one or those which are rare to find.
Besides, in case you are going to a place where you're going to face no Internet situation (plane, for example) then you can download a book and listen to it offline.
And you can use Hoopla not only on one device – you can synchronize it with multiple gadgets and the place, where you stopped reading the last time will be saved across all of them.
An interesting feature of this app is that it has a star rating for each book so you can always see what the big audience thinks about it before actually reading.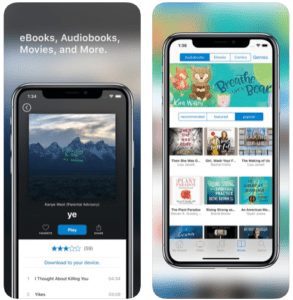 You may also like: 9 Best auto tune apps for Android & iOS
2. LibriVox
A similar app that contains around 50000 audiobooks for you to listen to. Each audiobook can be streamed over the internet or downloaded for later use. The LibriVox Audio Books app features classic best sellers and out of print treasures from every genre of literature in more than 30 languages.
The app made it possible to present the audiobooks to the wide public for free because of the efforts and contribution of volunteers. Even today the library is constantly upgraded with new items, which are recorded, edited and distributed by volunteers.
Novels, history, biography, short stories, and other genres are presented in LibriVox. All you need to do is to type the name if a book, author, genre or other keywords in a search bar and the app will affect the search.
Each time you are listening to a book and get interrupted the app remembers where you left so the next time you will get back to listening you will be automatically redirected to a moment of a book where you left.
Among other interesting features, you can find the sleep timer and variable speed playback that makes the listening of a book more flexible. Besides, the app will always show you similar audiobooks to the ones you are searching thus you can explore more of literature related to the subject you're interested in.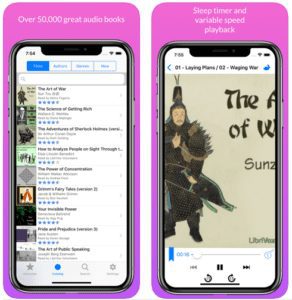 3. Loyal Books
This free app includes more eBooks than audiobooks, but still, it has a decent choice of each kind. In total, in Loyal Books, you will find more than 7000 audiobooks and more than 35000 eBooks.
And it is fair enough to say that this app is more user-friendly and interactive. By this, we mean that it has its own top charts of books and books reviews left by other users.
It can help you to decide whether is a book worth listening/reading and just read others' opinion on the literature you read as well and see if you are matching in your thoughts.
Just like in the previous app, the playback speed is adjustable here, so for those who are in a hurry, there's always a chance to speed up the process of listening. The books are presented in more than 25 languages. All the genres are included in Loyal Books, but still, most of its books are either classic literature or novels in general.
The only problem that may occur with this app is that the font is hard to customize – when you change its size, it automatically goes back to its previous state.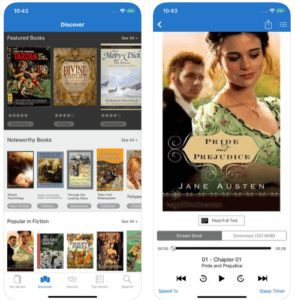 4. OverDrive
One of the best audiobooks app on the market. Embracing more than 30000 libraries worldwide, OverDrive works as a network of audiobooks, allowing you to swiftly find any title you need.
What is more, this app gives you the opportunity to create wish lists where you can add books from the app in order not to forget to read them in the future.
The interface of this app is probably even more simple than of the previous ones but luckily it is compensated by the wide choice of audiobooks. And just like all the apps listed above, it resumes the last moment where you left and then when you are back to the book, it starts from the moment you left.
Since it is an app, based on the network of libraries, each library builds its own collection of titles. Contact them directly to let them know that you're using OverDrive and to share any suggestions for books you would like to see them carry.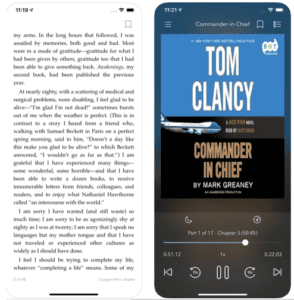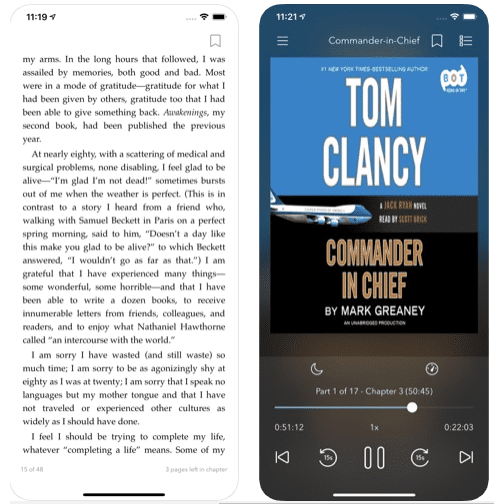 5. Audible
Even though it was mentioned before that Audible is not a free app, the first 30-days trial period here is free. That's why we can't place it in the first place, but trying this app out is definitely worth it.
There is a big chance that you are already familiar with this app since now it is trending everywhere. Released by Amazon corporation, the Audible represents one of the biggest and advanced library of audiobooks in the world.
Along with that, the latest releases are presented here exclusively straight bu the authors themselves. Here you can find exclusive audiobooks that are not available in other sources. All the exclusive audiobooks are collected in the section Audible Originals, that's what you have to explore for sure. So use your trial period wisely.
Obviously, the literature of all genres is included as well. Bestsellers, motivation, memoirs, mysteries and thrillers, sci-fi, etc. – all of those you will discover in Audible. Moreover, such famous newspapers and magazines as The New York Times, Wall Street Journal, and The Washington Post are presented here too.
Here you can also create your own library, collecting books that you liked (so it's like a playlist). Other standard functions as automatic bookmarks and customizable speed of playback can be found in Audible.
You can sync your Audible titles from your iPhone and play them from your Apple Watch via Bluetooth. Rewind, pause or set a sleep timer from your watch. Available on Apple Watch Series 1 or higher.
The advantage of this app that it has no ads. The biggest disadvantage – from the second month you will have to pay for the subscription and for the books separately. But along with that come lots of bonuses.
For example, as a member here, you will get unlimited access to guided fitness and meditation programs led by certified coaches and trainers. So it's up to you, whether to continue using Audible or not.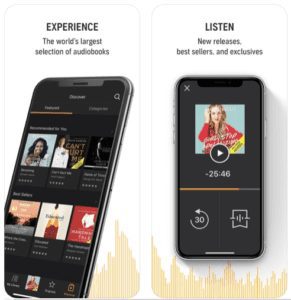 6. Audiobooks.com
Great app for all the audiobooks lovers – here is the app that includes around 1 million audiobooks and podcasts and you can access them all for free. Audiobooks.com will be a great and useful playback to listen while you are driving home, having a lunch hour, relaxing or doing other boring chords.
The app includes all the possible genres of books (fiction, crime, mystery, thrillers and so on) that you can stream wherever you want, including downloading the books so you could listen to them later in places with no Internet connection.
The remarkable thing here is that the interface of the app is made with a certain though of design that is already an advantage. It makes browsing of books more fun and the whole user experience is more pleasant this way.
Audiobooks.com also includes a customizable sleep timer for bedtime reading. So if you got a harsh day behind, listening to your favorite podcast or an audiobook is a great way to switch off and relax. In total, there are more than 150000 titles of podcasts and audiobooks to choose from.
You can also discover what others are listening to by reviewing the charts of the most popular and most ranked books. After you have been using Audiobooks.com for a while, the app will start generating personalized recommendations for you.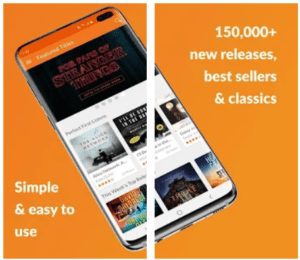 7. Downpour.com
This app maybe not the best in terms of acquiring the latest releases of the trending authors but it is definitely has a choice to offer to its users – more than 80000 audiobooks of various genres – from classic literature o science fiction.
And the library gets upgraded each month so you will always have something new to listen to. The collection of Downpoor.com includes Pulitzer, Nobel, Man Booker, PEN/Faulkner, Hugo, and National Book Award winners, as well as countless New York Times bestsellers.
If you would like to listen to a book offline you can do that by downloading it. And this app doesn't lack the feature that all the apps below had – you can control the speed of text through with variable speed playback (1.25x, 1.5x, 2x).
There is also a possibility to create your own wishlists, add notes to the books while you are reading and, of course, bookmarks. The app can be synchronized across all your devices so you can always switch from your gadget to a table. for example, to continue listening to a book.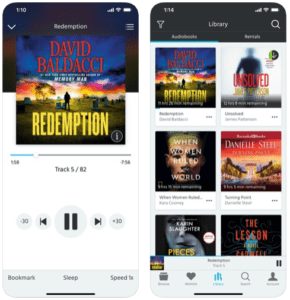 8. Audiobooks from eStories
Even though most of the audiobooks apps are free, the books themselves are almost always paid. It can happen often, that you take a book "for a lease" and then, if you are listening to it longer than a month, you have to pay every month.
This app is different in this sense. It offers tariffs 25% lower than its competitors and the books that you acquire here are yours to keep – you can save them to your phone as mp3 files.
eStories is also the only audiobook service that gives you the option to listen to any way you want – stream, download or upload, or to play books using the feature-rich mobile app or web player.
New releases are presented in the app every week. You will find all the bestsellers in each genre. The app will also create some personalized recommendations for you.
A distinctive feature of this app that it includes not only the short description of a book, but also the author's bio, reviews of other users and rankings of books, and bookmarks that hold notes and inspired ideas. In total, the app counts more than 100000 titles, 9500 of them are free.
What is more, Audiobooks from eStories is able to synchronize books across 10 devices simultaneously. From here you can even play books on Smart TV. Other basic functions as a customizable speed of text or sleep timer are included.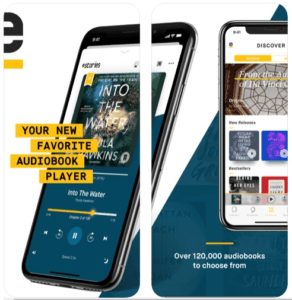 9. Libro.fm
The virtue of this app is it was the first and the only one that made the possibility to buy audiobooks directly through your favorite local bookstore. It includes more than 125000 audiobooks, along with the trending bestsellers and immortal classics.
With Libro.fm you'll get the same audiobooks at the same price as the largest audiobook company, but you'll be supporting your local community.
After you have launched the app you need to create your account, find your audiobook and download it to your smartphone. That's pretty much all it takes to enjoy new and exciting stories using your gadget. Besides, Libro.fm has a very nice interface that stands out from other audiobooks apps.
There are no extra functions in the app, only the very basic ones. Maybe, just one more or less outstanding feature that many audiobooks are enclosed with a PDF text. So for those, who appreciate simplicity and functionality, this app will be a choice.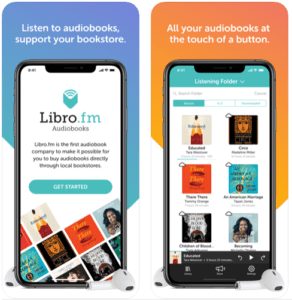 10. Scribd
This app is one of the most popular on the market and there are some reasons for that. First of all, the collection of audiobooks that it provides is huge, along with magazines, newspapers and other kinds of media. You can even search for different documents in this app.
Scribd is recommended by various famous media websites. But it needs to be said first, the app has a trial period of three days and for the next subscription, you will have to pay $8.99 per month. It is quite a reasonable price for such a range of books and audiobooks but everything depends on if you really need it.
Entertainment, personal growth, children, science fiction, romance, health and wellness and many more genres of audiobooks can be found in Scribd. An interesting aspect is that here you can even find the music sheets that cover each instrument and compositions of any difficulty.
Another great feature of this app is that it provides unlimited access to the world's largest document library, which includes more than 60 million documents including official government reports, case studies, study guides, academic dissertations, medical reports, and more.
So for students writing their scientific paper, this software will be extremely beneficial. Besides, you can always use a trial period, quickly find a document you need and then don't prolong a subscription.
And, of course, standard features as sleep timer, customizable speed of text, bookmarks, and notes, etc., are available in Scribd. If you want, you can download books and documents for better convenience. But still, the app is so low in our list because of the paid subscription.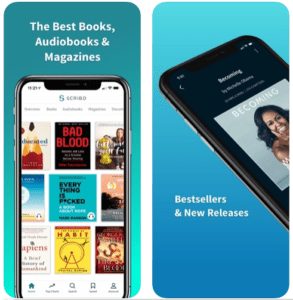 11. Free Books & Audiobooks
And the last app on our list is a cool free audiobook library that, maybe, doesn't provide that diversity as the previous Scribd app, but it is completely free. Moreover, you can always easily download a book you like.
Since it was released quite recently on the market, the app is constantly upgraded with new audiobooks and its collection already counts around 1000 items.
An interesting feature here, that if you can't find a book you want in audio format, you can use a regular book with a book reader which will be reading the book out loud for you. It may not sound as appealing as professionally recorder audiobooks, but still, it works.
Besides, if you still decide to read a textbook, you can regulate the font in books and magazines for better comfort. And this app also has a nice interface, with categories, books' descriptions, and rankings. However, there is also a disadvantage: the app has too much ad.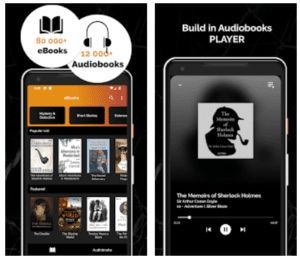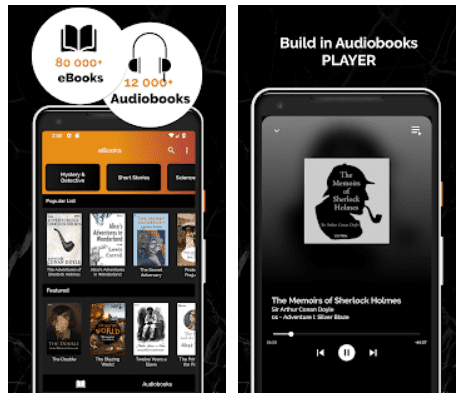 You may also like: 7 Best apps for soundboards (Android & iOS)