Pretty soon every home will be celebrating Halloween. Some have probably already begun to prepare for the upcoming holiday. Perhaps someone is shopping for home decorations, figuring out a new costume, or even planning a party. You may not have bought any gifts, if so you can use gift picker apps. It is assumed that everyone approaches the holiday in unique ways.
And what about those reading this article? It might be helpful to you in organizing your party. You may want to frighten your guests, but not sure how. This article will tell you about exciting applications presented in App Store and Google Play that are created to boost the holiday spirit. Welcome to All Saints' Day. Here we go!
1. Mustread scary chat stories
Each year during Halloween you want to stress out your nervous system and be really frightened. Do not know how? Have we all told each other horror stories on this day? So maybe when all is said and done with fantasy, the Mustread will come to the rescue. Here is a collection of scary short stories, chat messaging in the form of a quest and so much more in the genre of horror.
What makes Mustread so fun? There are scary chats with crazy murderers, ghosts, madmen from the mental asylum. There will be photos and videos in the made-up chat just like in a real messenger. the application also has a place for quest games, for example, the search for objects in the image.
Besides, the whole pleasure of it is that all the stories are quite short. One chapter reading is no more than 5 minutes. So it will not take much time on Halloween.
And perhaps you have a writer's talent and are ready to write your own scary story. Then the app is a great fit. Just choose a genre, come up with a catchy plot, and add some photo material. Check out the app there you will find detailed instructions on how to create a good story.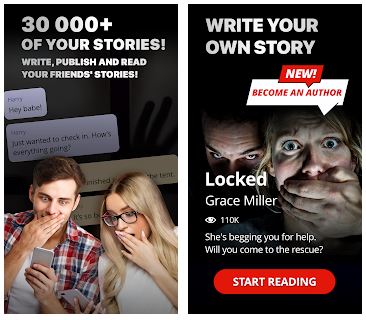 Would you want to have more fun? Check best drinking game apps!
2. Creepypasta
In its structure, this application is similar to the one above. However, it has its own special features. Among them are various Internet legends and mysteries told by users from all over the world. Do read scary stories on Halloween Eve. Firstly, make your friends scared with spooky speculations, and, secondly, chat online with other users.
There are stories about all the already known characters such as Slender Man, Jeff the Killer, The Rake, Ben Drowned, Laughing Jack, and many others. So, enjoy reading the stories wherever you go, they will not take up much of your time.
Moreover, the app has divisions to find the most relevant content. For example, the latest section displays the most recent stories and tells you the best ones to read. Meanwhile, the top section shows the tales that have gathered the largest number of fans. The majority of people like these stories.
In addition, the application has a search algorithm by words. Do you forget the name of the story? No problem, just think of the keywords and maybe you will find the same story. In this way, the Halloween holiday will pass in even greater fear, which is great for this kind of holiday.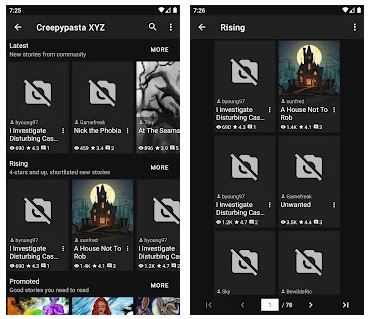 3. Scary Prank – Scary cam, Scary to Scare your friend
Do we all like to make fun of our friends and family once in a while? Apparently, Halloween is the best opportunity to prank and have some fun again. In this case, please get the Scary Prank app.
Now how it works. So, open the app and hand the phone to the person you want to scare under some excuse. As an example, you can tell a little lie by saying that this is an unusual retro game and that it must be tried. Now you have the victim on the hook. As long as the phone is in the hands of your enthusiastic friend.
Your app guesses when a ghost or screamer will suddenly appear and frighten your victim. Make sure to turn your volume up to the max before handing over your phone. Furthermore, the app has an opportunity to record your prank, that way you can share your success at spooking later on. Hopefully, you will have a good experience scaring your friend and without damaging your phone.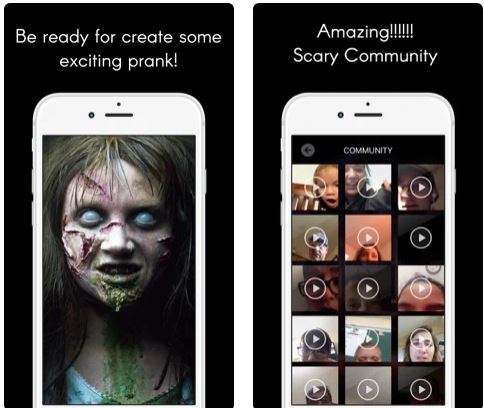 4. Horror Mask Photo Editor
This is an app for changing your face and turning it into a horror. Thus, it makes you appear in a scary dead-skin costume without it. With its app, you may choose a mask you like and create great scary photos.
Later on, you can share the photo with all your friends on Facebook, Messenger, Twitter, Instagram, WhatsApp, and other social networks. In this way, you can congratulate your friends on the upcoming holiday.
Inside the application, you can edit all parts of your face, make eyes with worms in them or a bloody mouth, or immerse your whole face in a scary mask. In the end, this final shot can be saved. So, check out the next Halloween prank on your friends.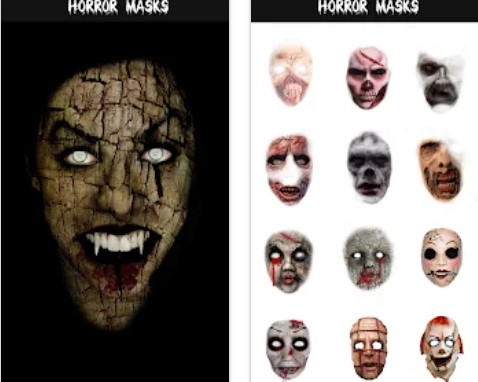 5. Zombify – Turn into a Zombie
Do you often dress up as a zombie during Halloween? Would you like to scare everyone in a dead man's costume? In that case, this app is just for you. Upload your photo and get a scary zombie image instead.
First of all, in the app, you can adjust your mouth and eyes with filters. After all, there are lots of different scary filters. Secondly, you can add creepy creatures to parts of your face, like snakes, maggots, cockroaches, and other creepy critters. Thirdly, choose an appropriate filter so that your photo or video looks harmonious.
And finally, there is the option to change the environment. Detailed 3D animation is great for making your spooky look realistic. In the app, you can set up eyes dangling from their sockets and attach maggots that will move around your face.
Your photos can be easily shared by importing to social media through Whatsapp, Instagram, YouTube, Vimeo, Twitter, Facebook, Tumblr, Flickr. Share your unusual photos with your friends.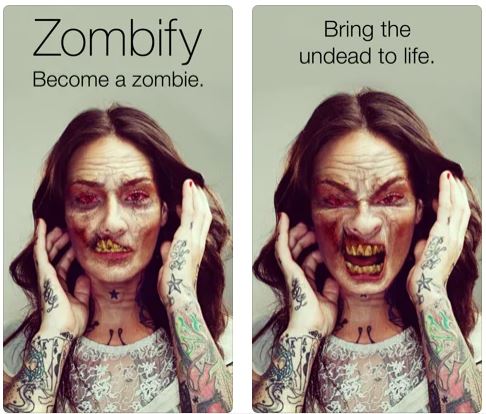 You may also like: 6 Best body swap apps
6. Halloween Wallpaper
The Halloween Wallpaper app is available on Google Play, which creates a holiday atmosphere on your phone. You will become unique with a new animated wallpaper on your smartphone. Pick the one that suits you.
The main effects and settings include 3 backgrounds to choose from: a haunted house, a cemetery and a cursed tree, an evil witch, spooky ghosts, fog, and many other things. The application supports both smartphones and your tablets.
It is quite easy to install dynamic wallpaper. To begin with, you need to go to the settings of the application, open the display, the main screen wallpaper item, and set the live wallpaper. All wallpapers are free. Create for yourself an atmosphere of celebration.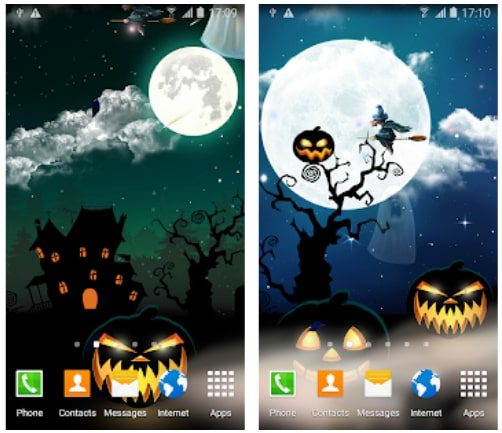 7. Spooky Booth: Halloween 2017
Be part of Halloween with another app that lets us modify our appearance with decorative stickers. With this app, you will be immersed in the atmosphere of a fun horror.
So all you need to do is to upload any photo from your gallery. After that, you will be able to add various graphic options. Take, for example, a mustache or a funny hat or a creepy zombie face. After all these easy steps you can download it to your phone, as well as import it via Facebook, Twitter, or email. Right away you can entertain your friends in the social networks using the Halloween spirit.
In addition, it is quite simple to manage stickers. In fact, you can change its size and at the same time move it at your will.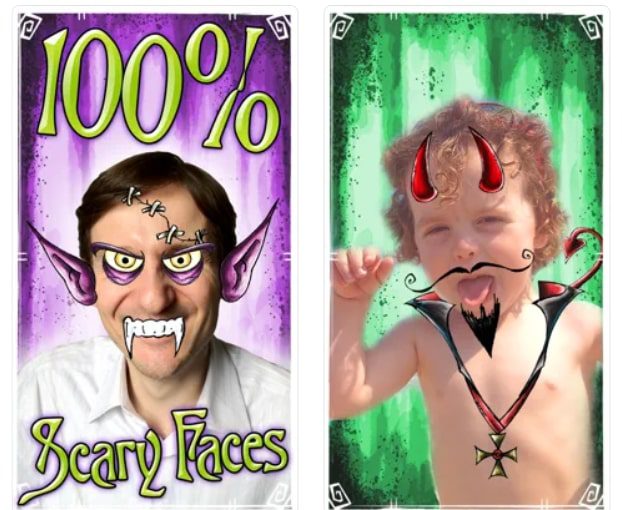 8. Scary horror sounds
The following app is designed for those who would like to have a little fun with their friends. This is a simple application that uses a bunch of different scary sounds to make the whole situation seem dramatic and a little bit scary.
So to make it work, all you need to do is install it and see different buttons that represent a certain sound. Some examples are the scraping of glass, footsteps on old planks, the sound of lightning, the howling of a ghost, and many designed to tickle the nerves.
We recommend using this app with maximum sound or with the use of loudspeakers that terrify the sounds. It would be great for your Halloween party. However, keep in mind that such apps are only meant for entertainment and fun. Check it out and prank your friends and loved ones!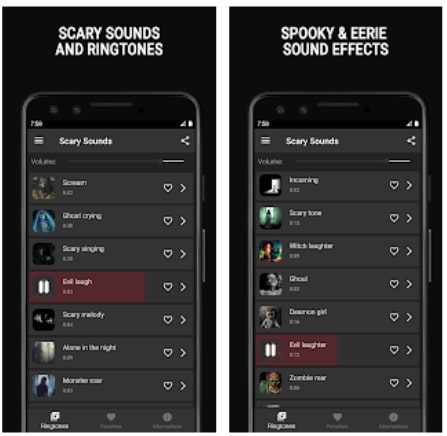 9. Vampire Yourself Camera Editor
Turn yourself in to a real vampire with the creepy photo editor. This is especially for fans of spooky movies about forever living bloodsuckers. Pay particular attention to the numerous stickers that can turn you into a real vampire. This way you will get huge fangs of different sizes and shapes, frightening eyes, and monster's clothes. So you will get the full appearance in a few minutes.
And what is more, in the app you can load an old photo from the gallery or you can do it right now. Then, add your vampire attributes. Finally, share the result with everyone on social media. The Vampire Yourself app is good because it's easy to use, it is narrowly focused, and won't take up much of your time.
Thus, you will have the experience of becoming a vampire with the app.

10. Scary Slender Man's Fake Chat And Video Call
In fact, this app is a kind of trick game. It lets you pretend to have a video call with a famous ghost, chatting with it. This way, the app simulates a real-life experience with a frightening creature. Make an impression on your friends during Halloween with this fake video chat app.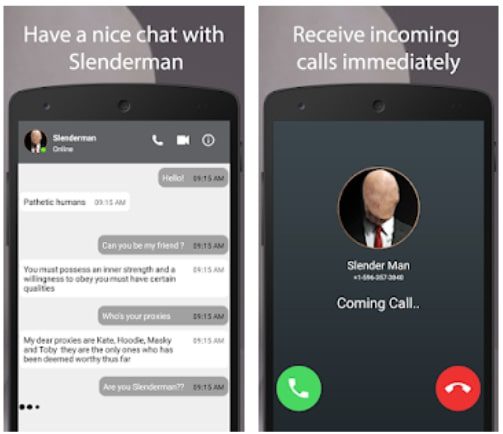 Look down to the next app. It may be interesting for you to change your voice to a different gender, check it out here.
11. Voice Changer App – Funny SoundBoard Effects
Perfect on the eve of the celebration will be an app that modifies your voice. Halloween is the kind of event when you want to be somehow different. For instance, a scary ghost, a squeaky baby, or some animal. And so the app presents a range of voices to replace your own.
In addition, you may not change your own voice, and instead, add extraneous sounds in the background. Like the wind howling, the glass scratching, and so on.
The usage is simple – all you need to do is to download the application, then record your own voice and save the resulting audio. Besides, there is an import to various social networks. You can share via Instagram, Facebook, Messenger, YouTube, and Twitter. Now you can amaze both you and your friends.