Trying to get into animation? Want to see what the pic animation trend is about? You've come to the right place!
We've scouted the best facial motion capture apps for Android & iOS you could try. These let you make 3D models of yourself, animate your snaps, and even make the pics talk!
Whether you're an aspiring animator or simply love creating hilarious vids, these apps are must-haves. From animation filters to pool-level animation tools, there's something for everyone to play around with. Let's dive in!
MocapX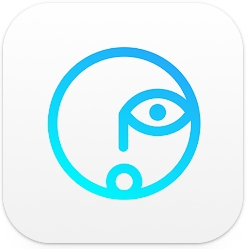 Ready to boost your animation game? This app can help! It's the ultimate tool for motion capture enthusiasts. With the power to unlock your true depth cam, it's like having a Hollywood studio in your pocket!
Animating yourself and controlling objects has never been easier or more fun. The app even lets you use custom or production rigs because who wants to be basic?
But wait, there's more! The real game-changer here is the app's real-time facial motion capture. Say goodbye to robotic faces and hello to lifelike expressions. This app is the secret ingredient to take your characters from "meh" to "wow!"
Hereby, the tools are easy to use, so you'll get to easily figure it out even if you're not that skilled. With a UI smoother than butter, you'll be navigating sliders and joysticks like a pro. It's perfect for newbies and seasoned animators alike.
In short, if you want an easy-to-use motion capture app packed with features, this is your holy grail. Unparalleled accuracy and a friendly UI will bring your animations to life like never before!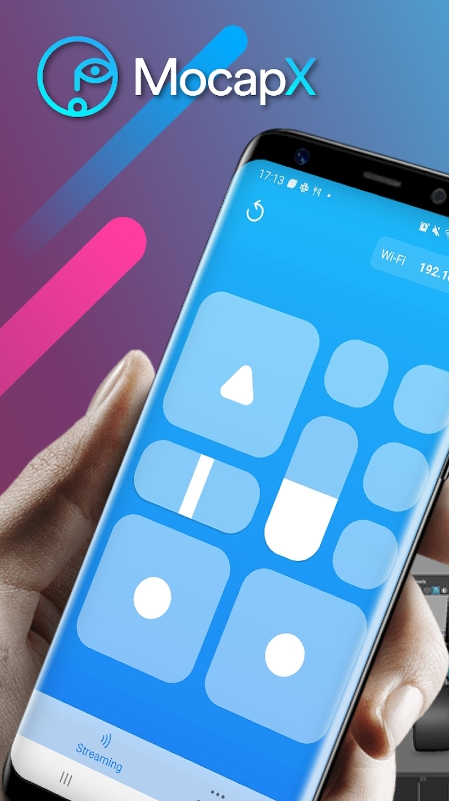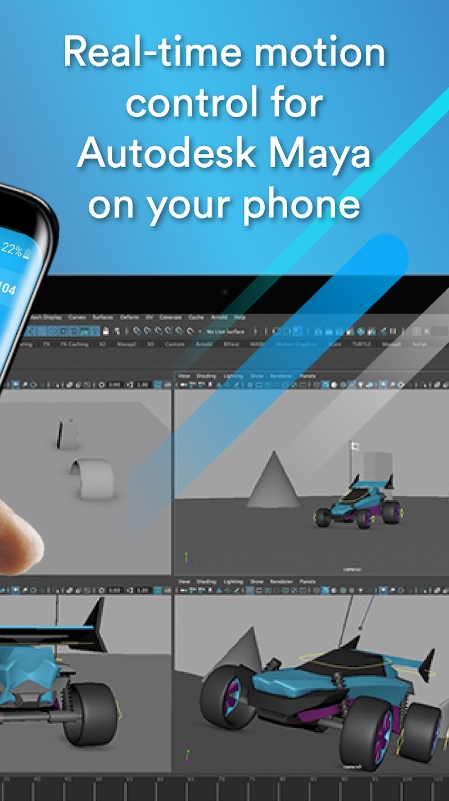 You may also check: 9 Best Animated Stories Apps
blendartrack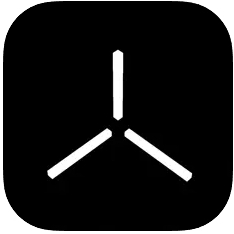 This app is the ultimate AR motion monitoring toolset for Blender. It's never been easier to monitor your environment and bring 3D projects to life. With this app, you can effortlessly follow any scene by simply moving your device and placing some reference objects.
The results are then easily imported into Blender, giving you a motion-tracking solution that's second to none! One of the most impressive aspects of the app is its ability to grab facial expressions with just a few taps. Thus, you can access a whole new lvl of creativity and realism in your animations. Who needs actors when you have this app?
But that's not all, folks! The app is not only incredibly user-friendly, but it's also fully flexible. You can adjust the settings to fit your prefs, ensuring a seamless and smooth workflow every time. And if that wasn't enough, the app's team is always pushing the limits, constantly innovating and improving it with updates and new tools.
So, if you're in the market for a top-notch AR motion-capturing tool for Blender, this is the one. It's the ideal choice for newbies and pros alike.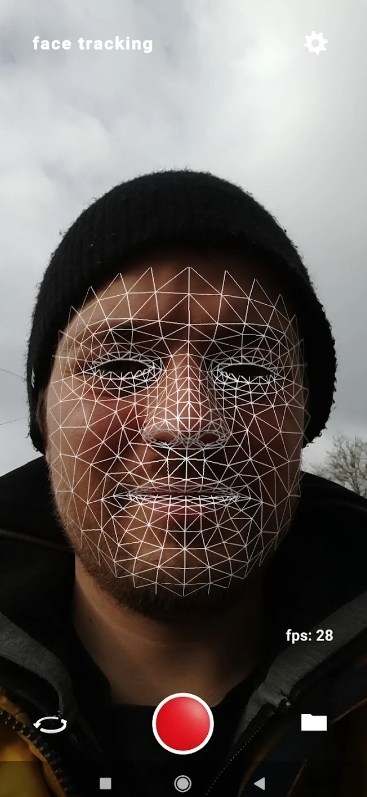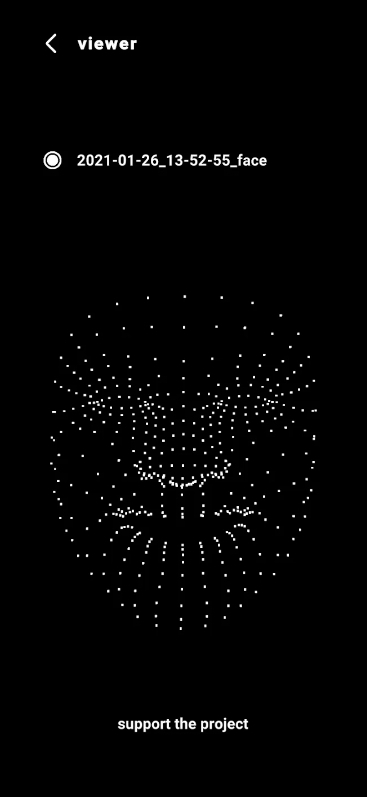 Face Mocap
On the hunt for an app that can put your facial expressions and head movements to good use? This is the one for you, then. It does a great job of grabbing your face using your cam and sending the tracked data to your PC. From there, you can use it in a game engine.
One thing that sets is the fact that it lets you implement controls for animated heroes or a flight sim to move the cam with your head. This makes it ideal for gamers who need a new way to take control of their virtual world.
The data sent by this app is plain text, so you can use any TCP client to connect to it. The app listens for TCP clients and sends data every execution frame. And if you want to know more about the structure, the app has a handy doc that outlines everything you need to know.
Of course, no app is perfect, and this one does have a couple of limitations. For example, it currently doesn't support eye tracking or blink detection. But all in all, it's a solid tool that gets the job done. Plus, it uses arcore, which means it's compatible with a vast scope of devices.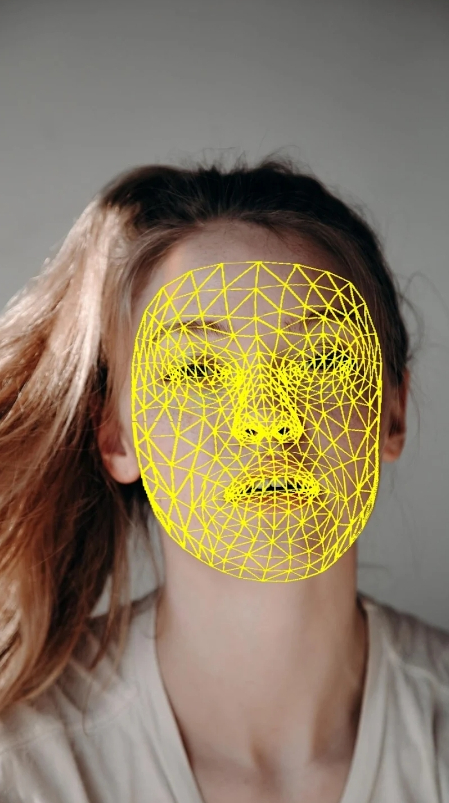 Face Cap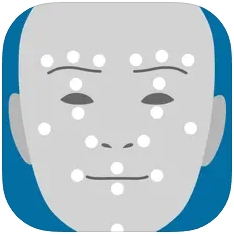 If you're trying to get into animation, don't get past this app. Face motion capture has never been easier This app is a treat for anyone working in animation or visual FX.
Exporting your performance to FBX or TXT is quick and hassle-free, with the FBX containing mesh, blend shapes, and animation data, while the TXT export contains just animation info. This makes it easy to integrate your work into any workflow.
Some of the standout aspects of this one include the ability to import custom avatars from other apps. You'll also get to calibrate the data, and even make a vid for reference. The app also lets you filter and smooth the recorded data, ensuring that the animation looks as polished as possible.
Another cool tool is the ability to send blend shape parameters over Wi-Fi with OSC, which is particularly useful for collaborating with a team remotely. You can also lock the head in place and hide it during recording. It gives you more control over the animation and helps to ensure that the focus is on the right expression.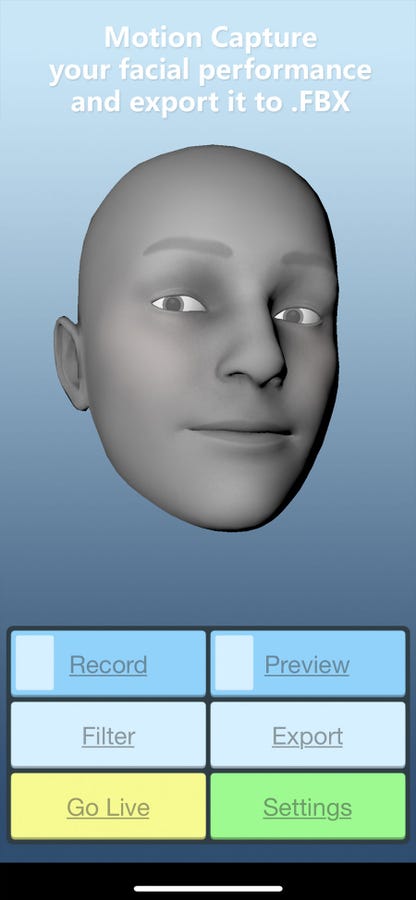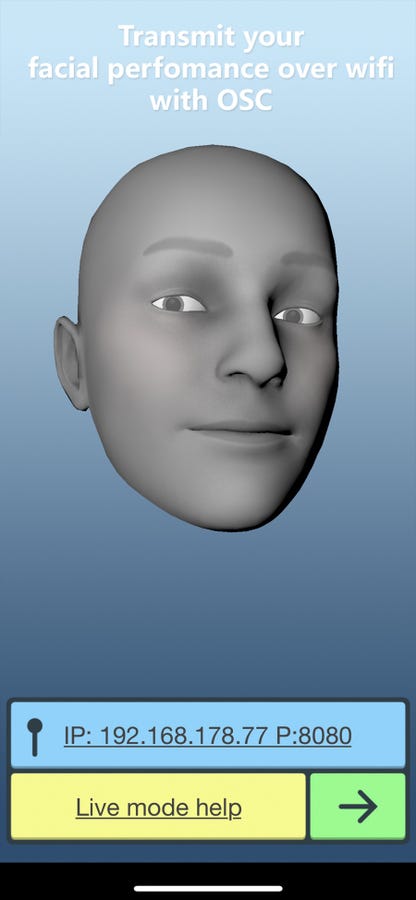 Check also: 9 Best Voice-Over Apps
Live Link Face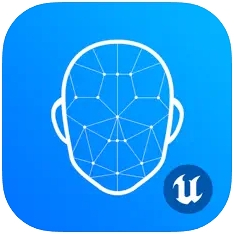 This app is a revolutionary way to bring your virtual characters to life. It lets you effortlessly capture facial performances in real time, giving your virtual creations a level of realism that was previously unattainable.
With this app, you can make raw vids and depth data directly from your iPhone. Thus, you'll get to easily make high-fidelity facial animations for your MetaHuman characters. And the top part? You don't need extra tools or much exp to make it work.
But that's not all! The app also lets you stream animation in real time, making it ideal for live performances. And with timecode support and remote control via OSC or the MetaHuman plugin, you can ensure that every take is consistent and frame-accurate for seamless editing.
With all these amazing tools, it's easy to see why the app is transforming the world of animation. It's still intuitive, and you can read an in-depth guide on how to use it.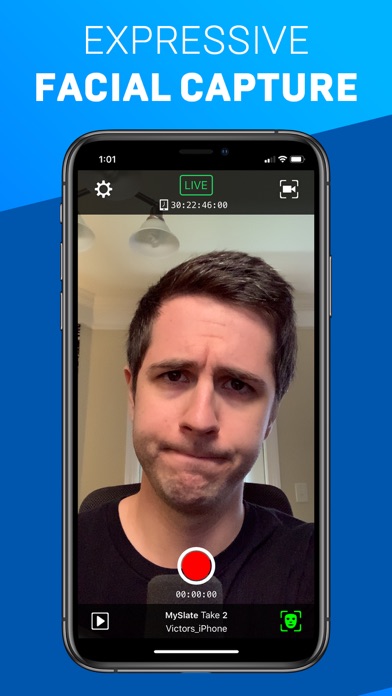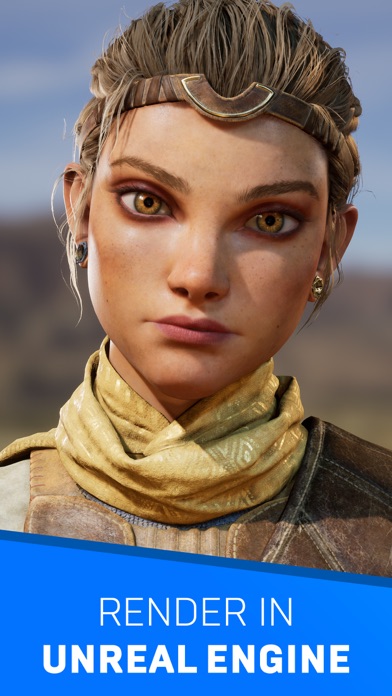 Avatarify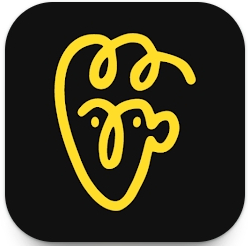 This app is an absolute blast! It uses motion-capturing tech to bring your face to life and transform any snap into a singing, dancing, and all-around entertaining portrait. Seriously, you won't be able to take your eyes off these lifelike snaps bursting from your screen – mesmerizing stuff!
Let's talk functions, shall we? First off, navigating the app is as easy as pie. Just pick a snap, add a tune, and voila! Sit back, relax, and watch the magic unfold.
But what makes it truly stand out is the sheer quality of its animations. These are so realistic, it's almost like they have a mind of their own. Whether you want to prank your pals or just inject some joy into your life, this app will leave you delighted.
And guess what? It is fully flexible. From picking the ideal track to adjusting animation speed, the possibilities are endless. It's like a virtual playground for your imagination! It's fun, easy to use, and guaranteed to add an extra dose of joy and laughter to your life.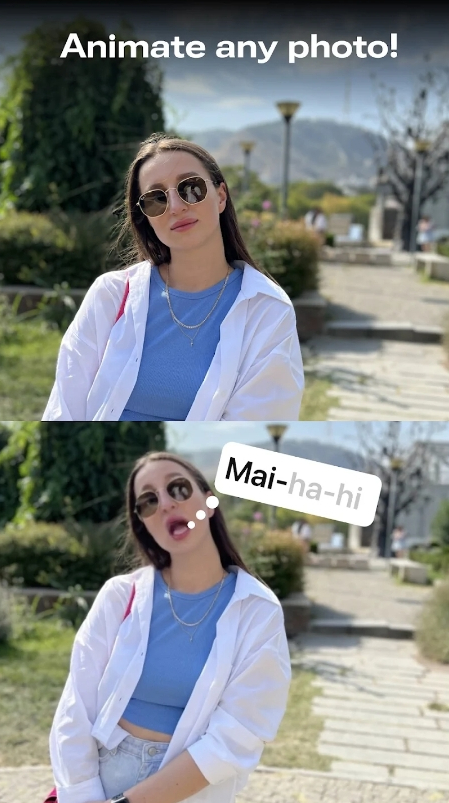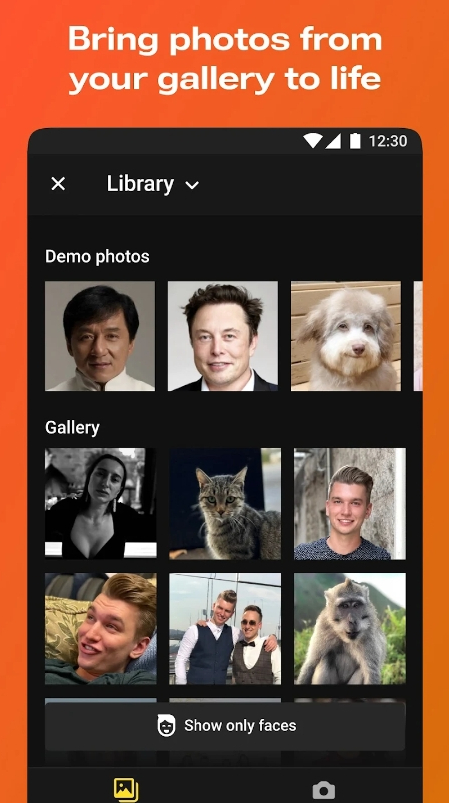 Anyface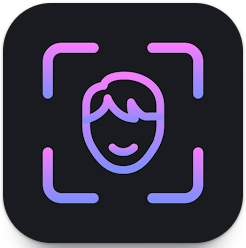 This little gem of an app is chock-full of fun and creative tools that will have your pals wondering how you did it. First things first, let's talk face animator. This is not your run-of-the-mill app. It lets you animate your snaps with eye and mouth movements to give them a lifelike quality.
It even lets you make talking snaps! Yes, you read that right. Pick one of the built-in phrases or record your voice to give your snaps a whole new dimension. And if you're feeling particularly adventurous, go ahead and combine all the animator FX for the ultimate talking portrait exp.
But that's not all, folks. The app also has an impressive vast of editing tools. Want to add a little whimsy to your pics? No problem! Pick some decorations like glasses, hats, and more. And if you really want to go all out, jazz up your pics with objects.
The best part? It is incredibly easy to use. Even if you're not a tech-savvy person, you'll find yourself using this app like a pro in no time.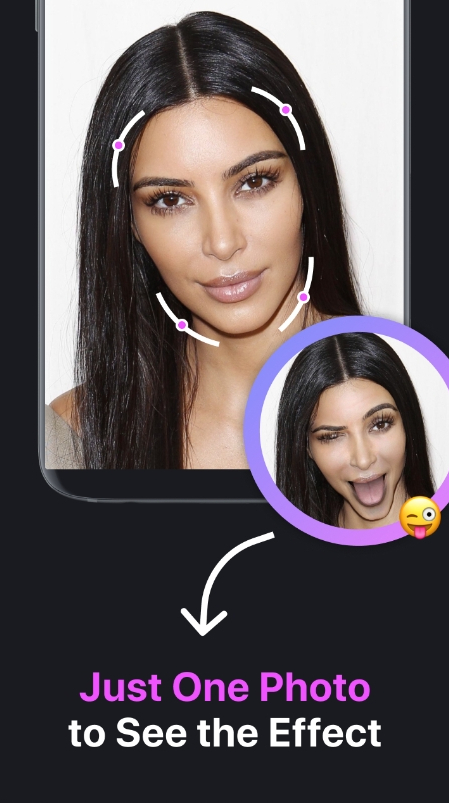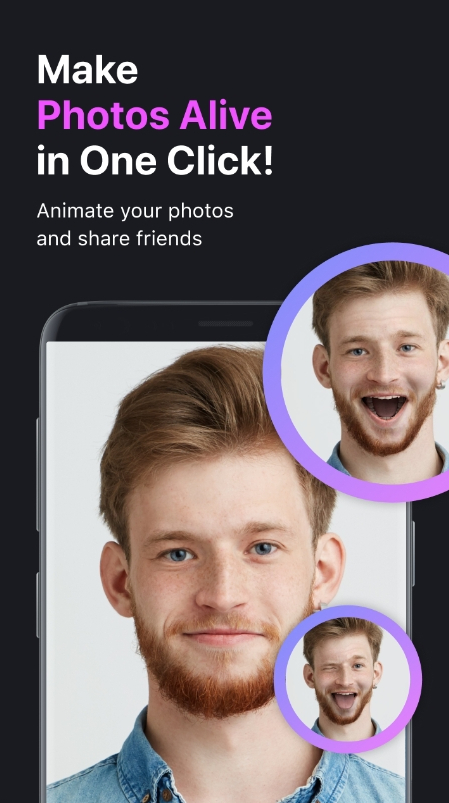 You may also like: 15 Best Cartoon Video Maker Apps
Revive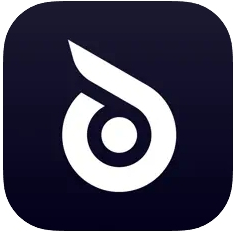 To wrap up, there's an app that lets you make cool animations with little to no effort. It covers tons of filters and funky decorations, so you'll never run out of eye-catching ideas for your feed.
The app lets you animate your snaps in countless ways, from making your face dance to making festive content for holidays. Their mood templates and pet animation options are also sure to add some personality to your snaps.
One of the standout tools here is the AI generator. You can bring any snap to life with your own mimic, making for some truly unique and hilarious clips. And their lib of fun templates and retro celebrities from various eras makes meme-making a breeze.
Above that, the app lets you turn snaps into full-on animations complete with singing, dancing, and movement. There are tons of styles to try, so the options for creativity are truly endless. The animation looks incredibly cool, it looks like your pics are really coming alive. And all that without spending a dime!