It's long past the days when business meetings should be held in person. Instead, everything from seminars to interviews can be done using video and audio conferencing software.
Of course, virtual meetings will be much better if you have the right tools. There are amazing services with a rich set of features for conference calls available for Android and iOS.
Google Duo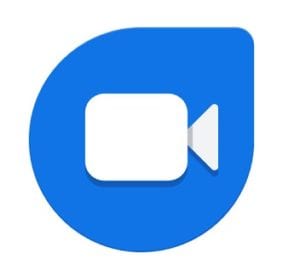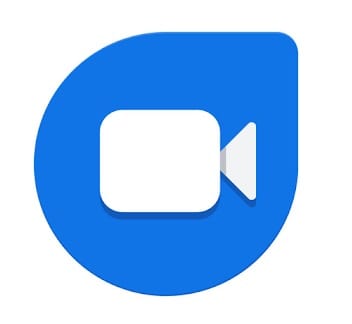 Google Duo is a simple and reliable video chat that delivers the highest quality images. It's reliable, easy to understand and works with Android and iOS smartphones and tablets.
Main Functions:
Group calls. With Duo, you can video call up to 8 people in groups.
Call from Android to iOS devices and vice versa. Whether you use a phone, tablet or browser, you will always be able to communicate in Duo.
Low light mode. With Duo, you can use video communication even when there is little light.
Video Messages. Do you have little time or can't your co-workers talk now? Record a video message.
Voice calls. The application is not only suitable for video meetings – you can make regular voice calls.
Unique algorithms of signal transmission ensure stable communication not only over Wi-Fi but even with weak mobile Internet. In the settings, you can set the auto-switch between the mobile network and Wi-Fi, as well as image compression when switching to the mobile Internet to save traffic. And if you are uncomfortable with video communication, you can mute the video at all, leaving only the audio transmission. In addition, you can send text messages.
Google Duo is a simple and reliable video communication application. Make conference calls from anywhere in the world – all you need is Internet access.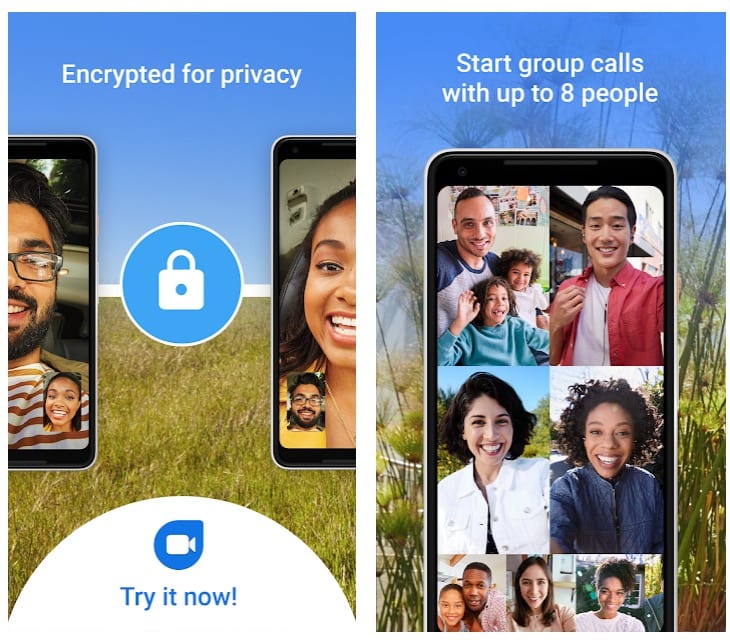 You may also like: 11 Best employee attendance tracking apps for Android & iOS
Free Conference Call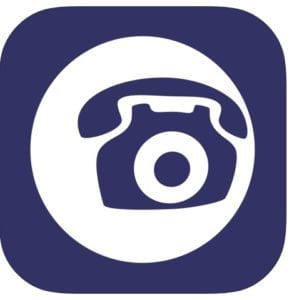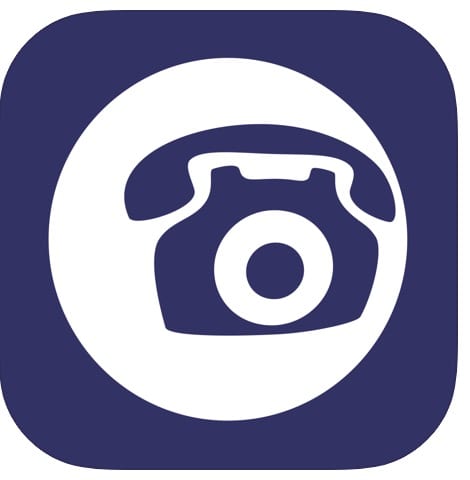 You can organize communication with colleagues through Free Conference Call, which for many reasons may be of interest to you.
Hold audio conferences for up to 1000 participants in HD quality using home or local extension numbers (American toll-free numbers are also available) or VoIP.
Using this service is convenient if the participants, which you are trying to invite to a virtual meeting, don't have Skype or Google accounts. All you have to do is provide a link to an online conference.
Free Conference Call allows you to organize a video conference with up to 1000 participants. The organizer has great opportunities to connect and disconnect video and microphone of participants, conference recording, organization of messages in a chat. The presenter can activate the screen sharing function.
In addition, the presenter can set not only the date and time of the video conference but also the duration of the video conference.
You can communicate with participants from other countries through international conferences on a highly secure platform.
As you can see, this application can be successfully used for organizing online consultations and video conferences. In addition, you can quickly organize a video conference with your colleagues and discuss some professional issues.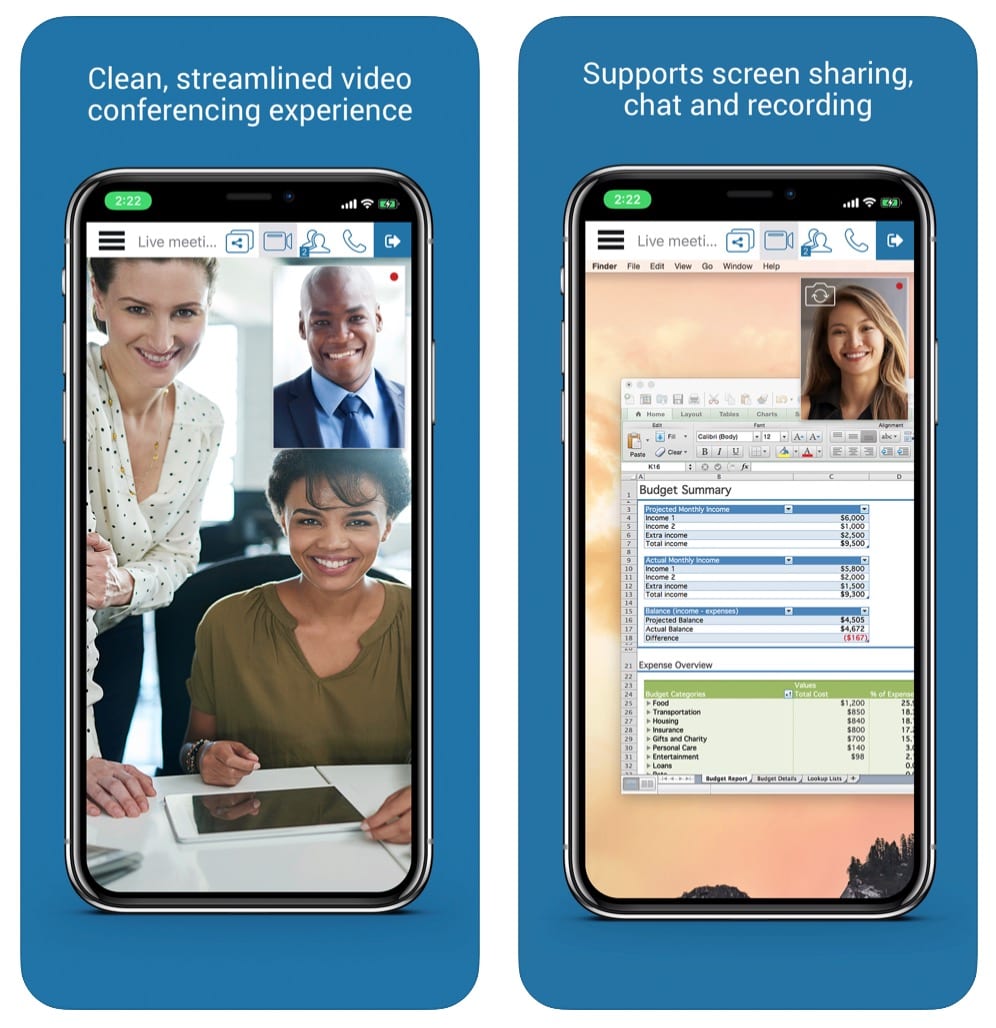 Skype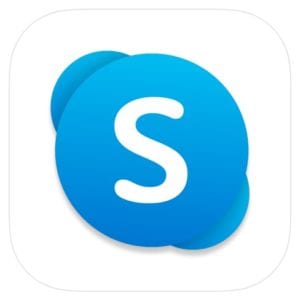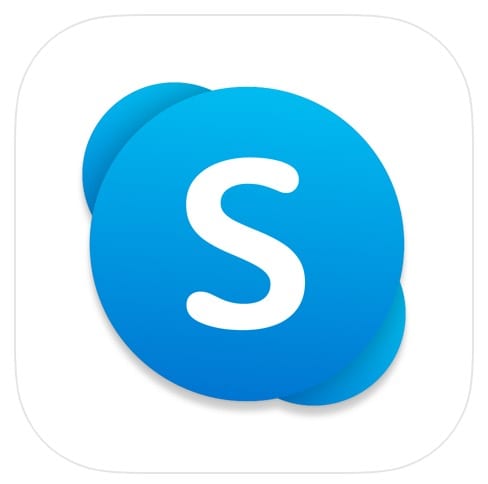 This application is considered popular and the best for sending messages and video chatting with different people.
The features of the Skype application are indispensable – conference calls, video calls, image transmission and, of course, text communication are available at any time!
The application allows you to communicate with all your contacts, see yours and their images, and therefore, you can talk through the speakers, using the hands-free calling. It's like using a headset, which is very useful if you are outdoors.
Plan a business meeting or a friendly group meeting. Connect with anyone through the network application, or call mobiles and landlines.
Video calls with quality images, add up to 24 people to a conference and chat with owners of different versions of Skype for Android, PC and even Mac. The way of searching for contacts has also changed – in a few seconds, the application will find the right person and give all the information! Downloading Skype is the perfect way to communicate, share pictures and videos. Join in!
The program is extremely simple in functionality and installation, as well as easy to use, has a clear and practical interface.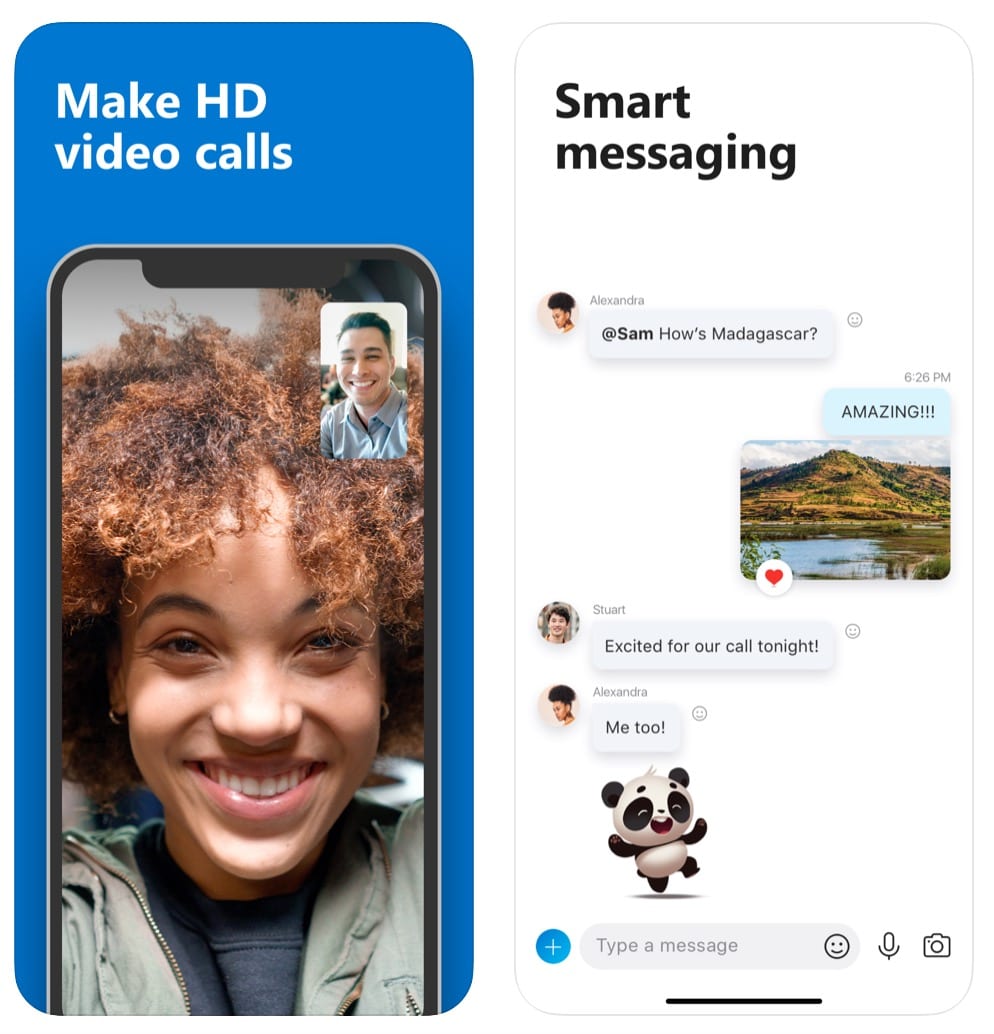 TrueConf Video Call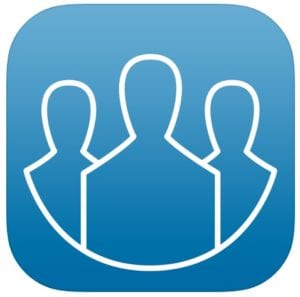 Use the free TrueConf video conferencing application for phones and tablets to save on phone calls a lot.
With the TrueConf app, you can contact your friends and colleagues via video conferencing anywhere and anytime. Also very convenient the function of the automatic addition of TrueConf users who are your friends on Facebook to your address book.
Key features:
Signing up with one-tap via social networks;
Without advertising;
Free video calls and video conferences;
Group video conferences up to 120 participants;
Group and personal chat: available for video calls and group video conferences;
Support to show presentations during video calls and group video conferences;
Invitation of friends and colleagues: via SMS, e-mail and social services;
Automatic synchronization of Facebook contacts with TrueConf address book;
User-friendly interface.
The application is little different from the renowned competitors: it's cross-platform, supports group-based, customizable video calls, presentations, auto-renewable connections and much more, but it's all implemented in a simpler way and with more emphasis on the average user than the corporate segment.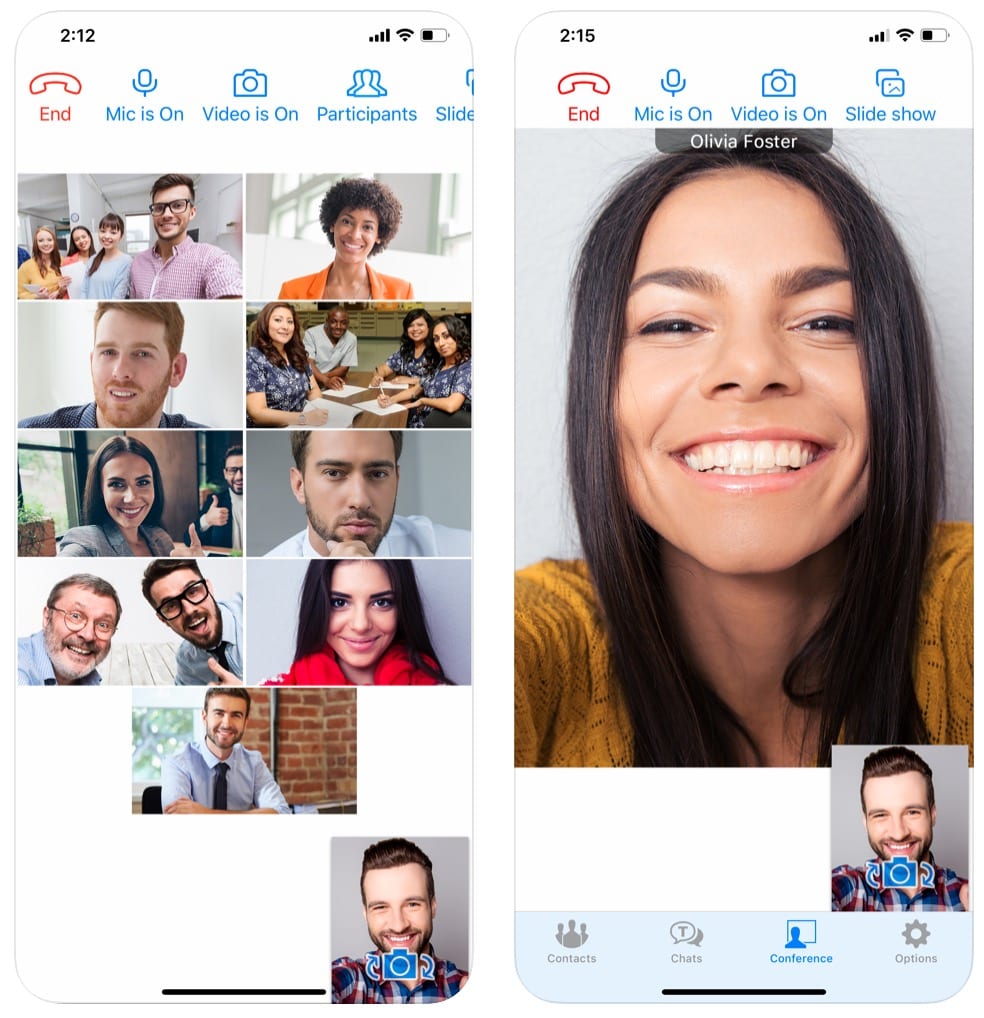 ZOOM Cloud Meetings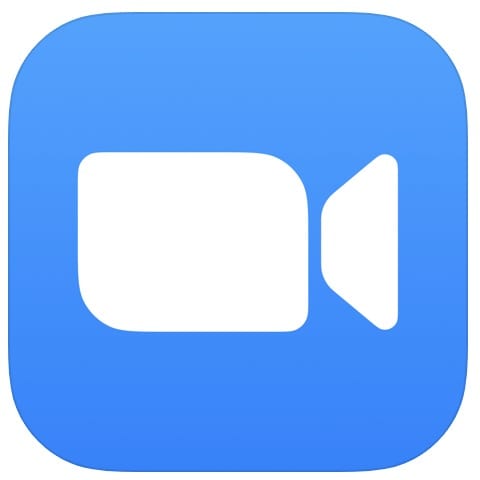 Zoom Cloud Meetings is functionally similar to TrueConf: the same focus is on the normal user, not the corporate user. However, the latter is not forgotten, the benefit is implemented in support of presentations and graphics, reports and more.
The application has its own camera interface, where you can control sound, switch optical sensors, share any files, as well as manage chat rooms and drag and drop windows as you wish.
Zoom mobile phone conferences give you the tools to make each conference unique:
Focus on your conference, record it, take notes that will be recorded in an automatically generated searchable decryption.
Provide HD video and audio for your conferences with support for up to 100 participants.
Share and play a video with instant video and audio without uploading content to the server.
Get ready for conferences with the Virtual Backgrounds and Fix My Looks tools.
You can hold meetings anywhere and from any device. Zoom conferences synchronize with your calendar and stream corporate video conferences from your PC to your mobile phone.
All participants can share their screens and take notes for maximum interactivity. Users who switch to Zoom video communications note improved efficiency, trust and activity levels.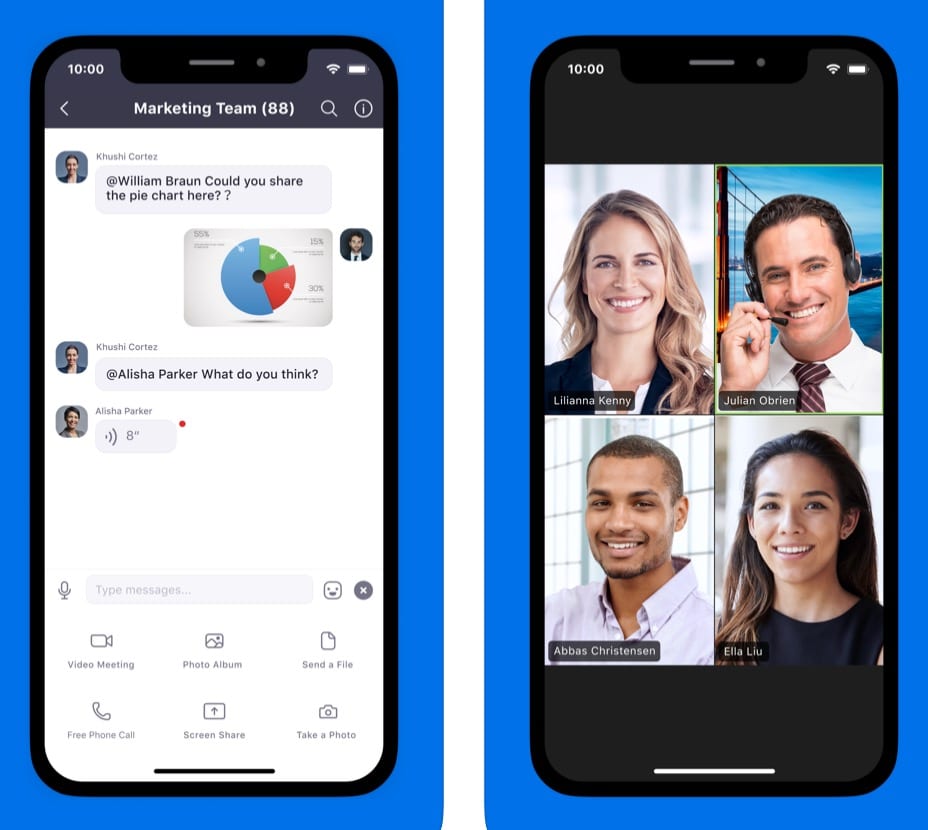 WhatsApp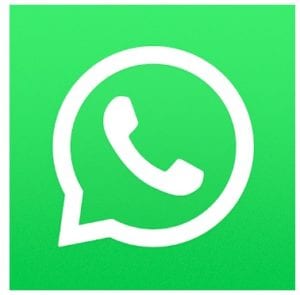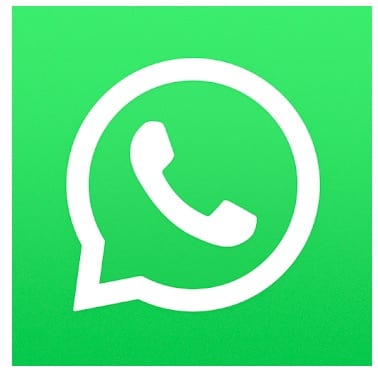 Now you can create group calls and chats and always stay in touch with your family and friends. You can also use these features in business by contacting all your colleagues at once and not sending the same message to each individual.
The WhatsApp Audio Call feature allows you to call your contacts anywhere in the world for free. This feature uses your phone's internet connection.
During a conversation via WhatsApp, you can also: send various photos, audio content, contacts, location, activate search by messages, dial a contact, blocked users, completely clear the message history, send a chat by mail, add the desired contact directly to the desktop of your smartphone.
With WhatsApp Messenger you will always be in touch with colleagues, keeping your phone and the internet just turned on. And even if you are offline, the app will save all unread messages and invite you to read them when you are connected to the network again.
Besides, you can use this program from your computer as well, so you are not limited in its use by anything. More possibilities. More free communication!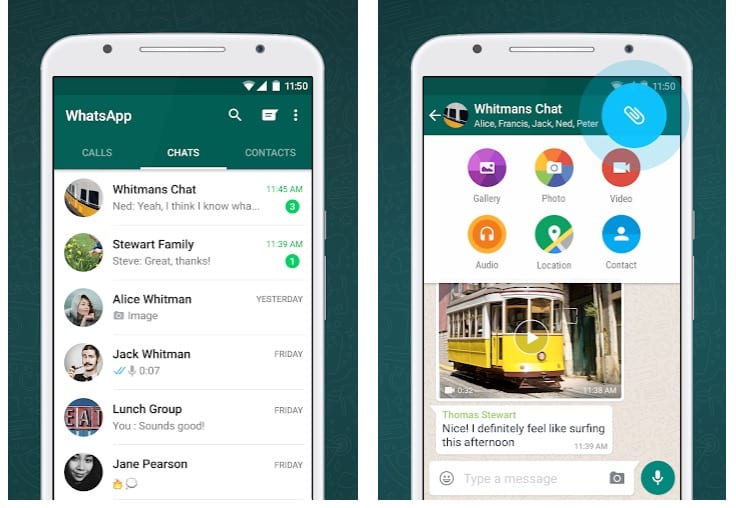 BlueJeans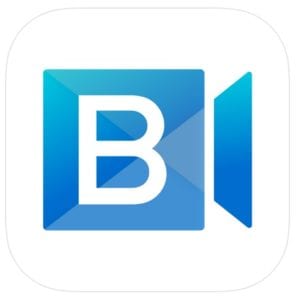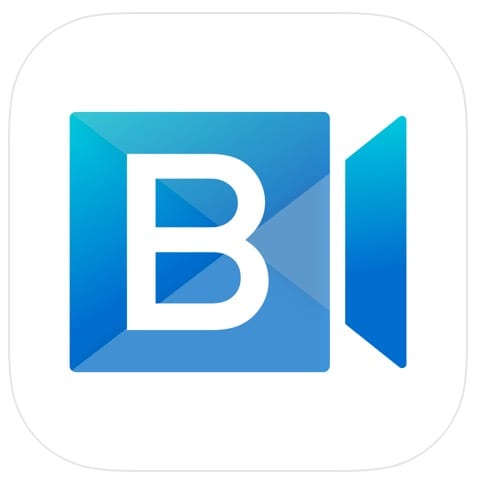 BlueJeans is a solution for video conferencing and business meetings using shared content. The service is available for use with iOS and Android devices as well as several platforms such as Google Hangouts, Cisco Jabber, Avaya Scopia, and Microsoft Lync. Video can be streamed live to Facebook subscribers and the screen can be shared.
The platform is suitable for use in medium and large business organizations, especially in sales, consulting, training and marketing. Managers will appreciate the ability to view results in analytical charts and reports, while managers will appreciate the ability to instantly exchange messages and save conversations.
BlueJeans supports video and audio conferences with up to 25 participants. With the optional setting of Large Meetings, the number can be increased to 100. Participants can share high-definition content and video with all participants simultaneously.
The system offers built-in text chat options for multiple participants as well as recording capabilities. Recorded meetings can be shared, stored and reviewed.
Key features:
Video conferences for up to 100 participants;
Integration with Outlook / Google Calendar;
HD Content Sharing;
Built-in group chat;
Meeting recording capabilities.
Hangouts Meet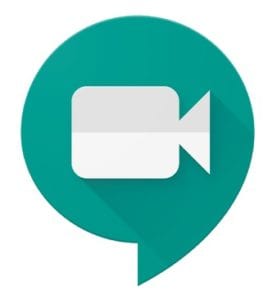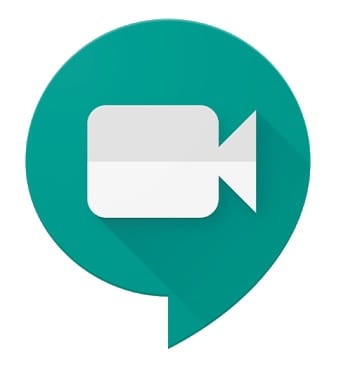 Communicate face-to-face with colleagues wherever they are and save money on business trips with Hangouts Meet.
Forget about the organizational complexities. Simply schedule a meeting and send the participants a link. You no longer have to worry about whether your colleagues, clients, and partners have the right account or plugin. Hangouts Meet offers a simple interface and convenient tools for managing participants. Now it's as easy as making a video meeting with dozens of users as making a phone call.
Join a video meeting right from your Calendar event or email invitation. This is possible thanks to the integration of Hangouts Meet with G Suite services. Whether you're in the conference room, working from a computer or smartphone, you have all the meeting information you need at your fingertips.
Hangouts Meeting is an application designed for group conversations when participants for one reason or another are unable to meet in person. With this application, you can easily organize a meeting and add it to your schedule, and you can also enjoy high-quality of calls.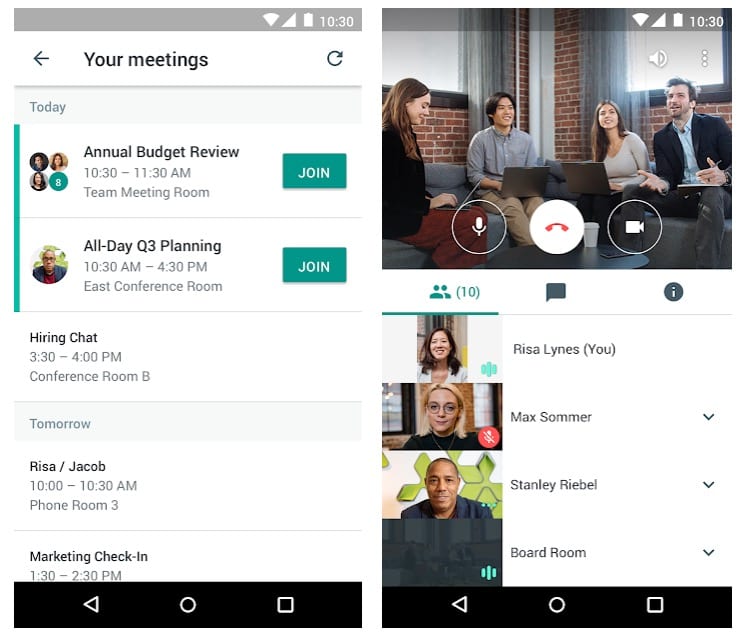 Cisco Webex Meetings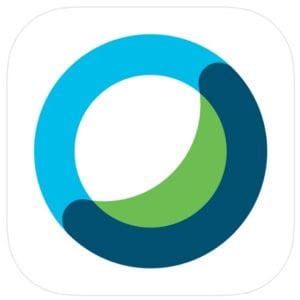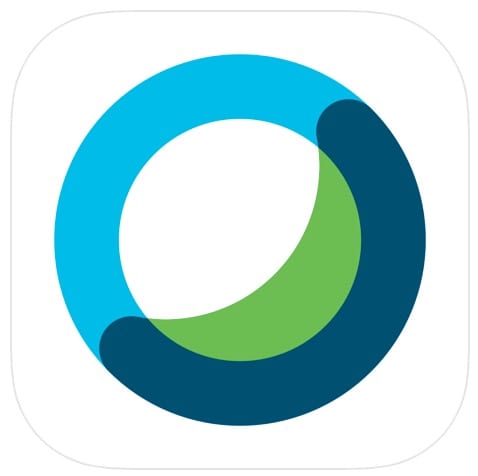 Service for online meetings with colleagues, clients, and partners, joint work on documents, presentations and applications in real time.
Let your absence not affect the work process in the company. Hold exciting and productive meetings, wherever you are in the world.
Cisco Webex Meetings has more than 6 billion meetings a month, consisting of video and audio conferencing with shared access, chat, and other features.
Key features:
Join any meeting, event or training session and make presentations;
Number of participants of the meeting – up to 25 people;
Easily join directly from your calendar or customizable widget;
Schedule meetings and playback recordings;
Share your screen with others.
Using these convenient tools, you can always share documents quickly and easily anytime, anywhere from any mobile device, hold regular meetings with geographically remote employees, partners, and customers.
Work together on documents, presentations, and applications with audio and video streaming to all participants.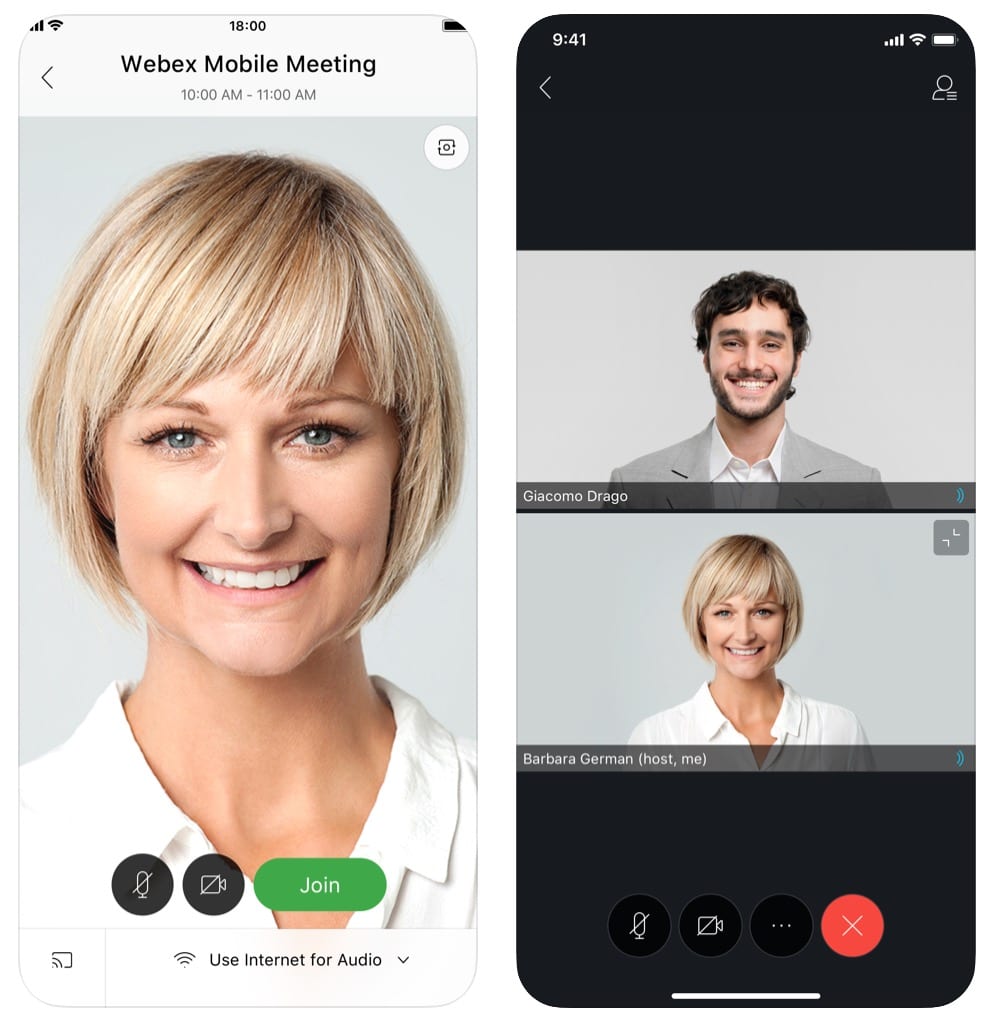 Amazon Chime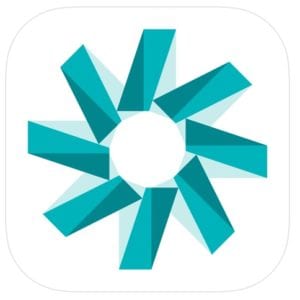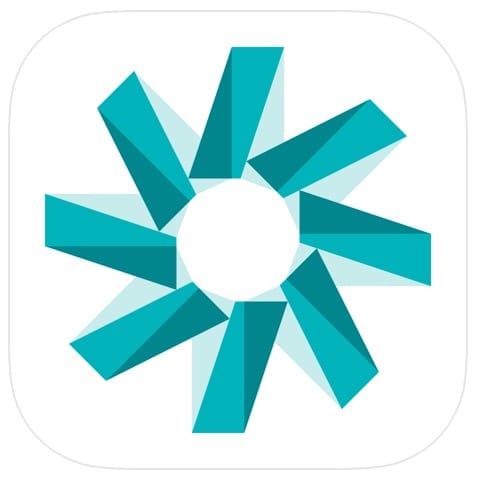 Amazon Chime is a video conferencing service that allows you to start an audio or video conferencing or personal and group chat in one click for both application users and external users.
According to the developers, the service is more convenient than such analogs as Skype for Business, GoToMeeting, Google Hangouts or Cisco WebEx, and the quality of communication and level of security is higher. In addition to video communications, the service supports chat, screen sharing, recording video meetings, integration with mail and Active Directory, mobile applications.
Amazon started the process of developing the Chime service by studying and eliminating typical weaknesses of similar video conferencing services, such as the need to enter pin codes and passwords. For example, Amazon Chime eliminates the need for users to deal with technical connectivity issues: the application will call you when the planned video conference starts.
In addition, Amazon Chime has a user list that displays conference participants, invited users who haven't yet joined the conference (by the way, they can notify their colleagues that they're late by simply clicking a button), and users who won't be able to attend the conference.
During a video call, you can easily determine which participants are speaking by using the icon next to their usernames.
The developers of Amazon Chime hope that they took into account all recommendations and created an ideal solution for conference calls.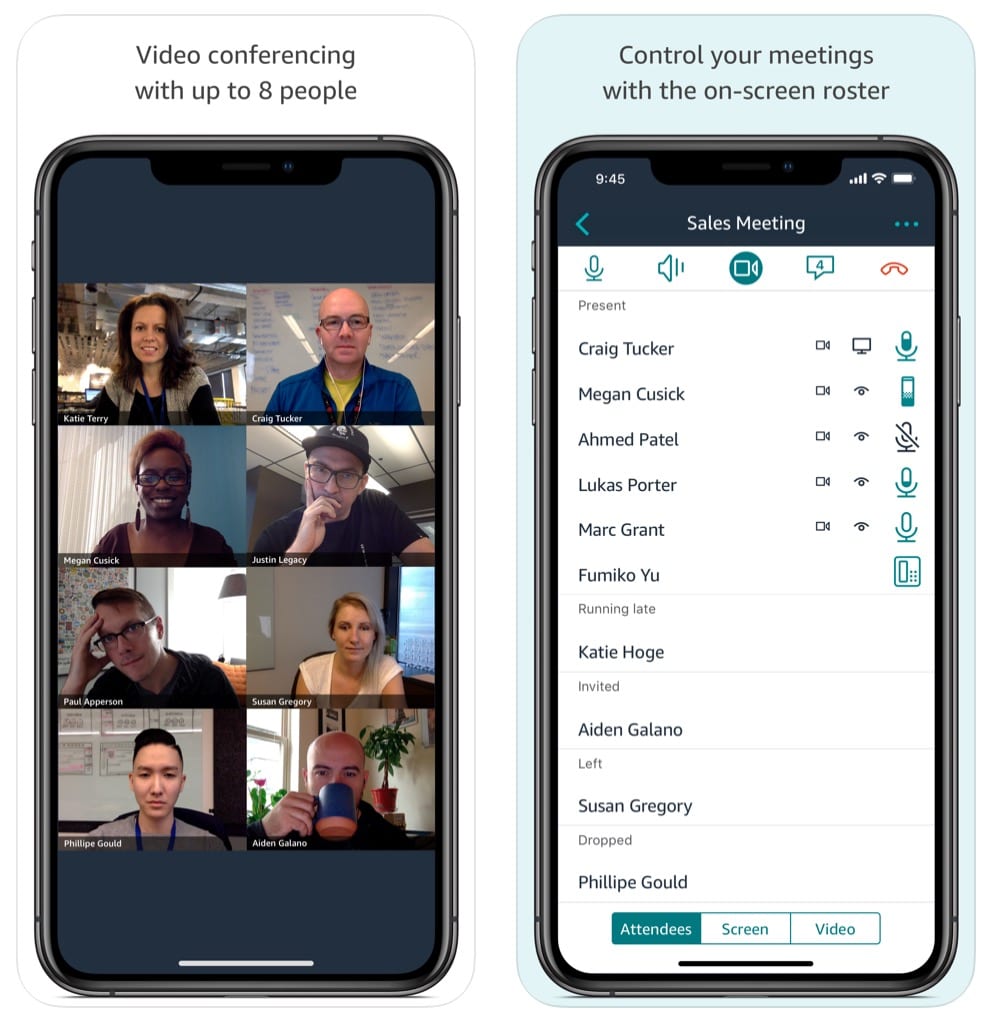 GoToMeeting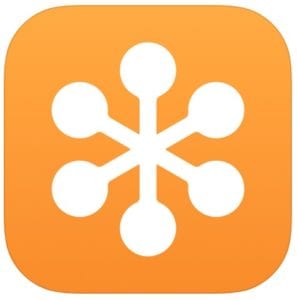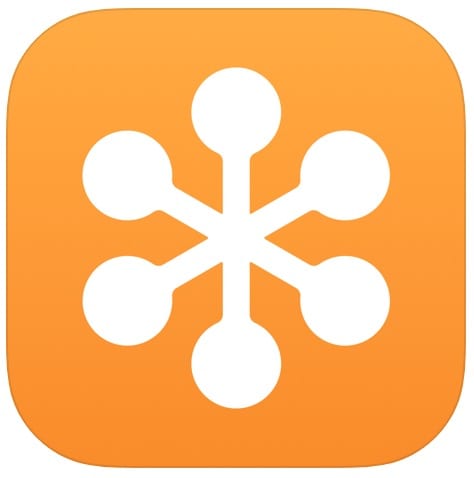 GoToMeeting is a service focused on the business segment of users. However, it has a free version, which is quite enough to organize the communication for up to three users.
Also available: file-sharing, standard chat and an additional option to receive and send screenshots right during a session. Buying the paid version allows you to communicate with a much larger number of participants, to record the event, as well as provides access to other useful options.
It implements a fully updated user interface that is unified for different devices. Also, the developers have worked well on sound transmission and promise high quality even with a slow Internet connection.
GoToMeeting can help with collaboration, slide presentations, design layouts, tables, reports – everything you can share from the screen.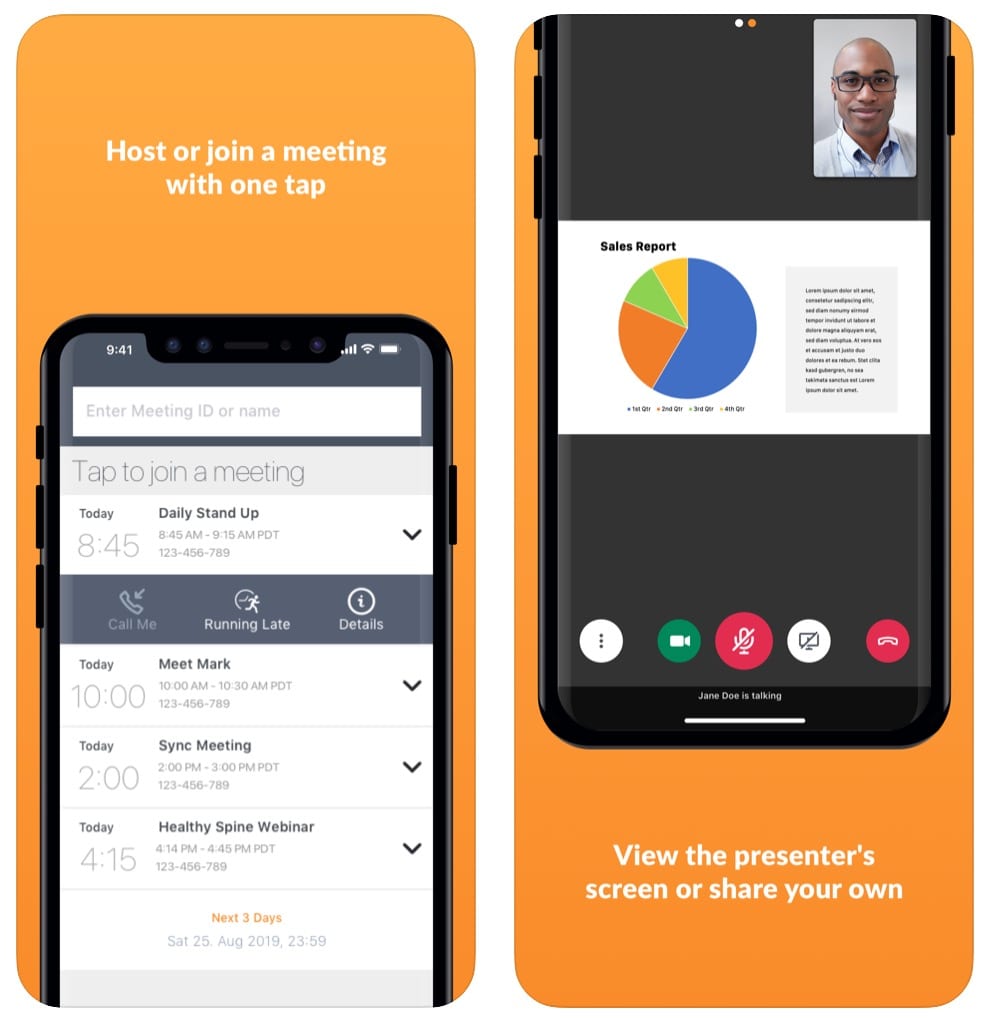 You may also like: 10 Best live streaming apps for events (Android & iOS)
Gruveo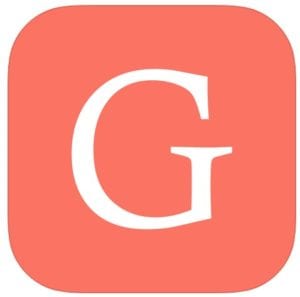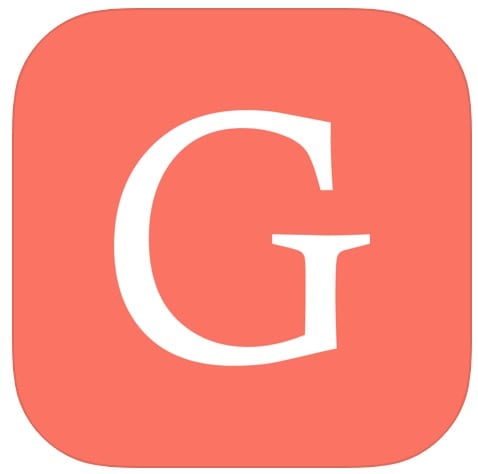 Gruveo is a simple and at the same time very convenient video chat designed for communication between two or several participants. The service supports all mobile browsers, allows you to change the name of the conference and communicate with the help of text chat. No special registration is required.
With this web application, you can make video calls from your browser to whomever you want, without having to install anything, publish your number or register. Currently, it's quite difficult to find any other web application like Gruveo.
How it works. Gruveo is very easy to use. You will only have to follow three simple steps:
First, you'll have to coordinate the number with the person you want to talk to. Any number is valid.
Then log in by entering the agreed number and clicking on the video call if you have a webcam or the voice call button if not.
The call will start when another person enters the same number.
It's quite simple. In addition, you can also communicate with another person. It's free and very secure.