The most detailed maps you can find in the Map of USA app. It is the most professional GPS navigation system with high-qualified offline maps that you can find! The app is equally suitable for both drivers and pedestrians and has great functionality.
You may also like: 10 Best apps to watch TV shows for free (Android & iOS)
Download it, and you will see that you really do not need the Internet to see the necessary data because the maps are stored on your device. But do not worry, it is optimized to save memory space. It will help you to save money for the Internet in the country and abroad.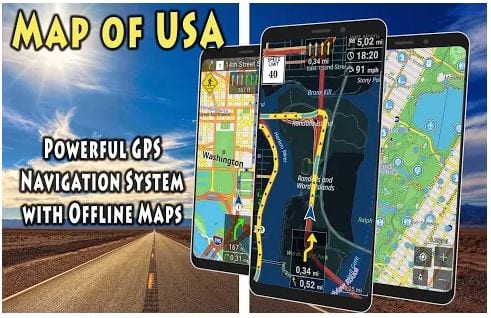 The app will show you the shortest path by clicking on a place on the map or entering an address in the search bar. The app also shows attractive places near you. Layers display different categories of places of interest. Such places are cafes and restaurants, tourist points, fuel, parking, public transport, and attractions.
The maps are so accurate that you can easily and in a short time reach the desired place.  For drivers, this app is an indispensable assistant on the road. The app fully adapts to your movement. It is provided with a turn-by-turn voice navigation system, displays street names, and shows the right lane.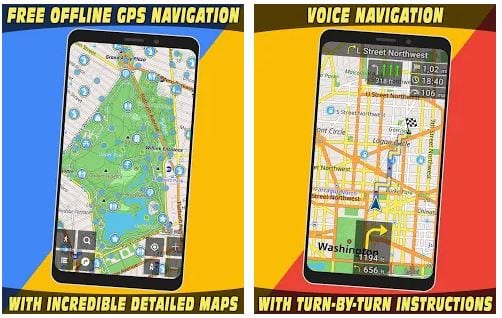 If you make an additional stop or change the route, it will automatically rebuild it. Names are displayed in English, or the local language. All signs, сamera warnings are shown in the app previously. And this is not all features! For pedestrians, the Map of the USA helps to find the best routes for walking, hiking, and cycling.
You will definitely visit the best places in your city! Regardless of what and how you move, the app always indicates your current speed and altitude.
You may also like: 21 Fun games to play over Facetime or Skype calls
For your convenience, use day and night mode. The app is very beautifully designed and will leave a pleasant experience. The stability of operation is guaranteed, and developers are constantly releasing updates. Highly recommend!