The winner of horse racing is the first one to reach the finish line. There are many possible outcomes in this game due to a large number of participants. This makes the action exciting in terms of betting. It depends on the dynamic betting odds, which are traditionally high.
Our selection of the best apps for the most profitable bets on horse racing will help you choose the perfect moment. In addition, we offer to test yourself in an equally fascinating betting on soccer. The article Best NFL Prediction Apps will help you find the most attractive platforms. So, let's move on to the review.
1. Horse Racing Picks & Bet Tips
This app will help you gain a better understanding of sports betting as well as it will provide you with personalized tips so that you can bet on horse racing. It is worth noting that the application does not provide a platform for betting on sports, but only gives you tips and more information on each game.
It is straightforward to register in this program, you do not need to go through a long verification, you can only sign up with one click. The application is relatively easy to use as the platform has a custom functionality.
Moreover, it gives you recommendations on all the games that will be held shortly, as well as statistics in the table so that you can assess your risks. Also, due to the app's functionality, you can use a bunch of features. The Longshots of the Day feature will help you search for high-risk and high-reward bets.
This algorithm will determine your chance of winning or at least the place a horse will take on the board. In addition, you will be able to read news articles about horse racing betting from experienced bookmakers and gain experience.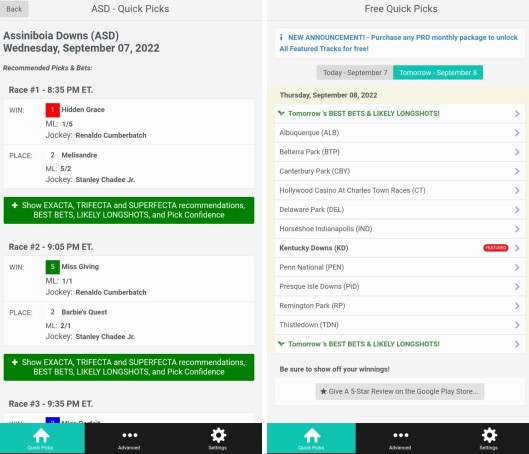 You may also like: 11 Top Football Prediction Apps for Betting
2. Twin Spires
This app allows you legally bet on the best daily horse races that take place all over the planet. In addition, it has rather simple functionality and it is easy to navigate. When you log into the app, you are greeted by a line of popular races that take place today.
There is a race list that you can open and find the one you want to bet on. In addition, you can create bets on several stages on the same screen, which is very convenient. If you bet on horse races, the application gives you a live feed that you can monitor in real-time and keep an eye on your horse.
You can also read the latest news articles with race details and results. The app also gives you statistics in a table to help you analyze your risks. In addition, you get weekly promotions that you can take advantage of. It is possible to deposit your balance via any payment system, and the money appears as soon as you pay.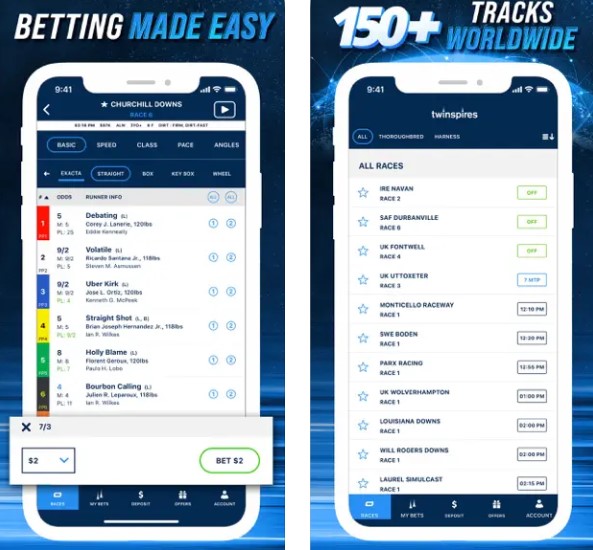 3. Sports Betting™
This app allows you to safely bet all over the country. Besides, upon the first registration, the app offers you a bonus that you can use to make your first bet. Right after logging in to the app, there is a line of today's bets. You can select any sport and see the upcoming matches that will be in your lineup.
Likewise, you may watch your horse in real-time through the app by betting on horse races. In addition, the app allows you to make live bets in any selected sport. The odds and playing props are updated in real-time for all sports. You can estimate bets within a few seconds and receive payments immediately to your account.
The app also offers you several betting options to try. In addition, the program organizes many contests where you can win several prizes.


4. DRF Bets App
This is an app for watching and betting in real-time. The app offers you a platform that allows you to bet through the official mobile app. Also, the app gives you a bonus the first time you sign up, so you can place your first bet. Betting is fairly easy, you can choose the race you like and pick your bet type.
You are offered different betting options by the app, such as, expresses, straight bets, and teasers. In addition, each user receives weekly payments in the form of cashback for all completed bets during the week. An outstanding advantage of this application is the fact that you can check the tracks on which you have bet in real-time directly through the application.
Moreover, you can also place a bet when the race has already begun. You can also view your betting history and watch your horses' statistics in a handy table to assess your risks.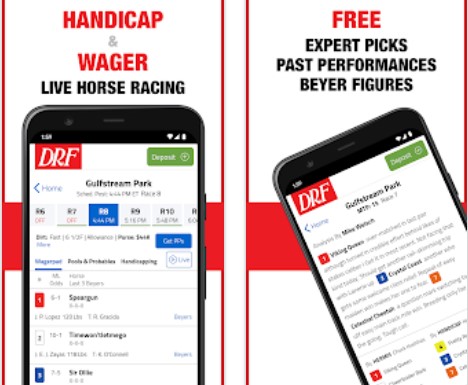 You may also like: 17 Best sports betting apps
5. Racenet – Horse Racing Form
This app will help you read news regarding horse racing, as well as get tips and results on upcoming races. It is worth noting that the app is not a betting company and does not allow you to bet through the platform. You will be able to read the most delinquent news posts about upcoming races, as well as the latest trends and results.
In addition, the app provides you with personalized tips and announcements from experts from the Melbourne Cup, Caulfield Cup, and Cox Plate. The app also gives you the best real-time betting odds correct on the platform. In addition, you can study each race in detail and get detailed information about each horse.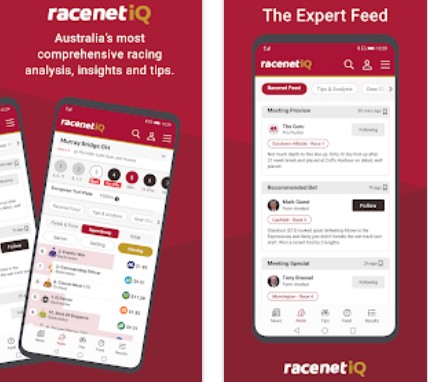 6. BetAmerica App
This is another platform for comfortable viewing and betting. First of all, there is a unique window for watching videos. In addition, you can watch the races and view information about the competition at the same time. Secondly, you can bet not only all over the US but also worldwide.
In addition, you can re-watch the races that you are interested in. Also, you have several various withdrawal options, allowing you to win without any losses. It is also worth noting that the platform tries to make things easier for its users. So in terms of navigation, it is the most pleasant program for betting in such sport.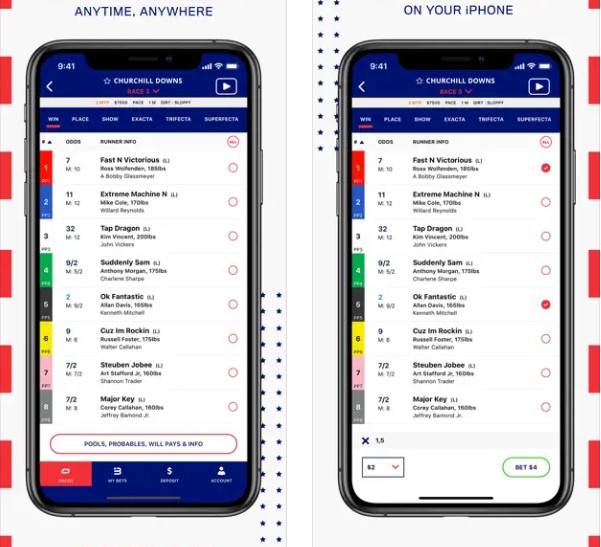 You may also like: 7 Best Basketball Prediction Apps
7. FanDuel Racing App
If you are looking for a convenient way to bet on horse races online and watch the race in the broadcast then this app will be just the right solution. Here betting on horse racing online, you can select different options, such as a bet on one winner, on the winning places, choose the correct sequence, and the odds, or use more complicated betting options.
It is also worth noting that this is a large company that the user can trust. So, you can make deposits without risk. Besides, your money usually comes to your account without any delays. It is also worth mentioning that the mobile version of the platform completes the desktop one.
This application gives quick access without the need to use a computer. After all, you can not only deposit, but also make bets, and then watch the races.