It takes a lot of time to edit photos, especially on a computer. That is why we often turn to various photo editors. So you can use pre-made presets for Lightroom in order not to waste your time. That is why the presets are ready-made files with a specific set of settings and filters, which are prepared templates. They can be quickly applied to any photos in your gallery.
We recommend you check out Best apps to remove glare from photos if you are interested. You can find a wide range of image editing applications here. However, we will discuss different apps with a huge number of presets to apply to your photos in today's article. So let's begin.
1. Preseters – Lightroom Presets and Video Filters
Preseters – Lightroom Presets and Video Filters is a platform on which you will find a variety of presets. The important thing is that they are all absolutely free. First of all, you can use presets for both photos and videos. Try combining several presets in one. That way you create a whole new creation.
The important thing is that Android users can easily download presets and use them instantly in Lightroom. So why is it so easy? The developers of this app have made sure to make everything clear. That is why there is a special tutorial with consecutive steps in the application.
There you will find a detailed description and how to use the presets. The latest update also offers its users to get acquainted with the professional filters. Even if this app is a collection of presets, you will still love it for its ease of usage and the huge number of filters.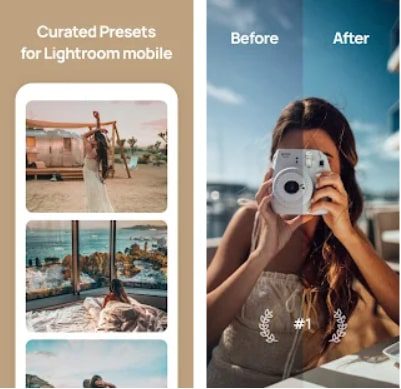 You may also like: 10 Best Apps to Combine Photos in 2021 (Android & iOS)
2. Presets for Lightroom – Koloro
Presets for Lightroom – Koloro is another great app. It contains more than 800 different colorful presets for your social media life. It gives you the opportunity not only to enjoy interesting filters and presets but also to edit your photos yourself. First of all, all the presets are divided into specific themes.
So for example you can go into the landscape, summer, black and white, or portrait and see lots of presets. You can just look at the previews of the presets and imagine what your picture would look like. You can apply different filters easily anyway. After all, it takes a matter of seconds to edit your photos.
Since the app is updated regularly, you can always get acquainted with the most most popular top ways of improving your photos. So for example you can try the indie kid preset, which gained its popularity thanks to TikTok and Instagram. Otherwise, you can always turn to classic presets like vintage, warm, scenery, golden, sunlight, texture, lust, and many others.
Import the presets directly from the Koloro app to edit the image in it. However, before you do this you can customize such parameters as grain, highlight, saturation, shape, and more to match your own preferences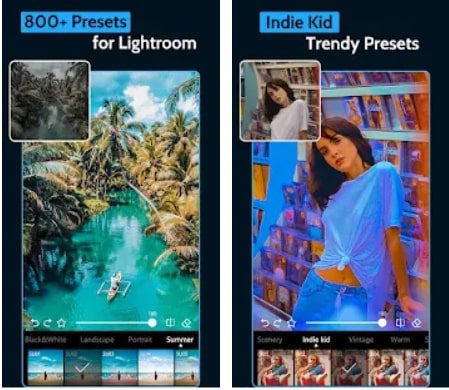 3. Presets for Lightroom & Photo Filters – FLTR
Presets for Lightroom & Photo Filters – FLTR is an opportunity to find the right present for any of your photos and take them to the next level in a few clicks. This means that you can use preset templates for free. This is probably one of the largest applications for presets. With it, you get more than 1000 unique filters and top presets for Lightroom.
Dive into the world of fast photo editing with Presets for Lightroom & Photo Filters – FLTR. So why is this app amazing? Well, the developers offer daily updates. This is something that not many apps have. The users will be able to try out different presets organized into categories.
So try out a collection of filters for nightlife, home parties, fashion shows, yummy food and so much more. The amazing thing is that you will be able to combine several kinds and apply them to one photo yourself. The prepared template can later be added to a whole range of photos. That way the images will turn out in a single unique style.
The app is also suitable for creating Instagram posts, stories, and even face masks. After all, there are various pre-made packages that can be combined with various familiar filters such as glow, sunlight, sepia, black and white, dark, and many others.
For professionals in photo editing, developers propose to use the function to create Instagram effects. Later you can share them on your personal page so that other users can also use your product.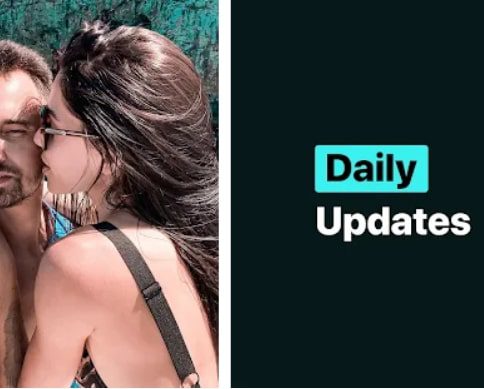 4. Preset & Filters For Lightroom
Do you want more presets for Lightroom? Then you definitely need the Preset & Filters For Lightroom app. With it, you can easily download all the necessary presets to your Android phone. Then you just import them into the Lightroom app. Within only a few steps, you will get something unique and stay on-trend.
In addition, it is also worth pointing out that this app is so good that it gives you detailed instructions. When you select the desired preset you will see two buttons. They are the download and the tutorial. The bottom one tells you how to install the preset.
Moreover, all the presets are conveniently located in the form of pictures to which the preset has already been applied. Scroll through the main page to see more than 500 unique Lightroom presets.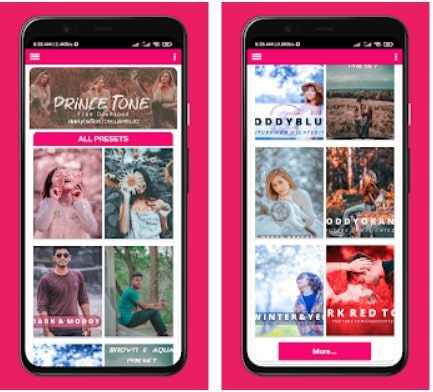 5. Lightroom Presets – Filter Studio
You can save hours of editing by using Lightroom Presets – Filter Studio. With its help you will get acquainted with the presets divided into more than 10 categories for all occasions. In total, the application offers more than 1000 bright and top presets. You will also be able to check out a collection of more than 100 packs.
For example, you will be able to apply presets like summer, Bali, coconut, bloom, blueberry, bright life, dark, color pop, baroque, black and white, apocalypse, and many others to yours. The amazing thing is that all the presets can be imported directly from the app. All it takes is one click by clicking on share.
That way you will immediately see the Lightroom app icon. Presets can be sent in DNG format. The developers claim that their huge collection of presets was collected in collaboration with professional photographers. This means that your presets will not only be popular but also of high quality.
The interesting thing is that you will be notified every day when new presets arrive. The app will generate new ideas for your photo processing. You can also send your preferred presets to your favorites. This feature is useful if you want to avoid overloading your smartphone with unnecessary presets.
This way you can always choose the best one. There is also a step-by-step instruction that will guide you through each step of importing a preset. So, Lightroom Presets – Filter Studio is an app with a super nice interface and lots of unique presets.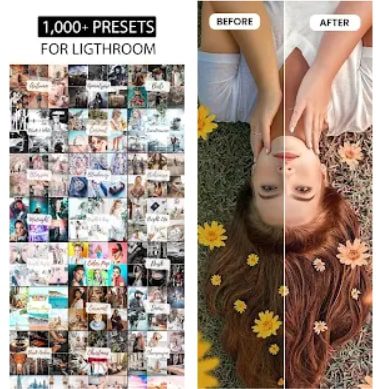 You may also like: 7 Best Photo Frame Apps for Android & iOS
6. Mobile Lightroom Presets – LP
Mobile Lightroom Presets – LP lets you set presets in just one click. Get more than 350 effects. Try editing like a pro. All you have to do is download a group of presets you like and apply them to your photos. Presets can be used for portraits as well as landscapes, micro shots, animals, food, HDRI, glamour, and more. Get daily updates to apply brand new presets.
The great thing is that all the presets are saved on the app's server. That means you will not waste any unnecessary storage space on your phone. Also great is that any preset can be automatically added to Lightroom with the click of a button.
There are already available such presets as an American girl, Abu Dhabi, Summer, Aqua, Sunburn, Dark Sky, Night, City, Autumn Mood, Blogger, Chocolate, Winter Day and many other presets for all possible topics.
Moreover, the application has a very nice interface. Mobile Lightroom Presets – LP is incredibly easy to use. All the steps of downloading presets can be done in seconds.

7. Presets for Lightroom & Filter
We recommend you look at the completely new kinds of presets. The app offers over 70 packs of unique presets. All you have to do is open the app and download the preset template. Be inspired by the daily presets offered by the app. Also this app updates quite often.
New presets arrive every week. With each update, users are introduced to brand-new presets. They already offer the use of portrait, mango, peach, Bali, cinematographic, beach vibe, workout, home lover, lake, and more. You will notice that you will be able to use not only the presets but also the filters. So you can work on your photos without leaving the app.
You can use light, exposure, color, and other filters. In addition, the app offers various effects such as retro, noir, cinema, black and white, cyberpunk, and others. Upload your selfies or portrait to improve the quality of your face a little bit and enhance your skin features.
You will also be given the opportunity to slightly increase the quality of the edited image. This way, photos taken at night will look a little brighter and clearer.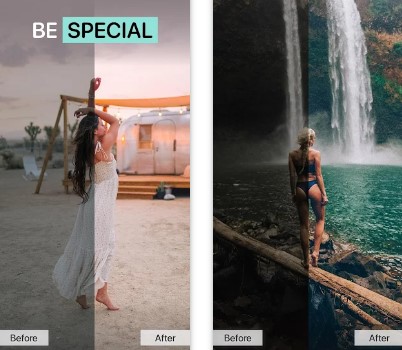 8. Presets for Lightroom – Dng LR
Get lots of professional presets with Presets for Lightroom – Dng LR. Here you will encounter all possible presets divided into groups in the form of packs. Each pack is a treatment for specific occasions such as weddings, portraits, nature, landscapes, holidays, and vacations at sea.
For working with Lightroom, this can be the best solution. Improve your selfies by making your skin lighter and softer. The developers offer you to take advantage of the presets beach, wedding celebration, daisy in the new update. Pay your attention to 22 unique packs.
All of them are also divided into categories such as Instagram posts, perfect skin, golden hour, orange theme, city, light and airy, fresh style, sunkissed, and others. In addition, the app gives you access to more than 140 different presets of different styles. It is also worth mentioning that you will see a preview of how your photo is going to be.
And in order not to lose your favorite presets, save them to your favorites to change them to try again. Work with Lightroom in a more multitasking way. This app is great for professional photographers and bloggers who want to stay on top of trends.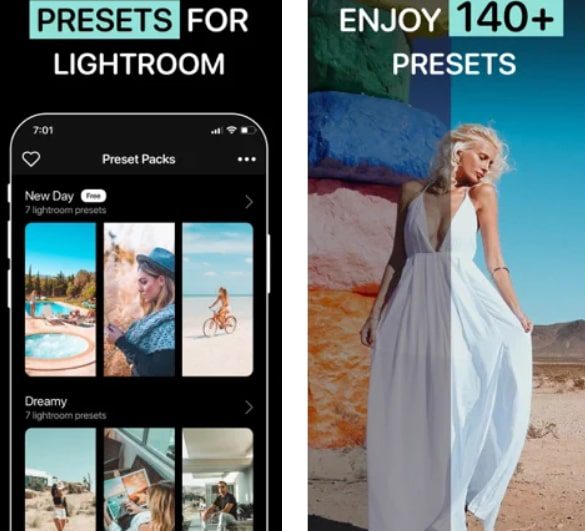 9. Preseters – Lightroom Presets
This app will help you download all the necessary presets for Lightroom. To do this, you need to open this Presets – Lightroom Presets application. Then select a preset and click on it. After that, the app will redirect you to Safari. So you click on the download button and open Lightroom.
The preset you desire will immediately appear in the Lightroom app. After completing a couple of steps, you will quickly install the preset filters you need. That means you will not have to use your computer to do it. So, this app is great if you want to improve your Instagram posts and stories.
In fact, you will have even more options to work with Lightroom with its app. In addition, you can always see approximately how your picture will look with a preset. Also worth mentioning is that there are a whole bunch of presets for any occasion.
You will not have to use any other resources to process your photos. You can get familiar with all the features of the app for one week trial. After that, the app will require a small fee of $2.99. Users have loved this app because of its huge set of presets and frequent updates.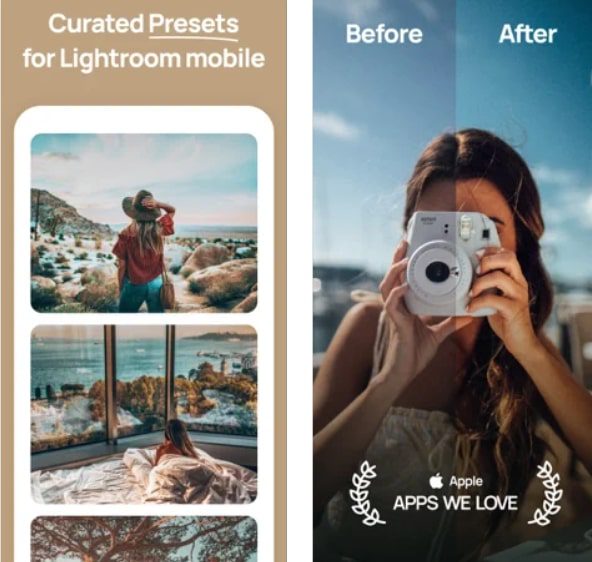 10. Presets – Video & Photo Editor
Use a unique filter to make your photo stand out from the main masses. You can use presets for different occasions, for example, to improve your holiday, club, street, or vacation photos. Moreover, the application is regularly updated. For example, the latest update offers 20 brand new sets.
Here are examples of some of them: black and white, fall, Hawaii, inside, wedding, winter, dark skin, light, California, landscape, film, and others. You will always know exactly how an image will look before you apply a preset. After all, the application gives you the opportunity to see examples of processing using this preset.
Presets can be customized. In other words, you can change their intensity. In addition to all of this, it is also important to note that you can always perform additional processing of the image. This way you can change such parameters as graininess, brightness, white balance, fade, tint, temperature, and others.
Also, you can apply a certain common color to the image. If you click on a particular color, for example, blue, all objects of this color will be illuminated and look much brighter. The general background will thus acquire a strong blue tone.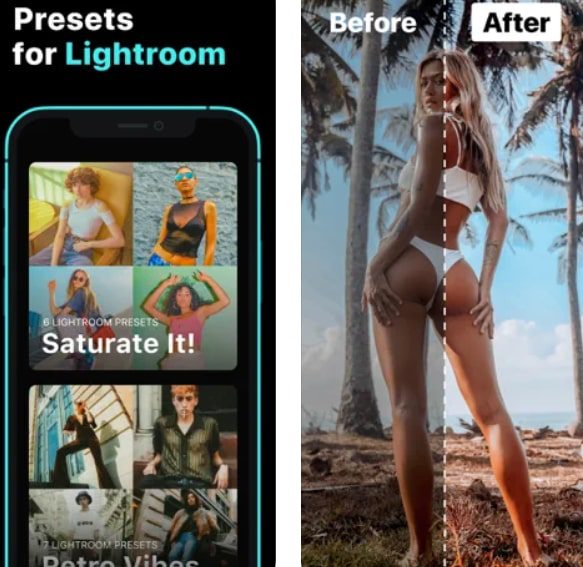 You may also like: 20 Best Age Regression Apps (Photo & Games)for Android & iOS
11. Presets for Lightroom – FLTR
You probably have photos that you want to quickly edit. This app can make it easy for you to realize your creative intentions. Indeed, it gathers the most popular presets for Lightroom. Moreover, they are regularly updated. Manage and modify your selfies, different images, iPhone app icons, social media photos, food, city, and more.
There are over a thousand different preset variations. Create masterpieces for Instagram using the features of this app. First of all, all presets are categorized. That means you can always find the right template to overlay on your photo.
This means you can always pick the right one to apply to your photo, for example for a sunny day, a nighttime street, bright city life, a trip to the seaside.
For all of this, you definitely need different presets so that the picture seemed natural. Secondly, you can adjust the intensity of the imposition of each filter. This gives you even more manipulation with the processed image. Finally, you will be able to create with this application original icons for your phone.
After all, the developers of the program have prepared all possible presets for their users, especially for the new iOS update. You should check the application every day to see if there is a new update. So the app will offer to use brand new stylish ways of image processing by itself.
The amazing thing about the app is that it takes a minimum of your time. Photo enhancement is instantaneous. You can easily see the before and after results just by swiping the screen with one finger.