A musician's ability to feel the beat and follow it rigorously is essential. This skill requires incredible precision and diligence that takes time to develop. However, one simple device can speed up this process. The metronome is a device that marks short intervals of time with several beats to indicate the tempo and counting. You should try to improve your performance accuracy.
Now there are plenty of apps that perform the same function, and quite often have much greater capabilities. We have collected all kinds of metronomes with unique settings in this article. We also encourage you to test your musical skills or just have fun playing some other musical instruments. Check out the article Best Magic Piano Apps.
1. The Metronome by Soundbrenner
The first program on our list merits its high rating. It combines a modern design with a user-friendly interface and functionality. Musicians from all over the world have already appreciated the improvement of their professional performance by being able to set the tempo and beat. In addition, your results can be improved with special video tutorials that are helpful for all musicians.
A tool like a metronome will help you improve the quality of your songs. For songwriting, the creators have included some tools to help you. For example, you can either create or add new melodies. Some sounds are already available. Songs and playlists are also simply saved. On top of that, this app will offer you control via the Bluetooth wireless interface.
In addition, there is support for pedals, keyboards, and other things. All connected devices can be assigned certain commands, such as playing and pausing or switching between songs. For full control, you can set the screen lighting and vibration. The interface can be changed depending on your screen settings. It supports day and night modes.
There is also available multi-user data synchronization. Overall, this is an organic app suitable for different musicians, whether you are a pianist, bassist, or guitarist. In addition, the sync mode with multiple smartphones allows you to practice with a group of up to 5 people. It is useful for home lessons, live performances, and studio work.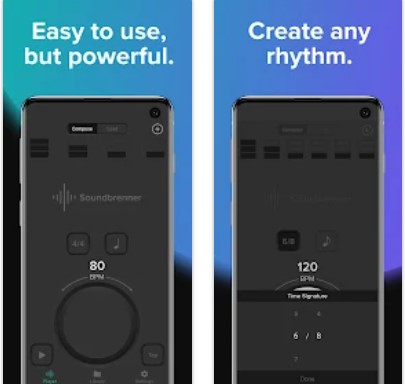 You may also like: 11 Best Video Lyrics Maker Apps
2. Dr.Betotte Metronome
There are multiple types of music tempo and each of them has its name, and sometimes it is very difficult to distinguish them from each other aurally. So this app is supposed to simplify your task. It includes programmable features that sometimes are only available in desktop apps. There are many tools you will find here, from controlling the volume of each beat.
The app is also suitable for creating complex polyrhythms. As many as 6 beat sizes are available with mute options. Dr. Betotte is full of unimaginable rhythms. There is a beat speed setting and presets. The app supports Apple Watch for music creation and practice. It is worth noting that each beat will flash on the screen.
It is unique because it gives you the ability to save all the settings for the next session. Such a feature is not available everywhere. In addition, this app is great for studying. After all, you will be able to gradually increase the complexity of the tempo.
The application will automatically increase or slow it down. This feature will be useful in preparation for public performances when you do not want to be bothered with setting the metronome every time.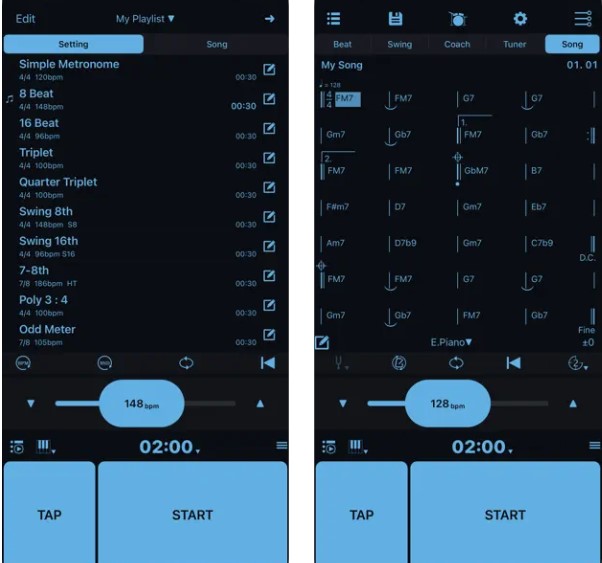 3. Time Guru Metronome
This metronome was created by a professional guitarist, so it has everything you would expect from a modern metronome. The distinctive feature of this app is the ability to mute the sound in random mode or according to a pre-set schedule.
You can choose the sound signal and voice of the metronome countdown in the settings. For example, counting can be done with male and female voices or funny sounds such as the mooing of cows and squawking of frogs.
This way you can easily check if you are hurrying or if you are keeping up with the rhythm. The app is capable of producing up to three hundred beats per minute. In addition, Time Guru contains a short explanatory note that will help you understand the purpose of some functions, even if you are only a beginner.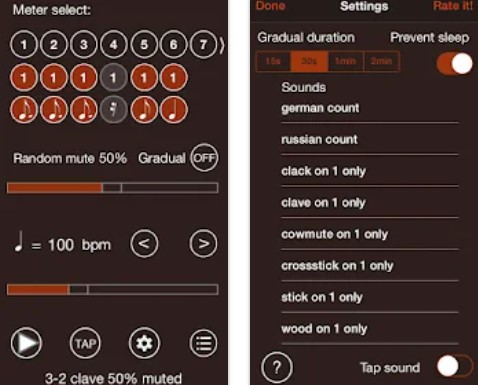 4. Pro Metronome
The capabilities of this application go far beyond what the average user would probably ever need. There are beat size variations and tempo adjustments. Moreover, it is worth mentioning that the app has a nice interface with the ability to animate analog pendulums and accents. You will also be able to practice on different tempos, both slow and fast.
It also engages your smartphone's flash, so you are guided by more than just audio signals. In addition, the app includes advanced features such as working with polyrhythm. Other extra features are available in the app's various subscriptions. It can also delight you with the ability to customize playlists.
It will allow the musician to practice properly, and most importantly, get the maximum benefit from the lessons. After all, there is a special customizable mode for practice. This is where you can line up-tempo and beat or use a flash.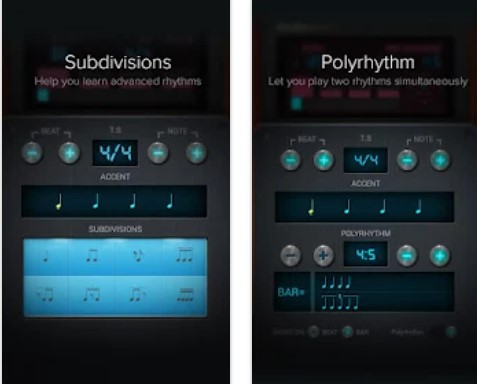 5. Tuner & Metronome
Just one touch and you get a functional metronome. There are many settings and tools in the app. At the top of the main menu, tuner and recording button. The main functions of this app are primarily the camera flash, which lights up on the main beats. The second is the vibration at the main beats. Also, you can practice your speed.
In addition, there are advanced tools to change the rhythm. It is possible to set up an image with notes or a style, you can also create your own. There is a volume slider below, and a rhythm trigger area by clicking on the play button, the user starts the rhythm. The app also supports full-screen mode.
It is also suitable for those whose music sessions are long, and then you will need the battery-saving mode. There is a list of recordings that you can edit and rename. In addition, it has a tuner tool that allows you to test the sounds being played.
You can select the tuning fork button, the frequency of the sound, and the program will show the note of the sound and other details. The advantage of this tuner is that it is suitable for all musical instruments.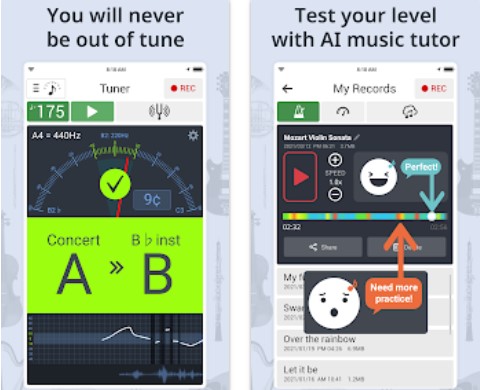 You may also like: 9 Best Mixtapes Apps
6. Metronome beats: BPM counter
Metronome is a great app for those who play musical instruments and want to find their ideal rhythm for playing a song. This app is developed in a minimalistic style and it is very clear from the start how it works. If you do not know how many beats per minute you need to play comfortably, use the feature to select the tempo.
The app will pick your tempo, and all you have to do is choose the tempo you feel most comfortable with. In addition, you will be able to choose whatever tempo you want. The app has a tempo from 1 to 900 beats per minute. You can also divide the rhythm by up to 16 clicks per measure, and that way you can practice the timing of your tuplets.
In addition, you can save your metronome performances, allowing you to use it in other applications. In addition, if you are not sure how fast you want to be, so you can use the Italian tempo display. Besides, you can change the pitch to make the metronome easier to hear on your instrument. Then you may play your favorite songs in a live mode and modify them.
Later, you can easily save your score or share it directly from the app with your friends. In addition, you can use the timer feature to stop recording when you want to. Also, the app can be used with other assistants, allowing you to read musical notes and use this metronome at the same time.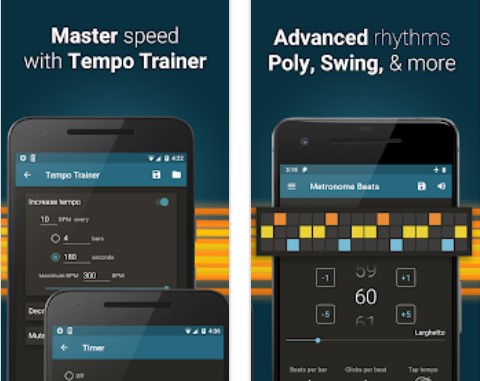 7. Natural Metronome
This app is extremely easy to use to help you keep an eye on the timing of your musical instrument. The app is great for people who want to practice their music playing rhythm and find a tempo that is comfortable for them. With this app, you can adjust the BPM to suit you and choose the number of beats you need. There are also visual indicators to help you sync up with the beat.
Besides, if you need to get the original BPM of the playback, just click on it. The developers have tried to make the application user-friendly, there are no ads or paid content at all. This allows you to concentrate on developing your musical rhythm. In addition, when you use a metronome, the application keeps the screen active and unlocked.
This allows you to avoid wasting your time unlocking the screen and immediately switch to a different tempo if you need to. Apart from that, you can take advantage of various features to make this app completely convenient.
For example, you can increase the size of the start and stop buttons so that it is easier to press. Also, there is an option to move the visible slider so that it will not be accidentally pressed.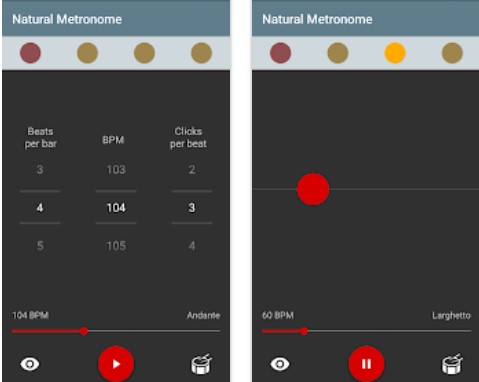 8. Impulse – Metronome Rhythm
This app is great for musicians who want to bring their rhythm to the next stage and find a groove they are comfortable with. Impulse is a metronome that allows you to practice combinations of downbeats, upbeats, divisions, and stops. The app has a very user-friendly interface that allows you to understand the exact location of each beat and time division.
The app uses a very accurate metronome, with a reading time of 0.00002 seconds, which will allow you to comfortably practice your music and perform practicing exercises. This app has a lot of nice features. One of them will allow you to choose a tempo range from 10 to 600 BPM. You will also be able to choose up to 100 beats per measure and 20 subsections per beat.
You will easily be able to edit the divisions if you need to. In addition, all you have to do is click on the tempo to determine your playback tempo. This app has all the ideas to help you comfortably practice your rhythm and do the exercise you want.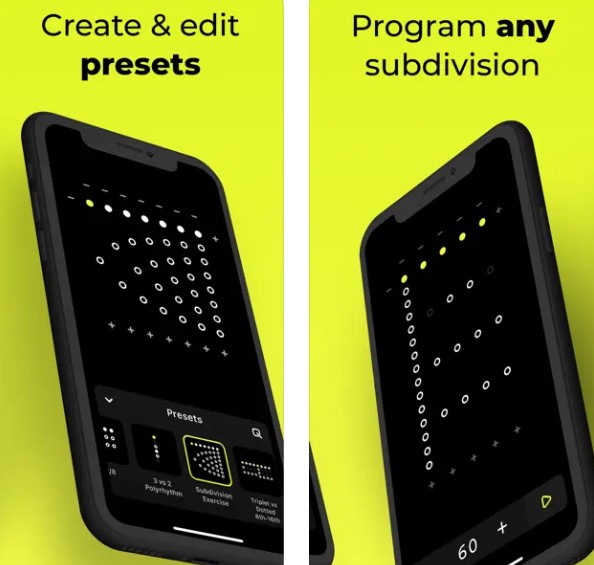 You may also like: 8 Best Lip Syncing Apps
9. PolyNome: THE Metronome
PolyNome is an app that is great for practice, training, and rehearsal. This app gives you all the tools you need to practice your rhythm compositions. You will also be able to add sticks, flams, drags, accents, and rolls while practicing your rhythm. This will help you improve your skills and play more complex compositions. It has united all the user's desires in one app.
The app added a lot of features for efficient working. Firstly, you can also keep your diary in the app to help you set goals and keep track of them. You can automatically keep track of what you are playing and analyze your performance on the instrument. The feature of this app is that the app has a user-friendly interface design, which will allow you to immediately understand how the app works.
Also, when you play your song you will be able to set a countdown timer, which will allow you to stop at the desired moment. You can keep track of your class time and what you have been working on in the charts. Another great feature of this is audio file recording or exporting. It will allow you to record your music playback and export it wherever you need it.
If you need to warm up before a performance, the app will help you with that. The automatic tempo change will quickly help you warm up. If you want to practice your hearing, the app will give you random rhythms and sounds. This is great for practicing your listening skills before playing your song. In addition, advanced voice counting will help you with odd time signatures.